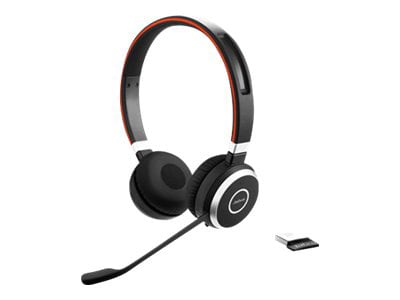 Quick tech specs
View All
Know your gear
The Jabra Evolve 65 MS stereo is a professional headset designed to improve concentration and conversations. Premium noise cancellation technology gives you peace to work in a noisy, open office; effectively creating a concentration zone around you so you can stay focused.

Microsoft Lync optimized. Wireless Bluetooth technology gives you up to 30 meters / 100 feet of hands-free connectivity to PC, smartphone and tablet. Up to 10 hours battery life eliminates battery concerns. Simply tap to connect devices with NFC. Dual connectivity enables you to connect your headset to your PC and one other Bluetooth device at the same time, so you can take the call on your preferred phone device. Busy light signals user availability. The microphone boom arm can be integrated into the headband when not on a call. Microphone mute on boom arm. Built for style and comfort with leatherette ear cushions. Soft pouch included.


Jabra Evolve 65 MS On Ear Headset
is rated
4.60
out of
5
by
12
.
Rated

5

out of

5
by
Mike
from
Game Changer when you don't have to be stuck in one place!
Awesome product, had changed everything!
Date published: 2020-10-15T00:00:00-04:00
Rated

5

out of

5
by
rmfa
from
Jabra's Evolve 65 is an awesome accessory for any business person
The stereo earbuds keep the call attentive. When you disconnect the call you can enjoy music or anything else through this set before you hop on your next call. These have great clarity and very nice volume. These have the ultimate in flexibility as they can connect via bluetooth, wired USB and wireless USB via the included dongle. These can handle any situation you encounter on a daily basis. It also comes with a nice bag to keep everything together. Highly recommended!
Date published: 2016-06-14T00:00:00-04:00
Rated

5

out of

5
by
James
from
Jabra Wireless Headphones Battery life
Battery life is quite short, doesn't make 6 hours
Date published: 2020-12-12T00:00:00-05:00
Rated

5

out of

5
by
Chicken2341
from
Awesome Noise cancelation
Was testing this headset with a Colleague of mine and having him talk standing right next to me no one on the other side of the line could hear a word he was saying.
Date published: 2016-02-08T00:00:00-05:00
Rated

5

out of

5
by
Lihu
from
Good product, but was hoping for active noise cancellation
I just got mine for work. It's really good for what it is. I was actually hoping there was active noise cancellation and also disconnecting from mobile device to PC requires that I unplug the USB connection point and plug it back in again. It would be better if it just remained active.
Date published: 2016-09-21T00:00:00-04:00
Rated

5

out of

5
by
Vince
from
Very please with this product -- highly recommend for the price
I have this model and use it extensively throughout the day in an office environment. I use it at home occasionally when I am doing things and want to be hands-free. I owned now for just a little over 3 years now. The total talk time is outstanding as I have literally been on a call for 7.5 hours and didn't need to charge it. I am seriously considering purchasing a replacement pair, as my current one the right headphone broke. I removed the headphone and now works as a mono model with no issues. Everyone I have shared with that I am using a headset are impressed and ask what I have.
Date published: 2018-08-14T00:00:00-04:00
Rated

5

out of

5
by
MarkTwain
from
Great sound and noise cancellation
The sound quality that comes out of this headset is outstanding. The headset is built very well and it has a good bluetooth length. I am now able to hear calls without being distracted by what is going on in the office. I would highly recommend this headset to anyone.
Date published: 2016-08-24T00:00:00-04:00
Rated

5

out of

5
by
Terry N.
from
Great headphones
Excellent headphones. The Bluetooth works well, they charge well and they are easy to figure out right out of the box. They sound good even for playing music.
Date published: 2021-03-06T00:00:00-05:00
Rated

5

out of

5
by
Laurie D
from
Jabra Evolve 65 MS
Love the quality of the sound. Wish the headband stayed in place better though.
Date published: 2021-06-22T00:00:00-04:00
Rated

5

out of

5
by
Beth
from
Wireless is better!
Love these headphones. So comfortable and light. Easy setup and connecting. Wireless just makes the experience even better. Great sound.
Date published: 2022-04-07T00:00:00-04:00
Rated

5

out of

5
by
R Wilson
from
Perfect!
It works perfectly and the charge lasts for a long time. If I use the headphones for several hours in a single session, I recharge them afterward and never run out of juice.
Date published: 2021-06-20T00:00:00-04:00
Rated

5

out of

5
by
Jordan
from
Excellent features but small earpieces
Features work excellently like the blue tooth wireless quality, adjustments are nice and the ability to move the mic either directions is great. The only let down is the size of the earpieces and speaker size/quality. They are too small and feel like the slide off your ears.
Date published: 2022-08-05T00:00:00-04:00