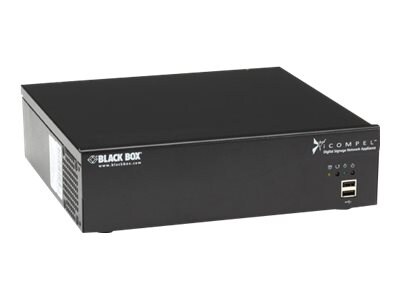 Quick tech specs
performing subscriber unit for high-quality SMB signage.
View All
Know your gear
• Controllable via a standard Web browser connection.
• System is easy to scale. Use standalone with one screen or across a network to show content on multiple screens.
• Screen content can be updated locally. Instantly add text messages or alerts for an audience.
• Plays up to four simultaneous videos—great for showing a mix of different video side by side.
• Also supports unlimited zones for text and images, and up to 15 zones for HTML.
• Supports multizone screens with each zone playing different media from its own playlist.
• Simple to stream dynamic RSS feeds from the Internet. Supports XML.
• Rotate screen images for either portrait or landscape orientation.
• Highly secure Linux® based appliance with built-in firewall.
• Use with an iCOMPEL Publisher.

Gather, distribute, and manage digital signage content easily with our iCOMPEL™ P Series 2U platform.

Ideal for both small- and medium-size offices, the iCOMPEL appliances work right out of the box with all software preinstalled—and no recurring licensing fees to deal with later. Plus software updates are free for a lower cost of ownership.

iCOMPEL is also easy to use, giving you the flexibility to create attention-getting digital signage without a lot of creative or technical know-how. Even better, iCOMPEL is easy to integrate; it won't cause IT and security headaches when added to your network.

Because iCOMPEL supports many media formats, you can combine video with scrolling text, photos, Flash, and Web content. In addition to HTML, XML, and RSS media, it handles MPEG, AVI, QuickTime®, and PowerPoint® media*; JPEG, GIF, and TIFF images; and WAV and MP3 audio.

Install an iCOMPEL unit on a network and manage it via a browser. One iCOMPEL Publisher can send media over the network to an iCOMPEL Subscriber—even on the other side of the world.

iCOMPEL Publishers contain layout, design, and scheduling software for producing and controlling multiple content channels. The subscribers pull content from a publisher according to a preset schedule. This way, you can deliver a high-impact display at the right time in the right place, whether it's stored media, such as promotional ads, or Web media, including XML and RSS feeds.

This subscriber unit is our premium iCOMPEL Subscriber for SMB signage. It offers:
• The fastest processor of all iCOMPEL series for intense content (Flash at >20 fps and video at >30 fps).
• The ability to show video in up to four zones simultaneously.
• 1080p video processing with DisplayPort, HDMI®, and DVI-I outputs.
• Robust 500GB HDD onboard storage.
• A 2U chassis for use on a desk or shelf or (with optional hardware) in a rack or on a wall.

* PowerPoint media is a slideshow saved as a .wmv file.

SPECIFICATIONS
CPU Processor — Intel® Core™ i3
System RAM — 2048 MB
System Storage — 500GB HDD
Video Output Resolution — Digital to 2560 x 1600; HD to 1080p
CE Approval — Yes
RoHS — Yes
Connectors — Video: (1) DisplayPort F, (1) HDMI F, (1) DVI-I F;
Audio: (5) 3.5-mm jacks; (1) TOSLINK® jack;
USB: (8) USB Type A F: (6) USB 2.0, (2) USB 3.0;
Ethernet: (1) RJ-45 (10/100/1000 Mbps);
External storage: (1) eSATA
Power — Input: 100–240 VAC, 50–60 Hz
Size — 3"H x 11"W x 10.5"D (7.6 x 27.9 x 26.7 cm)
Weight — 9.2 lb. (4.2 kg)
Warranty – One Year


NOTE: iCOMPEL Subscriber units are not stand-alone digital signage appliances; they must be used in conjunction with an iCOMPEL Publisher unit.