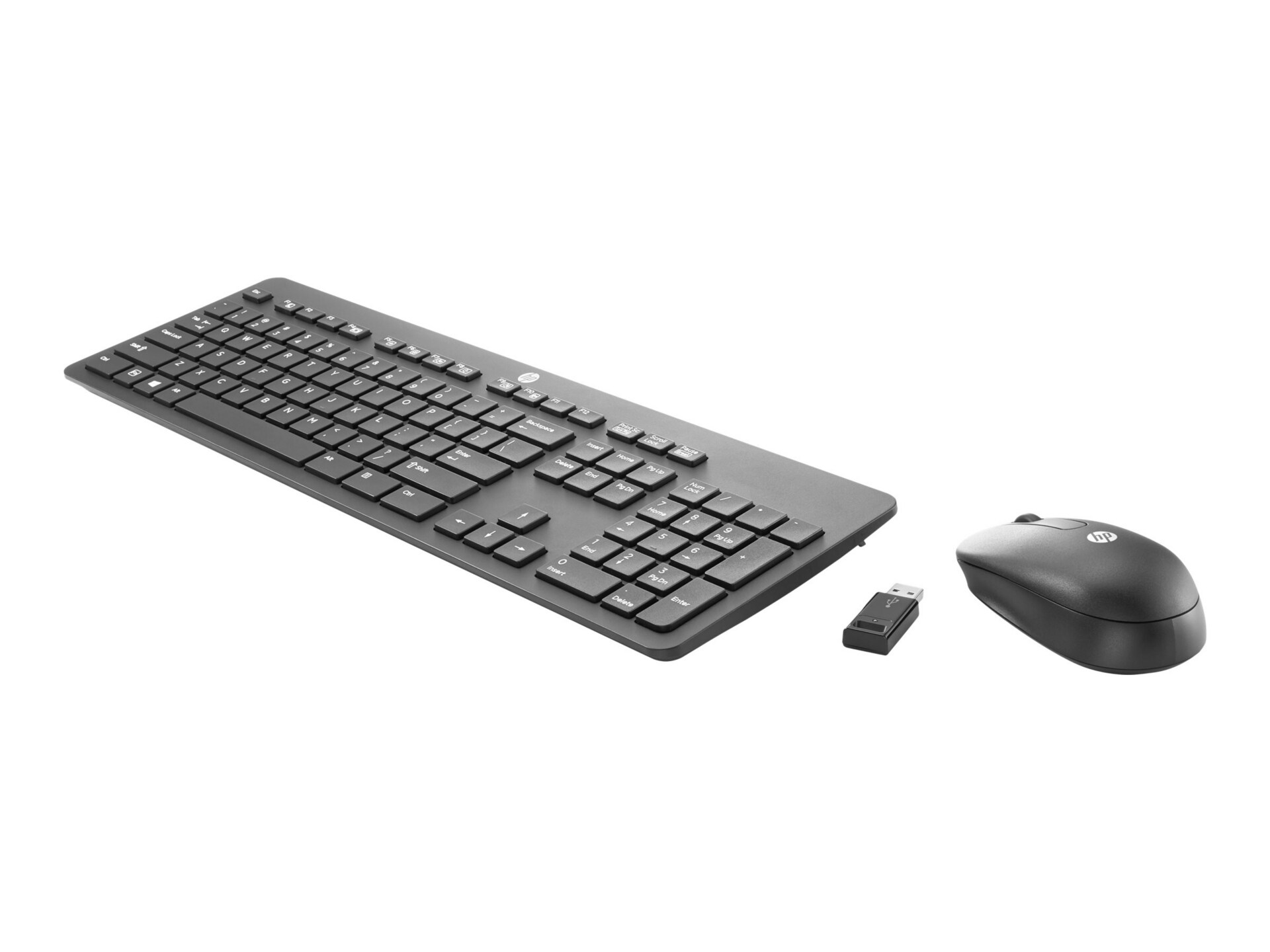 Quick tech specs
Keyboard and mouse set
2.4 GHz
Smart Buy
65X G9; Pro x360; ProBook 445 G9
wireless
US
for EliteBook 64X G9
45X G9; ProBook x360; ZBook Power G9
View All
Know your gear
Extend your input capabilities with keyboards and mice from HP.
HP Slim - keyboard and mouse set - US - Smart Buy
is rated
4.20
out of
5
by
10
.
Rated

5

out of

5
by
n2numbers
from
Replaced HP Wireless Classic Desktop Keyboard/Mous
I like the keyboard but it is a lot different from the one I replaced so I have to get accustomed to it. The mouse is much bigger than I prefer but I will adjust to it as well. It is much better then the one I replaced. After two years the keys began to stick and almost all the letters wore off of the keys. This one seems to be much better quality. I have purchased HP products for years and never had a complaint except for the Wireless Classic Desktop keyboard/mouse.
Date published: 2020-10-18T00:00:00-04:00
Rated

5

out of

5
by
bluebutterfly
from
Easy to install, easier to use than wired versions
Much easier to use than wired keyboard and mouse for games and all other computer functions, since the keyboard can be moved wherever it is most comfortable to use, and the mouse can be moved easily to any position my desk. My partner and I often use the computer together, and the keyboard and mouse can be quickly passed back and forth between us with no wires to limit our ability to reach them.
Date published: 2020-07-05T00:00:00-04:00
Rated

5

out of

5
by
Allmynicknamesareused
from
Love it
It's great. Love it !! It's to use with my laptop. Hooking it up is simple. Just plug the receiver into a usb and push the connect button on the bottom of the mouse and the keyboard. Easy Peasy
Date published: 2020-06-29T00:00:00-04:00
Rated

5

out of

5
by
Jawardcu
from
Unimpressive but functional and affordable
I bought this to update my home office and was overall unimpressed. The keys are not very responsive and are squeaky in several places. Additionally, there are no lights to indicate when and "lock" is on or when it is appropriately paired. I like the mouse and thought it was handy they came together. I did not find that the pictures of the different models were helpful in distinguishing them either. I would have returned them if I still had the box.
Date published: 2020-07-04T00:00:00-04:00
Rated

5

out of

5
by
Mel with worthless mouse
from
Worthless mouse
Do not buy this combination as the mouse does not work. I just received it 22 days ago with my souped up $3000 All in One PC order. The mouse is worthless. It is heavy and does not slide. I tried everything: On/off, Connect, replaced batteries, changed settings, etc but no difference. It is extremely cumbersome to slide, then jumps. I had someone else try it and they agreed that it is worthless. Old wired mouse and mouse pad work perfectly with the new PC so it is not a PC or mouse pad problem. I spent several hours on the phone with many different people from HP support and sales. They would not let me return the mouse (or keyboard and mouse) for credit, even though I was in the 30 day return window unless I wanted to return the entire PC. (Are you kidding?) I finally asked for a credit for a new $17 HP wired mouse. Hours and many people later I got a supervisor who could authorize that credit. When I receive the new wired mouse from HP, I will switch to an old wired keyboard and the new wired mouse. I will give away the wireless keyboard and worthless mouse that I ordered with the All in One PC. They must stay together as they both use one USB receiver.
Date published: 2019-07-26T00:00:00-04:00
Rated

5

out of

5
by
TwoStory John
from
Works perfectly!
I replaced a previous model with the HP unit. It works flawlessly.
Date published: 2019-01-24T00:00:00-05:00
Rated

5

out of

5
by
Strawz93
from
Very Nice
I bought this about a month ago and I love it ! The keyboard takes up little space.
Date published: 2019-03-25T00:00:00-04:00
Rated

5

out of

5
by
doubletee
from
Slim lines .low profile
I Use a laptop and I find it much easier to use a separate wireless keyboard and mouse as I am on my laptop all day . This slim low profile keyboard takes up very little space and is fully functional ! It fits my needs perfectly because I have a small desk as it it is ! I totally recommend this keyboard and mouse combo especially if you are a little tight on room !
Date published: 2019-03-03T00:00:00-05:00
Rated

5

out of

5
by
Robert321
from
Extremely happy with the purchase!
Extremely happy with the purchase of my desktop. I have used HP products for 25+ years and am most impressed with their durability and reliability.
Date published: 2020-05-21T00:00:00-04:00
Rated

5

out of

5
by
Ven1
from
Excellent
Sturdy, soft easy keys, comfortable mouse. Awesome
Date published: 2020-05-03T00:00:00-04:00