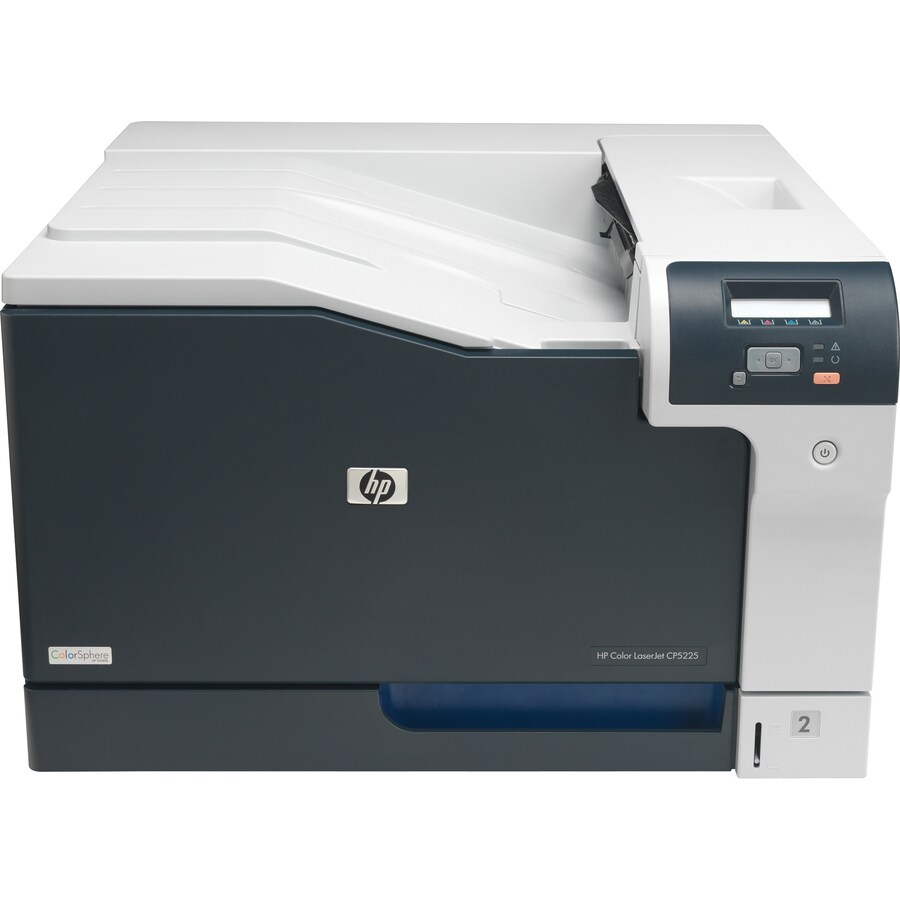 Quick tech specs
Printer
Duplex
A3
up to 20 ppm (mono) / up to 20 ppm (color)
USB 2.0
color
laser
600 x 600 dpi
capacity: 350 sheets
LAN
View All
Know your gear
Gain control of your printed documents and make an impact when communicating. One versatile printer covers all your printing needs from general office to oversize documents.


HP LaserJet Professional CP5225dn 20 ppm Color Laser Printer
is rated
3.80
out of
5
by
33
.
Rated

5

out of

5
by
Simn08000
from
Lowest printer ever!
This is the lowest printer I have ever used. Get ready and buy some extra time if you want to live with this!
Date published: 2020-06-15T00:00:00-04:00
Rated

5

out of

5
by
Cris A
from
Wired internet Connection sucks
Setting up having to dig for old wires to connect to the internet, router not accessible in another room. Glad I had a wi-fi extender to fix the problem.
Date published: 2020-07-25T00:00:00-04:00
Rated

5

out of

5
by
Larboard Side Designs
from
Excellent Return Policy
Received the printer with a hardware malfunction. The printing kept coming out skewed at a near 40 degree angle. Called support and they immediately sent me a replacement. New one came in just a few days and works perfectly. I use HP exclusively in my graphic design business and really appreciate the quantity, service life, and the support HP has. Thank you!!!
Date published: 2020-06-26T00:00:00-04:00
Rated

5

out of

5
by
DocOz
from
Needed the large paper options
This printer is speedy and meets our main needs of large format printing 11x17. So far it has been a great addition to our small business. I don't expect any issues as I have used HP Laser printers for many years without issues.
Date published: 2020-04-26T00:00:00-04:00
Rated

5

out of

5
by
semisweetcorn
from
Very nice quality for the price range
easy to set up on our home network, nice user friendly features.
Date published: 2020-03-25T00:00:00-04:00
Rated

5

out of

5
by
Beegle
from
Good print quality but slow and loud
Really like HP printers but I am disappointed in the speed and loudness of this one. Time will tell if it is worth it.
Date published: 2020-03-24T00:00:00-04:00
Rated

5

out of

5
by
nicolezoo
from
Nice printer
The colors are a little off from previous printers but did a little research and found that you have to print in RGB mode and let the printer do the matching. But otherwise it is a nice quiet machine that will fit most needs.
Date published: 2013-06-05T00:00:00-04:00
Rated

5

out of

5
by
THall27
from
HP LaserJet Professional CP5225dn
The printer worked like a charm and preformed as expected. The set up was easy. The images quality and color is great.
Date published: 2016-03-03T00:00:00-05:00
Rated

5

out of

5
by
HPhater
from
Stay away from this printer
We bought this printer after calling HP directly and reviewing what we would be using the printer for and the type of paper we would be using. They confirmed we would be good with this printer. The first printer lasted 2 days and had to be replaced The second printer is now just out of warranty and the printer needs to be replaced. Tray 2 on the printer has broken from to much use. When printing it looks like the ink has rubbed off as the paper is coming out of the machine. We are printing on card stock which is what we bought the machine for and confirmed with HP the printer could handle this. The machine can't handle it. The machine also needs to cool down for long periods of time between printing also so it is not ment for high volume. Overall stay away from this printer and HP
Date published: 2014-12-30T00:00:00-05:00
Rated

5

out of

5
by
ScubaSteve
from
Very good printer that is easy to set up
Set up was easy, but we do set up a lot of printers with the majority of them being HP. This is a solid color printer that has proven to be very reliable for us.
Date published: 2015-01-23T00:00:00-05:00
Rated

5

out of

5
by
ab22583
from
Broken parts and ridiculous replacement costs...
Look up parts and service for this prior to buying. I have printed a little over 80,000 sheets and my 150k sheet transfer belt has failed = $794.70, each toner reload =$1400, tray two broke the day the 1 year warranty expired = $294.99, fuser failure at 60,000 sheets = $300. I have spent more in toner per year than this thing is worth brand new every year since we got it. I have spent more in parts than the thing is worth now as well. Huge disappointment, plus the HP transfer belt is out of stock and HP isn't delivering any new ones to allow purchase either.
Date published: 2014-05-14T00:00:00-04:00
Rated

5

out of

5
by
DDub
from
Excellent product for our office use
It took a little bit of tinkering to get everything setup. Once it is setup, everything works smoothly as advertised. This definitely looks like a work horse and should be able to handle our office load.
Date published: 2017-07-26T00:00:00-04:00
Rated

5

out of

5
by
Gina
from
This is a reliable product!!!!
This is a very reliable printer. I order these for my clients all the time and never have any issues with them at all. I would call it the best little work horse in town!!!
Date published: 2017-05-25T00:00:00-04:00
Rated

5

out of

5
by
QualityPrints
from
Great printer
Great image quality prints fast, so far its great.
Date published: 2019-12-28T00:00:00-05:00
Rated

5

out of

5
by
alan kelley
from
does not print 11 x 17 from Adobe Indesign
I purchased the printer 3 months ago for my 4 page newsletter to be printed on 11 x 17 and the driver does not align the 4 pages correctly . On adobe Indesign soft ware ( a publishing industry standard) I am trying "work arounds" with HP support to no avail yet
Date published: 2019-09-21T00:00:00-04:00
Rated

5

out of

5
by
Greg F
from
Excellent quality
This is the 4th printer that has been purchased. Easy to change toner and add paper. Very satisfied
Date published: 2020-03-10T00:00:00-04:00
Rated

5

out of

5
by
StarWriter
from
A Great Printer
This printer I purchased as a replacement for the less expensive CP1525nw which was also a good color laser printer but with one drawback - it only printed two-sided with a manual feed. I needed an automatic two-sided laser printer that would print the many color pictures that I was planning with the new book that I was writing. This CP5225dn fit the bill, and so far with nearly a thousand pages printed, it has performed flawlessly with brilliant colors on every page, and two sided just as I needed it. The only thing that I would remind anyone thinking of buying this printer - there is an extra tray offered (which increases the total available trays from two to three) which can come in very handy when printing with several different quality papers. However, only a single extra tray will work with this printer. Otherwise, I would highly recommend this printer for anyone who wants a top flight printer for printing bright colors on both sides automatically. The ink lasts up to 6,000 sheets, which makes up for the cost. It is a Great Printer for the Price.
Date published: 2011-11-25T00:00:00-05:00
Rated

5

out of

5
by
Ravenbrick
from
HUGE
This printer does everything we need it to do.
Date published: 2012-10-11T00:00:00-04:00
Rated

5

out of

5
by
JRRYAN
from
Printer good Software bad.
Printer works fine. I have 3 -4 hours into trying to get it to work on a machine running Windows Vista Ultimate Service Pack 2 64 Bit. Unable to get it to print Setup as a network printer. Network install works fine on machine with Windows Vista business 32 bit using supplied disk and Windows 8.1 Pro 64 bit using the Universal Printer Print Driver.
Date published: 2014-07-16T00:00:00-04:00
Rated

5

out of

5
by
mhk562
from
Excellent Product
Excellent image quality, clean and crisp. Optional paper tray is an excellent addition.
Date published: 2013-01-29T00:00:00-05:00
Rated

5

out of

5
by
BigThumbedMonkey
from
Really underwhelming
I purchased this printer a little over 18 months ago. The technical specs were just what I needed for my startup marketing firm. There's just one problem ... the color performance is downright horrible. There is simply no accuracy between screen and printed result. Have tried technical support. Had a service call tell me the machine was technically fine (all the technician did was look at the test page). I bought an expensive ColorMunki calibration system and that helped to bring some of the colors into the realm of believability, but it's nowhere near accurate. Where the printer output really falls down is photography and illustrations. It drops the yellows off the far end of the spectrum to the point where they're barely visible. Greens and reds are pretty rough, too; very muted and dull (but what do you expect, both colors need yellow). It handles vector artwork okay, but there is something wrong with the image processor. I can take the same file to an offset printer or a short run provider like Kinkos--heck even to an inkjet and the colors are exactly what I expect to see. It's not an issue with my color-calibrated monitors and software. It is hands-down, a printer issue. I've been a graphic designer for over 20 years and know my way around color calibrating from screen to print. I have never, stress NEVER, seen a printer perform this poorly. Apparently I'm not the only one, either. Do a search for poor color reproduction in HP tech support, or online and the results will be replete with people experiencing the same issue. Don't buy this printer if color accuracy is at all important to your workflow.
Date published: 2016-01-13T00:00:00-05:00
Rated

5

out of

5
by
fanmae
from
This product has great features!
I use this printer in my small business and it has performed very well. The speed isn't what I really wanted but it gets the job done. The pictures are very good and sharp. I have enjoyed this product.
Date published: 2013-11-14T00:00:00-05:00
Rated

5

out of

5
by
GeorgeV
from
Love it!
I am extremely happy with this printer. It has great color and works reliably. If you have Windows 7 you must use the Add a Printer on the computer instead of the enclosed CD. I elected to make this printer wireless with the HP Jet Direct wireless option. Again the CD did not work and I had to call Tech Support to install it. However it works great, and also allows printing from the iPad and iPhone. I also got the extra 500 sheet tray and I recommend it if you wish to install a complete pack of paper at a time.
Date published: 2013-07-05T00:00:00-04:00
Rated

5

out of

5
by
kotzebue
from
Poor print quality
Out of the box, faint lines were noticable on every page. Initial "auto" color calibration was unsuccessful, two more calibrations were required. Print quality is still poor, even for this wimpy 600dpi. I expected much more from a machine that needs 1k in cartridges.
Date published: 2011-11-03T00:00:00-04:00
Rated

5

out of

5
by
L2intheoffice
from
Very Pleased, Again!
This printer was purchased to replace our HP LaserJet 4 Plus - which was purchased new in 1994 and is still running strong. We needed a wide format printer for building plans/design drawings, and we wanted to combine that with a color printer. As we have always been in the past, we are once again very pleased with this HP product! This was extremely easy to set up and get connected into our network. The print and colors are crisp and clear, and this printer is so much more quiet than our old one. We've run a variety of printing projects through it - from envelopes to cardstock to large format paper - and are pleased with the output. Love the power saving feature, too. Our only "disappointment" would be the price of the color toner catridges; however, we would definitely recommend this printer to others.
Date published: 2012-01-11T00:00:00-05:00
Rated

5

out of

5
by
Jamiewise
from
Great Printer
Needed a larger format (11x17). Great price as compared to others. Great Print quality / fast
Date published: 2012-08-29T00:00:00-04:00
Rated

5

out of

5
by
jon123
from
Fast delivery,. easy setup
Worked great right of the box. Nice clear printing, very quiet operation. We setup 11" x 17" paper to load from the outside tray and 8.5" x 11" from the main feeder.
Date published: 2014-04-23T00:00:00-04:00
Rated

5

out of

5
by
CJ29
from
Great printer
Great printer and our Engineering department loves it.
Date published: 2017-07-26T00:00:00-04:00
Rated

5

out of

5
by
tammy46
from
unusable
the HP website information to the contrary, the software drivers are not supported on Macintosh OS 10.3.9 — when the drivers were installed, every attempt to send a 'print' command crashed the machine. A singularly expen$ive paperweight.
Date published: 2014-03-31T00:00:00-04:00
Rated

5

out of

5
by
Joegoob
from
Excellant Printer
Other than the box it was shipped in looking like it sat on the shelf for years the printer is Excellant. I totally recommend to anyone looking for a color wide format printer.
Date published: 2012-05-23T00:00:00-04:00
Rated

5

out of

5
by
CZ24
from
Good Printer
I have only had this printer for a couple weeks, but so far it has been great. The USB connection makes it easy to set up. Printed colors come out great. The speed of the printer is good as well. I would recommend this printer.
Date published: 2012-10-08T00:00:00-04:00
Rated

5

out of

5
by
CUAU2015
from
PERFECT FOR OUR OFFICE NEEDS
Very happy with this unit, Very reliable with all the key features to meet our office needs. Very reliable and easy to connect and maintain
Date published: 2015-04-28T00:00:00-04:00
Rated

5

out of

5
by
HazMatt
from
All bark, no bite
This printer is all bark and no bite. I'm not technically savvy enough to know if it's a driver problem or something else. But straight out of the box, it won't duplex anything but letter from the main tray. The bypass feeder tray jams after every page of cardstock or postcards no matter how many sheets are in the tray. If I print something specified to print on non-plain media, it prints it on plain media from the main tray even though that tray is set in the printer setup as having plain paper. In other words, many of its promised features and even normal functionality don't work. For a printer this expensive, it's a HUGE disappointment. We wanted a printer for our home office that could auto duplex up to 11x17. We've always used HP laser printers and been satisfied, so we stuck with HP this time. We're not unfamiliar with how HP laser printers and their drivers work. We've owned our M375nw for more than 15 years, and it still works like a champ. My recommendation would be to steer clear of the CP5225dn unless you're prepared to spend a LOT of time trying to get the right driver and configuration to make it work properly.
Date published: 2023-03-11T00:00:00-05:00