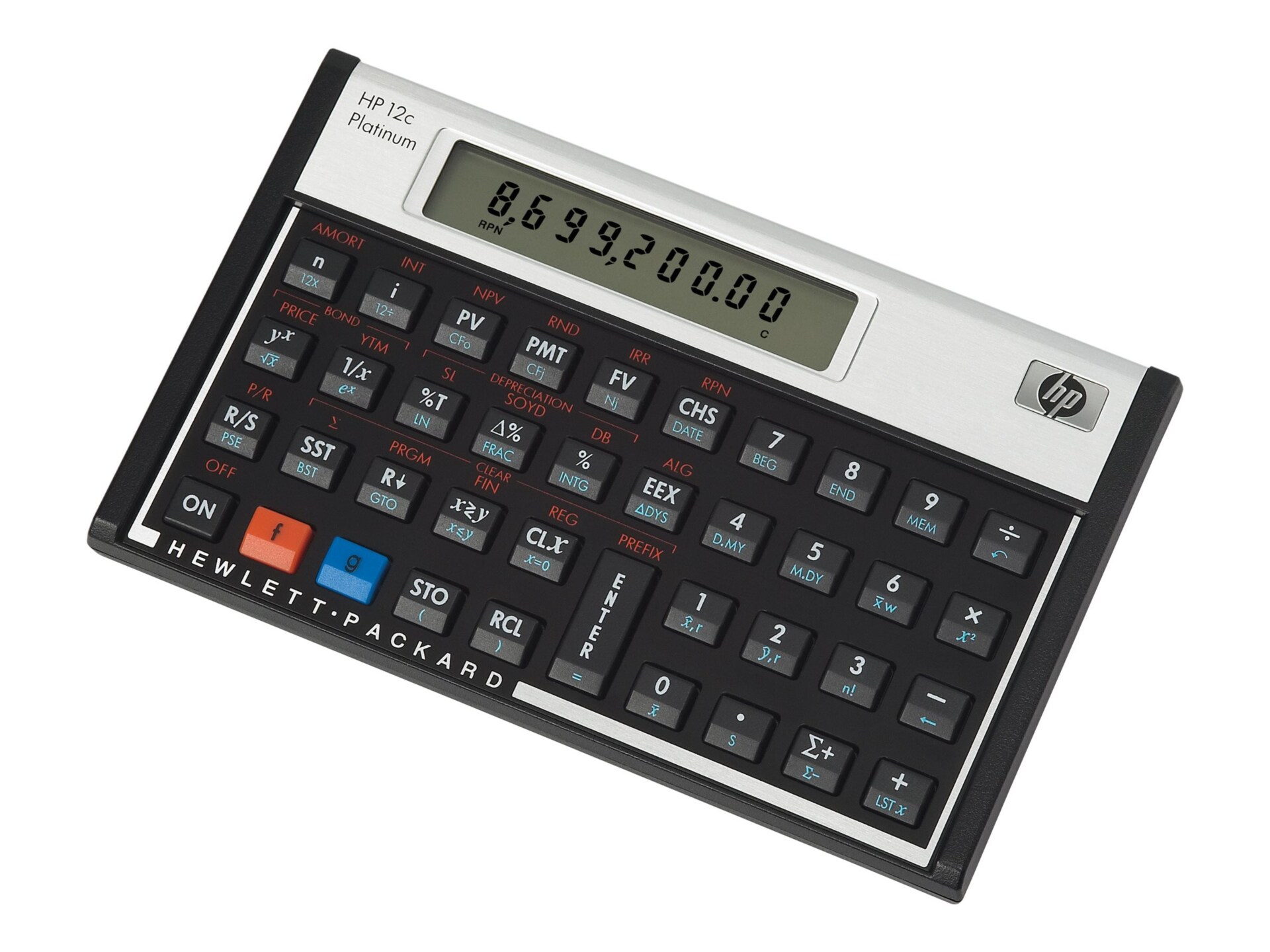 Quick tech specs
View All
Know your gear
This edition of HP's 12c Platinum calculator is a natural for real estate, finance, accounting, economics, and business calculations. It features the HP 12c standard edition's 130+ built-in functions and memory for 80 cash flows, complemented by a black and silver body, and premium pouch.

Get answers fast: easily calculate loan payments, interest rates and conversions, cash flows, bonds, standard deviation, percent, TVM, NPV, IRR, and more

Handle the most complex and detailed financial calculations

Choose between two entry modes: RPN and algebraic

Optimize data entry using the more-than 130 built-in functions

Program up to 400 steps; then execute with the push of a button

Use on CFP and CFA certification exams, plus GARP FRMs

Protect and pad in the upgraded premium pouch
HP 12c Platinum Financial Calculator
is rated
3.67
out of
5
by
46
.
Rated

5

out of

5
by
Gadgetgalbb
from
Fast
Faster than the 12c. Very happy to do quick calculations for customers or CFP exam
Date published: 2017-04-21T00:00:00-04:00
Rated

5

out of

5
by
donewiththe12c
from
Blows
I'm an appraiser and am therefore forced to use this ridiculously outdated calculator to run cash flows for classes/tests. Upgraded to the platinum to avoid the long pauses while the calculator has to think about running net present values (like the old model). That part is much improved. However, I have purchased two of these platinum models and both are cheaply made, buttons need to be pressed twice to register an entry, and its been very frustrating. I'm finally switching to something a little more modern like the 20b. Don't buy the platinum unless you can't handle the delays while the old model "thinks".
Date published: 2008-10-16T00:00:00-04:00
Rated

5

out of

5
by
GeustyBruce
from
A classic
Welcome to the Cult of RPN. I needed a financial calculator, and was initially just intrigued by RPN, now I can't imagine doing calculations without it. Love the form factor of this calculator. It truly is a joy to hold and use. The buttons are so satisfyingly "clicky". I'm sure the the 17bii is a fantastic calculator too, and will at some stage pick one up to compare. For the functions I use it for I could not be happier. Programming is simple and intuitive. TVM, depreciation and days between dates I use often and are simple and quick. I like it enough that I bought a second one, just incase anything should ever happen to the first.
Date published: 2017-07-07T00:00:00-04:00
Rated

5

out of

5
by
HDF19
from
12C Platinum
I have had and used the 12C since it was introduced in the 1980's - one for home office and the other for office. Unfortunately after over 30 years of use, the one in the office failed. I purchased the Platinum and I like it better than the original. It is amazing that essentially the same electronic product is still available after over 30 years. I even have the 12C app on my phone, but it is not as good as the dedicated 12C calculator. As an accountant and real estate professional, the 12C financial Calculator with reverse polish notation (RPN) is my calculator of choice.
Date published: 2019-01-26T00:00:00-05:00
Rated

5

out of

5
by
DannyNova
from
so far so good
the buttons on my old hp12C platinum stopped responding after 12 years of almost daily use. replaced with a new one recently and so far so good. it is my favorite calculator and didn't even consider getting a different one.
Date published: 2018-11-12T00:00:00-05:00
Rated

5

out of

5
by
timetravelgirl
from
The Best
Bought as a gift for my son He loved it Had an older version
Date published: 2014-07-04T00:00:00-04:00
Rated

5

out of

5
by
LucyJ
from
Great tool!
This calculator can do anything. The manual is very helpful and easy to navigate.
Date published: 2017-10-24T00:00:00-04:00
Rated

5

out of

5
by
GoMustangs
from
Switched from HP 17B II+ - Easy
I have been using an HP 17B II, but had to switch for the CFA exam. The system is intuitive and easy to use. Not quite as well organized and simple as the 17, but works well.
Date published: 2011-08-25T00:00:00-04:00
Rated

5

out of

5
by
Mastermind
from
HP12C
I bought the first one in 1978 and it lasted 30 years of very heavy use. I guess that was just too good a product for HP. Replaced it with the Platinum version less than two years ago and it is already giving problems.
Date published: 2011-09-02T00:00:00-04:00
Rated

5

out of

5
by
RS27
from
Can't Be Beat!
I've had my 12 C since the late 1980's. Came on line to get item number for battery replacement and I just had to add in my two cents.
Date published: 2017-03-21T00:00:00-04:00
Rated

5

out of

5
by
Theus
from
hp 12C PLATINUM - Worthless
The 6, 0, and enter do not always register when pressed. Therefore, 30% of your keystrokes do not take. This leads to a lot of errors, recalculations, and a lot of wasted time.
Date published: 2010-08-04T00:00:00-04:00
Rated

5

out of

5
by
topgun
from
Decline in Quality
had hp12c made in usa, lasted 20 years. Platinum was made in China and JUNK. Need to replace every 2 years. Like others, the keys stick or dont register. Bring it back to US, I will pay more I teach and students are not familiar with poor quality and assume answers are correct
Date published: 2010-12-13T00:00:00-05:00
Rated

5

out of

5
by
Kent1971
from
A Tried and True Business Tool
This calculator wouldn't still be around after 30 years, largely unchanged, if it wasn't a superior product. The platinum edition adds some features and enhancements that weren't available on the original gold 12-C, but the essence of an outstanding RPN calculator remain. All professional financial analysts and professionals should own one of these and learn how to use its powerful features. The 12-C is the quintessential H-P flagship device, despite all of the other wonderful devices they've made. H-P is to be commended for continuing to market it.
Date published: 2012-07-17T00:00:00-04:00
Rated

5

out of

5
by
guyris
from
Great Investment
This calculator is great, even though it was more than what I needed. I only needed the HP 12C. I could not pass up the deal and I love this calculator. I use this in my business classess. Although it took me some time to learn all of the functions. I like the HP.COM videos. I was told to get this for for my transfer college finance classes.
Date published: 2008-12-16T00:00:00-05:00
Rated

5

out of

5
by
JSMjs
from
It does not work, I want to return it
NO, it is not working, I want to return it
Date published: 2017-11-06T00:00:00-05:00
Rated

5

out of

5
by
johnnydh
from
Outstanding
I love this caclulator. I am a MBA student and this thing is great. It would be nice to have some probability functions but with its programmability, you can just program in the keystrokes and add permutations and combinations. This is an upgrade to the standard 12c with the ability to operate in algebraic entry or the HP's RPN entry format. The RPN entry takes a bit to get used to but once learned, you will not go back to the old style.
Date published: 2009-01-19T00:00:00-05:00
Rated

5

out of

5
by
Ernie3
from
Disappointed
I love the HP 12c and I still have an older one I use all the time. However, I purchased a 25th Anniversary Edition HP 12c Platinum in 2007 and it no longer works. The on/off button is hard to use and the #7 key doesn't work at all.
Date published: 2012-02-18T00:00:00-05:00
Rated

5

out of

5
by
FinanceMBA
from
12c Platinum
The price on this classic financial calculator has come down dramatically since I was in school (I was too cheap to buy it back then!). I bought this platinum version as a gift for my brother and he loves it. He was able to use it right away with the cheat sheet of formulas and programming that are printed right on the back of the calculator, and the fact that this platinum version accepts both algabraic and Reverse Polish Notation. RPN is great, but it does take a little effort to learn (well worth the investment). He's up to speed on it now and getting lots of good use out of his 12c.
Date published: 2008-11-23T00:00:00-05:00
Rated

5

out of

5
by
JEPG
from
Best choice
Taking the HP12C Platinum as financial calculator is the best choice. Good handling and all functional for business calculations.
Date published: 2009-12-19T00:00:00-05:00
Rated

5

out of

5
by
HonoluluHistorian
from
I'm Really Mad!
Just so HP knows, my days go back to saying "hi" to Mr. Hewlett at Sunnyvale in the early 1980's, where I bought my first 41C, and my first 12C. If you heard/felt the click of each key, it was a GUARANTEE that the entry of the integer/operation had been performed. Not so with the new 12C Platinum (Serial CNA 94201205). Purchased recently from a nearby "Office Max," four operation keys and the "7" key registered intermittently. I bought the new 12C because the calculator case accepted my business card, which made for an ideal gift. I received both case and calculator back from the client. I'll stick to my 20-year-old 12C.
Date published: 2012-01-06T00:00:00-05:00
Rated

5

out of

5
by
rw68000
from
good for classes
I bought this calculator on clearance. It was about ten dollars more than the 10b. It does so much more. I find it able to do all my finance class problem.
Date published: 2009-05-03T00:00:00-04:00
Rated

5

out of

5
by
IndustEngineer
from
Fix The Keys
This calculator can't be recommended. Half the time the keys don't register, and thus has unreliable performance. Fix the keys, and this machine has great potential.
Date published: 2012-03-29T00:00:00-04:00
Rated

5

out of

5
by
BBinWY
from
Great tool, cheap build
I read a number of reviews and see similar comments - a great tool, but cheap build. I put it into the case a couple of times and peeled off the feet the same number of times - double-sided tape to stick 'em on? Come on. Stretched the case and now it works without tearing the thing apart. Hope the rest of it stays attached. For a tool that I'll probably use for decades, I'd hope to see it built as well as it is thought out. I've had an 11C since the early 80's until it was stolen a few years ago. Miss it almost enough to buy one off eBay, but the 33s is holding it's own for now. Still have a 48 at home too. When I made the break to get a financial calculator, there was no doubt about what to get - the 12C. I'll run an HP as long as they make 'em. Can't be beat, except by their own hand.
Date published: 2011-08-10T00:00:00-04:00
Rated

5

out of

5
by
Kaeup
from
Poor quality compared to original
I have been using an HP 12C since my grad school days in the mid-1980s. I still had the original from then until just a few years ago when it was lost (or stolen?). I am now on my second replacement. The quality of materials and workmanship is definitely lower now than it was in 1985. The first replacement worked fine for 1-2 years then started yielding inexplicable and inconsistent errors in calculations. The second replacement - which I've only had for two years or so - now has a defective #1 key. The key doesn't fully spring back up when released and has to be pressed VERY HARD to get the #1 to register at all. Obviously, this makes it very difficult to achieve any sort of speed, which is one of the main advantages of RPN. I will be getting another replacement now, sadly knowing that it, too, will probably have to be replaced within a couple of years. Because of the price, it's hardly worth pursing the matter with HP, but I'm very disappointed in the quality of the current product. I downloaded an HP 12C app for use on my iPhone. It works fine, but it lacks the tactile sensation of the real thing, so the process of using it is much slower than on the real HP 12C.
Date published: 2014-04-03T00:00:00-04:00
Rated

5

out of

5
by
LosAltosJim
from
HP has serious quality problem with HP 12C
I have been using the 12C for 15+ years. Features have always been great. However, in the last few years they must be cutting corners on manufacturing. Buttons don't always record numbers when pressed. This causes constant errors and frustration. Calculations are correct, but have to press buttons multiple times to enter data. Would buy from TI if they had calculator with same functions.
Date published: 2017-06-19T00:00:00-04:00
Rated

5

out of

5
by
snookdog
from
Great Calc
Great calc. I wish they included the original case and not this cheap looking one that the calculator sticks in and can't get it out if left in there for over a day. Anyone know where to get the original case design? Some keys work intermittent at times like 7 and ON.
Date published: 2012-07-05T00:00:00-04:00
Rated

5

out of

5
by
JRC1977
from
Good Calculator, Poor Build
First, I am a HP calculator fan and have always owned and used HP calculators. I purchased my first, a 48G, in 1990 while in high school and used it nearly every day studying Math and Mechanical Engineering (BS & MS) then early in my career. This 48G was and continues to be rock solid after all these years of being slung and tossed around in a bag and generally not being handled with care! Loving RPN, I purchased my first 12C anniversary in November 2004, a replacement 12C Platinum in 2006 and now my third (another replacement) 12C platinum in December 2011. While the calculator layout & functions are great, the build quality on the 12C is horrible; keys are not responsive and fail within a couple of years, case is clumsily built, and pads on back side of calculator fall off after sliding in and out of case only a few times! Please HP return back to your golden standards... I want to love the 12C like my 48G. After all, in this new digital age, if I'm going to spend $75+ for your product (and I clearly will) it should last! The 3rd party 12C platinum emulator I use on my Iphone costs a mere fraction of the actual 12 device and I can carry it everywhere with me.. but when I'm in the boardroom I want my 12C there and for it to work! Again please bring quality build back to your products then I can continue to be a faithful customer and endorser.
Date published: 2011-12-25T00:00:00-05:00
Rated

5

out of

5
by
Jagg
from
HP 12C Platinum Financial Calculator
Recommended for my finance class. Switchable from Reverse Polish Logic to Algebraic input. Performs as required. Examples provided in User Manual have errors in them but once you understand the inputs required, becomes intuitive.
Date published: 2017-10-18T00:00:00-04:00
Rated

5

out of

5
by
MonicaL
from
OK
It has the same keys and functions as the original HP 12C but the case it comes in, is horrible. The old one had better quality; specifically with the material that is used. They also added a business card viewer/holder to the front of the case which I don't care for. All in all - it's a great calculator. I just wished they hadn't skimped on the leather case.
Date published: 2018-07-02T00:00:00-04:00
Rated

5

out of

5
by
xyzee
from
Statistic functionality
Excellent functionality but does not have basic statistical functionality like M+ and RCM (i.e. recall memory) Unless instruction manual has some pages missing!
Date published: 2010-11-01T00:00:00-04:00
Rated

5

out of

5
by
DKAppraiser
from
A faster verison of my old HP 12C
I've been using this calculator in my career in the real estate finance industry for 30 years. This is a nice upgrade to my older and slower HP purchased in the late 1980s.......reliable and sturdy as usual!
Date published: 2017-04-14T00:00:00-04:00
Rated

5

out of

5
by
Brasso
from
Extremely good ... but
I am a very long term user of this type of HP calculator - and I would have no other. The improvements to the Platinum version make it a worthwhile purchase. The increased speed was certainly noticeable. However, as other people have noted, it is prone to some keys not reacting to being pressed - and it can sometimes take a two or more key presses. The ON/OFF key on the one I have is particularly prone to this - and it can take three or four presses to wake the calculator up. But once awake, it is excellent!
Date published: 2009-05-29T00:00:00-04:00
Rated

5

out of

5
by
AccoutingGuy
from
Good performance but poorly made
As a calculator, it does an outstanding performance. Much faster than the older Hp12C. I love the form factor and the RPN data entry which is the way to go. However, I can't give more than 2 stars for two reasons. First the build quality is really poor. After a couple of month the 0 key broke for no apparent reason. More often than not, I have to press twice for key entries. Considering the overall build quality, the warranty is way too short for this expensive product. Now I'm stuck with a defective product that I wouldn't recommend to my student or my colleagues at my office.
Date published: 2009-03-15T00:00:00-04:00
Rated

5

out of

5
by
alee329
from
lifetime choice
I have ever own more than 5 calculators. Every certain years I was tempted to some new calculators with new features, then I had to learn it over again. And repeat. After so many years of learning and re-learning new calculators I decided to stick to one everlasting calculator and give up the new fancy complex features - Use MS-Excel instead. Actually, if your task is hard enough to require a unique feature that drive a calculator upgrade, I guess you will find MS-Office handy when this task happens. I found HP-12C is the best one meeting above strategy. I have own it for over 3 years and never looked back. It's powerful enough, fast enough, reliable enough. And I also want to point out two points that are overlooked by many: 1. HP-12c has been produced for 25+ years without major change - longer than any other financial calculator in the world. I don't need to worry about replacement. 2. HP-12c battery life is freaking long. This is very, very important. I have ever purchased the most powerful, consequently most expensive HP financial calculator (I think it's HP-18c but am unsure). HP-18c takes 3 batteries and very soon I found out why - the juice runs out after months. I have to carry backup batteries on my trip. On the other hand, my HP-12c last at least 3 times longer with one single CR2032. The faulty power-on button happens to me, sometimes. I see it a manufacturing issue not an architecture design issue. There is A REASON it's produced for so long. I see this ideal to a financial guy and I won't be surprised if Buffett owns one, too.
Date published: 2011-04-12T00:00:00-04:00
Rated

5

out of

5
by
rogersfl
from
12C is absolutely the BEST.
Since its introduction in about the 1075's I have bought at least 12 12Cs for myself, family, and friends. I now have one by my PC (HP of course) and my reading chair. They are an important part of my life.
Date published: 2013-10-18T00:00:00-04:00
Rated

5

out of

5
by
Anthem
from
Getting the platinum
I am really anxious awaiting my new platinum, I find it very usefull and reliable, maybe not as fast performing a task as one would like, but it is a calculator and for the price, it is an awsome tool to have if one is in sales, as I am.
Date published: 2009-01-16T00:00:00-05:00
Rated

5

out of

5
by
Lou1
from
Buy this, not the regular 12C
I used my original 12C until the feet dropped off. Six months ago I bought one Platinum and one regular 12C from HP. The regular 12C was so bad I threw it in the trash and bought this Platinum. The number keys on the regular did not contact and register the number even though it would click; this happened about one every six numbers, a frustrating disaster. But the Platinum is rock solid. So it must be a manufacturing difference. My Platinum says made in Philippines and the regular in China. Avoid the regular at all cost. And I like the backspace key on this Platinum.
Date published: 2018-06-23T00:00:00-04:00
Rated

5

out of

5
by
ChemGuy
from
Nice Calc but sticky keys
Long time user/fan of HP 11 and 12 series Calcs, but disappointed with sticky keys (not registering or double registering) on this hardware. Problems developed within first year and got worse. Now looking for a different model.
Date published: 2010-07-28T00:00:00-04:00
Rated

5

out of

5
by
Andy10k
from
Very Nice
Works great, quicker than the older models, great for financial professionals, fits in pocket easily, don't need to break out the computer every time I want to do a quick calculation. Hard to believe it's still this good after 30 years!
Date published: 2011-09-26T00:00:00-04:00
Rated

5

out of

5
by
Lar13
from
I've been using HP12c's for over 30 years.
Excellent product, while the boldness & contrast is not quite where I'd like to see it, it is much better than the gold 12c I've ben using for the past decade. It is extremely fast and an exceptional calculator.
Date published: 2017-06-10T00:00:00-04:00
Rated

5

out of

5
by
Finance
from
Wonderful design/Poor quality
The 12C is a wonderfully designed calculator for financial professionals. RPN is an efficient way to process calculations and the built-in equations functions are extremely useful. Unfortunately, my calculator's screen began to 'burn out' after about a year of use. The numbers displayed are no longer clear. Full disclosure, the calculator was heavily used over the last year #I was preparing for levels 1 and 2 of the CFA#. The unit was purchased new from Best Buy. The design is wonderful but the production execution is flawed. I will be purchasing another 12C but I hope this is not a continuous issue.
Date published: 2015-07-29T00:00:00-04:00
Rated

5

out of

5
by
GFB3
from
Replacement
My 1992 vintage HP 12C finally turned on for the last time. Replacement is the 12C Platinum, which I bought for less than I paid in 1992 and has done all I have sked it for in the past week.,
Date published: 2020-02-21T00:00:00-05:00
Rated

5

out of

5
by
Son of Bertram
from
An improvement on a classic.
This was a Christmas gift for a friend who is studying Accounting. I am so glad you still make the 12C, I like it so much more than the TI model her school recommended. And I like the flexibility of the Platinum model, where you can switch back and forth between RPN and Algebraic.
Date published: 2020-01-04T00:00:00-05:00
Rated

5

out of

5
by
null
from
I have been using an HP12c for over 30 years and my old one simply wasn't doing amortizations accurately. So, I purchased a new one, an upgrade and it works simply perfect.
Date published: 2020-11-04T16:22:42-05:00
Rated

5

out of

5
by
Bosco Kooooodatzzz
from
Steadily declining quality ZERO STARS
I originally had a 12C that I bought in 1984 while doing graduate MBA studies. I replaced the batteries maybe twice in 22 years. However, in 2006 I couldn't get it to work one day. No display, no nothing. I replaced batteries and nothing again so I bought the new 12C Platinum model. After about three years I noticed that the keys on the Platinum required extra effort to get them to work. I struggled along for another year when my son found an old 12C in the garbage can at work. It was missing the battery compartment door, but the device worked perfectly. I have used that since, about ten years. Finally the keys have started wearing out on that relic. I was going to consider buying a new 12C version of the calculator but have been discouraged by all the negative ratings these devices are receiving. Apparently the decision to make all new units in China is beginning to take it's toll. I'll have to do some research and perhaps find an American made product or a foreign made unit that isn't an atrocious piece of poor quality material as found in today's new HP models. Incidentally, with manufacturing going to China and labor rates there being extremely lower than labor in the USA, the prices didn't reflect a commensurate drop from when they were made here. So, the consumer is stuck with an inferior item at the same price. However, if the manufacturing is ever brought back to the US, I'm sure the price will skyrocket again. I guess it's called fleecing the customer. What further bothers me here on the HP site is that only a small percentage of the adverse (low ratings) comments ever receive a response from the HP staff. I surmise that management doesn't care about what the customer thinks.
Date published: 2019-08-18T00:00:00-04:00
Rated

5

out of

5
by
Miracle Man Meyer
from
I have had a hp12c for ages.
I got one right when they came out in 1981 for school. It was perfect easy to use and actually worked to perfection for me. Then because of old age they stopped working. I tried to use calculators online but the feel was just not there. I am so happy that I made the plunge and bought a brand new hp 12c.
Date published: 2019-12-19T00:00:00-05:00