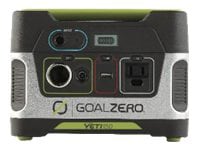 Quick tech specs
External battery pack + DC to AC power inverter
29 V lead acid 14 Ah
View All
Know your gear
Use with USB powered devices, 12 V and AC powered devices. The Goal Zero Yeti 150 is best used with your tablet, laptop and DSLR camera. The chart below gives approximate power given to the most common devices the Goal Zero Yeti 150 powers.

It is a plug-and-play generator for emergencies, camping, or wherever you need power. The Goal Zero Yeti 150 solar generator is a gas-free source of portable power to keep lights, phones and laptops powered on through any situation. It's your portable, mini powerhouse.
Contact Sales Assistance
(800) 800-4239
,
Monday-Friday 7am-7:30pm CT
Goal Zero Yeti 150 Solar Generator - external battery pack + DC to AC power
is rated
4.10
out of
5
by
99
.
Rated

5

out of

5
by
JoeLan
from
Outstanding
I received one of these Yeti 150 solar generator's for a Christmas present from my Daughter, 2 years ago. My wife bought me 2 of the lite-a-life lights. We use these at our cabin in the mountains. We don't have electricity and use solar panels and batteries for power. This lights up the whole cabin. I have also used it here at home during a power outage. I will always have at least one of these in my home and cabin. It is portable and easy to carry most anywhere.
Date published: 2015-09-24T00:00:00-04:00
Rated

5

out of

5
by
turtleflier
from
Great product for home and away!
We bought this to have for our travels, but have used it as much as home as when we're on the road. It holds a charge well, and is superb for being able to recharge multiple items at once.
Date published: 2014-04-16T00:00:00-04:00
Rated

5

out of

5
by
dwm
from
Power to the people...
We use the Yeti 150 to bring power our backyard Tipi. Provides lighting at night + recharging phone & tablet. Also power a 110V Wifi repeater - no need to run an extension cord. With the 15W panel, it recharges in <1 day for full power all that night.
Date published: 2013-08-15T00:00:00-04:00
Rated

5

out of

5
by
ArchAngel72
from
Worked as expected Very easy to use!
I bought this a month ago for a trip to the our island. It worked great! It recharged, my phone, her phone, and our Lighthouse 250 60% solid mark. I charged the Yeti up the next day with overcast skies to partly cloudy skies using my Nomad 7 and Nomad 20 chained together it Recharged it to 100% solid in a little over 5 hours I was very VERY impressed. Now fast fwd to the next day. We charged both phones the Lighthouse 250 and the iPad I have which was down only to 75% or so.. Next morning was VERY sunny not a cloud in the sky. Now here is my confusion It was down to 40% and 4 hours of Better Sun conditions yieded seemingly very little change in charge state the Yeti charged only to show 60% blining when charging and 60% solid when not charging but Does it seem odd to only grab less than 20% when having better sun? I will charge it up fully tonight and see how it acts. But overall I cannot complain We did use it harder the second day, I do love the product as it worked for us well. I just hope I dont have a bad battery or something after one use, I will look back on this review in September we will be out there for 3 nights and 4 days. That will obviously be a better test on how it holds up and performs. I am thinking of getting a 100W panel to hook to it to charge also. Please note I chose Pricey as it is a little bit But poor value No Its a nice little package that is put together well and as long as It comes around for me its a good unit for what we need
Date published: 2015-06-08T00:00:00-04:00
Rated

5

out of

5
by
Neon
from
Great Portable Power
I love the Yeti 150. I did have some issues with the cord when I first received it, but I contacted customer service and got it sorted out, thanks! I also have the Switch 10 kit, which I bring everywhere with me (the personal fan piece is AMAZING in the summers), and the Yeti 150 is the next bump up for me in solar charging. I will definitely be getting more Goal Zero products in the future.
Date published: 2017-10-11T00:00:00-04:00
Rated

5

out of

5
by
Tina
from
Great product!
Power for small electronics and medical equipment.
Date published: 2013-08-14T00:00:00-04:00
Rated

5

out of

5
by
Jcollao
from
Excellent Product
I bought this device last October and have used it several times since then. I love the product! It does exactly what it says it will do, can't ask for more than that! Be aware the product is heavier than it looks, so pay attention to the specified weight if that's a concern for you. It's very simple to maintain, charges well with my Nomad 20 panel and charges iPads and iPhones with ease. I do want to say something about customer service: the first Yeti 150 I received was defective. It wouldn't hold a charge no matter what I did. I emailed customer support and they we're on it right away! I received my new Yeti promptly, paid nothing for the return of the defective unit and have been a satisfied user since! This company stands by their products, so purchase with confidence!
Date published: 2014-04-16T00:00:00-04:00
Rated

5

out of

5
by
bradK
from
Underpowered
Just got one of these yesterday for an upcoming trip to Canada and am extremely disappointed. I bought it for the sole purpose of recharging my GoPro batteries during this 10 day trip. I drained all my GoPro batteries and it is on its last 20% after only charging 7 batteries and I will probably get 9 or 10 charges out of it, they claim 25!!! I am thoroughly disappointed that I spent $200 for this when I could have got a $40 portable usb charger with 20,000 mAH and got more charges than this thing while saving a ton of weight and bulk. And it also took 2.5 hours to charge a battery, slower than the outlet but that is expected.
Date published: 2014-05-16T00:00:00-04:00
Rated

5

out of

5
by
Bscheer
from
Great for techies
I wasn't exactly sure what use I would have for this when I bought it, but couldn't pass on a great deal. Now, my camping trips will never be the same. With a growing family, the best/easiest way for us to get outdoors is to go car camping. The best way to capture the fun we're having is my my GoPro cameras. While GoPro is not known for battery life, the yeti 150 is. I can be camping for multiple days, recharging GoPro batteries, both mine and my wife's phones and handheld gps units without having to worry about running out of juice. If I know we are going to be out longer or in more remote areas, I'll throw in a couple of Boulder 15 panels and keep things topped off. Also, I love to shoot night lapse photos with my GoPro. In this situation,I need to keep the camera on and shooting for up to 12 hours. The Yeti 150 handles this without a problem. Outside of camping, I love having this in the car for long road trips. It is great for keeping iPads topped off and less strain on the car's electrical system. Finally, on nice days, nothing beats working on the laptop out in the yard. Well I'm not always at 100% on the computer when the sun decides to shine, but that doesn't matter. With my Yeti 150 I can plug in the laptop and get back to work. For not having a plan for this great tool, it sure has come in handy.
Date published: 2015-09-26T00:00:00-04:00
Rated

5

out of

5
by
Mongol
from
Security Helper
I have 20 acres and installed a wireless HD video camera at my gate entrance, I use a Yeti 150 with 2 Boulder 15 to power the camera Day and night. THis unit cycles every day using almost all of the stored energy at night, and then runs, and recharges through the day time. It is a Fabulous product
Date published: 2014-07-21T00:00:00-04:00
Rated

5

out of

5
by
Paul D
from
Didn't last long
I bought this for an overseas trip working with international disaster relief. I used it a few times and it was great. I left it with my family and they used it for a few months then it stopped working altogether. Poor quality battery that goes bad. Same thing happened to the Escape 150.
Date published: 2018-04-24T00:00:00-04:00
Rated

5

out of

5
by
Segou
from
Good for field laboratory investigations
We are using Goal Zero battery packs to power a small field incubator for microbial water quality analysis. We previously had successfully used the Goal Zero Sherpa 120 Power Pack, but have recently switched to the new Yetti 150. While the Yetti is a heavier unit, we are finding the multitude of outlet types (plug, car adapter, etc.) and that the inverter is enclosed as one package has really been beneficial to streamline our laboratory power operations.
Date published: 2013-08-14T00:00:00-04:00
Rated

5

out of

5
by
Wild Bill
from
Yeti 150 Exceeds Expectations
I purchased the Yeti 150 to provide an easily transportable, reliable power source to run an iPad, iPhone and modem at a small ranch in Idaho which has no installed electricity. My goal was to ensure that I had sufficient power to run my gear for at least 24 hours before needing recharging. The Yeti 150 far surpased my expectations. It is compact, hardly weighs more tha a bag of potatoes and is a simple one step plug-in to recharge using either my portable generator or the Nomad 27 Solar panels. While I have been careful to manage my power, I nonetheless found that Yeti 150 easily supports all my needs for well over 24 hours. Further, using the Nomad 27 Solar panels, I am able to fully recharge in the bright Idaho sun in about 5 hours with a Yeti 150 depleted to 20%. The Yeti 150-Nomad 27 system is a perfect match for power-re-charging and the best part is that I no longer need to hear the racket from my portable generator during re-charge. Bravo to Goal Zero for engineering a superb product! My highest recommendation to anyone seeking an easy to use, immanently portable, reliable system.
Date published: 2013-08-14T00:00:00-04:00
Rated

5

out of

5
by
Hood River Fun
from
Well Engineered Battery
I had the original 150 bowling pin shaped battery and worked well until it sat in the garage too long without being recharged.. not making the same mistake. This one is much better as it has a monitoring readout and every in/out puts you need. I will use it for my GZ lights and recharging devices in my GO Trailer. It should last me for a week or more before recharging. This is a more compact and efficient design.
Date published: 2016-12-11T00:00:00-05:00
Rated

5

out of

5
by
Awefoot
from
Doesn't Work on First Try
I got mine as a catalogue gift for many years of service at my company. I could choose anything from the catalogue and decided on this after weeks of searching.That was 3.5 years ago and I tried to use it for the 1st time after being charged for 3.5 years and nothing. My girlfriend had a power outage at her work and took it as a backup a few days ago. After plugging in a device and tapping the button, the light came on, then turned off. I checked the documentation and did a reset according to the instructions and still nothing.I'm glad I did not buy a second one and glad this was a company gift.
Date published: 2019-02-21T00:00:00-05:00
Rated

5

out of

5
by
DonnieBe
from
Extremely Versatile
Powers my Meade LX90-ACF 8" just fine. Grabbed a used Boulder 30 for it. The Boulder seems to adequately charge this completely portable power supply. I'm late to the game, but Goal Zero is the real deal! Can power it off 12v car adapter, or utilize the 110v plug, leaving either or open along with 2 usb charge ports. Nicely designed, Thanks Goal Zero!
Date published: 2018-02-22T00:00:00-05:00
Rated

5

out of

5
by
bacpacbob
from
CPAP power monster
I took my yeti 150 to power my cpap machine for 4 days on Santa Cruz island. I recharged it each day with two boulder 15's.
Date published: 2014-07-30T00:00:00-04:00
Rated

5

out of

5
by
Esco20
from
Yeti
I love my Yeti. This is amazing. I charge it through the wall and use the solar panel to trickle charge when I'm out in field. It charges my Ipad and cell phone easy. I have it for emergency purpose. I'm glad I got this. My only regret is not going for the next size up.
Date published: 2014-04-17T00:00:00-04:00
Rated

5

out of

5
by
Gatorzingo
from
Great for camping and power outages
I bought the Yeti 150 for camping to keep my phone and batteries charged. Also great to run a fan on the warm nights. A bit bevy for backpack camping but great for car camping.
Date published: 2014-04-17T00:00:00-04:00
Rated

5

out of

5
by
Jeffw
from
Awesome!
Used during power outage for lights. Worked great!
Date published: 2014-04-16T00:00:00-04:00
Rated

5

out of

5
by
Gabe Sanborn
from
Stout, Easy to use, Easy to charge
I bought this on sale for the camping event around I think Memorial day. I have used it 3 different times now camping out on the island in Casco Bay in Maine. I was worried about it after the 2nd day because it did not seem to charge the same as it did the 1st. We did use it heavier on this last 4 day event, Charging 2 smart phones, 1 iPad2, 1 lighthouse 250, and we ran 3 of the new Light-a-Life 350's on it for probably 1 hour making and eating dinner each night. It recharged to full the 1st night with my Nomad 20 and Nomad 7 in tandem. The 2nd day it recharged to 100% again, the third day it was better than 80% and the last day I did not bother as we had to pack up. It never dropped below 60% until the last day and we used it to beat the band. Admittedly I do want to step up to the Yeti 400 for something with more power on hand. But that's cause I am too Boy scout I want to bring something out there for 4 days and be able to not have to worry about solar if the weather is not good for solar. But I can't complain this power pack delivered and held up great.
Date published: 2015-09-18T00:00:00-04:00
Rated

5

out of

5
by
mpanttaja
from
Really flexible power source....
On our Airstream we will have solar installed. But having a movable solar panel and power storage is a great asset when your home could be shaded or parked at an inappropriate angle. We also love the fact that the Yeti is a portable inverter. It allows us to charge whatever we need (computers), or, as was fun recently, run my immersion blender at the picnic table to puree the soup. A great tool.
Date published: 2015-09-17T00:00:00-04:00
Rated

5

out of

5
by
jlowry99
from
Just Right!
I bought this for portability and the fact It still has plenty of storage capacity to power my phone, ham radio and just about anything of similar requirements.
Date published: 2013-12-28T00:00:00-05:00
Rated

5

out of

5
by
Tiago Veiga
from
Amazing piece of tech.
I am using it as a power source to my hamradio operations. I have a FT817nd from Yaesu. It is a low power radio (5w output RF). It consumes 12.4V and 2amps from the Yeti 150 on transmitting and 12.4V and 0.4amps on stand-by/listening. It gives about 7 hours of constant operation. The Nomad 13 is used to charge it when I am not using it. I place it at the window next to my radio table. It was the best aquisition I made on the last years. No regrets... just fun. Even with low light, the Nomad 13 panel charge the YETI.
Date published: 2013-10-01T00:00:00-04:00
Rated

5

out of

5
by
Nick the adventurer
from
Amazing
It has be very usefull in my camping experience with it but I do get to use it at home as well. I like that I can charge just about anything at least twice before it runs out of power
Date published: 2013-08-15T00:00:00-04:00
Rated

5

out of

5
by
MikeMcGl
from
Don't depend on it
I purchased the 150 along with the solar panels a few years ago. Kept the battery charged in the garage. Last night we had a power outage, 109-degree day and 99-degree night. Tried to use the 80% charged battery to run a small electric fan and got zero minutes. Zero. From 80% to zero. What a waste of money. I'll never buy a Goal Zero anything again.
Date published: 2020-09-08T00:00:00-04:00
Rated

5

out of

5
by
WITransplant
from
Very useful
Used on a recent car-camping trip. This came in handy after fully charging from the wall prior to our departure. After a day into the trip, a couple of our campers needed their phones charged, so we used it and within about an hour everyone was back to 100% to take more photos and videos.
Date published: 2015-09-18T00:00:00-04:00
Rated

5

out of

5
by
Chicago Dave
from
Very useful device for my porposes
I now own two of the 150s and one 400, seven Boulder 15s and various other Goal Zero products. I use them daily to keep our beloved electric distribution monopoly, ComEd, slightly at bay.
Date published: 2015-04-14T00:00:00-04:00
Rated

5

out of

5
by
AFEli
from
The Yeti 150 saved my bacon!!!
We a bunch of Goal Zero products but the other night the Yeti 150 really saved my bacon. Due to a bad car accident our power was out for over 5 hours the other night. We have a newborn and to feed her my wife has to pump milk every 2 to 3 hours. When the power went out she was able to plug in to the yet 150 and pump away. Going 5 hours would have been too long and painful for my wife so I am really glad we had this thing on hand. I love it and would recommend it to everyone. You never know when you are going to need a little power boost.
Date published: 2014-06-26T00:00:00-04:00
Rated

5

out of

5
by
Bacpacbob
from
Great for Ham Radio and CPAP machine
I have had my Yeti 150 for over a year now and use it everyday. I use it to power my Ham radio everyday and when on camping trips to the Channel Islands I used it to power my CPAP machine for three nights with recharging each day with two 15 watt Boulder solar panels. it worked great!
Date published: 2015-02-11T00:00:00-05:00
Rated

5

out of

5
by
BetoArizona
from
Yeti 150 solar generator
I got my hands on the yeti 150 solar generator Because I'm a television producer For national news in Arizona And I normaly edit on the field. The yeti 150 is my best companion To complete my job..
Date published: 2014-04-17T00:00:00-04:00
Rated

5

out of

5
by
Adri
from
Poor Design
If you lose the charger be prepared for it to nonstop beep until you charge it again. Seriously the worst design. It would have more battery life to charge things if it didn't keep beeping
Date published: 2019-02-12T00:00:00-05:00
Rated

5

out of

5
by
Bosco
from
YETI 150 - Boulder 90 Combo
Bought the Yeti 150 last year and pared it with the Boulder 90 panel. Ran a couple of Light-A-Life lights and had ample lighting for 4 full nights before I had to recharge the Yeti. (Good thing, as the sun was absent for the first 4 days of the trip. Once the sun finally came out, the Boulder 90 charged up the Yeti, Lighthouse Lantern, I-pad & I-phone in 3 hours total time. Loved it so much, went ahead and purchased the Yeti 400 and 2 more Light-A-Life lights. Talked my brother into buying a Yeti 400 and some Light-A-Life lights as well. When we go "off the grid" next month for a week, we are going to chain the Boulder 90's together and create our own solar powered grid with zero carbon footprint.
Date published: 2015-09-18T00:00:00-04:00
Rated

5

out of

5
by
CamperAaron
from
Not As Powerful As Advertised
I just purchased this unit (and a solar panel) to take along on weekend camping. I like bringing my laptop camping, and wanted to have some spare power to extend how long the laptop would run. The Goal Zero advertizing for this unit says that it will recharge a laptop twice. However, I just just did a test and after fully charging the Yeti 150, this unit was able to recharge my laptop only once, before the Yeti ran out of power. Maybe this would recharge a small/mini laptop or netbook (like a Chromebook) twice, but not my full size 17" Lenovo. My laptop power adapter says that it's 120W, so I guess I'm lucky the Yeti 150, rated for 80W continuous output, works at all with my laptop. (Re-reading the Yeti 150 specs, I see that they specify that it recharges "50W" laptops -- but 50W is a pretty low-powered laptop!) But I still have other small electrical devices this will also help power and recharge, so I think it will still be useful, especially for it's small size. But if you're looking for a power source for a full size laptop, I think you'd really need the Yeti 400 (or the Sherpa 100). But at twice the cost, that's a hard pill to swallow. My other complaint is that the LCD readout screen displaying the unit's current charge is not backlit, So unless you're in bright light, you cannot read the screen. I notice the higher up models have backlit LCD screens. One thing I do appreciate is that the model I was sent, despite the photos shown, has not one but two USB ports. One of those two ports I'm using to plug in a mini led gooseneck light that I have aimed at the otherwise hard-to-read LCD screen, still leaving a USB port available for charging a smartphone.
Date published: 2014-04-25T00:00:00-04:00
Rated

5

out of

5
by
Chela
from
Great to have
I bought my Goal Zero Yeti 150 a month ago and I love it. I use it everyday to charge my iphone and ipad. At night, I run a 2.5w fan to keep me cool when I sleep. Can't wait to go camping with it. This is a must have item for any solar lover. GV#11
Date published: 2015-06-10T00:00:00-04:00
Rated

5

out of

5
by
shawnj
from
Yeti 150
I purchased the Yeti 150 for emergencies, road trips and camping. It has exceeded by expectations and I love showing it to others. Great Quality and I love the design. I was thinking of putting together myself, but relalized you created such a clean and robust design it wasnt worth it. I am ready for a 400 now!
Date published: 2014-04-16T00:00:00-04:00
Rated

5

out of

5
by
frankthetank
from
great little product
I have this little generator powering my room I have it combined with the escape 150 they can be chained if you have a correct car adapter been off the grid for over two months now great little product
Date published: 2014-04-16T00:00:00-04:00
Rated

5

out of

5
by
Dr Mom
from
Improved
This is better than the older 150 because it now has two usb outlets instead of only one. Tough portable power that is light and has enough storage to be useful.
Date published: 2015-09-20T00:00:00-04:00
Rated

5

out of

5
by
Vkcornell
from
We love our Yeti
Love the power pack. Charges our mobile devices, charges the laptop, works fast and efficiently.
Date published: 2014-04-17T00:00:00-04:00
Rated

5

out of

5
by
Jfugazi
from
This thing rocks!
I took the yeti 150 on a hunting trip. It charged all our devices. I also used solar power to charge it back up. It was able to keep up with everyone pluging into it. Worth every penny.
Date published: 2015-10-09T00:00:00-04:00
Rated

5

out of

5
by
RAS
from
Yeti 150
Used it for camping, charged my cell and portable imaging system several times with 60% charge left, and was fast as well. Have not used with solar panel yet.
Date published: 2013-10-21T00:00:00-04:00
Rated

5

out of

5
by
Johnny
from
Light and Feature Rich
I own two Extreme 350 and was looking for something smaller for a car camping trip to Denali. After looking at the options I chose to go with the newly released Yeti 150. Two main features that sold me were no more fuses and the built in output ports. The handle is very nice as well. I have already used it for a trip to the Uintas in Utah and its weight is perfect for trips like this.
Date published: 2013-07-27T00:00:00-04:00
Rated

5

out of

5
by
Kell
from
Very Handy!
I didn't think I would get to use it right away. A winter storm took out our power and the power pack charged our phones, gave us plenty of light and charged my son's game. I'm glad we had this device, it helped make a bad situation better. Mike Kelly
Date published: 2014-04-17T00:00:00-04:00
Rated

5

out of

5
by
Eric_Cintron
from
Excellent House and Outdoor Companion
Excellent to enjoy Outdoor for portable electronics.
Date published: 2014-04-16T00:00:00-04:00
Rated

5

out of

5
by
Quinn
from
Best thing I have ever bought!
I love my Goal Zero Yeti 150 solar generator, however I made the mistake of buying the generator without the Nomad 20, but bought it shortly after its arrival.
Date published: 2015-02-17T00:00:00-05:00
Rated

5

out of

5
by
samuels97
from
Doesn't perform as stated
We received our Yeti 150 in the mail with a bad internal battery that wouldn't charge. After they sent us a new battery replacement, I questioned if this little thing could do what they say it could. I purchased the Yeti 150 under the assumption that it would light my string of lighting in my 10'x10' tent for art shows. It says on the specs that it will light them for over 50 hours. We got a whole 4 hours before it was drained. Don't waste your money.
Date published: 2014-08-19T00:00:00-04:00
Rated

5

out of

5
by
Gadget Girl
from
Mine failed in less than 1 year
It failed in less than one year with minimal use and regular monthly charging from a wall outlet. Such a great and useful product, but poor quality :( i only used it indoors and it was never outside the optimal temperature range, never got wet, never dropped or badly cared for. I am disappointed.
Date published: 2016-10-29T00:00:00-04:00
Rated

5

out of

5
by
Karen
from
Yeti 150 Good and Bad....
I purchased this for a camping trip to power the aero bed pump. Unfortunately, we needed more AMPs in the AC adapter and found out when we go to the campsite. We did find it very handy to charge our camera batteries (GoPro, Cannon point and shoot, Samsung waterproof video), iPad, and iPhones throughout the trip. The solar panel worked great to charge the Yeti, so we had enough power throughout our trip. I also tried to use this with my laptop, but again had issues with the AC port not having enough AMPs to charge my laptop. I would recommend this for folks that need to charge camera batteries and charge through USB. It's very small and compact, so it's easy to pack and store. As long as you have light, it seems to charge quickly. If you need to charge a laptop, I would recommend double checking the AMP requriements on your laptop cord against the tech specs of this product before purchasing. I do plan on purchasing additional products from GoalZero because they are durable, reliable, and solar powered.
Date published: 2013-10-05T00:00:00-04:00
Rated

5

out of

5
by
montcowboy
from
Small Isn't Always Bad
Outstanding value for the money. Charges everything I want on my small USB appliances, lights and phone.
Date published: 2019-02-06T00:00:00-05:00
Rated

5

out of

5
by
heithboy
from
Very helpful
I bought the yeti 150 a couple months ago, and I love it! It's mainly used to charge smart phones and gopro cameras when we go camping and it performs very well. We get plenty of charges out of one charge of the yeti. One word of advice is to put your smart phones down! Phones take more battery than our gopro cameras, so this can take away if you use your phone too much.
Date published: 2015-02-11T00:00:00-05:00
Rated

5

out of

5
by
Vanechita
from
It doesn't work
Mine didn't work. We charged it for two days! 2 days! And now that I am trying to charge my iPhone and it'll just go off. It only works if I keep if plug to the wall. Great! I am returning this thing tomorrow morning.
Date published: 2015-10-12T00:00:00-04:00
Rated

5

out of

5
by
lestraveling
from
Use it often
I bought the 150 for both adventure travel to remote places, and for the fact that I'm spending an extended period of time on a small island in the Caribbean where power is unstable. I've used it to recharge my MacBook Air, and charging my phone. Works just great. I've noticed that charging my table drains a lot of juice - so I seldom recharge it with the 150. Works just great with phone, led lights, etc!
Date published: 2015-09-17T00:00:00-04:00
Rated

5

out of

5
by
Yergie
from
Buyers remorse
With all the mods I had to make I should have just built one. The lead acid battery that came with it just isn't good enough with the other options out there. After spending way too much money on the Yeti 150 the direct replacement Lithium battery was way to expensive, so I salvaged 18650 cells from laptop batteries(which is what those direct replacement batteries are made from and built one (if you do this make sure you get some kind of controller for it so it'll balance and the voltage wont drop too low). Also the connectors for the lamp, power, panels are proprietary. I cut those off and replaced them with Hobby Kings xt60 connectors so I could use things other that Goal Zero branded. You can get Ankler panels almost identical to Goal Zero's for a whole lot less money(I did buy the Goal Zero ones, Ankler didn't have theirs out when I Purchased Mine). With the mods I made I can keep my cameras and other portable gadgets charged for all of my off grid treks. With the price I paid it should have at least came with the lithium battery, 18650 batteries are cheap and with the price of lead now worth it!!! If they would have done that it would have been a 5 star review.
Date published: 2015-09-18T00:00:00-04:00
Rated

5

out of

5
by
Deano
from
well made product
I plan to use the GZ Yeti 150 to power my new telescope.
Date published: 2016-12-13T00:00:00-05:00
Rated

5

out of

5
by
Benny B
from
Great for traveling and your electronics
I bought this at the end of 2014 only because I got a god deal on 4 refurbished Boulder 15's. It can charge pretty quickly with four panels on a hot clear day here in Florida. You really need to have an adequate amount of panels to charge solar power can be frustrating.
Date published: 2015-09-18T00:00:00-04:00
Rated

5

out of

5
by
JoeH
from
T.V. capacity
Doesn't say so in the specs but it also runs your TV. Ran my 15inch LCD for about 8 hours on a full charge.
Date published: 2015-06-04T00:00:00-04:00
Rated

5

out of

5
by
lakegeorge
from
Exceeding my expectations so far.
I bought this to go out on my boat for 2 nights (Friday and Saturday) to power a CPAP. I was afraid it would not last both nights... But to my surprise, it does both nights and powers cell phones, tablets etc. and only goes to about 60% by Sunday afternoon. Very happy with it so far.
Date published: 2014-06-10T00:00:00-04:00
Rated

5

out of

5
by
JD Needs Power!
from
Yeti 150 is Great!
This unit is super! Very flexible in the devices it will power!
Date published: 2013-12-28T00:00:00-05:00
Rated

5

out of

5
by
Brad_Kel
from
Love the Yeti 150
I bought this last fall and we use it camping. Keeps all our phones and tablets charged at night. Also the LED lights work great with it. Then during day set it out at the campsite and hook solar panel up to it.
Date published: 2014-04-16T00:00:00-04:00
Rated

5

out of

5
by
Kazlofsky
from
Security in Earthquake Country
The 150 offers a great peace of mind living on the West Coast. I can leave it plugged in and just know that I will have reliable power whenever I need it.
Date published: 2016-02-10T00:00:00-05:00
Rated

5

out of

5
by
Rchase
from
The best mix of Portability and functionality
We purchased a Yeti 150 and a Solar panel to use while camping with the family last fall. It's now our power-failure backup in the house and the charger for everyone's phones and iPads using free solar power from the sun. In terms of durability, the design and manufacturing are head and shoulders above the competition. Compare a GoalZero product to the Duracell battery or the iSolar equipment and you will see why it's worth it. Everything else looks fragile by comparison. The Yeti 150 is the right mix of power output connectivity and portability. It's light enough for the kids to carry it and has enough power storage to run our gear all nite. Finally the customer service team at GoalZero is located here in the USA. That means you can speak to a real human when you have a question. That's just not possible if you buy something on eBay. We really like our Yeti and it will be with us at the EAA fly-in this summer in Oshkosh. If you see a Mooney with a solar panel on it's wings, stop by and say "hi". We'll show you our new favorite camping gadget.
Date published: 2014-04-16T00:00:00-04:00
Rated

5

out of

5
by
OTGuy
from
A practical tool for home health practitioners!
I bought my Yeti 150 about 6 months ago, and it has quickly become one of my essential tools for work. I work in home health and need to keep my laptop and assessment tools charged throughout the day, and the Yeti has made that much easier to do despite working in a rural setting. I would strongly recommend this for all home health practitioners.
Date published: 2014-04-16T00:00:00-04:00
Rated

5

out of

5
by
Burk
from
Versatile Solar Generator
The Yeti 150 has been the one product that has at one point probably powered everything I take on a trip. My cell phone, camera, laptop, batteries all have been powered by this versatile solar generator. Whether I am in a tent in remote Russia or on a snow covered beach in Iceland the Yeti 150 has been there and helped power all my camera equipment. There have been many times I will be on a trip with little access to any power source and will have to rely solely on the Yeti 150 to keep my equipment charged. It has really allowed me to continue to shoot images in places that I regularly wouldn't be able to continue to charge gear and other equipment. It is an Goal Zero product that once you have used and had access to power at all times it is hard to ever go back to working without it.
Date published: 2013-06-11T00:00:00-04:00
Rated

5

out of

5
by
Spicy17
from
Great battery life
I've had this for a couple months now and it always gets the job done, I can charge all of my friends devices multiple times and still have juice for more.
Date published: 2014-04-18T00:00:00-04:00
Rated

5

out of

5
by
SMorgan
from
Underpowered
Fully charged, first use, 2 x LED light strips drawing 1.1amp and it was flat in 2.5 hours. Even at 50% draw down of the 14Ah battery I was expecting more like 6 or 7 hours. Hopefully it is defective and they will swap it out.
Date published: 2014-12-19T00:00:00-05:00
Rated

5

out of

5
by
Oakem
from
Perfect for my CPAP APAP machine
I purchased the Yeti 150 to power my CPAP/APAP and other devices, during power outages and emergencies, and while camping. My Equipment: Philips Respironics DreamStation (without humidifier) Power Supply: Shielded DC Cord for Respironics DreamStation My Test Results are below. Note: Before starting the test, I read the instructions for the Yeti 150. Also, I charged the Yeti 150 to 100%. I did not charge my Yeti 150 again until I reached day 4. CPAP/APAP Settings: Min Pressure = 7.0 cmH2O Max Pressure = 20 cmH20 1st night of sleep. 6:23 hours of run time. 90% pressure = 9.0 cmH2O 2nd night of sleep. 10:58 hours of run time. 90% pressure = 8.1 cmH2O On day 3, I charged my iPhone X utilizing the USB port on the Yeti 150. My iPhone's battery was at 5% and I disconnected it when it reached 95%. 3rd night of sleep. 9:27 hours of run time. 90% pressure = 9.6 cmH2O On day 4, my Yeti 150's battery indicator read 20%. I placed the Yeti 150 back on it'a charger (per the instructions).
Date published: 2020-05-03T00:00:00-04:00
Rated

5

out of

5
by
Lizzy2115
from
Yeti 150
I am totally pleased with this product!! I needed something for my photography business (print out photos at remote sites) where electricity is an issue. I was concerned about plugging in a small printer but everything worked. I can't tell yo how many people I've told about this product. I saw this demonstrated at Costco a few months ago and did buy it then, I wish I had.
Date published: 2015-09-24T00:00:00-04:00
Rated

5

out of

5
by
Irma survivor
from
Good source for emergencies
With the passing of the recent Hurricane , 5 days without power is not good , I needed something that could provided some type of alternative that I could use to cool a room and provide some power to run a fan and provide light in this kind of situation and this unit has proven itself and I am happy I have purchased this unit Thank you
Date published: 2017-10-02T00:00:00-04:00
Rated

5

out of

5
by
Rooster Cogburn
from
Great little charger...
My cabin is off grid. This is a great little charger. All my Goal Zero products stay fully charged, in addition to 3 LED flashlights. I have a 100 watt panel feeding the 150, which stays fully charged, even after heavy use. Small, compact and functional...
Date published: 2016-03-03T00:00:00-05:00
Rated

5

out of

5
by
GlobalMan
from
Great generator and excellent customer service
My yeti 150 is awesome! I'm a climatologist and work internationally on a regular basis; let me tell you, this generator is essential to me while working in the field especially during my frequent long-haul camp-outs. It's extreamly versatile, I can't tell you how many times I've used this to jump-start the truck rover in subzero environments. The ability to also recharge with a solar panel was a powerful selling point for me, seeing I'm often hundreds of miles from civilization. I also enjoy the ability to have easy access inside of the unit, which allows me to swap batteries if need be. A note for the battery, it's heavy. To cope with this, I swap out the sealed lead acid battery (SLA with a custom made lithium polymer version; though I wouldn't recommend this because the electronics inside were designed to charge SLA batteries and not lithium polymer. A special computer chip was retrofitted into my Yeti to charge safely. Lastly, I really enjoy the flexibility of being able to use multiple jacks/ports at once; unlike most other units on the market which don't or can't. It also is great for high drain applications. I have used this Yeti with my power-hungry satellite phone from the 1990s, which demands a minimum of 60 watts to operate, while also powering the string of 15 incandescent light bulbs strung around camp. I love my Yeti a lot and will probably purchase the next model up when and if that time comes for its decommission. Highly recommend!
Date published: 2018-01-03T00:00:00-05:00
Rated

5

out of

5
by
HMHSOCAL
from
Don't waste your $$$ or time on this AGM trash.
Yeti 150 has not been able to hold a charge, and now won't charge. Bought this replacement, and same thing. I've owned numerous GZ products but this is the worst by far w/zero support. Will go off brand or find a lithium as this AGM is pure garbage.
Date published: 2020-08-01T00:00:00-04:00
Rated

5

out of

5
by
tinkertas
from
Awesome product
This worked exactly as I hoped it would. We wanted a digital sign for the front lobby area... but there isn't a good way to plug something into a wall outlet without having cords 10 ft long and across the walk-way. The Yeti Generator lasts all day for our digital screen and works like a charm.
Date published: 2016-05-05T00:00:00-04:00
Rated

5

out of

5
by
jakko4Amsterdam
from
Good but could be much better!
I used the goal zero for powering my led equipped caravan and it does the job exellent. But I changed the standard battery for a lifepo4 battery what makes the device much lighter with much more power inside. So I wait for the original lifepo4 version of the goal zero with a charger that charges the lifepo4 battery much quicker than the original agm charger inside. And a lifepo4 makes the device much lighter and more powerful and can charge much faster if fitted with a good lifepo4 charger.
Date published: 2014-06-27T00:00:00-04:00
Rated

5

out of

5
by
hvacbabe
from
Wonderful!
The whole family can charge their electronics with this while we are out camping. Everyone loves it!!
Date published: 2014-04-16T00:00:00-04:00
Rated

5

out of

5
by
Barrington420
from
works as advertised!
Holds a charge for a long time and powers my laptop almost all day with moderate use
Date published: 2014-04-16T00:00:00-04:00
Rated

5

out of

5
by
Tumble weed
from
Great build yet the design...
I like the design except the lights and LCD screen seem like a waste, dimmer and all in one maybe. Also the solar panel needs a cord that is longer, I mean the idea is solar not plug yet the plug is long enough and solar is short and wouldn't be able to stay in a tent while getting charged.
Date published: 2016-02-11T00:00:00-05:00
Rated

5

out of

5
by
SDcamper25
from
Not powerful enough for mattress pumps for camping
Just purchased last week and disappointed to find it doesn't have the amp rating to use my DC inflator and not enough watts for my AC inflator. Have to keep my other car jumper battery for the matresses camping. Bummer.
Date published: 2019-05-29T00:00:00-04:00
Rated

5

out of

5
by
Esias
from
light weight 60 watt surge 8mm port perfect
believe it or not I can power 19 inch tv cell phone tablet and walkies at 57 watts and 60 watts of solar coming in which means battery doesn't die during the day or lose power checkout my youtube channel eclipse entertainment presents for my full review.
Date published: 2019-04-25T00:00:00-04:00
Rated

5

out of

5
by
nosliw
from
I like it.
IO bought mine almost a year ago, It came with a bad battery right out of the box. Goal Zero sent me a new battery right away "no charge". I put it in, charged it and put it to work. We have switched much of our lighting to LED in our house. It powered a Lamp in the living room with a very bright LED bulb all evening and only took it down to 60%. I charged it and put it away, I took it out 3 months later to check it like they say too and the battery was no good and would not take a charge. Again Goal Zero sent me a new battery No charge to me, I plugged it in and charged it so far so good the battery is holding a charge. I'm told that you can leave them plugged in they will not over charge.
Date published: 2014-10-27T00:00:00-04:00
Rated

5

out of

5
by
merl
from
great source
Needs more complete user manual More durable case. Some sort of cover would be nice.
Date published: 2013-08-03T00:00:00-04:00
Rated

5

out of

5
by
seversond
from
battery expanded to break case
Yeti 150 started beeping... found case bulged. Openned cased to find expanded battery and corrosion of various metal parts. Very nervous about using it again. Glad it didn't cause a fire.
Date published: 2020-01-29T00:00:00-05:00
Rated

5

out of

5
by
Joswigjones
from
Will not work with other solar panels
I am pretty disappointed that Goal Zero uses a 8 mm connector for charging. I figured I could find a work around, or build a cable that would let me use other more affordable folding solar panels that I already have. I can't seem to find any good solution.
Date published: 2018-02-13T00:00:00-05:00
Rated

5

out of

5
by
hogg1967
from
For future adventures.
I bought this a few weeks ago with the nomad 28 panel. Wanted to try it out for a little while before telling everyone how fabulous it is. That's what it is to, taken it out and about to keep cameras, batteries, cell, tablet, GPS and just about anything else that needs power (within its abilities) to stay out and about. The 28 panel charges this little beauty up in no time. Never got it below 40% even after charging everything on my list and running a cigarette lighter car fan to cool off on a muggy night. You guys have a very satisfied customer in me and I plan on coming back for more, keep up the great job Goal Zero.
Date published: 2017-09-28T00:00:00-04:00
Rated

5

out of

5
by
Power Hungry
from
Yeti 150 is worth buying
I took my Yeti 150 out on a boating/camping trip for a week. While it's too heavy for backpacking it was excellent for carriage by boat. It kept all my GPS and camera batteries charged allowing me to take more photos and video. I used a Nomad 20 solar panel to recharge it and it did just fine but the Yeti 150 was a bit quirky in displaying how much power was replenished as the hours went by. It took one day of sun to go from 20% to 40% and the next day in just a few hours it went from 40% to fully charged. So you may not know exactly how full the battery is or how well the solar panel is working but it definitely works well and gets the job done in recharging my devices.
Date published: 2015-09-20T00:00:00-04:00
Rated

5

out of

5
by
Broadwing
from
Yeti 150
I sincerely feel that the product is a good product and does what it states it will do. My only problem is with the price of this and all Goal Zero products I have purchased. They are to expensive, that's the bottom line.
Date published: 2016-02-10T00:00:00-05:00
Rated

5

out of

5
by
The old man
from
it has great features
I have been buying Goal Zero products every since they started. It feels good to know that you have a little power when you need it and you can store more power through solar panels
Date published: 2016-12-13T00:00:00-05:00
Rated

5

out of

5
by
Colonel Siltbottom
from
Long term review Yeti 150
I have the first gen version of the Yeti 150 with the single USB port (gen 2's have the dual USB ports) The Yeti 150 has performed very well for what it was intended for. I have used it for running Light-A-Life, Bose wave radio/CD player, Norelco shaver, phone recharging, recharging Rock Out speakers, charging AA, AAA, 9v batteries, USB fans and a host of small electronics and it has been flawless. The build quality is top notch and not too heavy. Yeti 150 came in handy when Hurricane Joaquin knocked out power here in the Carolinas. Yeti 150 will NOT run a hair dryer or coffee maker. Remember to use the 150 for what it was intended and you'll be quite satisfied. Opt for the more powerful Yeti 400 for charging cordless power tools from Lowe's or Home Depot or running CPAP machines, or the Yeti 1250 for running a high power device such as a microwave oven or hair dryer. The only "gripe" I have is the OEM battery is a little "iffy" Some folks have had the original battery flatline in less than six months. Fortunately, the battery is easy to replace. I would recommend an after market replacement such as the "Mighty Max" 12v 15AH, about $35, or the VMAX "Charge Tank" 12V 15AH, about $50. Now If GZ had a lithium ion replacement, I would be tempted. Overall, this is a fine piece of equipment to have for camping or back up around the house. Keep your unit charged (I recommend a minimum of every two weeks) and it will be good to go when you really need it. I would also recommend a minimum of 30 watts of solar panel to charge it when using sun to keep charge times reasonable. I give this a solid 4 1/2 stars.
Date published: 2015-10-06T00:00:00-04:00
Rated

5

out of

5
by
Westy0039
from
Yeti 150 after 6 years on the orginal battery
Today i was out in the garage checking to make sure I had everything charged up as we are susposed to get a bit of a wind storm and snow about 4 to 6 inches in the next few days. I have read numerous reviews about the "cheap" batteries that Goal Zero puts in their Yeti 150. I have 2 Yeti 150's one I bought 1/24/2014 and the other I purchased April of 2016. I bought these after buying an Escape 150 about 10 years ago. I have replaced the battery on the escape one 150 about 2 years ago. I also have a Yeti 400 I purchased 4/3/2014. I put a new battery in the Yeti 400 just 3 or 4 months ago. I want to say I am careful not to drain any of my Yetis below 40% and I use them daily to charge up phones and other things around the house. mI make sure to drain down my Yetis to 40 or 60% at least once a month. It says some place on the Goal zero website you need to use your Yeti to keep it working. I don't leave my Yetis plugged in all the time I discharge them, if I remember to, at least once a month. The reason for this review is to remoind people that the Yeti is a quality product and the big plus as I see it is I can replace the battery myself. The ease of battery replacement is one of the biggest selling points as far as I am concerned. I also am a fan of plug and play, which makes the Yeti family user friendly. Just my thoughts from the Big Sky Country, Montana.
Date published: 2020-02-01T00:00:00-05:00
Rated

5

out of

5
by
Gforce
from
Major disappointment
I am currently camping after buying the yeti 150 last week. It is so weak, won't work will a 110w air mattress inflation unit or a basic toaster. It barely charges my laptop once. For $200 I should be able to do more than just charge my cell phones an camera's!
Date published: 2015-07-13T00:00:00-04:00
Rated

5

out of

5
by
HenryM
from
Awesome Portable Go-To Daily Use Generator
This is an impeccable source of power. While not just super convenient and valuable on camping trips for charging phones, lights, etc, this highly reliable and easily chargeable generator is a great balance between price and power and portability even from daily use around the house further prolonging its shelf life. Using a few pairs of Boulder 15's clipped and chained together that I leave conveniently on my balcony I'm able to charge and use for a variety of devices, laptops, and small appliances to help conserve on power throughout the week. Highly recommended!
Date published: 2015-05-27T00:00:00-04:00
Rated

5

out of

5
by
Reno Jim Gr
from
Powers my conversion van interior great!
I use this to power the interior of my conversion van when camping and keep all my electronics charged on my 2 - 3 day camping trips. I top it off with the solar panel every day and I always have plenty of power. The various outputs and the on/off button on each output is great. It is powerful and charges my HD Fire 8.9 up through the USB no problem. I use my escape 150 for campground lighting only and this powers and charges everything else.
Date published: 2013-07-28T00:00:00-04:00
Rated

5

out of

5
by
Amiles248
from
So good, I got three
This is one of the best ways to be ready when the power goes out. Recently my power went out for 12 hours. I was able to set one of these up in the bedroom to power a light and a 12v fan. In the kitchen I powered up my phones and two light a lifes. I had the third one outside charging off of two boulder 15s, just in case
Date published: 2013-08-17T00:00:00-04:00
Rated

5

out of

5
by
C Rogers
from
Not what I expected
I was given this as a gift in a package to help power my portable amateur radio. The information on the site did NOT say that the 12 volt output was limited to 10 amps out. The radio I wanted to use draws almost 20 amps on transmit so this power pack will not work for me. It was a waste of money from my standpoint. It might be good for other uses which I haven't tested, but do not recommend it for radio power unless for QRP use. This is not against Goal Zero as a company, just about this particular product. I have other Goal Zero products and like them .
Date published: 2016-12-12T00:00:00-05:00
Rated

5

out of

5
by
RBos
from
yeti 150
Have it for some time now in combination with the boulder 15. Great combo.
Date published: 2014-07-23T00:00:00-04:00
Rated

5

out of

5
by
JacoBobo
from
Yeti 150 works great!
Used my Yeti 150 camping for the first time last weekend, paired with 4 Boulder 15 panels mounted on a GZ tripod. We charged 3 phones, Rockout 2 speaker and some other miscellaneous things. At one point, the Yeti was down to 20% by the morning, but having 60 watts worth of panels charged it back to full in just a few hours, very impressive. This is my first experience using solar to camp with (we have a popup camper but rarely camp anywhere we can plug in) and I'm a convert. I own a # of GZ products and love them all. Living in NM, solar is no brainer and GZ makes it very easy to get off the grid while camping.
Date published: 2015-05-08T00:00:00-04:00
Rated

5

out of

5
by
alqubaisi1
from
big loss
I bought 150 Solar Generator from Germany but unfortunately i couldn't take it to my country because its not allowed to take it with me in the flight so I had to keep it in Germany and I lost 400 euros for nothing
Date published: 2015-11-02T00:00:00-05:00
Rated

5

out of

5
by
Oncomingstorm11
from
Hunk of junk
My wife bought our yeti 150 about 2 years ago and we've only kept it for emergencies. This is the third time I've charged it. It overheated and made my kitchen stink like burnt electronics. The bottom was bulging and it took 4 hours for it to cool off.
Date published: 2022-09-02T00:00:00-04:00
Rated

5

out of

5
by
Lorna
from
Goal Zero Yeti 150
It was easy to follow instructions and light weight. I feel more secure having it in case of a power outage. I love it
Date published: 2022-03-29T00:00:00-04:00
Rated

5

out of

5
by
MtnGrunt
from
Poor capacity and massive issue with discharge
I've only been able to use this in the field twice over the last couple of years before giving up on this. Both times, I barely was able to charge my phone twice in the field before I ran out of power. I have power packs 1/8th the size and weight that give me 10 times more charge capacity. When it's not plugged in after a full charge, the non-mutable alarm incessantly goes off after a week or two letting me know that it needs to be recharged and won't shut off until it gets plugged into the wall. The battery doesn't hold a charge at all for any reasonable length of time (typically it loses 50% of charge after sitting unused for 3 days). When I charge it, the bottom gets very hot, and the case noticeably swells (Very much a safety issue). Super disappointing given the money I spent on this at REI (over $250). I also am very careful to take care of my gear and this unit has never been dropped or exposed to water or other extreme conditions. Not sure how I can safely dispose of this. I'll never buy another Goal Zero product again.
Date published: 2023-01-18T00:00:00-05:00