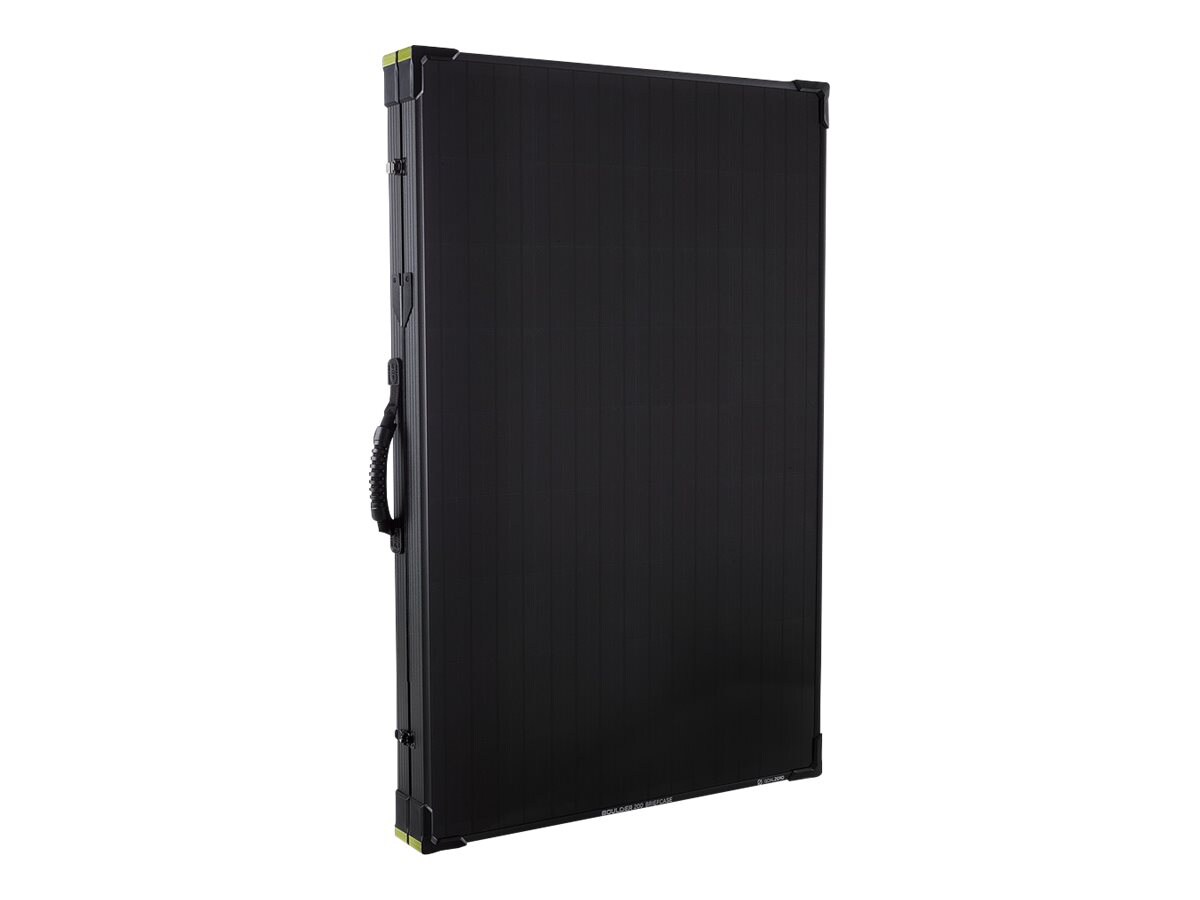 Quick tech specs
View All
Know your gear
This large monocrystalline solar panel (200 W total) in an easy-to-carry briefcase form makes for the ultimate on-the-go setup. Whether you're boondocking, camping, or needing panels for your backup, the Boulder 200 solar panel briefcase is ideal for any off-grid scenario.
Goal Zero Boulder 200 Solar Panel Briefcase - solar charger - 200 Watt
is rated
4.20
out of
5
by
19
.
Rated

5

out of

5
by
Mike1234
from
Awesome power!
When the Boulder 200 arrived by UPS last night, there was still sun in the sky. So I unpacked it and plugged it into my Yeti 1400. I was getting over 150 watts until the sun sunk closer to the horizon. This morning I had drained my Yeti down to 3% charge and so I plugged it in with the Boulder panels in full miday sun with lots of small scattered clouds. When the panels were in full sun I was getting over 170 watts and it would occasionally go to 190 watts. More than once I saw it climb to 201 watts (yes, from panels only rated 200 watts!). I'm using the MPP charge accessory with the Yeti so I'm sure that helps. The panels look beautiful and are well-made with the corner protectors being nice details. The panels are big and heavy (42 lbs) and most of the weight is in the panels themselves, not the aluminum frames. The weight and large size make it difficult to use the protective storage case (which doesn't really add impact protection, mostly just protection from dust and scratches). I think they are kind of heavy for adventure use, they are at their best as a back-up power source for critical items during unplanned/extended home power outages or at a base camp for extended camping in one location off-grid.
Date published: 2020-05-30T00:00:00-04:00
Rated

5

out of

5
by
Jibaro
from
A good piece of necessary gear for the Yeti 1400
Very heavy. Bulky. Hard to find an appropriate storage location. Will not recharge in the shade; must charge with full sun exposure and/or thru the clouds (but will NOT charge in the shade). Very, VERY expensive; but the wife wanted it in light of the recent hurricanes.
Date published: 2017-10-13T00:00:00-04:00
Rated

5

out of

5
by
SkyKing
from
Reliable and powerful.
Very Heavy for me to but packed with reliable power. I have several Allpowers 100W folding solar panels (about 5 pounds each) and a Suaoki 60W folding solar panel (about 3.5 pounds) which work great are are easy for me to handle. (I'm a senior citizen and disabled vet). That all said, this panel puts out a lot of power...Even on cloudy days I get a least 20W / 1.9X AMPS more or less (when overcast !) Using the Goal Zero Anderson to MC4 adapter I was able to easily connect to my various "solar generators" like EasyFocus 288Wh and Suaoki G500, 500 Watt. Remember that Goal Zero's "version" of Anderson Power Pole connector is VERTICAL not HORIZONTAL like most, so you'll need an UN-BONDED Anderson Power Pole Connector. The Goal Zero Boulder 200 Solar Panel appears very well made. It's pricy. $500+. My Allpowers folding 100W solar panel was less than $200. I recommend this Goal Zero Boulder 200 Briefcase for those that want lots of reliable power and can deal with moving around 42 pounds. Just a PS here. The unit comes with a fabric carrying case but as the case is presently designed, you have to LIFT this 42 pound monster over the case to get it into the case. I have suggested to Goal Zero that they make the case so it can be placed OVER the Boulder 200 which would require no lifting of the panel.
Date published: 2018-08-15T00:00:00-04:00
Rated

5

out of

5
by
Armand
from
Boulder 200 BriefCase Review
Bought this to speed-charge my new Yeti 1400. From the top: Price is too high (vs. Renogy's $400 200w panels) - MINUS 1 star. 12AWG cable from the back of the panel is only 6ft. long -- way too short that makes connection to power-stations EXTREMELY prohibitive (can't take power station inside). MINUS 1 star. Highest charging througput I can get is 144watts, was expecting at least 160-170w. MINUS 1 star. 'love the foldable legs design. PLUS 1 star... but it LIMITS tripod mounting. MINUS half a star. Overall rating 3.5 stars.
Date published: 2017-09-20T00:00:00-04:00
Rated

5

out of

5
by
alwaysbcampin
from
I lived on it for 30 days
Worked great. At peak i pulled 180 watts on average 150. Charged the yeti 1000 everyday. I ran fans, phones, computers, water boilers, instant pots, christmas lights, headlamps, hair straighteners, blow dryers, air pumps, and a coffee maker. BUY THE 15foot Anderson cable from them. I ran the wire from the panel to the yeti inside the tent. Great product buy it as back up power, buy it as a party to go. It's a big kids toy with real life applications. Enjoy
Date published: 2019-02-03T00:00:00-05:00
Rated

5

out of

5
by
LylePbike
from
Powerful and Easy
Super powerful and easy to set up. I love how portable it is to chase the sun and how much power it captures.
Date published: 2021-11-15T00:00:00-05:00
Rated

5

out of

5
by
Jon H
from
Solar Briefcase
Nice sturdy design with a sleek look. Comes in handy if you need to charge your power station and you're on the go!
Date published: 2021-11-16T00:00:00-05:00
Rated

5

out of

5
by
John Vuk
from
Great addition to your power station.
Used it camping. Kept both my Goal Zero YETI 1500X and my RV battery charged (20 AMP CHARGE CONTROLLER).
Date published: 2021-11-07T00:00:00-04:00
Rated

5

out of

5
by
Visian
from
It works, but could use some refinement.
This unit arrives well-packaged. The panels themselves are well finished. It's HEAVY and a bit awkward for one person to use. The clips that hold it closed are very lightweight, as is a lot of the screws and hinges holding the halves together. The folding stand is sturdy enough but the feet are "bare"... no molding, and the metal edges scrape across hard surfaces. The corners on the panel should be rubber, not metal, which scratches easily. The protective case is very flimsy, a hole has already worn into the bottom. It is impossible for one person to put the unit back into the case because of the zipper design. My LiFePo batteries have an integrated BMS, and the panels would only charge them at 13.4 volts despite being set for a LiFePo profile. The Goal Zero tech support suggested removing the BMS... no way! It charges a 100 Amp hour battery 50% in 4-5 hours in bright sunlight.
Date published: 2021-12-08T00:00:00-05:00
Rated

5

out of

5
by
Karen in Boston
from
Architect in Boston
This is my 4th goal zero product. I step it up every time. Love the brand, ease of use and customer service.
Date published: 2022-01-17T00:00:00-05:00
Rated

5

out of

5
by
Joan5
from
Very durable panels
It has taken a beating from me, my kids hitting it, it falling because the legs weren't put all the way out, being stepped on by dogs and kids, and being dropped at 3 feet. They are very durable, I must say and I'm great at product testing because of all the variables I have to put it through, but not paid for it though. I even showed these to another solar company and an employee was impressed by them.
Date published: 2021-11-06T00:00:00-04:00
Rated

5

out of

5
by
Jessiekay
from
Needs to be redesigned
It is cumbersome to carry and the case is very hard to remove and put back, its a design flaw.. the way it opens is also a design flaw, I could redesign it in 10 min.. I think very young people designed this who have no concept of user friendly. Otherwise works well as a solar panels.
Date published: 2021-11-06T00:00:00-04:00
Rated

5

out of

5
by
Hermit in the Maine woods
from
Rugged
Ruggedly built to last. I live off grid and have 6 of these now.
Date published: 2021-11-05T00:00:00-04:00
Rated

5

out of

5
by
Mike in Dallas
from
I highly recommend some product redesign
Energy generation performance is great. BUT... Needs to be much lighter The panels need to be inverted with respect to the hinge - put fragile crystal inside when folded to provide much better protection when folded up (the legs, wires should be outside when folded). The canvas cover doesn't afford crack protection, thus my suggestion here - get those crystal panels tucked inside!
Date published: 2022-09-09T00:00:00-04:00
Rated

5

out of

5
by
Drsignguy
from
Well Built, great Quality
After having the Boulder 200 Briefcase for about a week now, I have to honestly say that it is one tough solar panel. I have read some the reviews about the weight and the case that comes with it and I will mention that is a few. The product does great on feeding my LiFePO4 battery the power it needs and the controller is very easy to use. The weight, to some may be heavy but I prefer it as the outside elements throws curves once in a while and when this sits on the ground, it stays. you can move it with ease to keep it facing the sun. The case is just fine. protects it as it should. The wiring and connections are very well done, and I don't have to worry for bad connections. All in all, I feel this is a great product to have and I know It will hold up for years.
Date published: 2023-06-18T00:00:00-04:00
Rated

5

out of

5
by
Dusty backroads
from
MUST connect to their own devices, eg. yeti power
Cannot connect to other brands nor find adapters to do so. Very frustrating
Date published: 2023-06-26T00:00:00-04:00
Rated

5

out of

5
by
Psaw
from
3 out if 4 ain't bad?
Purchased four of these. One doesn't work. Am in the field so can't get a replacement for a month. Because I don't have an address or the original box with me. Relying on these for work.
Date published: 2023-07-12T00:00:00-04:00
Rated

5

out of

5
by
JamesRO
from
Boulder 200 Recommendations
My first recommendation is for the stand to lock in place. It's easy for them to fold in and fall and pinch your fingers. My second recommendation is that the solar panels fold inside to protect the panel. even though they are in a case the case will not protect them from a sharp puncher item.
Date published: 2023-05-03T00:00:00-04:00
Rated

5

out of

5
by
Studd Pyles
from
Sheep Wagon LIfe
When my 1000 watt yeti and 200 watt boulder briefcase showed up, my life completely changed! Generally sunny every day in southern Colorado, the unit charged to 100% easily in the time specified. Whilst changing the unit, I continually charged tool batteries an ran various power tools throughout the day. In the evenings I was able to charge phone, speaker and headphones, while I plugged in a 55 watt LED shop light and 45 watt boot dryer. I look forward to plugging in a variety of appliances and more power tools in the near future! Being winter and at 8600ft, I take some precautions when its gets below zero. Like every tool, the operator needs to take care and be responsible in adverse conditions, easily kept warm with a down jacket or sleeping bag at night or whilst charging during the day. Sure the unit and panels be a little heavy, or awkward to set up, sure beats not having electricity! Fellow permacampers recommended it to me and I no complaints yet! I can't imagine a solar unit could weigh less for the power it generates. Like every tool, it is a tool, the owner needs to figure out how to use it and ways to be more efficient with it!
Date published: 2023-02-16T00:00:00-05:00