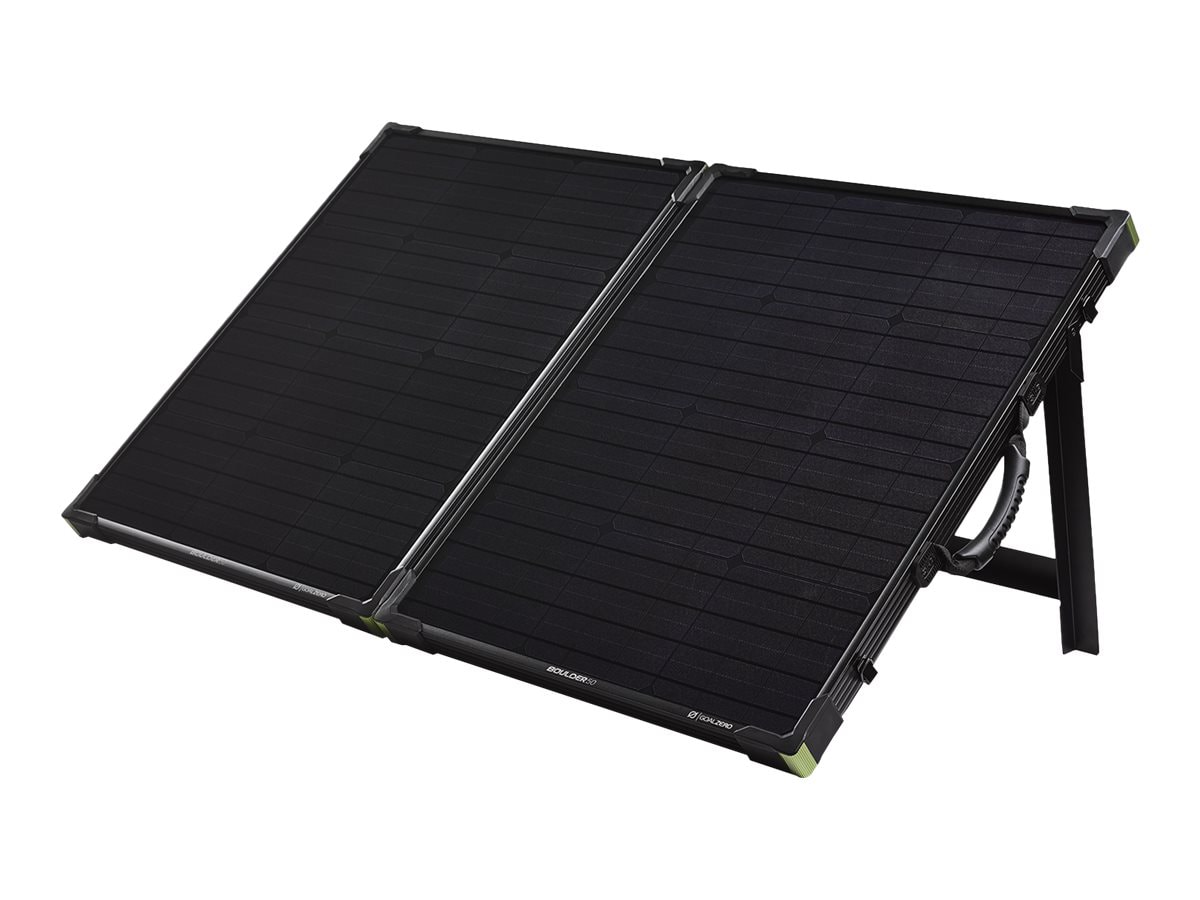 Quick tech specs
View All
Know your gear
Rugged, durable, and rigid. The Boulder 100 Briefcase solar panel is built with strong tempered glass and an aluminum frame with added corner protection for temporary or permanent installation. Equipped with an integrated kickstand to help get optimal angle to the sun. Included a protective canvas bag for easy carrying.
Goal Zero Boulder 100 Briefcase - solar charger - 100 Watt
is rated
4.60
out of
5
by
26
.
Rated

5

out of

5
by
SkyKing
from
Powerful and not to difficult to move around and t
Goal Zero Boulder 100 Briefcase is well made, sturdy, easy to use, compact and not too heavy. Yes, Goal Zero is very proud of their products but they are worth the price. I do have competitive products, so I can actually compare realistically and the Goal Zero Boulder 100 Briefcase is my choice hands down. You can expect, in clear skies, property directed to the sun, to get about 80 Watts out of it, on average in summer. This is a perfect match for Goal Zero's Yeti series "Power Stations" I use this product daily.
Date published: 2018-08-15T00:00:00-04:00
Rated

5

out of

5
by
Undisclosed
from
null
Seems to be well-made and performed as expected under limited usage so far. This unit charged my YETI 1400 approx. 35% after 10 hours under a FL summer sun. I faced the panel to the east during the am hours, west during the pm & flat when the sun was overhead. A small quibble is the cable connecting both sides of the panel could be pinched if not careful when folding, unfolding or otherwise manipulating the briefcase.
Date published: 2017-09-23T00:00:00-04:00
Rated

5

out of

5
by
Larryd
from
Excellent
I purchased this last month and it appears to continue to charge my yeti 400 on cloudy days, I am happy that it continues to charge when I use it to run my water generator. Great for those who need portable solar
Date published: 2017-11-15T00:00:00-05:00
Rated

5

out of

5
by
Merciers
from
Looks Great
This came (at last - after the hurricane passed yesterday evening. The box was badly damaged. There is no documentation included. I would have expected to find, at the least, some dta regarding connecting to battery. This leaves a lot of guesswork and uncertainty inthe operation.
Date published: 2017-09-20T00:00:00-04:00
Rated

5

out of

5
by
Chuckie
from
Well built.
I hooked it up to my trailer batteries and it charged them quickly.
Date published: 2017-07-03T00:00:00-04:00
Rated

5

out of

5
by
PaulAB
from
Better than expected; and expectations were high.
Actual data plot below shows peak of 70 watts charge at noon 50 miles north of Chicago in February! Enlarge it and read the details of plot; 355 watt-hours of charge in about 6 hours and the angle to sun was not optimal and no tracking. Shadows set in at about 4 pm. I am very pleased with this performance through 60 feet of joined cable. Now, if GZ will just assure me that the Nomad 100 will perform as well and lower its dear cost by 100- 150 dollars, I'll purchase one of those as a compliment to the boulder bc.
Date published: 2018-02-09T00:00:00-05:00
Rated

5

out of

5
by
Tim63
from
null
I'm very impressed with the quality of it even in the state of Washington where I live I'm very impressed with its ability to perform thank you Goal Zero!!
Date published: 2017-09-05T00:00:00-04:00
Rated

5

out of

5
by
Matoley
from
Just what I needed
I added this to go with four Boulder 30's. I have two Yeti 400's chained together, plus two RV batteries. 120 watts for my Yetis and 100 watts for the RV. I only start my generator once a week to circulate the lubricants. I love capturing sunshine!
Date published: 2018-02-26T00:00:00-05:00
Rated

5

out of

5
by
The Bald Man
from
Looks good, concern with durability
I bought the Boulder 100 and received it today, yet to test it as it is raining. This is going in my overland vehicle, a '91 Jeep Cherokee to power my Yeti 400. First impressions are that it appears well built, hinges feel sturdy when opening the panels and the handle is comfortable making it easy to lift. My first concern is that the two clamps are quite petite and I would question their durability. The second concern is that the panels when folded have the glass out, and the case does not offer much in the way of protection. To me, this had the potential to easily damage the panel is transported or if knocked over. Will follow up once I get a chance to hook them up to my Yeti and test them fully.
Date published: 2019-04-08T00:00:00-04:00
Rated

5

out of

5
by
Cali_Livin510
from
Not as much power as advertised
The Boulder 100 is rated at 100w, although it barely pulls in 45-55 in direct sunlight on a 70 degree day. If I would have known that was the case I would have just went with the 200.
Date published: 2018-05-22T00:00:00-04:00
Rated

5

out of

5
by
Ciancio
from
A lot of power that's easy to bring with you.
So far I am very impressed with this panel. Very well built (as is all my GoalZero equipment), comes with a built in handle and a carrying case so it's easy to transport and setup. When I tested it out I was getting 74 watts from the panel, (I am very happy with those numbers as this was around 7pm in Oklahoma with some high altitude clouds). The kickstand is a great addition, I don't have to find something to prop the panels on like I do with my older Boulder panels. It would be nice if it has a little more adjustment but still very helpful. The only thing that would make it better would be to have the "input" port for chaining like the other Boulder panels have (not a big enough issue to cost it a star so I still give it a a solid 5 stars)
Date published: 2017-09-13T00:00:00-04:00
Rated

5

out of

5
by
GS kid
from
Like them so much that I bought four of them!
I bought four of these to use with the 4x 8mm Combiner to Anderson connector (not yet r!eleased for sale as of this writing) into my Yeti 1400 lithium power station. It can take in up to 360 watts of power from the solar panels through the Anderson Power Port input. Allows for quick charging and will power my gear at the same time. Works great! Big thanks out to the Goal Zero staff for being so nice on the phone and going the extra mile in helping me make this setup a reality. The Boulder 100 briefcase solar panels are wonderful. They weigh about twice as much as the Nomad 100, but are half the price! They come with a zippered soft case to cover them when they are not in use. The panels open and close fairly easily. The fasteners to keep it closed work fairly well, but as others have noted.... I do question their long term reliabity since they are not as rugged as I would have liked them to be. Be careful and gentle with them and they should last pretty long. The handles are strong and make lugging these panels around a breeze (considering the weight of the panels). The frame and the legs are also very strong and the metal corner protectors do a good job. Although only a minor complaint, I wish they had something to lock the legs open and closed. The legs can swing out on their own in a way you don't want when you are opening them. I bought some heavy duty Velcro strips to keep the legs closed snug against the panels until I release them. I also wish the legs were ratcheted and allowed more freedom of movement. This would allow for placing the top of the panel at a lower angle for when the sun is nearly straight above you. Currently you have to close the legs and lay the panel flat on the ground to get the maximum light wattage from a directly above noon sun in the summer. Those minor complaints (suggestions) aside, I'm still giving these panels 5 stars. and highly recommend them to anyone!
Date published: 2017-05-31T00:00:00-04:00
Rated

5

out of

5
by
findlj
from
boulder 100 briefcase after 2 years
I use a yeti 1400 lithium with MPPT and a pair of boulder 100 briefcase panels primarily to power my small travel trailer off grid camping and at motorcycle trial events. I'm very pleased with the performance of this setup. My experience is that on a clear, sunny day the pair of 100 boulders will charge the yeti at a rate of 90 to 150+ watts/hr. I actually have seen over 180. I highly recommend these products.
Date published: 2020-07-11T00:00:00-04:00
Rated

5

out of

5
by
BobKla
from
Handy solar panel
I have had the Boulder 100 for about a month. I use it to charge a Yeti 400. Very well constructed. My only complaint would be that when folded up, the cells are on the outside rather than inside. The supplied case is nice, but would not prevent damage if it took a sharp strike
Date published: 2017-09-27T00:00:00-04:00
Rated

5

out of

5
by
Troubles
from
Make short work charging Sherpa 100
I have charge the my Sherpa 100 several times in the last week, it made short work on charging it. i have been waiting for the Yeti 1400 to get back in stock. Curious how the Boulder 100 charges it, pretty sure i will have order another Boulder 100 for increase time efficiency.
Date published: 2017-10-08T00:00:00-04:00
Rated

5

out of

5
by
elrook
from
Better value on other GZ panels
Best input only 57 watts in Los Angeles mid-day on a sunny day on two different GZ power stations. 57% is not a passing grade-much less than advertised. (2) Boulder 50s are running about $300 on GZ. The handle is a good idea but the outward facing panels aren't the best design choice. I'm returning mine for the other options.
Date published: 2017-08-05T00:00:00-04:00
Rated

5

out of

5
by
Adamhartmusic
from
The Handle is Great
As a musician, I need mobility with setup. The handle on the Briefcase 100 allows me to take it on the road for easy set-up.
Date published: 2017-05-18T00:00:00-04:00
Rated

5

out of

5
by
mikemikeMike
from
null
used it 2x. live it. 3 things I'd change is the clips holding it together are too petite. I'd change the fold design to follow the other way to protect the solar cell from contact and a padded case. maybe change the 8mm cord. I use it on my yeti 400.
Date published: 2017-04-24T00:00:00-04:00
Rated

5

out of

5
by
Offgridlife
from
Off-grid life
The perfect set up for our Yeti500 battery bank. Convenient and manageable for a couple living off-grid.
Date published: 2021-11-15T00:00:00-05:00
Rated

5

out of

5
by
Squatch Fall tour 2021
from
Easy to use
Finally set off on our can life adventure! Found the Boulder briefcase easy to set up and pack away. Seems to charge our Goal Zero generator fairly well. Just have to adjust to the suns angle to get the best charge.
Date published: 2021-11-15T00:00:00-05:00
Rated

5

out of

5
by
Spelter
from
Sturdy, Semi Portable, Short Cord
This is my first solar panel so I don't have much to compare this to. It's very study, dropped it out of the car a few times and kids have tumbled over it. It's fine for car camping and home use but wouldn't want this overlanding or even for a basecamp trek. Cord is very short, I guess to be part of a series of panels on an extension cord to get further from camp.
Date published: 2021-11-08T00:00:00-05:00
Rated

5

out of

5
by
GravStorm
from
Very pleased with the output.
Purchased a Yeti 500X a few months back and decided to get a panel to go with it, mostly for outages. Used the Boulder 100 for the first time today. Cold (10 F) winter day about 10:30am and it was putting out 85 watts. It's sunny but the sun is very low in the sky so I wasn't expecting that amount of power. Very pleased. It's a bit heavy so not taking it backpacking but is very solid and seems well built.
Date published: 2022-01-15T00:00:00-05:00
Rated

5

out of

5
by
Colorado Kid
from
Boulder 100 Solar Panel Briefcase
User Friendly, Quality Product, Works well with Goal Zero Solar Generators. Would recommend Goal Zero Products to anyone.
Date published: 2022-03-19T00:00:00-04:00
Rated

5

out of

5
by
Johnny5ive
from
Easy carry.
Haven't use the panel yet, but my brother says they work great.
Date published: 2021-11-05T00:00:00-04:00
Rated

5

out of

5
by
MOH319
from
Built like a tank
Like all Gold Zero products the Boulder 100 is built with quality in mind. The downside is you have to be a bodybuilder to carry it.
Date published: 2023-06-15T00:00:00-04:00
Rated

5

out of

5
by
T.Rey
from
Perfect 100watt panel with a sturdy build.
This solar panel is a no worry, durable panel. I don't hesitate to throw it out in parking lots and juice up while parked.
Date published: 2022-07-05T00:00:00-04:00