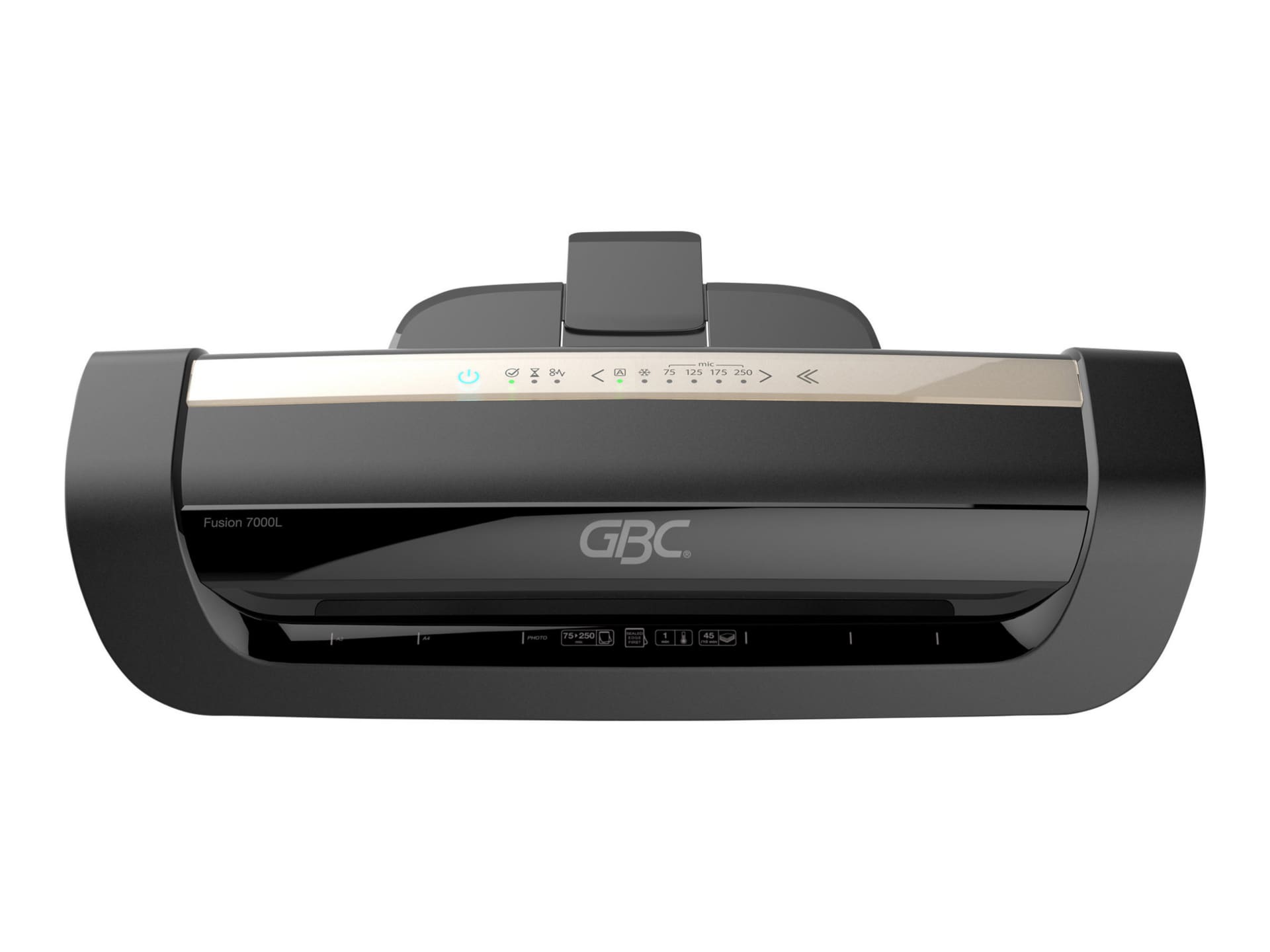 Quick tech specs
View All
Know your gear
Fusion 7000L laminator provides faster lamination with a quick warm-up time and superior laminating speed. Perfect for busy office environments, this 6-roller laminator also has several user-friendly features to maximize productivity and minimize errors.
GBC Fusion 7000L - laminator - pouch
is rated
4.70
out of
5
by
19
.
Rated

5

out of

5
by
Jacki
from
Excellent Product!
This laminator is exceptional. It will do any kind of project I can think of. It warms up very quickly and is much faster than any other laminator I have tried. It is a heavy machine, but well worth it. Two thumbs up????
Date published: 2019-08-25T00:00:00-04:00
Rated

5

out of

5
by
Crystal
from
The best!
This laminating machine worked awesome the only downfall is that it's super heavy and kind of bag so it's not really good for space-saving. Otherwise I would highly recommend it.
Date published: 2019-08-20T00:00:00-04:00
Rated

5

out of

5
by
J.B.
from
Love it!
Great laminator! Does everything as they say.
Date published: 2018-10-25T00:00:00-04:00
Rated

5

out of

5
by
Candy
from
Great for big projects
I do a lot of laminating for my home business and having a durable, good quality laminator is essential. The fusion plus 7000L heats up pretty quickly and laminates with lightening speed. I've gotten professional looking results everything has come out smooth and without wrinkles. The increase speed on large volume projects has helped a lot. Also, the machine is pretty quiet too. Overall, good quality laminator, efficient and heavy duty. You also get 50 free laminating sheets to get you started. I'd most definitely recommend this laminator.
Date published: 2019-09-19T00:00:00-04:00
Rated

5

out of

5
by
Zlatan
from
Great laminator
This GBC Fusion 7000L is definitely a high quality laminator, it's quite heavy and large, up to 12 inch size documents. Super fast warm-up only need 1 minute and ready to use, the best thing is make a very smooth and strong result.
Date published: 2019-12-12T00:00:00-05:00
Rated

5

out of

5
by
Kayla
from
The Fusion 7000L 12 inch Laminator Rocks
I absolutely love my Fusion 7000L 12 inch Laminator. I have laminated so many papers since receiving my product and will continue to use this regularly. I have laminated reminder signs for my kids and an entire binder of papers to help me stay organized. This is seriously the best laminator on the market and I am in love with this product. The Fusion 7000L has helped me become more organized and efficient in my everyday tasks. I will continue to recommend this to all my family in friends.
Date published: 2019-08-22T00:00:00-04:00
Rated

5

out of

5
by
Mary
from
More than Laminator!
I used the product at home to laminate my personal pictures or insurance cards. Recently I used it to laminate the final token given to me of cats nose and paw by my Vet. My cat of 21 years past away and they pressed his little nose on a card and his paw with a beautiful saying. This was something I wanted to save and having it laminated to save for forever is the best way to use my laminator.
Date published: 2020-04-13T00:00:00-04:00
Rated

5

out of

5
by
Victoria
from
Great product
This GBC Laminator is simply phenomenal. The setup instructions are to the point and I was able to get right to it! Very quickly warms, within under a minutes time. Placing any document into a pouch and feeding it into the laminator, it is quickly sealed and without flaw. I have not experienced any bubbles or tears which has been common in use of laminators. GBC has a quality, top of the line product here
Date published: 2019-09-09T00:00:00-04:00
Rated

5

out of

5
by
Alexa
from
Perfect for teachers everywhere!
I absolutely love the Fusion 7000L 12 inch laminator! It has made back to school so much easier for me. With the fast warm up and the super durable pouches, I am able to finish decorating my classroom and getting things ready in half the time! I am so impressed by the speed of this laminator. Very happy!!!
Date published: 2019-08-20T00:00:00-04:00
Rated

5

out of

5
by
Andrea
from
This product is awesome
Amazing product!! Such a big help in my classroom!!!
Date published: 2019-08-20T00:00:00-04:00
Rated

5

out of

5
by
Daniel
from
Would recommend this to anyone needing a reliable laminator.
This is a very good laminator. We have had several over the past 10 years. No long wait time to heat up and with the auto sensor of thickness it seals perfectly every time. Have not had any issues with it and have used it at lease once a day for the past month. Would recommend to anyone needing a reliable laminator.
Date published: 2021-08-12T00:00:00-04:00
Rated

5

out of

5
by
rinsetta
from
Premium Product
This laminator is the Cadillac of laminators. I use it in my home office for my business to laminate sales sheets, price lists, and labels. My daughter is a school teacher and also uses it to laminate decorations and papers for her classroom. It is ready to use out of the box, no assembly is required. Once turned on it heats up quickly and is ready to use in 1 minute. Simple and easy to use a child could do it. This laminator is extremely quite and fast. I have not had any problems with jamming like with previous laminators I have owned. The ability to laminate different size pouches is extremely cost effective and eliminates the waste from having to cut large pouches down to size. . Pros: crystal clear lamination, does not get hot to the touch like other laminators, professional grade lamination, direct feed - no cardboard required, Cons: none I have found yet
Date published: 2018-03-06T00:00:00-05:00
Rated

5

out of

5
by
123cpr
from
easy to use laminator
Really like the Laminator, heats up quickly, quiet, fast and professional looking. Easy to use the only hard part is separating the plastic sheets.
Date published: 2018-03-23T00:00:00-04:00
Rated

5

out of

5
by
Thomas
from
Awesome Laminator
This laminator is sleek and easy to use. The lamination is clear, fast, and it heats up quickly. However, the instructions given are image based and somewhat vague. I felt I had to guess to know how to work it rather than feeling confident. There has been a plastic burning smell that happens when we use it. I can't tell if this is from it being new or that's just the way it is. I'm using this for my office and so far it turned out lots of projects without any problems. This is a huge step up with more options than our old laminator. There's lots of different options for sizes and weight of the paper which is good because I never know what I'm going to be doing next!
Date published: 2018-03-06T00:00:00-05:00
Rated

5

out of

5
by
Nazlah08
from
EXCEEDING THE EXPECTATION!!!
This laminator has exceeded my expectations by far. In my home office I laminate fairly often and needed a product that was fast, quite and didn_U_t jam and this product does all of the above. Upon arrival, it was ready to be used, making assemble very easy and when I cut it on a minute later it was ready to be used. WOW! I found everything to be self explanatory making ease of use for anyone at any age, i.e. user friendly. Furthermore, it has multiple settings for width and weight. I would absolutely recommend this product, by far!!!
Date published: 2018-03-07T00:00:00-05:00
Rated

5

out of

5
by
Chiangle73
from
Quick set and user friendly
I haven't used a laminator it quite a while but needed to get one for any upcoming trade show. I was quite surprised how quickly it warmed up and was able to produce about 100 name badges in under 20 minutes. Small enough to travel with to my programs. Really user friendly! Such a good investment.
Date published: 2018-04-06T00:00:00-04:00
Rated

5

out of

5
by
ChrisP
from
Great Product for light or heavier-duty lamination
Great laminator for home office or small business use. Nice, compact size and not too heavy or bulky -- but not necessarily "light-weight" either - so I probably wouldn't recommend planning on carrying it around often or traveling with it. Pretty quiet operation and functional, for its intended purpose. According to Swingline specs, it can laminate up to 45 documents in 10 minutes but most people probably won't ever have that much demand for lamination unless you're using it for heavy business use. Seems very durable and well made / high quality although I haven't used it long enough to know for sure it's long-term durability. Controls are intuitive and easy to use. Overall, a great product for its intended use.
Date published: 2018-03-25T00:00:00-04:00
Rated

5

out of

5
by
KarenL
from
Great value
I received a free sample of the swingline GBC Laminator, fusion 7000L for my business to try in exchange for my honest review. It came with samples of the laminating pouches as well. I was very impressed with the ease of taking it out of the box, plugging it in and ready to use. Within minutes I had already laminated several sheets. My favorite feature was that it automatically detected the thickness of the pouch so I did not have to make adjustments each time I changed the item. It also has an auto shut off in case someone leaves it on. It stores very easily. I am looking forward to using this instead of having to get our laminating done out of the office.
Date published: 2018-03-16T00:00:00-04:00
Rated

5

out of

5
by
Dawn
from
Keeps burning up while not in use!
Unfortunately, I have burned through 2 brand new laminators in the past 2 weeks. The first one I had shut off after use and when I returned to the office 45 minutes later it was up in smoke and the machines alarm was going off. It wouldn't shut off with the button, so I had to unplug it, it was completely fried inside and I am surprised I didn't burn the place down. 2nd machine did the same thing, but I was in the office to catch it, so it only internally burned for about 5 seconds. When it says its off, its not and it starts burning internally. These machines are brand new. I don't really understand, I had the outlets tested and those were fine. I am most likely going to send the 2nd one back and get a different brand. I need to trust that I can keep it plugged in.
Date published: 2022-05-18T00:00:00-04:00