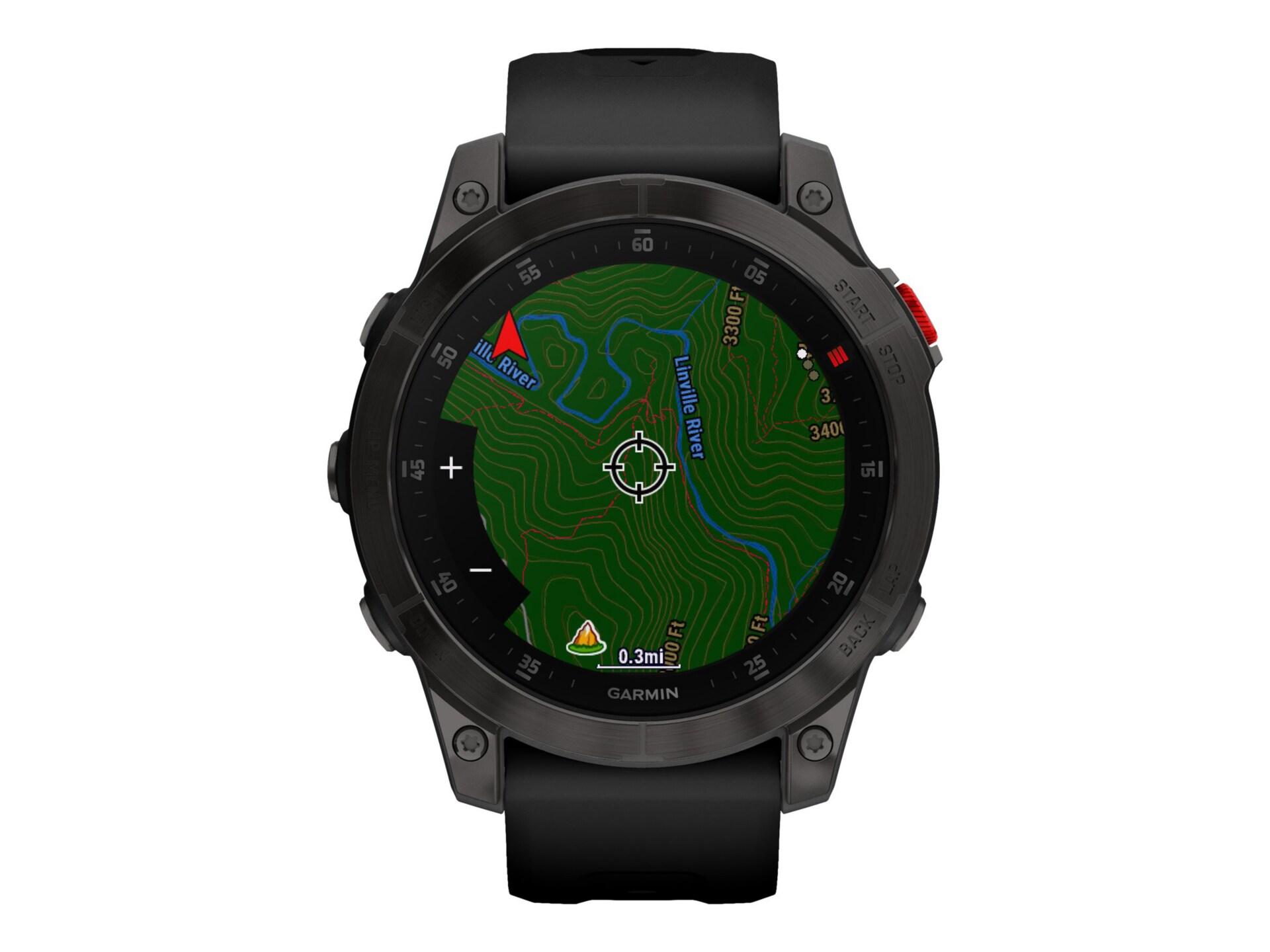 Quick tech specs
Get Up to 16 Days of Battery Life in Smartwatch Mode and 42 Hours in GPS Mode
Stress Tracking
Hydration Tracking
Wrist-based Heart Rate
Sleep Score and Advanced Sleep Monitoring
View All
Know your gear
The Garmin Epix Gen 2 Smartwatch delivers an aesthetically sound appearance in boardrooms as well as in the gym. This multisport smartwatch features a titanium bezel, a sapphire lens and an AMOLED display. It is an ideal solution for the round-the-clock monitoring of health, activity tracking, sleep and energy levels. It has features that support the enhanced productivity of athletes.
Garmin Epix Gen2 Smartwatch - Black Titanium
is rated
4.30
out of
5
by
44
.
Rated

5

out of

5
by
Vincent445
from
Awesome watch
I use this watch to track my workouts and it is amazing! So happy I purchased!!
Date published: 2023-01-12T00:00:00-05:00
Rated

5

out of

5
by
MikeRunner82
from
Great running watch. Upgraded from 245
Love the screen on the watch. Battery life is good but not quite as good as the 245. With that said it has so many more features and functions. You would think that having additional features would make the watch harder to use, but it is super intuitive and really easy to navigate as well as set it up the way that best fits your activities. I love my watch and highly recommend it.
Date published: 2023-01-12T00:00:00-05:00
Rated

5

out of

5
by
garybahamas
from
Super Upgrade
I upgraded my old Fenix 5s with this Epix Gen 2 and could not be any happier. The clarity of the face is amazing. They have added a large number of features, most of which I have already found useful, and improved on the ones that were already there. I have found the altimeter to be far more accurate and reliable (my old Fenix kept telling me that I was -400 feet below sea level whenever I was at the beach or home - I live in slightly above sea level Florida). I am enjoying the sleep mode as well although it is most often a bit off from my Oura ring - still a good indicator but I'm not quite ready to ditch the ring. I was struggling to decide between the new Apple Ultra and this Epix 2 and it came down to: (1) the Epix 2 is a really good looking watch as well as very functional, (2) it is more geared toward outdoor activities as opposed to excessive connectivity (I have an Apple watch, iPad and Mac door to keep me connected) and (3) despite all the hoopla about the extended life of the new Apple Ultra, it is not even close to the battery life of this watch.
Date published: 2023-01-09T00:00:00-05:00
Rated

5

out of

5
by
GonzoUSMC
from
Love my EPIX2
As a long time lover of the Fenix series of watches, this was a natural upgrade. I have the Apple Watch series 9 a try for about 2-3 months and didn't like it. The EPIX has a great display and the battery life is amazing! Love the touch screen and button functionality and the color is vibrant and clear.
Date published: 2023-01-10T00:00:00-05:00
Rated

5

out of

5
by
Rob W.
from
Excellent Premium Sports Watch!
I have had my Epix for about a month. This watch is impressive and does everything well. The build quality is exceptional and it is perfect for the gym or a boardroom. The display is sharp, it has extensive features to track health, and the battery life is next level. Can't go wrong here.
Date published: 2023-01-09T00:00:00-05:00
Rated

5

out of

5
by
CowboyJo
from
Great Sports Watch
I'm a longtime Garmin fan, but this is my first spots watch. Selected the Epix2 vs Finix 7 primarily based on the display features. As an "older" CrossFiter the watch does far more than I and is not a perfect match vs running/swimming/biking, but is helpful and believe there is more I can do with the watch to better align it with my fitness routine. Net, net, a great watch and am pleased.
Date published: 2023-01-09T00:00:00-05:00
Rated

5

out of

5
by
jsmhawk
from
Great Upgrade
Bought the Epix as an upgrade from the Fenix 6. The screen is a huge improvement.
Date published: 2023-01-08T00:00:00-05:00
Rated

5

out of

5
by
christastrophe67
from
Does not work with wrist tattoos.
I purchased this with high hopes it would replace my instinct tactical. Found that almost all features are dependent on heart rate monitor working. Both my arms are sleeved with tattoos and heart rate monitor is almost completely inoperative. I tried the "hack" where you place an epoxy button sticker over the green leds and found heart rate monitor does work normally now. Found that the sticker comes off a lot and causes the heart rate to stop reading. At the end of the day, I don't want to spend this much on a premium watch that I have to constantly apply a sticker on to make it functional.
Date published: 2023-01-05T00:00:00-05:00
Rated

5

out of

5
by
Marshall72
from
Mostly Excellent, misses a few crucial points
So please keep in mind I got this watch upgrading from a Forerunner 745. The watch is gorgeous. It's larger than my 745 both in screen as well as body. The bright screen is a thing of beauty, I only wish that the always on display was acutally all always on. For a watch that claims to have an always on mode, it should. You can mess with the time delay, but even in always on, it will dim dramatically and loose some aspect of the screen, like seconds or other things depending on the watch face. As an RN, I'd like to see my seconds!! This watch has much more than I will ever use from sports and activities I will never play, to entire continental maps built in. This is nice. I can grow into new things and it's got features for that. Mostly what I use it for is going to the gym, which I do 4 times a week. I want to go to the gym, do a half dozen different things, see how many calories I've burned, see my training effect and see how long I've been working out. After talking to Garmin, this is not possible. I could do this on my 745 (except for the calories, that'd I'd have to keep track of), but I cannot go for a jog, then get on an eliptical, then a stair climber, maybe a rowing machine, and switch activities on the fly in the same workout and keep track of the metrics I mentioned. I was told I'd have to start a different workout every time, Or I could plan what I want to do beforehand, and program that kind of workout. I imagine a lot of their customers use this device to go to the gym and get some exercise. Since I could do this on the 745, and the Epix 2 is one of their flagship watches, I assumed it would do all that the 745 could and much more. I can't bring myself to return it, it's just to nice to look at, but I find myself wanting to use my forerunner 745 to work out with, and shouldn't after paying near $1K for this thing. I wish I could give it 3.5 stars. 4 is too many, and 3 doesn't do it justice.
Date published: 2023-01-14T00:00:00-05:00
Rated

5

out of

5
by
BIG D 2023
from
It's ok
I bought this a month ago and was annoyed during the initial set up when the watch prompted me to input my sleep schedule. I work 12 hour graveyard shifts only on weekends, so my sleep schedule flips during the week so I get to be awake and outdoors on my days off work. The watch would not accept my weird sleeping schedule, and continued to say there was an 'overlap' even though the sleep and wake hours did not overlap. So I just skipped that part and made up a sleep schedule since the watch would not let me move past imputing that info before allowing me to move forward with the setup process. The other thing I don't care about with this watch that my Apple Watch does is the boxing feature and some of the other activities that are already preset into the watch. I wish this watch had some of those preset activities. So, I'm just going to use this watch for outdoor stuff. It's okay I guess.
Date published: 2023-01-15T00:00:00-05:00
Rated

5

out of

5
by
austin2
from
Great watch
I bought my watch a month ago and I love it. I love the battery life and everything about it.
Date published: 2023-01-16T00:00:00-05:00
Rated

5

out of

5
by
StephGo
from
Better than anticipated
I upgraded from Fenix 5. Heart monitor was a big disappointment with Fenix 5. They got it fixed on Epix. Works well. Huge difference with LED face, amazingly clear and colorful. I almost went with Fenix instead of Epix because of battery life. But the wrist movement to activate the face to give 16 days battery life really works. And it really gives 16 days battery life.
Date published: 2023-01-15T00:00:00-05:00
Rated

5

out of

5
by
Tuvshin
from
Enjoying it so far
It's been around a month now and quite like it. I think it's better than my Tag Heuer connected watch
Date published: 2023-01-15T00:00:00-05:00
Rated

5

out of

5
by
Buzzsaw50
from
My Second Garmin
I have owned my Epix Gen 2 for a month now and love it. I upgraded from a Venu 2 that I have had for over a year. I like the additional information and statistics that I get with the Epix even though I am not a super athlete. I am 72 years old and play pickleball 3 days a week... Ride my bicycle at least 10 miles on the other days. The looks of the watch are also a great feature for me. It looks less like a smartwatch and more like a sport watch.
Date published: 2023-01-18T00:00:00-05:00
Rated

5

out of

5
by
Tom J
from
Excellent screen and battery life
I have had the Fenix 5 and 6 Pro before. The Epix has all the familiar capabilities and the same form factor but with a better screen. The updated heart monitor in the Epix is superior. The AMOLED screen is fine in all conditions including sunlight and looks much better. I have the titanium sapphire and it is lighter than the same size 6 Pro. I am getting 6 days on the battery which is great. It is also quicker than the 6 Pro due to the newer processor. I use it mainly as a smartwatch as I am not some extreme athlete, and I do wish I had a couple features that Android and Apple watches have but having long battery life and durability is a priority for me over any of these features. I think Garmin should (and could, in software) add the concept of "profiles" for different user types eg extreme athlete, triathlete, runner, hiker, walker, boater, health monitor, over 65. I am a heart surgery recovery person and the heart monitor and pulse ox are super valuable to me but I don't need to be coached to push my anaerobic exercise. What the software has now is you can set activity levels 1-5 but you basically get the same presentation of data. An average over 65 walker doesn't need to get the same info and coaching as an extreme marathoner. I understand Garmin believes its target market to be athletes, but older successful people are the ones who can afford a pricey watch and want to track their cardiac health closely…
Date published: 2023-02-01T00:00:00-05:00
Rated

5

out of

5
by
RenzoLB
from
Its amazing Watch however…
The Watch is amazing, all the features is perfect however i have some problems because sometimes when im running the wrist gestaure does no activate, i have to push the light buttom to turn it on, and its very anoying. I will take to garmin support
Date published: 2023-01-29T00:00:00-05:00
Rated

5

out of

5
by
PTF1
from
Great Functionality But Some Limitations
Overall, it looks very cool and works well. I get 7 days not 11 days on a charge but that's plenty. I find the interface with Garmin Connect to be variable. Often, I need to refresh several times to get weather to transfer. Accuracy is decent but not excellent. For example, I need to recalibrate altitude frequently and still get different data for the same spot. I stopped trying to use the elliptical and strength apps so if fitness tracing is your need look elsewhere. On strength it was terrible at tracking reps. I'm not sure how it is supposed to detect reps but it simply doesn't.
Date published: 2023-01-28T00:00:00-05:00
Rated

5

out of

5
by
Bikefanatic
from
Amazing tracker
The screen and features are why I had to have the Epix Gen 2. The amoled screen is nicely visible in the sun. No regrets! I do want Garmin to make the UltraFit band for other models. I find the nylon bands more comfortable even though their silicone versions are better than average.
Date published: 2023-01-28T00:00:00-05:00
Rated

5

out of

5
by
DrMemo
from
Good, but I will pass.
I come from venu 2. I nneded a watch with amoled screen and navigation for bicycle touring. So it fit the bill. I am also a scuba diver. I knew that this is not a dive watch, but what I did know is that it can only handle surface swimming. That means each time I dive, I had to take it off. I don't mind to carry a seperate dive computer but it dies not make sense to take my watch off when I dive. Instead I will wait for garmin descent when they launch their amoled model. Until then I can live with. My venu 2
Date published: 2023-01-30T00:00:00-05:00
Rated

5

out of

5
by
Yanosh74
from
AMOLED display or bust
The Epix is so much easier to see in all conditions than my previous watch. No need for repeatedly hitting the light for the watch face. I don't use the always on feature, rather the wrist gesture and I get over 10 days battery with an approximately 1-2 hour event that uses the GPS 3-4 times during that 10 day period. The watch is much lighter than my previous watch while still having the sapphire crystal which I really like. The Epix, like the Fenix series, is very easy to personalize to the activities you enjoy and the data you wish to see. There are also lots of videos on the internet to show you how to customize your watch to meet your needs. The GPS mode is very accurate and connects in seconds. The touch display is a very useful feature rather than button pushing (that is also available if you don't like the touch screen). In the end, the AMOLED display is what has sold me on this watch. It is so visible with a simple flick of the wrist.
Date published: 2023-01-30T00:00:00-05:00
Rated

5

out of

5
by
caloso89
from
Does everything I need it to do and more
I chose this over the Apple Watch Ultra because I needed a device that can talk to all my other devices. This does so seamlessly, and every day I am discovering cool features. The display is amazing and the battery is incredible. I've worn it 24h/day for two weeks and it still has a day or so of charge. 5 stars, worth every penny.
Date published: 2023-01-29T00:00:00-05:00
Rated

5

out of

5
by
Bouch
from
Fabulous watch!
I purchased the Epix 2 to replace a Fenix 5. I have had the watch for two months and love it! The watch face is fantastic and the capabilities are more than worth the price. Garmin's the best!
Date published: 2023-02-02T00:00:00-05:00
Rated

5

out of

5
by
John Pham
from
Great features , build quality.
I brought this phone last month. this is a first time I got Garmin. excellent with me. if Garmin made this on 51 mm. that very good. the other model have it but no OLED display. this one very important with me.
Date published: 2023-01-20T00:00:00-05:00
Rated

5

out of

5
by
Willk
from
Epix 2
This is my fourth Garmin and no doubt the best. Worth the wait for the AMOLED screen. The ability to see bright clear data with touch capabilities is amazing. And lastly the battery life is better than expected I can go 8 days after using workouts and music all week. Training tracking is better than ever too. 900 bucks ouch. But a top notch device
Date published: 2023-01-21T00:00:00-05:00
Rated

5

out of

5
by
mlbullrun
from
A great watch but owners manual is not clear
The watch has many great features. Learning how to use them is not easy.
Date published: 2023-01-21T00:00:00-05:00
Rated

5

out of

5
by
HugoG
from
Never thought I'd want a smart watch...
I gave the Epix a try while my "main watch" was being serviced and I have to say that I'm super impressed with all the features! I run, paddleboard, and hike and this watch allows me to keep track of all my activities plus it has helped me to improve my running quite a bit. The aesthetics of the watch are not bad at all either! If you like exercising/outdoor activities and want a cool device that can keep up with you, look no further! Now the negative: I got the Epix back in October 2022 and it died on me two months later (watch stayed in an endless reboot loop all of a sudden). Garmin was kind enough to send me a replacement and I'm really hoping that this one doesn't have the same issue...
Date published: 2023-01-20T00:00:00-05:00
Rated

5

out of

5
by
drPhil23
from
Verdict still out
I've had my epix2 for just about one month. I chose it for the screen, the mtn biking capabilities, and pool swimming coupled with general health stuff. Overall I like it and am impressed with the caloric expenditure info. I haven't been able to test the biking features yet, but look forward to in spring. I lift a lot and do like the weight lifting capabilities, hoping it's accurate on caloric expenditure. Major downfall I see so far: 1: the lap swimming needs some software tweaks. It will often short my swims by 25 yards/100 yards swum. In other words, I swim 4 laps and it shows 75 yards. Really?! And no way to manually correct it. Also, this thing has GPS, so why can't it record my drills, like kicking laps?? If it won't record that distance then at least make a software update so I can specifically enter what my drill is, how far, then estimate my calories and all from that and heart rate. I'm wondering if Samsung or Polar are better at these. 2: I'll fully charge it and it will say 14 days life. I have the watch face set to gesture, so not always on. As soon I get to the gym it starts dropping fast. After my last charge I was at 9 days after working a bunch (5 days). Then I workout my day off, lift and swim. 2-2.5 hours. And it's down to 4 days. I plan to keep closer track of this..
Date published: 2023-01-24T00:00:00-05:00
Rated

5

out of

5
by
Jeff80301
from
Random device restarting error persists
I love my Garmin products but sadly I have had 2 Epix devices and both continue to have random device rebooting issues and/or workouts stop recording mid ride and run. It seems to be a software issue since it's come about since the update with the running power feature addition. If It was my only device recording, it would be extremely frustrating. I have started using my iPhone and Hammerhead as backup as this error comes about intermittently.
Date published: 2023-02-08T00:00:00-05:00
Rated

5

out of

5
by
Jesse808
from
A great sports watch, and it looks good too.
As with any technology I purchase, before I plunk down the cash, I read everything I can about performance and reviews. I was considering the Apple ultra watch and Garmin Fenix, before I settled on the Epix. The major concerns I had was whether I should get the version with the sapphire crystal, solar, and whether the display would perform in direct sun. The display in direct sun is perfect. I live in Hawai'i, and it's not a problem. I'm not an ultramarathoner or taking my watch on 12 hour hikes, so I decided on the model without the solar. So far the battery life is just as good as my previous Garmin. Finally, I went with a sapphire crystal, I absolutely do not want the face to scratch. As far as the fitness and training apps in the watch, if you're a Garmin user, you don't need me to tell you how great Garmin's apps are. My wife has an Apple Watch, and the Garmin apps blow it away. I was also worried that the watch would be too heavy when running long distances. But, I've been training for a marathon, and that hasn't been a problem. On my wrist, it feels like it has a lower profile, and a lighter weight than my Fenix 5. It also doesn't move around on my wrist like my Fenix did.
Date published: 2023-02-02T00:00:00-05:00
Rated

5

out of

5
by
papajaws
from
Mixed reviews. Lost opportunity
I usually upgrade Fenix watches on the odd cycles (3,5,7). I bought the Epix over the Fenix 7 because reviewers were impressed with the display (and otherwise the functions are the same, except battery life.) I like the new training features and sensors over the Fenix 5, but there's nothing major, and the 5 is still a great outdoor fitness/adventure watch. I think Garmin really missed the boat on the Amoled screen. Instead of making a really clear and stunning visual (like Apple), they seemed to just make the metrics smaller and screens more complicated, adding extra icons and stuff that add no additional value. Maps are clearly better--but I still use my phone for a map--much bigger and better interface. Garmin needs a UI overhaul and a completely different approach to UX, or this will be the last Garmin device I buy.
Date published: 2023-02-04T00:00:00-05:00
Rated

5

out of

5
by
Mar'gery
from
Upgraded from a Forerunner 645
I wasn't too sure about upgrading to an Amoled screen due to having an apple watch before which i couldn't read much in sunlight. I love how the screen looks outdoor with the forerunner line but i got to tell you, the Epix 2 screen looks even better than that.. I mean compared it next to each other in direct sunlight and the Epix blows the forerunner outa the water. It's a bit on the heavy side but you get used to it after a few days. I didn't think i was going to keep it but i absolutely love love love this watch.
Date published: 2023-02-07T00:00:00-05:00
Rated

5

out of

5
by
poe2341
from
Great watch but, too expensive
the watch has good design and very nice features.but is way too much expensive, u can buy something similar for half the price
Date published: 2023-03-11T00:00:00-05:00
Rated

5

out of

5
by
KenB
from
Great watch
It does everything , the price may be a bit steep not having LTE or ECG capabilities. I would put this watch around $ 699.00 retail . Garmin could at least throw in another watch band , 50.00 is up there and the 10% one time discount is laughable. Having said that , great fitness watch and does all I need , I bought for the fitness and great looks .
Date published: 2023-03-02T00:00:00-05:00
Rated

5

out of

5
by
Dimitri
from
Greta watch
Super clear and bright screen with all the measurements of Garmin! I vote it!
Date published: 2023-03-02T00:00:00-05:00
Rated

5

out of

5
by
Utahskies
from
Wonderful upgrade
I upgraded from my Fenix 5 and am really enjoying the improvements while at the same time, appreciating that the buttons still function as before. So no need to retrain my finger memory. Of course, love the new screen, but the software updates (esp compared to my 5) are great. Many more health and fitness aids than before.
Date published: 2023-02-28T00:00:00-05:00
Rated

5

out of

5
by
BPMc
from
Returned it
My experience it's poorly designed for easy use, five buttons for functionality was confusing. Probably a great watch for the small % of ultra marathoners among us. Didn't like that it didn't synchronize with my phone.
Date published: 2023-02-25T00:00:00-05:00
Rated

5

out of

5
by
GjXray
from
The display is icing on an already great cake!
Loving the Epix 2. It's incredibly versatile, more features than I'll ever use, and you can add more via the Connect store. I do wish I could add naps to the sleep tracking.
Date published: 2023-02-24T00:00:00-05:00
Rated

5

out of

5
by
JES928
from
Awesome features
enjoy the look and detailed features of the Epix watch. Great amount of information available and the battery life is crazy good. love the watch.
Date published: 2023-03-01T00:00:00-05:00
Rated

5

out of

5
by
Mike SS
from
It is OK
The distance feature is off and gives very inconsistent readings. Switcoto Battery Saver and now I can't switchback.
Date published: 2023-03-01T00:00:00-05:00
Rated

5

out of

5
by
Ecacurieux
from
for me it was a big change
Is wonderfull and amazing, the screen helps incredibly to see the information in the runs
Date published: 2023-02-19T00:00:00-05:00
Rated

5

out of

5
by
Hugo1277
from
Glad to be back
I had left Garmin and purchased the apple ultra but I just couldn't stay with apple and did a return and got my epix back I won't change again this watch is the best.
Date published: 2023-02-21T00:00:00-05:00
Rated

5

out of

5
by
Jpainter023
from
Functional Smart Watch
I've had a month and everything is working great. The only thing is the HR sensor and position you wear the watch to get an accurate HR.
Date published: 2023-03-16T00:00:00-04:00
Rated

5

out of

5
by
sans
from
Solid watch
I bought mine a month ago, so far it's exactly what I expected. Really impressive battery life. The software side is wonky, having to use two apps express and connect, it's not simple.
Date published: 2023-03-16T00:00:00-04:00
Rated

5

out of

5
by
DUQUE
from
EXCELENT DISPLAY
I BOUGHT THE PRODUCT THREE MONTH AGO AND WHAT I WOULD LIKE IS A BIGGER WATCH, A LITTLE BIG BIGGER.
Date published: 2023-03-15T00:00:00-04:00