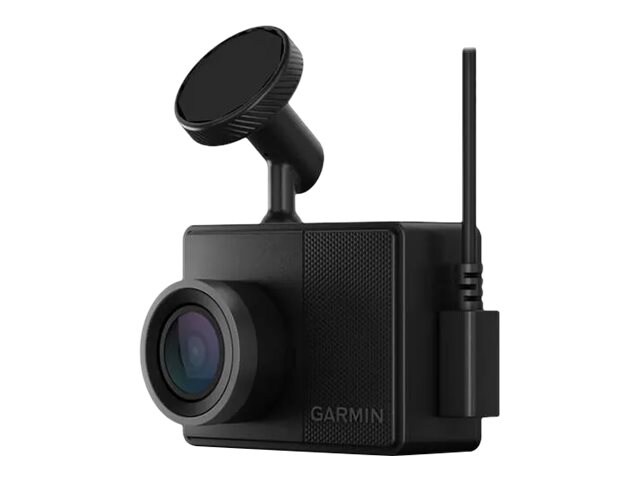 Quick tech specs
Dashboard camera
Wi-Fi
G-Sensor
View All
Know your gear
Featuring a wide 140-degree field of view that captures and saves important details in 1440p HD video, the compact, voice-controlled Garmin Dash Cam 57 has you covered.
Garmin Dash Cam 57 - dashboard camera
is rated
4.10
out of
5
by
7
.
Rated

5

out of

5
by
Kathy M
from
Easy to install
Easy to install, although I wish Garmin would come with a mirror mount instead of just suction for window. I did find one that works with it. With car safety features I'm limited to where I can mount it. Easy to figure out how to turn off or on features I don't need…lane departure etc. I like that can save it take a pic, etc.
Date published: 2022-05-23T00:00:00-04:00
Rated

5

out of

5
by
Daryl
from
Love the model 57
Works well and good resolution but disappointed that I cannot access the software Garmin Dashcam Player. I have an installed version because I have the Garmin GPS dashcam combo. I have no desire to upload to a cloud service. I'll check out the Garmin Drive app export feature. The dashcam seems to create a whole lot of small files and the GDCPlayer merged them all perfectly. I'm of the opinion that Garmin is promoting a cloud subscrition service.
Date published: 2022-05-25T00:00:00-04:00
Rated

5

out of

5
by
Loup407
from
Works well
The camera delivers. It's small, easy to mount and fairly easy to use. Garmin ought to partner with or buy one of the companies making adapters for powered rear view mirrors. It's way easier than running a power cable around the windshield. The software is ok, but in typical Garmin fashion, has just enough quirks that you don't want to have to make adjustments. Maybe I'll get used to it.
Date published: 2022-04-09T00:00:00-04:00
Rated

5

out of

5
by
dives2little
from
Easy to use!
This is so much easier to use than our old dash cam! Easy to mount, easy to use, andreally low profile!
Date published: 2022-06-01T00:00:00-04:00
Rated

5

out of

5
by
Yakima Guy...
from
One for each vehicle....!
For some reason, the first "57" I purchased malfunctioned - would not record while driving. After much frustration and trial and error - and the help of a wonderful Garmin technician (William), Garmin had me return the unit. They sent me a new one - worked great. I was so impressed with Garmin's response and William's help, that I ordered a second "57" for my second vehicle. Love 'em!!!!
Date published: 2022-07-30T00:00:00-04:00
Rated

5

out of

5
by
DarylWM
from
Nice camera but flawed iOS integration
I have a Dash Cam 57 and a Dash Cam Mini 2. The camera produces nice video, but the connections with the Drive app on my iPhone 14 Pro are frustratingly flakey. I've spent a lot of time repairing connections and getting dropped connections when I'm trying to export video. The only reliable method to export video is to take out the SD card and copy the contents to the computer. The picture-in-picture multi-camera feature therefore doesn't work, as it's impossible to achieve and maintain a connection with both cameras at the same time. Both cameras have the latest firmware so I don't think the live view and PiP features are ready for prime time.
Date published: 2022-10-22T00:00:00-04:00
Rated

5

out of

5
by
Guppy1
from
Extreme disappointment!
A waste of my money. Instructions on how to operate are very poor. I had to resort to YouTube to find anything helpful. By chance I had an issue that the camera would have been helpful but it didn't record.
Date published: 2022-11-14T00:00:00-05:00