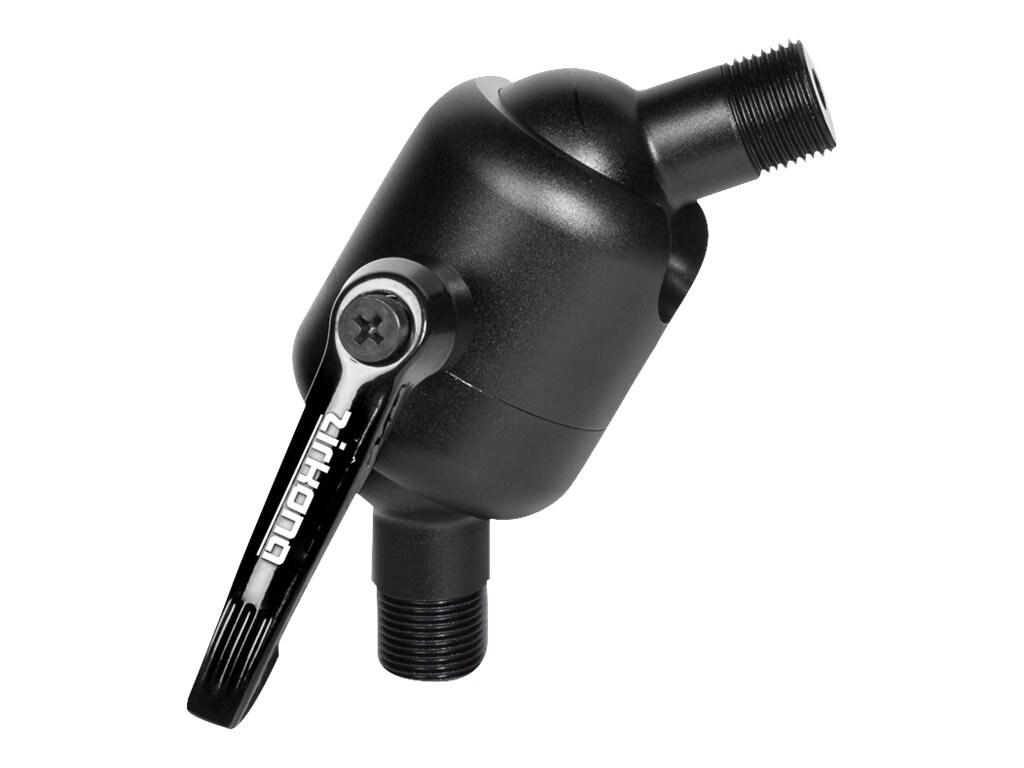 Quick tech specs
Mounting component (large joiner)
black
anodized aluminum
for P/N: 18322
View All
Gamber-Johnson Zirkona - mounting component - black
is rated
4.50
out of
5
by
2
.
Rated

5

out of

5
by
reviewer2163276
from
A tool helpful for mitigating cyber threats while providing excellent technical support to its users
What is our primary use case? I am currently working on a use case involving vulnerabilities and deferral requests made by individuals seeking to complete their remediation. These vulnerabilities are categorized and require an SLA for remediation based on their severity. If a certain category of vulnerability cannot meet the mitigation deadline, it must be approved. I am responsible for explaining why mitigation is impossible, the remediation time frame, and the holdup. My approach to addressing vulnerabilities is to evaluate the risk from Akamai WAF's perspective and the application's exposure. I review the WAF for external vulnerabilities to determine if the specific issues have been addressed. The adaptive function of the WAF is powerful, as it can detect suspicious behavior and pick up on issues. The adaptive role sets and behavioral activities seem to be very effective in this regard. Additionally, the WAF can share information such as IP ranges or addresses associated with certain kinds of activity. If a threat is detected on one WAF, it may be blocked across all WAFs owned by different enterprises. As for my understanding, I cannot say for certain. While I am not entirely sure about how the WAF works in sharing information and blacklisting potential threats, I believe it is an effective solution. However, I would caution against quoting me on this as I may not have all of the information. So, that's a very powerful feature. However, assessing when something is not explicitly described in the rule set can be challenging. It's difficult to determine if it's being prevented or not. But, I have noticed that it's very effective at preventing people from even being able to identify the existing vulnerabilities. This is a great prevention measure, and it can adapt to different situations by considering various factors, including those specific to the WAF and threat intelligence data. It seems to work really well, but I can't speak to the overall effectiveness of all the activities. How has it helped my organization? I cannot say exactly how Akamai Kona Site Defender has helped from an organizational perspective, but I can attest to its benefits in terms of understanding and mitigating threats. We have not experienced any breaches in areas where we previously had many breaches tied to specific CVE detections, so I assume it must be working well. While I am hesitant to make definitive statements, I have not heard any negative feedback about Akamai WAF, and many people have praised its effectiveness based on what I have observed. However, I cannot confidently recommend Akamai Kona Site Defender over Imperva or any other WAF, as I have not worked with them personally. What needs improvement? In terms of improvement, from my point of view, it may seem a little selfish to comment as we focus on CVEs. On the other hand, Akamai addresses only the big pressing issues explicitly in their rule set. Though this is the right approach as vulnerabilities change over time, and there are an enormous amount of CVEs to block individually, Akamai needs to focus on quickly responding to risks, even those that may potentially be of zero threat in a day. While I don't believe they claim to prevent all attacks, Akamai's WAF seems very effective in preventing people from scanning for vulnerabilities. It can adaptively make decisions based on a variety of factors, including specific WAF data and threat intelligence. While I can't speak to the totality of their activities, I do know that they quickly patch any effective workarounds discovered, even before the issue is publicly released. While there are certain complexities in the security environment and many variations on the same types of attacks, Akamai's WAF seems to work very well. Majorly, there are an awful lot of complexities in many ways, including the variations it provides to do the same thing. There is a really high volume of attacks, and the tool seems to work very well, as far as I can tell. From my perspective, the setup wasn't easy, but I could do it pretty quickly and get my head around how it was working. I think the interface is pretty slick because they were tracking many different factors, not just for Akamai Kona Site Defender but for other tools in there as well. Specific patterns or time patterns rolled up might be interesting to see for time frames, and there may actually be a way of doing it that I just haven't found yet. However, that's a little outside the realm of what I'm doing, so I'm not too concerned about it. I don't really have an issue with what they've done. Maybe some of the documentation is a little confusing. They have a lot of different places where you can go to get information, and some of the information is quite out of date. They have stopped 2018, which predated the release of the adaptable test. When I started out, I was wrong with my or maybe I have a big list of CVEs and everything, but I think that they feel like Akamia's real set of rules would be able to block vulnerabilities if you don't have an accept or whatever. It doesn't really work that way unless they're right to do it that way or to not do it that way. They call out really big things like Struts vulnerability, Log4j, and any vulnerabilities like that. They will do a press release or a blog post that basically states that they have taken care of it, and this is the rule number that one should look for depending on one's implementation. So, I feel that's great and really helpful. That's the sort of thing I want to know. From a purely self-testing perspective, it's lovely to have the mapping for every single CVE, but I understand why they don't, and I think it's right not to provide such a feature. I think the idea is that you have to look at it specifically for what they needed to do and where they're operating. One can reach out to Akamai's support easily, and there have been a handful of situations where I don't feel comfortable sharing certain details. When I've reached out to the support team through our engineering teams, things have been quite helpful, so that's good. For how long have I used the solution? I have experience with Akamai Kona Site Defender for about three months. I work as an information security analyst in my company. I am a user, and my company is the solution's customer. What do I think about the stability of the solution? I can't comment on the stability of the solution. I haven't experienced or heard of any downtime or seen the system crash. Also, I haven't read super close attention to it. In short, it seems very stable to me, but I'm not the right person to comment on its stability. What do I think about the scalability of the solution? I don't think that it is a scalable tool. I can say that it's optimized. I can't comment on whether it is scalable, but I know that a huge amount of data goes through it. How are customer service and support? I have contacted the technical support team through our engineering group, which included a support engineer. The solution's technical support team seems to be pretty responsive. It seems risky for me to rate the technical support due to my lack of experience with technical support. But, if we consider all the caveats, I would rate them between eight to nine out of ten. However, I'm unsure if this rating would benefit others. How would you rate customer service and support? Positive How was the initial setup? The Akamai Kona Site Defender was up and running when I started in this new role. Although I have a background in Akamai WAF, I have never worked with them directly before, so this has been a good opportunity for me to delve deeper into the specifics of what they do. Looking at the documentation and doing similar things, I can see that they cover things similarly. What other advice do I have? The support information is available on various platforms, such as community forums, support articles, and documentation. I found it challenging to locate the specific information I needed, but I attempted to do it myself without involving our engineering team. This process taught me a lot, but I realized that some of the information I learned earlier was not as relevant to the current situation, and much of the information was available within the tool itself rather than in offline documentation. It was an eye-opening experience for me, and I believe involving our engineering team or being more involved in the setup would have been helpful in finding the necessary information. I just tried to minimize the impact because our engineering team is always very busy. I tend to be self-directed when it comes to learning, and sometimes that can backfire. The information I need is available and applicable to the specific things I'm looking for. I can also identify the roadblocks. So, in that sense, the solution is great. Overall, I would rate it nine out of ten. Disclaimer: I am a real user, and this review is based on my own experience and opinions.
Date published: 2023-04-20T00:00:00-04:00
Rated

5

out of

5
by
reviewer1537503
from
Great technical support, scales extremely well, and is very stable
What is our primary use case? We primarily use the solution as an application firewall. What is most valuable? If you compare it to other products in the market, it's quite holistic in terms of the features that it provides. Technical support has been very helpful and responsive. The solution can scale extremely well. The product has proven to be quite stable. What needs improvement? The product really isn't very user-friendly. They could improve it so that it's easier for their customers to navigate and use. From a management perspective, it's difficult. Managing these rules with the product isn't easy. It is not taking into account that this might be used by somebody who doesn't necessarily excel in IT. It should be more accessible to everyday users. For example, report generation should be much simpler to handle. It shouldn't be a complex task. The pricing could be reduced a bit. They should provide an image optimizer and have it included within the package due to the fact that ultimately all websites that have high content are looking for this. For how long have I used the solution? I've been using the product for two years at this point. It hasn't been too long. What do I think about the stability of the solution? The stability is excellent. We haven't had any issues with bugs or glitches. It doesn't crash or freeze. Its performance is reliable. What do I think about the scalability of the solution? The solution can scale extremely well. That's not a problem at all. If a company would like to expand the solution, it can do so with relative ease. How are customer service and technical support? Technical support has been great so far. They are knowledgeable and responsive. We're satisfied with the level of assistance we receive from them. I have no complaints. Which solution did I use previously and why did I switch? I'm currently also using AWS products. How was the initial setup? The initial setup took us a bit of time to execute. It's got a moderate amount of complexity. It's not hard, however, it's not exactly straightforward either. What's my experience with pricing, setup cost, and licensing? The pricing isn't the highest, however, it's not the lowest either. They could adjust it so that it was a bit more affordable. It would be appreciated by the customers. It's expensive, however, if you compare it to AWS, you'll get different services that you'll have to collaboratively pick in order to get the same solution that Akamai provides to you in one package. What other advice do I have? We are just customers and end-users. We don't have a business relationship with the company. I would recommend the solution. It depends on what the organization wants, however. If you're going for cost optimization or whether you are looking for a through and through security feature, it might vary in its acceptability. It depends on what exactly you want and your company's priority. However, overall, it's a good product. In general, I would rate the solution at an eight out of ten. We've mostly been quite satisfied with it. Which deployment model are you using for this solution? Hybrid Cloud Disclaimer: I am a real user, and this review is based on my own experience and opinions.
Date published: 2021-03-31T00:00:00-04:00