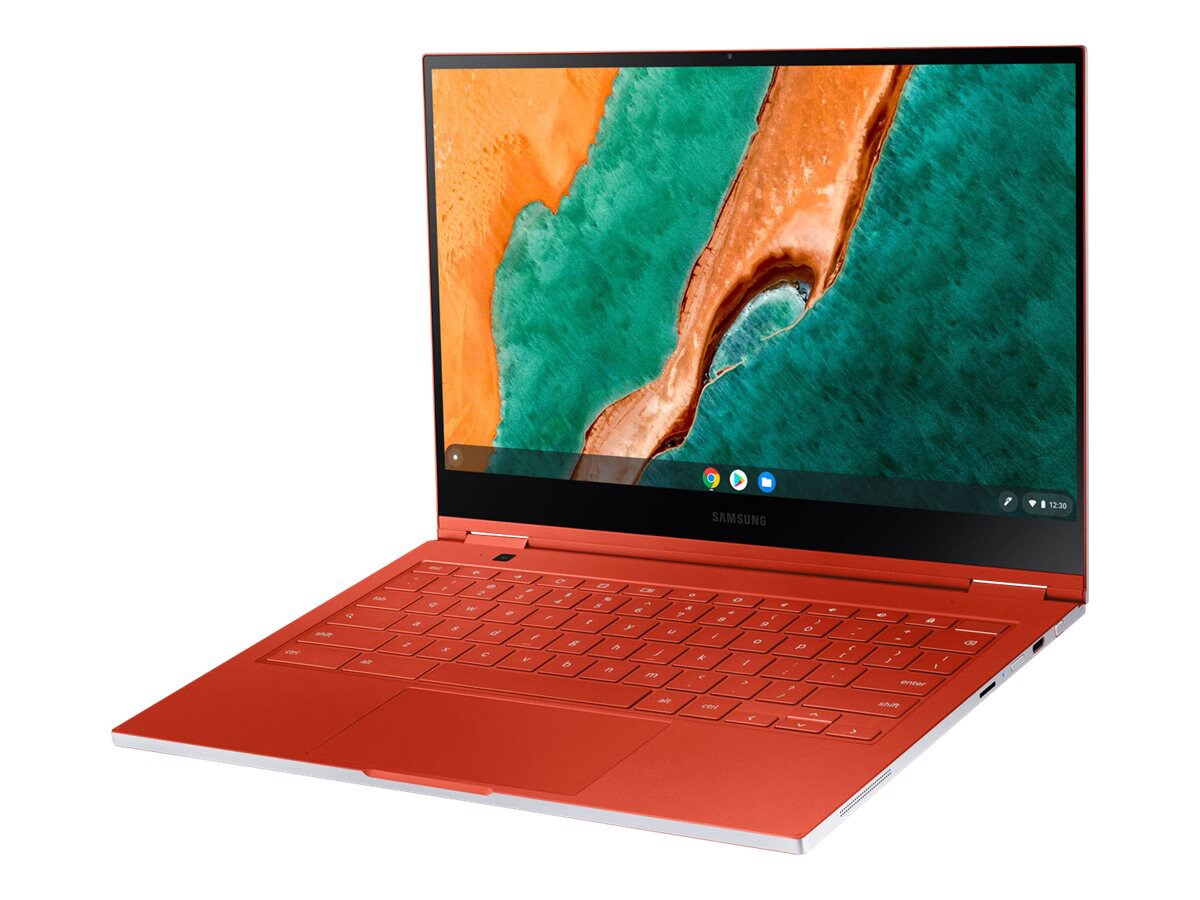 Quick tech specs
Intel Core i5
Chrome OS
8 GB RAM
13.3" AMOLED touchscreen 3840 x 2160 (4K)
fiesta red
10210U / up to 4.2 GHz
UHD Graphics
256 GB SSD NVMe
802.11a/b/g/n/ac/ax
View All
Know your gear
Featuring 4K AMOLED display, built-in pen, and the latest 10th Generation Intel Core i5 processor. The fast way to manage tasks and stay productive.
Galaxy Chromebook XE930QCAI - 13.3" - Core i5 10210U - 8 GB RAM - 256 GB S
is rated
2.40
out of
5
by
73
.
Rated

5

out of

5
by
Sara
from
Excellent computer
it's awesome, i was looking for a new computer since my last one broke and this one is much better, the color is beautiful and the screen resolution is beautiful. just love it
Date published: 2021-01-01T00:00:00-05:00
Rated

5

out of

5
by
StiffyMcStuffin
from
Amazing!!!
I absolutely love this chromebook. The only real complaint I've heard is the battery life. But honestly I haven't noticed it being an issue at all if you keep the brightness at a reasonable level. Also with 4k oled screen, totally worth it.
Date published: 2022-12-04T00:00:00-05:00
Rated

5

out of

5
by
SamsungFan
from
Freezing like other people's post
Samsung tried to repair the freezing issue twice. Chromebook still is freezing.
Date published: 2022-11-26T00:00:00-05:00
Rated

5

out of

5
by
Chai
from
Trackpad Issues
not the only one having this issue. trackpad makes laptop almost unusable. it skips around and clicks on random things. it's too bad since the display is great.
Date published: 2022-09-30T00:00:00-04:00
Rated

5

out of

5
by
MYKALONA
from
Nothing but a cool red paperweight!
DO NOT BUY this laptop! It broke within 5 months after receiving it. At that time, Samsung took it back and gave us a new one, but it still never worked well, many glitches and was very sensitive. We needed to send it back AGAIN for repairs and the laptop was still unreliable. Very expensive, but did not live up to its high price point. In summary, 4 months after it's warranty ran out, it died again, so this time we are buying elsewhere. Lesson learned.
Date published: 2022-10-29T00:00:00-04:00
Rated

5

out of

5
by
Chrmbk
from
Touch pad problems
Very great chromebook product, however I'm not too sure if I'd reccomend. The only problem I have with this device is that the Touch pad starts to glitch and eventually goes out(temporarily). This usually starts to happen when I use dual touch or click and drag. To make it work again, I have to close my chromebook and wait a few seconds. Thanks to the touchscreen, I can still get the job done, however with this being my daily laptop for work, it's still a big inconvenience! I've contacted customer support for help, restarted my device multiple times, and nothing has changed.
Date published: 2022-10-12T00:00:00-04:00
Rated

5

out of

5
by
Tony
from
Great Until Mouse Pad stopped Working
i really enjoyed this chromebook. that is until the day i started having issues with the mouse pad. i have a google chromebook i bought around the same time and still works with 0 issues. samsung needs to do a better job.
Date published: 2022-01-28T00:00:00-05:00
Rated

5

out of

5
by
Azian
from
Trackpad Issues that Samsung Chooses to Ignore
purchased the grey version of this chromebook for my daughter in college and on day 1 the touchpad failed. returned and got this red version. 6 months in the touchpad fails and i get it replaced under warranty, no biggie. well, 5 months later the replaced touchpad fails. get that replaced under warranty again, no biggie. so now my warranty is up (it's been 5 months) and the touchpad is failing again. but this time samsung won't replace it because it's under warranty. they can see there is clearly an issue here but they don't care. check the forums, the comment section, or buy one yourself and watch the touchpad fail.
Date published: 2022-03-15T00:00:00-04:00
Rated

5

out of

5
by
RSL Indy
from
Beautiful Slug`
maybe i just got a dud. but even after a warranty repair, this chromebook isn't performing as well as my old one that has much lower specs. maybe it's the chrome os. but for a device with an i5 processor to run this poorly, and for the price, i'm really disappointed. the display is great. the device is lightweight and attractive. but even typing this review on it is painful with the lag. i was looking for the use of android apps on a laptop platform. the samsung tablets are high performers, but they require a flat surface to work in "laptop" mode due to their miserable keyboards. i hoped this would be the solution. it is not.
Date published: 2022-05-08T00:00:00-04:00
Rated

5

out of

5
by
Jaden P
from
Very Pleased with Product
just got this for my 8 yr old and he loves it. he loves to draw and animate so being able to use it as a tablet and having the built-in pen is perfect. no problems so far.
Date published: 2022-01-04T00:00:00-05:00
Rated

5

out of

5
by
YoungProdigy
from
Screen is 4k but flickers a lot watching videos!
i was expecting a good experience because i was buying a samsung product. however, the laptop was unpleasant to use as the screen flickered, and i couldn't find a fix. it made watching videos distracting. the system also became unbearably hot when using it on my lap. the battery life was disappointing as it didn't last half of what samsung claimed it would. i finally had time to return it today but can't because today is unluckily the fifteenth day. i thought they at least gave a month window for returns. overall, i regret my purchase.
Date published: 2022-03-26T00:00:00-04:00
Rated

5

out of

5
by
Kyle
from
Do Not Buy!!!
i was originally going to buy a different chromebook, but i let the salesman at best buy talk me into this model. worst computer mistake i have ever made. while it does look good and the specs are good, the touchpad has failed twice in the six months i have owned it. each time i have to ship it out (spending my own money) and do not have it for roughly 2 weeks while it is being repaired. if i wanted a computer with no working touchpad i would have bought a tablet. despite all the other features this chromebook has, it is all made worthless by the constant touchpad failures. i do not recommend this product at all because of these issues.
Date published: 2021-08-05T00:00:00-04:00
Rated

5

out of

5
by
steve
from
track pad stopped working
used this machine maybe fifty hours.. track pad jumpy and machine is unuseable. i'm not the only one with this problem. what a joke..
Date published: 2022-08-30T00:00:00-04:00
Rated

5

out of

5
by
Devin
from
Love at first sight!!
i absolutely love my chromebook, the look, the feel of it, how easy it is to use, and how fast it is.. the only thing that i would say that im bothered by is it get extremely hot while im using it, the battery life is poor but im not to bothered by it, i always have my charger anyways.. i would definitely recommend this chromebook in a heartbeat ...
Date published: 2021-09-26T00:00:00-04:00
Rated

5

out of

5
by
JDM3
from
The features perfect...It was beautiful, but...
we purchased the grey chromebook in april '20. it was what we needed as everything went online, and my son was schooling virtually via. it stopped working suddenly with no warning in september '20; 5 months for a brand new, higher end chromebooks. we were thrilled to have another samsung product. this was unfortunate. we thought it was a fluke. we received a refund and ordered a fiesta red one in september. it was beautiful and worked just as well, synced to my phone. all was well, until 2 days ago, which is not even 10 months for this one. once again, totally dead. it won't charge or turn on. so it may appear to be perfect for a few months, but if you are using this everyday, and it is getting its use, it will not last. don't get it!
Date published: 2021-07-19T00:00:00-04:00
Rated

5

out of

5
by
Beth
from
Wanted To Love, But Had A Few Issues
when i first got this laptop, i absolutely adored it. the color and display were absolutely gorgeous. i loved the flexible design and touch screen abilities. unfortunately, after only a few months my mouse pad began to get fickle. my touch screen was fully functional, but sometimes i would not be able to move my cursor using the mouse pad. the screen is also not very durable due to its slim design. i only had the laptop for a few months when one night i closed it normally and opened it a few hours later to find spider web fractures all over the screen. slightly disappointing for the money spent, but would have loved without these two issues.
Date published: 2021-10-30T00:00:00-04:00
Rated

5

out of

5
by
Rami
from
Work of art
i have never seen a laptop so beautiful. pros: - 4k amoled - red chassis - i/o - linux. makes this a fully functional linux laptop. - specs cons: - i would love to somehow install windows. i have the new ipad 12.9 full bundle, while that is also a fantastic device, it is number #2 by far vs this laptop. havent picked it up since i bought this.
Date published: 2022-01-08T00:00:00-05:00
Rated

5

out of

5
by
Caiden Block
from
Worst Device; Even worse support
i had issues with screen calibration, touchpad, lid closed sensor, and charging. i've sent in the device 4 times now, still a piece of trash.
Date published: 2021-11-26T00:00:00-05:00
Rated

5

out of

5
by
RGF1
from
Problematic Chromebook
ordered the product in april 2021 and just a month later started having issues with the screen locking up that required power cycles to recover. it progressively got worse until finally did not turn on at all. sent it back under warranty and was returned with a new motherboard. in december 2022 the touchpad started becoming unresponsive. a power cycle would restore touchpad operation for a shorter and shorter period of time. performed a full restore after started getting a system critical failure screen that said to reload the operating system when sitting idle for a few minutes. the os failure screen and touchpad failure continued to occur after the full restore from the thumb drive load of the os. the touchpad is now at the point it works for a couple of minutes after a restart.
Date published: 2022-03-21T00:00:00-04:00
Rated

5

out of

5
by
Cool Cool
from
AWESOME Chromebook. Terrible Battery Life
this thing is really great. looks awesome, is fast, has plenty of storage for work, and cloud-based stuff. i recommend it. unless you are not going to be near an outlet. the battery life on this thing is trash. like trash trash. if you are going to be on the move for 6 or more hours, get something else. if you are going to be leaving your office and bringing this into a meeting for up to a few hours, it is perfect for you. oh and i read some reviews that said many of the streaming apps don't support this thing's beautiful display- also true. i didn't get this for movies though. i got it for short-term on-the-move meetings. 5 stars all around. except battery life. negative one star.
Date published: 2022-04-25T00:00:00-04:00
Rated

5

out of

5
by
John
from
Trackpad unreliable
was awesome, was totally thrilled with it, loved it. a couple months ago, the trackpad started intermittently going ballistic or failing completely. requires an unpredictable series of actions to recover use. powerwash no solution. makes it unusable for work. no published solution. don't buy this product line.
Date published: 2021-10-28T00:00:00-04:00
Rated

5

out of

5
by
Kris
from
Breaks Alot
ive had this laptop for 4 months, and within the first few weeks, i had an issue with the touchscreen, then within a month, the touchpad stopped working, and now the battery has completely gone out, to where i have to keep the laptop plugged in to even stay on.
Date published: 2021-09-27T00:00:00-04:00
Rated

5

out of

5
by
joes
from
defective touch pad and flickering screen
defective touch pad and flickering screen. i tried to get help from samsung and it took about one hour of chatting to finally get a label to mail the chromebook to the repair shop. i was without the device for about a week. when i received the 'fixed' chromebook, the touch pad worked for about one hour and then died again and became completely inoperable. now i have had to send the device back to the repair center. very frustrating. i would stay away from this device.
Date published: 2022-06-10T00:00:00-04:00
Rated

5

out of

5
by
Daniel
from
Terrible Laptop & Customer Experience
this is the absolute worst product i have ever purchased. since i owned it i had the following issues: trackpad not working, random restarts, operating system not being found, wifi card stopped working, battery stopped working. every time a repair happened i did not have my laptop for at least 2 weeks. 2 days after my warranty expired my battery stopped working. this is a faulty product that samsung sold me and will likely sell to you.
Date published: 2021-12-06T00:00:00-05:00
Rated

5

out of

5
by
Other Barry
from
Track tad failed twice
its under powered and over priced. not to mention the track pad has now failed twice. the unit get rrally hit with only 1 desktop in use and 1 chrome browser running and thats it.once the unit heats up the track pad fails. this device has been nothing but a disappointment.
Date published: 2022-05-08T00:00:00-04:00
Rated

5

out of

5
by
Derekanye
from
The display and keyboard are awesome
i enjoy editing pictures and watching movies /and videos on this chromebook. the keyboard is awesome as well, it feels so fresh and quiet and do a lot of work with it compared to my desktop
Date published: 2021-12-05T00:00:00-05:00
Rated

5

out of

5
by
B Dawg
from
Best Chromebook Out There
this chromebook is, frankly, the best on the market. the specs make this system very quick and speedy, and the screen is absolutely gorgeous. plus, this system includes a stylus and a micro sd card slot for expanded storage. one downside is that the keyboard is "off." i can't quite place it, but the keyboard seems misaligned to me, and i find myself having typos again and again. another downside is that the speakers are puny (i listen through headphones so this is a moot issue for me) overall, i love this chromebook and am glad that this system is on the market
Date published: 2022-02-26T00:00:00-05:00
Rated

5

out of

5
by
Colin
from
After a good start, turned into NIGHTMARE
it has been a complete nightmare dealing with a faulty device that will not stay powered. i have been thru 3 return requests and now 2 different warranty claims all to use a device that has not been usable since early may. i am very unsatisfied with the process to get a working device, especially one that cost so much money. i use a lot of samsung products and fortunately they normally work out so i don't have to deal with the backend side of returns and warranties.
Date published: 2021-08-02T00:00:00-04:00
Rated

5

out of

5
by
FPSTECH
from
Constant trackpad and wifi issues
constant trackpad issues, samsung will not stand behind them. very disappointed in the quality. buyer beware!!!!!
Date published: 2022-07-26T00:00:00-04:00
Rated

5

out of

5
by
tmeddleo
from
Limited-time experience for a high price
after owning this device for 15 months, the track-pad frequently does not function. this is a well documented problem you can find on reddit and the samsung forums. unfortunately, the device only comes with a year-long warranty so this common hardware issue is up to you to pay for. on-top of an initially poor battery life that has worsened, i suggest you do not go through the trouble of owning this. especially for the same price you can get a higher quality apple device that has gone through better quality assurance testing
Date published: 2022-02-28T00:00:00-05:00
Rated

5

out of

5
by
Lincoln
from
Trackpad issues constantly
i would wholeheartedly steer you away from this laptop. for the price, i shouldn't have to constantly reset my laptop for issues with the trackpad not responding. after researching this on forums, it is a constant issue pervasive throughout this product and has been for a prolonged period of time. the fact that this happened at least once every hour of using my laptop the past 2 days literally 2 days after the return window ended seems to be a ...very poor coincidence. i'd rather have a less capable, off brand chromebook than this thing.
Date published: 2022-03-21T00:00:00-04:00
Rated

5

out of

5
by
Bowler
from
Good Chromebook
this device is good for many tasks. however the trackpad is not good and will not work on first click. it take multiple pushes and becomes very frustrating. the touch works good on the trackpad but sometimes you need to click in certain apps. alternatively you can use a external mouse but this is not ideal for travel. this chromebook was very expensive. i will look else where when i upgrade. lastly if you have note phone..samsung notes does not work on galaxy chromebook.
Date published: 2021-12-14T00:00:00-05:00
Rated

5

out of

5
by
Beej
from
Serious known design flaws
these overheat. mine worked fine for about 8 months. after i sent it in for warranty repair, it started having all kinds of issues like shutting down unexpectedly and the trackpad not working. i sent it in again and they fixed most issues except for a well known flaw where the trackpad stops working except for a very slim region at the top. you have to reboot, but the issue recurs about 5 minutes later. i sent it in again and the techs said there was nothing wrong.
Date published: 2022-03-07T00:00:00-05:00
Rated

5

out of

5
by
Chiquis
from
Heats up and mouse freezes every 2-5 minutes.
the chromebook heats up to the point where you can not touch it. it is frustrating working on it because the mouse(mouse track) freezes up evey 2-5 minutes and chromebook has to be restarted to get it to work.
Date published: 2022-04-13T00:00:00-04:00
Rated

5

out of

5
by
Bladeduffer
from
The Porsche of laptops. Best I have ever used
incredible machine. it's superb build quality is unlike anything i've ever used. everything on this feels absollutey premium and the screen is a marvel to behold. performance-wise this thing is a beast and never slows down. i have never had any overheating issues i've seen mentioned and have only felt it get warm. i do wish the battery life were slightly better but if i'm just browsing i'll get 6 hours easy. to be honest i'm never on it for more than 3-4 hours at a time anyway. again, like a porsche, this is a premium quality high performance machine that never ceases to amaze. bravo, samsung!!!
Date published: 2021-08-04T00:00:00-04:00
Rated

5

out of

5
by
JohnB
from
Awesome Device
i jave had this device since it was forst launched and i love it. i have jeard all the comments about the battery life. who exactly is using electronics and not where you can charge them when they need it? you are always need electricity. in thei day and age, if you can afford this laptop, buy a battery backup to carry with you!! dumbest thing i have heard. dont buy this laptop because it uses the battery. of course it does! it has a 4k screen with the best graphics you can get today. it is solid, dependable and makes every head turn when you walk in with it. but besides that, its an excellent laptop!!
Date published: 2022-07-10T00:00:00-04:00
Rated

5

out of

5
by
Mark
from
About 2.5 to 3 stars
screen is great and then everything is just ok. i read a lot of reviews and they are pretty much right. a lot of crashing, every time you open it you have to restore from your last session. i was willing to live with that if the screen was that nice, and it is. but just less then a year later the pointer/cursor disappears but touch screen will still work fine like a tablet. after 3 to 5 restarts is works fine again. i did sthe powerwash also to try and fix. when this works idt does work very nice. so if you want to take a chance on just ok this is it. glad i had bought on sale. this would be a good $200 chromebook maybe.
Date published: 2022-03-26T00:00:00-04:00
Rated

5

out of

5
by
jazz
from
love and hate it
my sister and i bought two galaxy Chromebooks for our online classes and yes it is amazing i love the features. but i did have one problem with it. The mouse pad randomly stops working here and there and the only way you can fix it is by signing out your account and powering it off completely . at first i thought that i ruined the Chromebook my self. but then i found out that my sister was having the same problem with her Chromebook. other then that the Chromebook is a really good product i honestly have mixed feeling about it. so buy it at your own risk.
Date published: 2021-07-22T00:00:00-04:00
Rated

5

out of

5
by
Disappointed
from
Disappointed
i was quite excited to get this upgraded chromebook. on the good side it is lightweight, fast, very solid and has a crisp display. but there are a few big issues. as others have mentioned it runs very hot. i mean to the point you have to lift it off your lap after a bit because it is hot! the other most annoying thing is the ambient light sensor, in that there is no way to turn it off. it constantly does these wild swings in dim to bright, back to dim, etc. it will drive a person crazy. overall this chromebook is just ok. i wanted it to blow me away but it has fallen well short of that. i own over a dozen samsung products and have always been a big fan. but this has been a real disappointment.
Date published: 2021-08-21T00:00:00-04:00
Rated

5

out of

5
by
ChromeOS Tech
from
First Samsung Laptop I've Owned
everything about this chromebook is amazing except the battery life which is around 4 hours making it non-portable laptop to date and intermittent trackpad freezing (seems to appear when using file manager, not sure). it does get very warm very quickly but it is a good processor and that only happens when i play intensive android games. each year i purchase a new chromebook for review and personal use, then donate my current one to someone who needs a computer. i feel bad donating this version because of the issues. now that it's out of warranty i won't be sending it anywhere for repairs or parts to be replaced. this is the first time i've invested in a laptop from samsung.
Date published: 2022-05-05T00:00:00-04:00
Rated

5

out of

5
by
Jotter
from
Not worth the buy!
Mouse pointer stop working after 10 minutes of using the device. Everybody has the same problem and Samsung isn't doing anything about it. How can you put a device on the market knowing that it's faulty. I spent $1200 on this device a year ago, I am truely disappointed. You can't event trade in this device.
Date published: 2022-02-15T00:00:00-05:00
Rated

5

out of

5
by
Nate
from
Trash.
worst trackpad i've ever used. sent it in for repair and it came back still a problem every time the laptop got warm & they broke my charging port in the process. such a great looking laptop, such terrible support.
Date published: 2022-07-12T00:00:00-04:00
Rated

5

out of

5
by
Srikanth
from
Recurring trackpad issues
mouse pointer moves on its own and clicks on its own. it stops working after 15 to 20 minutes of use. happens more when it is used on a lap, when your palms are rested for typing on the side of the trackpad. the problem started within 2 months of purchase. it was repaired under warranty only to resurface again in two months. it's super annoying especially when it clicks submit button when we don't intend to. this system also overheats a lot. looks great but extremely delicate
Date published: 2022-01-09T00:00:00-05:00
Rated

5

out of

5
by
MDChromebook
from
Good until it wasn't
the first six months, and the last six months minus about two weeks i had this device it was amazing. great screen, fast, run linux apps great. but six months after i got it the device locked up and kept doing it even after several powerwashes. sent in for replacement. worked great until almost the exact day of the warranty expiration, then the same thing happened. sent it in but nothing was done since the issue couldn't be replicated. got it back and now i can't install linux apps at all. the os says it needs to be updated (and it does), but chromeos says its up to date. finally getting a refund, but sad to see it go. it was a great device just couldn't stay health.
Date published: 2021-07-15T00:00:00-04:00
Rated

5

out of

5
by
StarfishLove
from
Awful touchpad
I have had this chromebook for almost 2 years. The first year was great. I took notes with the stylus and it was fast and did what I needed it to do for school. However, the second year after some updates I have had so much trouble with the touchpad bugging out. It works for a few minutes then stops. Not to mention I have lost all my files because it reset itself multiple times and i have to powerwash it. Some apps like Word are not supported anymore which is frustrating too. Overall I used to love this chromebook but I'm switching back to windows.
Date published: 2022-03-20T00:00:00-04:00
Rated

5

out of

5
by
Wes Wunder
from
A complete failure
nothing but problems. i will never buy another chromebook, and seriously reconsidering samsung in general. erratic trackpad and keyboard made the device unusable, when/if the battery was working. samsung had me aend it in for repair three times and it always came back with the same issues.
Date published: 2021-12-25T00:00:00-05:00
Rated

5

out of

5
by
Dan8288
from
My first Chromebook and more than pleased!
This is my first Chromebook and I think it's awesome. The super AMOLED screen is beautiful and a big selling feature for me. The size, weight, and features are right in the "Goldilocks Zone", just right for my needs. The one negative is its poor battery life. It's not much of an issue for me since I use it and home and plugged in the vast majority of the time. It can run hot if processor-intensive activities are used for a while (20+ minutes).
Date published: 2021-10-13T00:00:00-04:00
Rated

5

out of

5
by
Adeara Haratha
from
Freezes then Restarts
Not worth it! Had this for only 2 years, and the screen always freezes then restarts. Its so annoying; I can't do anything with this thing if it always freezes my screen. I wouldn't recommend. Don't waste ur money
Date published: 2022-12-24T00:00:00-05:00
Rated

5

out of

5
by
Raumulin
from
The track pad is awful!
yes, a known problem with "fixes" all over the internet but they are only temporary. i fight every single time i use this chromebook with the track pad freezing/locking up or just not responding. i paid $1,000 for a book three years ago. i planned for the purchase to last me 5 years, and two years in, i've been dealing with a worthless track pad. to fix it, i purchased a $20 usb-c wireless mouse, rather than ship it back to samsung. i have been a loyal samsung user (phones (7), tv, fridge, washer and dryer) for over a decade. this is the most disappointing purchase i have made. i would have rated the chromebook five (5) stars, except you can't get past the weak link of a track pad.
Date published: 2023-04-08T00:00:00-04:00
Rated

5

out of

5
by
ak98
from
WASTE OF MONEY
Waste of money and you can not trade these in anymore like when I got it so I spent over 600$ for a chromebook that doesnt function well and I have not even had it 6 month and its collected dust the last 3 months as its not worked right or connected to internet right since the first log on.
Date published: 2023-01-05T00:00:00-05:00
Rated

5

out of

5
by
Alucard5150
from
great product
this is my first chromebook but not my first samsung product, i was always a bit skeptical of them. then i saw that samsung had made a chromebook, and samsung always has great quality merchandise, so i tried it and now, i would buy another chromebook thanks to samsung.
Date published: 2021-03-06T00:00:00-05:00
Rated

5

out of

5
by
Huckabloon
from
Truly exceptional device
after a few days of using the galaxy chomebook i am really impressed. the machine is incredibly fast, the screen is unbelievable, and it's an incredibly versatile device. the only downside is battery life (4 - 5 hours in real-world usage) but that isn't a big problem for me personally. it has a premium feel and build quality that is a small, but significant, step above apple's macbook pros. overall, an excellent chromebook!
Date published: 2021-02-18T00:00:00-05:00
Rated

5

out of

5
by
CosmicCuriosity
from
Beautifully Flawed
samsung did an amazing job building this chromebook. it might be the most premium laptop i have ever held. the svelte design with the chamfered stainless steel border contrasted against the gorgeous red color is a sight to appreciate. but there are some serious flaws. the battery life is only 4-6 hours, the laptop constantly crashes in sleep mode, and trackpad issues seem to be very common on this model. these issues were present on the first day i received the machine and i should have returned the device instead of trying to research, powerwash, and reinstall the os. as the machine stands, it's hard to recommend. samsung was so close to building the perfect chromebook which makes the flaws in it that much more disappointing.
Date published: 2021-04-01T00:00:00-04:00
Rated

5

out of

5
by
HarshV
from
The best chromebook period
if you are someone who must use the best device out there then look no further. this is the best chromeos device and i would say the best laptop i have ever used. and i have used surface, macbook and pixelbook before this. negatives first. minor annoyance the laptop gets a bit hot, web cam quality is bad and battery is a major issue unless you turn the screen brightness down. if you can live with the negatives above then everything else about this laptop has been knocked out of the park. exceptional build quality and screen. works well as a laptop or tablet. super light. makes my macbook look dated and that's a feat that few can manage.
Date published: 2021-01-25T00:00:00-05:00
Rated

5

out of

5
by
Themaddbaker2
from
Wasn't as impressed
1st thing right off the bat, when i took it out of the box, the battery was completely dead. typically any product including cell phones that i've purchased have a partial charge. it was also heavier than i expected or really liked. i wasn't completely a huge fan of all the features and would've liked an option to have it added to an individual phone line so it didn't have to be directly linked to my phone. also for the price it should have an option not to add data or internet.
Date published: 2021-03-21T00:00:00-04:00
Rated

5

out of

5
by
Professor AdMan
from
After a rough start, I remain a fan
it was originally out of my price range until i was able to catch a sale and get it for $300 less. the galaxy chromebook looks amazing and feels solid. i enjoy movies or music while working. i edit small video files (i read you can't on chromebooks). i didn't buy it for gaming, but my games play fine. so far, no serious heat issues. i only get 5-6 hours of battery, but i work from home, so it's mostly plugged in. speaking of battery, after two weeks, i returned it due to a battery issue, and samsung repair got it back to me quickly. i just liked my galaxy chromebook enough to deal with it and keep it. overall, it does what i need it to do. let your needs (& price) help you pick your best laptop.
Date published: 2020-12-22T00:00:00-05:00
Rated

5

out of

5
by
Matt
from
Do not buy.
within hours of set up, the laptop began crashing. for a $1,000 dollar machine, this shouldn't happen. only option is service or return. service or return?! for and hours old $1,000 dollar laptop!!
Date published: 2020-12-10T00:00:00-05:00
Rated

5

out of

5
by
Jay M
from
Not a premium chomebook , do not buy.
purchased brand new from samsung, all of sudden it stopped charging, noticed a small crack on the left corner, send in to their recommended tech service, called me claimed that its physical damage will cost me over $400 for 6 month old premium chromebook. i will most likely trash it.. and will never buy samsung again...
Date published: 2020-11-20T00:00:00-05:00
Rated

5

out of

5
by
george
from
Worst piece of hardware
grainy webcam, sluggish performance, and noisy fan....wont' keep it for free either
Date published: 2021-06-11T00:00:00-04:00
Rated

5

out of

5
by
Krish
from
Subpar trackpad and charging
trackpad is not good and not respondinng most of the time and i've to restart the laptop for that issue everytime. charging is not good. it is taking an hour to charge 5% . i'm deeply regretting my choice of buying samsung chromebook.
Date published: 2021-07-03T00:00:00-04:00
Rated

5

out of

5
by
NatB
from
I still cannot understand how the screen is broken
my husband gave me this sleek chromebook as a christmas present and i loved it. i even put my old windows laptop on the side. this chromebook has been well taken care of that i was so shocked when i noticed dome fine broken lines on the screen; at first, i thought it was maybe done dust and i tried to clean it up; the lines will not go away. then, i lowered my head to look at the screen like sideways and that's when i noticed the screen being broken. that is such a shame; it's been only 2 months; that is so revolting and a pure waste of money.i guess i am going back to my old windows laptop, even though it us a little but it still standing after 6 years!
Date published: 2021-03-02T00:00:00-05:00
Rated

5

out of

5
by
Oscar
from
Trackpad issues....
love this chromebook but it has trackpad issues... it seems to be widespread now. the trackpad with either die and stop working, or be very spotty and right click when you are left clicking.. it drives me nuts....
Date published: 2021-03-13T00:00:00-05:00
Rated

5

out of

5
by
gabrielkidd89
from
Really impressive and like the new upgrade!!!
i finally got it on my hands! 2020 could it been any better and yes we are in covid 19 but after getting this amazing product from samsung i coundnt remember about what situation we are living at the moment [= thank you samsung!
Date published: 2020-11-25T00:00:00-05:00
Rated

5

out of

5
by
Airick
from
Great Chromebook - Poor Battery Life
samsung has outdone themselves with this high end chromebook. the display is fantastic, the keyboard is great and the design is sleek. not to mention the fact it has ample memory and is lightning quick. the issue is the battery. no matter how i adjust the settings (reduce the screen brightness, turn off bluetooth, etc.) the battery does not last all day. i would at least expect the chromebook to last a solid 8-10 hours but the best i can get out of it is about 6.5-7 hours. not good for a high end system. i hope samsung will work with google to come up with a true fix because this is a great chromebook but the battery life does not meet expectations.
Date published: 2021-07-11T00:00:00-04:00
Rated

5

out of

5
by
Nick
from
Worst Chromebook ever
This is by far the worst piece of electronic equipment I have bought from samsung. The mouse pad doesnt work even after troubleshooting. The battery lasts 2 hours at the most when unplugged. The mouse tracker ghosts on me when I surf the web and will exit all my screens and then re open, close and again its ridiculous. They wont even honor the warranty or give me any type of support. 900 dollars down the drain
Date published: 2023-07-26T00:00:00-04:00
Rated

5

out of

5
by
Kososs
from
Don't buy this crap!
Chrome os absolutely worthless don't even think you may like it. It's even doesn't have spell check in Gmail app. Absolutely inconvenient to use. You will find more useful any tablet but not this laptop. After few times trying just laing on shell as garbage.
Date published: 2023-06-12T00:00:00-04:00
Rated

5

out of

5
by
sti_xx1226
from
Major Touchpad Problems
I purchased this beautifully designed Chromebook in June 2023, so just a few week's ago from the time I'm writing this review. After about 3 days of receiving the device in the mail, I needed to start working on a research paper for an online class. I was about 15 minutes into my research when I needed to click and drag a file to a new folder I created for my research articles. My touchpad became unresponsive and my onscreen cursor began acting very erratic. I ended up restarting the device and this did not resolve the concern. I followed all of the troubleshooting steps found on Samsung's website as well as Google's and this did not resolve my concern. About a week ago I "powerwashed" (factory reset) the device and this did seem to temporarily fix the touchpad concern, and when it did malfunction, the trouleshooting steps founds online did resolve the problem, but for only about 10-15 minutes. For this to be my everyday laptop, I am HIGHLY annoyed that I cannot double click, or click and drag using the touchpad without causing it to wig out. I attend an online university and 100% of my course load is done at home and supposed to be on this laptop. I am thankful that the screen is touch enabled, or I would be so far behind. I have contacted Samsung support and will be sending the device in for repairs, but after researching this problem online, it seems that others have also tried these steps to no avail. I hope Samsung is able to figure out what the cause of this issue is. It seems to have affected a great percentage of customers who purchased this same device.
Date published: 2023-07-08T00:00:00-04:00
Rated

5

out of

5
by
Kishore
from
excellent design
excellent design . overall is good . best amoled chromebook
Date published: 2023-04-22T00:00:00-04:00
Rated

5

out of

5
by
WendyAnn
from
Purchased in Dec. of 2020 & still going strong.
I got this model in December of 2020, just before the 'stripped down' Chromebook 2 came out & after getting used to this one, I feel, for what I was looking for, that I made the correct choice. It'll be 3 years in December & there are still features I have yet to try out & possibly use on a regular basis. We went on a cruise in April & because this laptop is so light, this is the one we took with us & both used. We already have an HP lap & desktop so this was basically something for surfing the web, watching videos & the occasional face-time video chats/meetings & so far so good.
Date published: 2023-06-05T00:00:00-04:00
Rated

5

out of

5
by
NAAD
from
DO NOT BUY
Stopped working a week after I purchased it. Had to send to Samsung twice to fix. Now it is messed up the 3rd time and I had it less then a year
Date published: 2023-05-05T00:00:00-04:00
Rated

5

out of

5
by
Cadillac
from
My chromebook
Purchase this when it came out I love it.. hard to navigate at first but I caught on quickly
Date published: 2023-01-19T00:00:00-05:00
Rated

5

out of

5
by
Jackson
from
Awful. Avoid!
like everyone else... the track pad went out after about a year of light use. only the top part works. it's a well-known issue samsung does nothing about. the device gets hot very fast. the battery life is pretty dismal. for some reason when i type the space bar inputs two spaces randomly. i've tried every adjustment known to man to get it to work. the only great thing about this product is the screen. now i have a "premium" chromebook that's ready for the garbage.
Date published: 2023-03-25T00:00:00-04:00
Rated

5

out of

5
by
Raw Bear Toe
from
Good, but.
Worked great for the first couple of years. Then the trackpad went wonky. Nothing would fix it, updates, factory resets. It would work for a little while after a reset, then it stopped working. I bought it when it was $1000. I have cheaper way older laptops and have no problems. If it wasn't for the touch screen and stylus still working I would have given it 1 star. Other than that the performance is still great and everything else works.
Date published: 2023-03-07T00:00:00-05:00