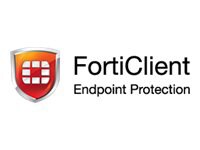 Know your gear
Fortinet's Remote FortiClient Host Security is designed to provide secure remote access to network resources for telecommuters, mobile workers, remote sites and partners. The FortiClient Host Security is an easy-to-use IPSec software client featuring an integrated personal firewall, Network Address Translation (NAT) Traversal, centralized policy management, multiple policy support for access to multiple devices, strong encryption, and a comprehensive set of tools for troubleshooting. Most popular Microsoft Windows operating systems are supported natively.
Terms and Conditions
These services are considered Third Party Services, and this purchase is subject to CDW's Third Party Cloud Services Terms and Conditions, unless you have a written agreement with CDW covering your purchase of products and services, in which case this purchase is subject to such other written agreement.
The third-party Service Provider will provide these services directly to you pursuant to the Service Provider's standard terms and conditions or such other terms as agreed upon directly between you and the Service Provider. The Service Provider, not CDW, will be responsible to you for delivery and performance of these services. Except as otherwise set forth in the Service Provider's agreement, these services are non-cancellable, and all fees are non-refundable.
Software Details
Subscription license renewal (1 year) + FortiCare 24x7
View Tech Specs