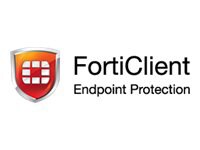 Know your gear
FortiClient's Fortinet Security Fabric integration provides endpoint visibility through telemetry and ensures that all Security Fabric components - FortiGate, FortiAnalyzer, EMS, managed APs, managed Switches, and FortiSandbox - have a unified view of endpoints in order to provide tracking and awareness, compliance enforcement, and reporting. Traditional virtual private network (VPN) tunnels or new, automatic ZTNA tunnels provide secure remote connectivity. Provide securityand protection for endpoints when local or remote.
Terms and Conditions
These services are considered Third Party Services, and this purchase is subject to CDW's Third Party Cloud Services Terms and Conditions, unless you have a written agreement with CDW covering your purchase of products and services, in which case this purchase is subject to such other written agreement.
The third-party Service Provider will provide these services directly to you pursuant to the Service Provider's standard terms and conditions or such other terms as agreed upon directly between you and the Service Provider. The Service Provider, not CDW, will be responsible to you for delivery and performance of these services. Except as otherwise set forth in the Service Provider's agreement, these services are non-cancellable, and all fees are non-refundable.
Software Details
Subscription license renewal (3 years) + FortiCare 24x7
View Tech Specs