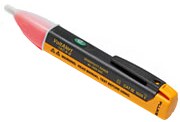 Quick tech specs
Be aware of voltage easily
Voltage detection range for wide application use
Audible/Silent mode for added convenience
the tip glows red and a beeper sounds when voltage is detected
90V to 1000V AC or 200V to 1000V AC
View All
Know your gear
The Fluke Networks Portable 1AC II Non-Contact Voltage Tester is easy to use. When the tip glows red and the unit beeps, you know there's voltage present. Electricians, maintenance, service, safety personnel and homeowners can quickly test for energized circuits in the workplace or at home and even detect miswires of an electrical outlet.
Fluke Networks Portable 1AC II Non-Contact Voltage Tester
is rated
4.10
out of
5
by
16
.
Rated

5

out of

5
by
Fire and Ice
from
Fluke non contact electrical voltage detector
Works good! Works as expected, easy to use, nice unit
Date published: 2022-01-21T00:00:00-05:00
Rated

5

out of

5
by
Boss
from
Great long lasting product.
Purchased my first Fluke tester 30 years ago. I guess I got my moneys worth. Just replaced it. Great, reliable tester.
Date published: 2023-01-01T00:00:00-05:00
Rated

5

out of

5
by
Link
from
Product works as intended.
It does the job, no complaints. Happy with my purchase.
Date published: 2022-07-17T00:00:00-04:00
Rated

5

out of

5
by
MJ75
from
life saver
this instrument can save your live, id be lost or dead without it... both time ive been shocked i have not had it with me...STUPID me... i carry it all the time on my work cart. VERY RELIABLE INSTRUMENT.. ALTHOUGH DO NOT SOLELY RELY ON THIS ALWAYS CHECK WITH A METER.
Date published: 2013-05-30T00:00:00-04:00
Rated

5

out of

5
by
Fleazoid
from
Awesome!
Had this for over 3 years and still works amazing!
Date published: 2012-07-28T00:00:00-04:00
Rated

5

out of

5
by
SDEE
from
Respect the Fluke! :)
I trust this product (voltage tester. Solid product.
Date published: 2020-12-31T00:00:00-05:00
Rated

5

out of

5
by
Journeyman
from
The most accurate and durable voltage detector
I have tried many voltage detection tools over the 18 years of my career as an electrician (residential, industrial, commercial, maintenance), but Fluke makes the most accurate and durable one that I've ever used and I'll be sticking with it, since I bought my first one (earlier Fluke model) about 15 years ago. Many others are too sensitive and will light up as soon as it's inside of a junction box of live wires. With the Fluke 1AC, one can identify each live source with no problem; of course as voltage goes up, sensitivity does as well, but so it goes with any such tool. Some people complain about the tips breaking, but this has not been my experience, as I've dropped mine several times from about 3 feet, which has broken every other brand that I've bought. Being able to use the tool without the sound is great, as one can go about troubleshooting without distracting those who are around. The light flashes in intervals when not near a live source to let you that it's working, which is quite handy; however, always test on a known live source first. This IS NOT A LIFE SAFETY TOOL, this is a great TROUBLESHOOTING TOOL. If you are looking to save time and be more efficient before using your meter, I would recommend the Fluke 1AC to do so. Just avoid hard impacts and change the batteries regularly and you'll have this tool for quite some time.
Date published: 2017-10-22T00:00:00-04:00
Rated

5

out of

5
by
Thomas repair
from
nice tool.
batteries are always dead. now when I put new ones in all it does is beep constantly. this is my second and last one. there are other brands out there to consider. just out of the warranty by 2 months. store wont replace it
Date published: 2019-09-20T00:00:00-04:00
Rated

5

out of

5
by
Markman
from
Great until it stopped working
I have had this unit for a good few years and it has always worked really well. Just this week, it stopped. Oddly, new batteries got the light flashing again, but it still does not detect live current at all now! Slightly worrying! I have decided to buy another one; we'll see how that one goes.
Date published: 2019-10-12T00:00:00-04:00
Rated

5

out of

5
by
Tamothy
from
Great tester, needs better "dropability"
I've been using this kind of pen tester for years and really is the only one I ever want to buy. However, recently when I dropped my tester, it got stuck in a weird setting where it beeps non-stop, making me not have any faith in the tester anymore. I need to be sure my equipment, especially my voltage detector is up to par. My only solution now is to buy a brand new one. I took off 2 stars, just for the fact that my tester malfunctioned because it was dropped. These testers need to have a better dropability, especially if its only from a height of 5 feet!
Date published: 2019-03-07T00:00:00-05:00
Rated

5

out of

5
by
701nate500
from
Not for everyday pocket carry
I have had this voltage tester for 3 months, and it has functioned properly the entire time. No battery replacement was need from occasional daily use during this period. It recently failed due to the tip breaking off in my pocket. This is not an every day carry item for the pocket
Date published: 2019-03-21T00:00:00-04:00
Rated

5

out of

5
by
wj75
from
Not a Non- Contact!
This works perfectly fine with direct contact but unreliable with non-contact. I got shocked changing a garbage disposal switch because it was placed against the wire insulation and not the switch screws (which all of the cheaper brands I've owned was more than close enough and gave me a false negative reading even though I had the wrong breaker off due to incorrect labeling in the panel. Fluke volt and multimeters are the best of the best but just a warning this needs direct contact for accuracy.
Date published: 2019-04-26T00:00:00-04:00
Rated

5

out of

5
by
Sparky144
from
Reliable after 4 years
I've had this tester for 4 years and have tried to take good care of it. I use it within its designed purpose and it hasn't failed me yet with false negatives like other testers may. Finally a few months ago the clilp broke on it in the winter, I believe because it became brittle from the cold. Other reviewers mention the tip breaking off. I have been careful of this but I have seen others with the same tester have it happen. I won't use a different tester though, this one is in my opinion the best, functionally.
Date published: 2019-05-04T00:00:00-04:00
Rated

5

out of

5
by
Edwod
from
Unreliable
Audible beep failed, batteries were new and tested 2× 1.5 volt
Date published: 2021-07-03T00:00:00-04:00
Rated

5

out of

5
by
matthew k
from
Yellow or bust
Though rated for =90VAC, i have detected as low as 36VAC. This is the only non-contact voltage detector i recommend
Date published: 2021-09-22T00:00:00-04:00
Rated

5

out of

5
by
Blaine H
from
One of the best
This is the non contact voltage tester that I've had in my toolbag for 20 plus years and will continue to utilize as part of my HVAC service kit.
Date published: 2023-06-22T00:00:00-04:00