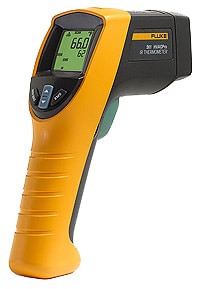 Know your gear
Lighten up your toolbox with the one tool that combines the temperature measurement functions that professionals need most for inspecting heating, ventilation, air conditioning and refrigeration systems. The Fluke 561 HVACPro provides both non-contact and contact temperature measurements, replacing several other test tools. It is fast, efficient and easy to use, saving you valuable time and effort.

Use the infrared (IR) thermometer to measure hot, moving, electrically energized and hard-to-reach objects instantly.
Check motors, insulation, breakers, radiant heating, pipes, corroded connections and wires plus scan ducts in the ceiling from the floor without a ladder.
Handy pipe probe with hook-and-loop fastener included for superheat and sub-cooling contact measurements
Or plug in your own industry-standard K-type thermocouple probes and get the most out of your tool investments.
Fluke 561 HVACPro
is rated
5.00
out of
5
by
4
.
Rated

5

out of

5
by
lahh
from
Great tool
In the HVAC industry this thing can be a life saver. It is very accurate and easy to use.
Date published: 2012-06-08T00:00:00-04:00
Rated

5

out of

5
by
Jamie
from
We needed accurate and you came through
We having issues with our welding rod oven's thermometers not being accurate. We have to throw welding rod away if it gets overheated. The factory thermostats we inconsistent and varied from oven to oven. We bought (2 561 infrared thermometers to monitor our ovens. We were able to get our ovens all adjusted accurately and test them daily. We have not wasted a single weld rod in over a year since we purchased 561's. This has saved us $3000+ a year we were losing because of inaccurate rod ovens. Thank-You Fluke!
Date published: 2016-12-07T00:00:00-05:00
Rated

5

out of

5
by
serrano930
from
Absolutley accurate
I have use this particular product for a year,and it has been dead on target each,and every time. It is the of the finest quality,we cover a combined 13 buildings and we have purchased three after the initial purchase. We have an establishe bac-net protocol and we use matasys from Johnson Controls,Ice from York,and Trane chillers you can check anything with it ,and you'll have a correct reading warranty,great product
Date published: 2012-06-14T00:00:00-04:00
Rated

5

out of

5
by
Hyun
from
Easy to use and good to read
I am using this on different conditions and works very good. Easy to use and read in dark.
Date published: 2016-12-07T00:00:00-05:00
Rated

5

out of

5
by
jtp3
from
Data supplied without a fuse!
Often on the job, I have needed to identify cool spots or warm spots in an room. The Fluke 561 Infrared and Contact Thermometer allows repeatable reference data, to be collected, without the need for climbing on a ladder, or stooping to floor level. The unit is simple to operate, and I have dropped the unit, without caursing damage.
Date published: 2012-06-09T00:00:00-04:00
Rated

5

out of

5
by
IceWhiteice18
from
Love it
never do a job without using it. very easy to use just point and shoot
Date published: 2012-10-29T00:00:00-04:00
Rated

5

out of

5
by
ThermalTran
from
Don't settle for less
I have been using my 561 Thermometer for years now. After comparing it to many other models on the market I have to say that is the most accurate IR thermometer I have used. It is a must-have tool in my kit as a refrigeration technician. I've been able to increase the speed of my diagnostics and confirmation of work performed.
Date published: 2016-12-07T00:00:00-05:00
Rated

5

out of

5
by
Juan
from
thermometer
accurate good for solar panels ,combiner boxes,inverter
Date published: 2012-07-11T00:00:00-04:00