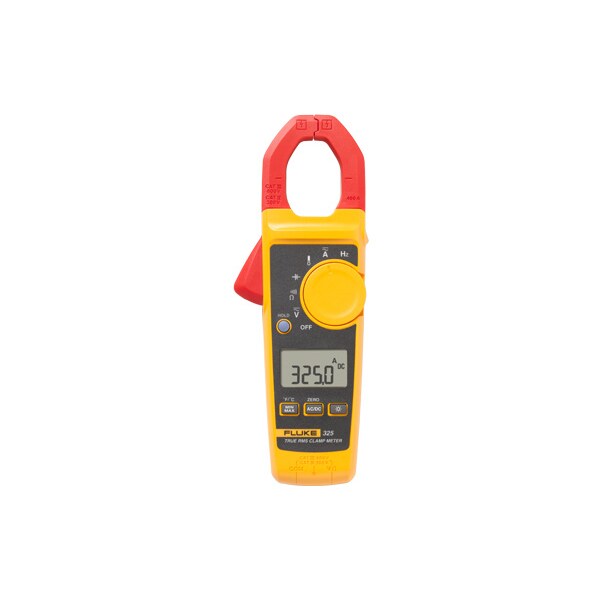 FLUKE 400A AC/DC TRUE RMS CLAMP
Mfg.Part: FLUKE-325 | CDW Part: 2889600
FLUKE 400A AC/DC TRUE RMS CLAMP
FLUKE 400A AC/DC TRUE RMS CLAMP is rated5.00 out of5 by6.
Rated 5 out of 5
by
MarkKw
from
Indispensable for maintenance and RV work.
This is a great meter that comes with all the necessary functions needed for general industrial maintenance and especially the combined AC/DC, generator and solar-PV systems in RVs. Very nice to carry one meter that makes life easier and work more expedient.
Date published: 2016-12-08T00:00:00-05:00
Rated 5 out of 5
by
techcraft45
from
Excellent HVAC clamp meter
I bought the Fluke 325 while still in HVAC school, and use it daily in the field at my job now. All the functions of the meter are useful on my job without a lot of extra frilly stuff id never use. I worked as a electronics repair technician before going into HVAC, and I've always used Fluke meters. The Fluke 325 is a first class tool
Date published: 2013-06-01T00:00:00-04:00
Rated 5 out of 5
by
BMac
from
Meter is simple and Reliable
I bought this Fluke-325 clamp meter recently at my new company due to my satisfaction with the one I had at a previous employer. It's easy to carry with my computer when I go to customer sites and always reliable for the needs of a controls engineer.
Date published: 2016-12-22T00:00:00-05:00
Rated 5 out of 5
by
TenGauge
from
Best clamp meter I've owned
I've had this meter going on 2 years. I work on HVAC and Automotive repair. I can check older ignitions, charging, circuit draws, and starter systems. It's extremely versatile for HVAC and compressor diagnosis. It's ruggedness makes it useful indoors and outdoors.
Date published: 2016-12-28T00:00:00-05:00
Rated 5 out of 5
by
Joel325
from
Excellent compact meter
I have been using Fluke meters for years and find them to be quality tools. The Fluke meter on my cart right now is the Fluke 325 clamp meter. It is compact and has the features that I need as I work in facility maintenance.
Date published: 2016-12-07T00:00:00-05:00
Rated 5 out of 5
by
Fordracinjunkie
from
Feature packed
I had the meter for several months. Used it for everything from HVAC to checking amps on a car battery. But someone liked it better than me. I can't wait to get another one.
Date published: 2016-12-08T00:00:00-05:00