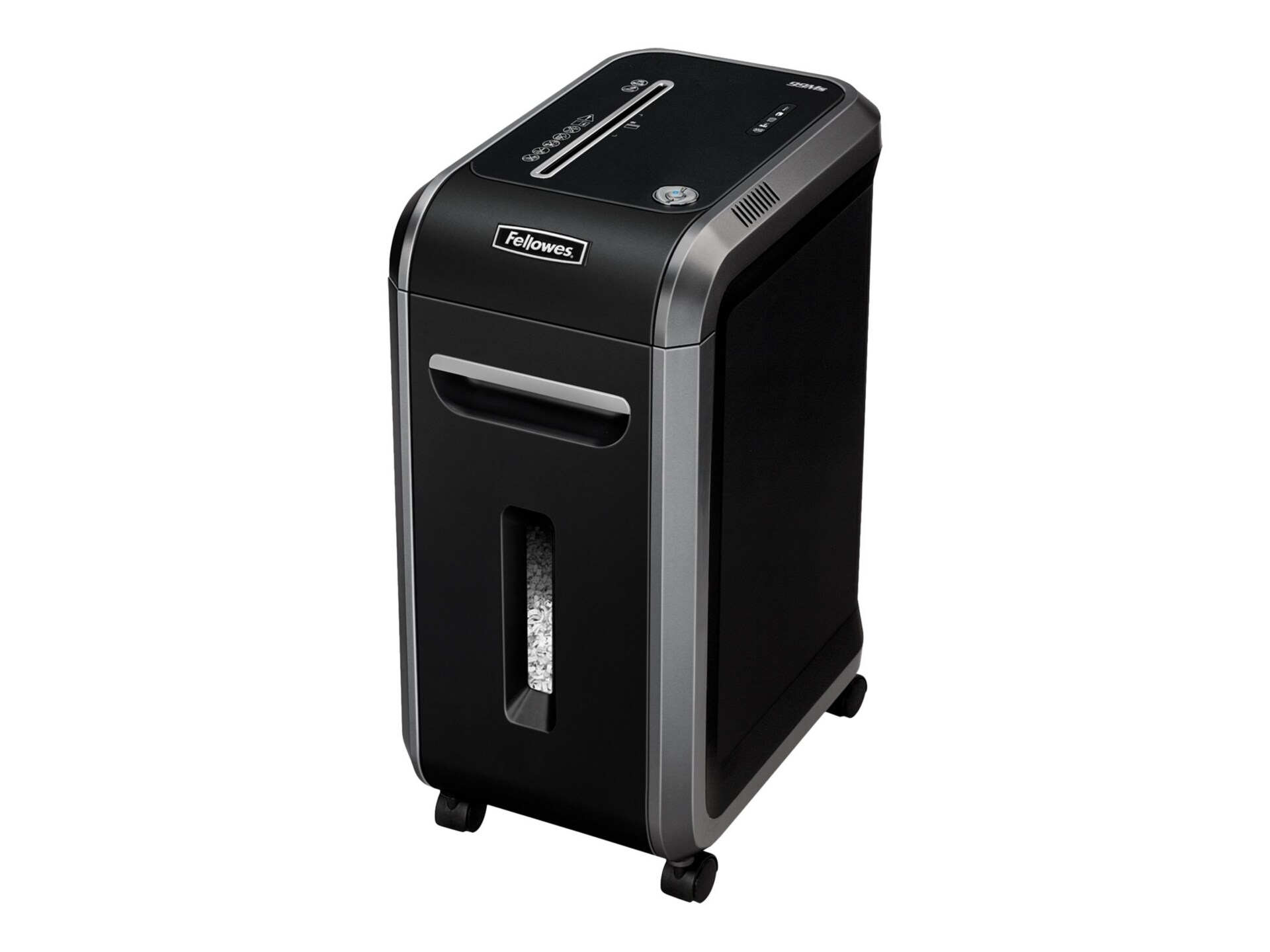 Quick tech specs
View All
Know your gear

Auto Reverse stops and reverses paper if a jam occurs. SafeSense® Technology stops shredding when hands touch the paper opening. SilentShred™ offers ultra-quiet performance for shared workspaces. Energy saving Sleep Mode feature shuts down the shredder after 2 minutes of in activity. Shreds 12 sheets per pass into 5/64"x 5/16" micro-cut particles (Security Level P-5).
Shreds for up to 15 minutes before a 25 minute cool down period is needed. 9 gallon pull-out bin holds over 80% more Micro-Cut particles per gallon than standard Cross-Cut. 25.19"H x 11.41"W x 17.31"D. 1-year product warranty plus 7-year cutter warranty.
For 1 – 3 users.
Weight:49lbs

Fellowes Powershred® 99Ms Micro-Cut Shredder
is rated
4.42
out of
5
by
12
.
Rated

5

out of

5
by
Retired96
from
Second Fellowes Shredder Purchase
I have had a Fellowes shredder for about 10 years and it is still working perfectly. Recently, I've had the need for a large capacity shredder due to a massive cleanup of my office and attic. Instead of buying a very expensive large scale shredder, I decided to buy this one as a supplement. It has a greater shredding capacity than my previous one, and using them both together gives me the running time and capacity that I need. I decided to choose the two-shredder alternative because of the long-term service and reliability of my first Fellowes shredder.
Date published: 2021-03-24T00:00:00-04:00
Rated

5

out of

5
by
MikeMag
from
Replacement
Fellowes replaced for 99ms that seemed to be in constant paper jam, 5 stars for customer service. Love this shredder quiet, heavy duty, micro cutter and good capacity. Would definitely recommend, have had other shredders before and none as heavy duty or microcutting like this one.
Date published: 2021-03-06T00:00:00-05:00
Rated

5

out of

5
by
strtch
from
heavy duty
machine runs like a charm, feels strong runs long.
Date published: 2021-08-03T00:00:00-04:00
Rated

5

out of

5
by
MikeH
from
Casters break off
I've had this new shredder a little over 6 months. It's a very good shredder generally, I had no problems installing the casters, as another reviewer said, they snap in. I've moved this shredder between 50 - 100 *feet* in its short life, on solid, flat, hardwood floors that are smooth as glass. BUT, the "housing" around 2 of the casters, separately from each other, have broken for no reason, and the housing around a 3rd has a smaller crack. See the 2 photos. I tried multiple layers of duct tape, but because the breaks are right at big and at two insertion points, it doesn't work. This is a huge annoyance to deal with. Other than these problems, the shredder is fine. I'd give this 4 if there were no caster problems. It gets 1 star because this is really a pain in the butt.
Date published: 2015-05-02T00:00:00-04:00
Rated

5

out of

5
by
JJFlash
from
Shoud Have Purchased Sooner!
Living with several adults in my household, personal shredders cannot come close to the durability and capacity of this shredder. Junk mail is the bread and butter of our postal service. I would continually put off shredding due to the amount of my personal time home shredders consume. In a world where privacy is at a minimum and one's name is sold over and over to marketing companies, my privacy is of paramount importance. When shredding marketing offers for several people, I am overjoyed that the Power shred 99ms can devour credit card offers and any unwanted junk, as well as files that are no longer needed. The Micro-Cut feature along with the 9 gallon waste bin was a major factor in deciding which model to choose. The shredded remains are "Micro" size just as stated by Fellowes, which lessens the number of times the bin needs to be emptied along with the paper remains being far superior in size than standard cross cut shredders.The security level is a P-5, which is at the higher end of the scale. The waste bin has an indicator stating when it is full, and the auto shutoff over the throat is a welcome safety factor. It also has a sleep mode that activates after a period of inactivity, which can be quickly resumed at the touch of a button. The information panel indicators are very helpful. I have wanted a large capacity shredder for several years and with the increase in unwanted mail, this purchase is well justified. Although it weighs 49lbs, having casters is a great feature that adds to portability and taking the mundane out of shredding. I purchase many items online, and this is the first review I have ever given, only because I value my privacy so highly. However, this shredder certainly deserves a rave review. The only improvement I would suggest would be a 10" throat width, but for all the wonderful features this shredder has, I can live with 9". It does not shred optical media, which wasn't a factor for me as I do my backups on external drives, for occasional optical media coarse sandpaper will destroy data as well as shredding. I assume that the reason optical media cannot be shredded is because the Micro-Cut fine shredding would cause too much heat on optical media. Overall, I am a well satisfied customer, and overjoyed to find a quality shredder with the major features I was looking for regarding my needs.
Date published: 2014-01-17T00:00:00-05:00
Rated

5

out of

5
by
jwpbbook
from
strong and quiet
This is both quieter and heavier duty than the shredder it replaced. It is able to shred junk mail without having to open the envelope.
Date published: 2016-03-15T00:00:00-04:00
Rated

5

out of

5
by
StanT
from
Design and Performance
Better than my previous purchase of the Fellowes 58-89Ci in terms of finer shredding of documents and capacity of basket.
Date published: 2016-03-09T00:00:00-05:00
Rated

5

out of

5
by
txcse
from
Quite and Nice Shredder for our Office
Shreds to a micro fine size quietly. Much better then our last shredder. Happy with our purchase.
Date published: 2018-06-22T00:00:00-04:00
Rated

5

out of

5
by
superrad
from
so far so good
works well. i wish it was less messy. How about bags that fit better?
Date published: 2015-11-22T00:00:00-05:00
Rated

5

out of

5
by
Pete8116
from
Great Machine!
I had years of old credit card bills, bank statements, tax papers and more to shred. The 99Ms is doing an excellent job. After reading the directions, this particular shredder needs to be oiled more frequently that is the only draw back I see now. The 99Ms is a replacement for a 12 year old Fellows which still worked but kept jamming and paper wouldn't fall completely off the shredding knives which required frequent cleaning. I have none of that with the 99Ms.
Date published: 2017-07-23T00:00:00-04:00
Rated

5

out of

5
by
HEC808
from
Great Purchase
In my work office, we had a junk shredder, but we got this one to replace it. It has been great and is working very well for us. It is very sleek looking and does not make a lot a noise in our very small office. I think that the touch feature is very cool and love how it shreds paper to little confetti. Overall, it is a great purchase!
Date published: 2014-09-12T00:00:00-04:00
Rated

5

out of

5
by
Shredrite
from
Great Product Almost Excellent, Highly Recommeded
I have owned several different manufactures of shredders and have used the Fellows High Security shredder at work for years. When the last shredder failed I decided to try Fellows for Home/Office and everything about this model is excellent but would have liked it to run longer before temperature safety kicks-in (ideal would be more industrial motor and vents for removing the heat build-up). With a stronger motor you would be able to shred others items like CD's, etc. along with more sheets per pass, which would be terrific. It will shred Credit Cards fine but with more data formats that are in use today, it would be ideal to be able to shred them for complete ID security. For most home use this would never be a problem, but I think with slight changes to this model it would pretty much ensure long long life use. Cut size is excellent. Overall GREAT product functionality and performance.
Date published: 2015-04-30T00:00:00-04:00