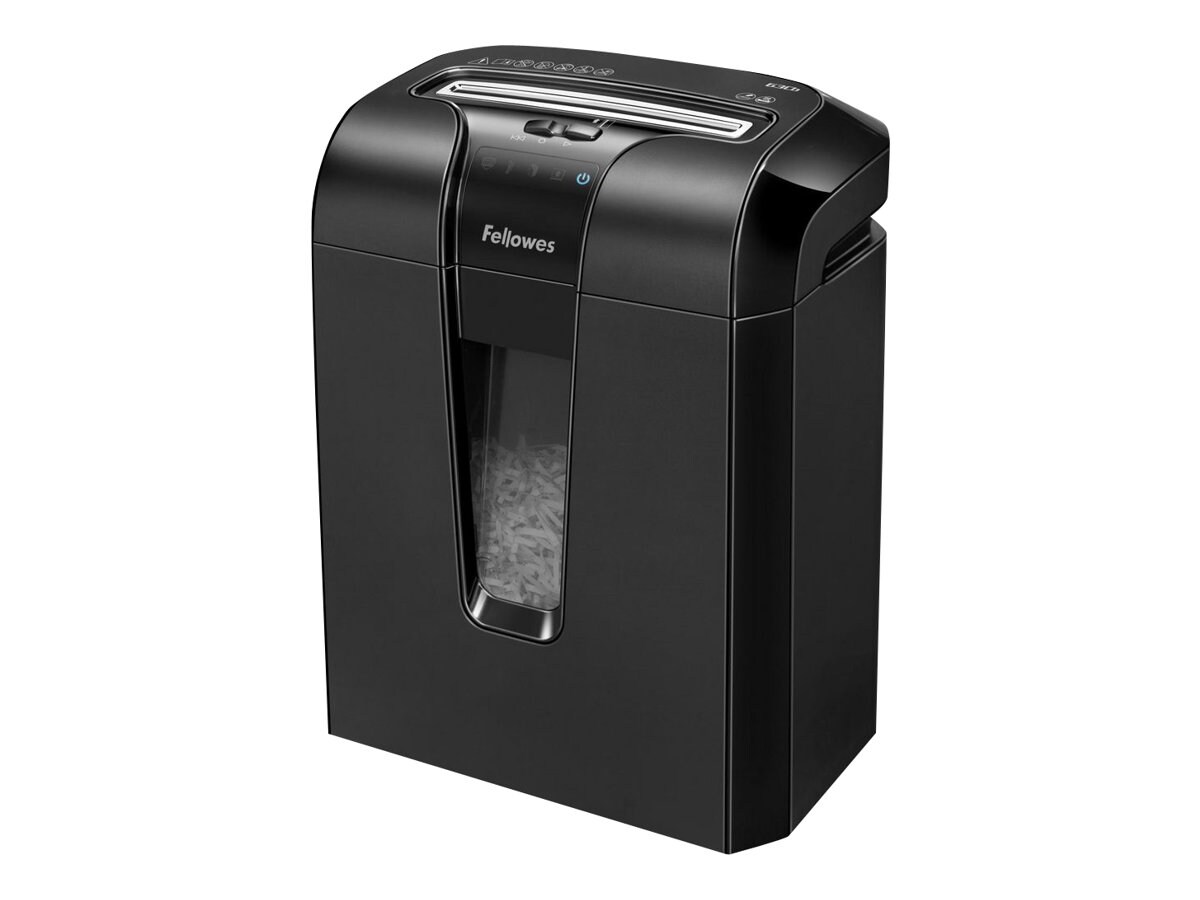 Quick tech specs
View All
Know your gear
The Fellowes Powershred® 63Cb Cross-Cut Shredder shreds 10 sheets of paper per pass into 309 cross-cut particles for enhanced security on highly confidential documents to help keep your information safe. It also shreds staples, credit cards and paper clips.
Fellowes Powershred 63Cb - shredder
is rated
4.22
out of
5
by
32
.
Rated

5

out of

5
by
Skarski
from
Good Buy
I just bought this shredder today and have already cleaned up months of old paper work.It works very well and shreds to a small safe size.
Date published: 2014-06-06T00:00:00-04:00
Rated

5

out of

5
by
Magnolia
from
Fellowes 63Cb shredder
I just bought the shredder, to replace an old, slow, loud one I've had for years. The Fellowes is very, very good. My only wish is that the bin were easier to pull out, but that's minor. It also filled up pretty fast--or else I just had never shredded so much paper so fast, so I was surprised. It is MUCH quieter than my other one, and the other shredders I tried out in the store. The shreds still get all over the floor, but I can clean them up.
Date published: 2014-07-19T00:00:00-04:00
Rated

5

out of

5
by
papercut22
from
I'm confused
I thought I was purchasing a brand new item, but when I received my shredder, I took a very close look at the insides. I found some shredded paper and thought right away, "Did they sell me a refurbished item?" Sure looks like it and makes me wonder.
Date published: 2015-04-13T00:00:00-04:00
Rated

5

out of

5
by
Ludeman
from
much less mess than others
First of all, this shredder works great, but what I like most is that the waste basket works well in reducing the mess. The previous 2 models I had, when you pulled the wastebasket out, you couldn't prevent the shredded paper from getting all over the place and you would have to vacuum. There is very little mess with this model.
Date published: 2016-06-19T00:00:00-04:00
Rated

5

out of

5
by
BobtheBobber
from
Fellow better buy fellows
If you want the best of quality with no problems buy this brand otherwise you may waste your time with the others.
Date published: 2014-04-02T00:00:00-04:00
Rated

5

out of

5
by
raff
from
best product
perfect,easy to use eay to empty the bin,jam blocker is very useful.stops shredding when you touch the paper opening.safe for child.perfect for home office.
Date published: 2015-04-29T00:00:00-04:00
Rated

5

out of

5
by
telafon
from
It's a winner!
This was bought to replace an older Fellowes that we'd had for 10+ years. We are very happy with the operation of the shredder, except I question the 10 sheet capacity. Anything around 4-5 & it slows down, but doesn't jam. The only real complaint is that we have to keep a close watch on the bin (made easy by the window on front) to start tamping down the shredded paper to keep it from causing a jam, when it starts piling up. But that's not any big deal, & all shredders are like that. We tend to wait until the bin is fairly full to empty it. At least this one will stop if it gets a jam, before it has a chance to burn the motor out! If this one lasts as long as the old one did, we'll be very happy! It would be nice if the warranty was longer --- like 5 years product & cutter or 5 & 10 (instead of 1 & 5).
Date published: 2013-03-01T00:00:00-05:00
Rated

5

out of

5
by
NovaScotia
from
Great Shredder for the Price
Just started using it but very impressed already. Very quiet and powerful!
Date published: 2014-12-04T00:00:00-05:00
Rated

5

out of

5
by
HappyTexan61
from
Texan1961
I am so pleased with my fellowes shredder. It doesn't overheat unlike my old shredder. It can shred multiple papers and easy to remove the shredded paper. Highly recommended!
Date published: 2014-01-11T00:00:00-05:00
Rated

5

out of

5
by
Lizzy50
from
Sanity saver!
New year's goal was to get my mail and paper work in some kind of order. I saw your shredder advertised in the target flyer.I decided that's what I needed and sure enough it had been the best little worker. No more worries about my name getting in the recycling junk mail.I just put it through powershred63CB and it turns it into pet bedding.I especially like the cool down feature.I have had no problems and have all ready reached my goal for this year thanks to Fellowes powershred63CB. I give this product 5 stars hands down.
Date published: 2015-02-09T00:00:00-05:00
Rated

5

out of

5
by
Gerry
from
The 63cb Shredder works perfect for my home use. My old shredder died and I replaced it with this much nicer model
This shredder is awesome and it looks great. Much better then my old shredder that could not shred as many sheets and was always Jamming. Also, the 63cb is so much easier to empty then my old model.
Date published: 2014-02-27T00:00:00-05:00
Rated

5

out of

5
by
Chief1
from
crc46000
Cheapley made, had to put felt pads under unit, so it would not scratch the floor. Motor/shred sits on a flimsy cabinet. Unit is quit.
Date published: 2017-07-27T00:00:00-04:00
Rated

5

out of

5
by
Hondo
from
does not work as well as my old fellows shredder
if a piece to be shredded is thicker than 3 sheets it has a tendency to jam. it must be backed up & paper removed or started again. it sounds like it is working hard when more than 1 piece of paper is inserted. if you put two empty envelopes in together it works very hard. the only thing wrong with my old shredded was i could not shut it off.
Date published: 2013-01-25T00:00:00-05:00
Rated

5

out of

5
by
COMX
from
Grateful User
I had been using another brand of shredder for several years and it worked fine, except that the switch had been broken for some time. And so I had to open the pull-out bin and put my left hand in under the hood, depress the on switch and hold it the entire time I was shredding. So I was constantly bent over, feeding the paper with my right hand and holding the switch with my left. The new Fellowes 63Cb is a great machine and I'll be using it all day today, so I'm certain I'll like it even better after today. I've not had a jam yet and, although I've only shredded a few hundred sheets of paper thus far, I've not yet experienced the cool-down period. I'm very grateful for my new office shredder! Suggestion: I would prefer, however, that the oil container came with the shredder because I didn't know I needed one and so I now need to order that separately.
Date published: 2013-07-12T00:00:00-04:00
Rated

5

out of

5
by
kevinw
from
Performs as promised
We purchased this product prior to cleaning out and reorganizing 30+ years of files in our home. We subjected it to almost 3 weeks of serious shredding and it performed as advertised with nary a glitch. We are very satisfied.
Date published: 2013-12-06T00:00:00-05:00
Rated

5

out of

5
by
PeterPan
from
Powershred® 63Cb Cross-Cut Shredder
We are very satisfy about this purchase it is a very good product!
Date published: 2014-11-15T00:00:00-05:00
Rated

5

out of

5
by
SkyFire2001
from
Best Shredder To Protect Your Idenity!
I've been the victim of identity theft, and has always known that I need a shredder. I've used others, and most people like myself tend to get the cheapest, but they don't last that long. I needed a good quality shredder. This one is a good heavy-duty one for the home. It's very powerful, went through my paid bills & bank statements like nothing. I like the fact that it can go through cd/dvds, staples and credit cards. Very neat features on the pull out bin for easy dumping, and the power switch on the unit, just in case you have to turn it off in a hurry. Best of all, it is a lot quieter than others I have had in the past. I definitely must recommend this small but very tough shredder, and people need this one in their home.
Date published: 2013-09-30T00:00:00-04:00
Rated

5

out of

5
by
Colzie
from
SafeSense doesn't work
Our previous shredder was a Fellowes and was a real workhorse. Had high hopes for the 63Cb. Out of the box the SafeSense on our unit did not work. You could put your fingers all over the metal opening while running and it would never stop. Tech support was very good about sending out a new unit, got it within a few days. Second unit does same thing. Tried all fingers in the house, nothing could stop it. That aside, the paper has to be slid down very far before it gets pulled in, so trying to shred one sheet doesn't work well because the paper is to flimsy to easily get past the "trigger" and down far enough to get sucked in. If you are trying to shred one receipt forget it. It will be a crumpled mess but definitely not shredded unless you feed it in with a stack of paper. Jam indicator comes on quite easily. However haven't used the unit for long enough to see if it works well or not. Now we have one unit to send back to the factory and another unit to take back to the store.
Date published: 2013-09-13T00:00:00-04:00
Rated

5

out of

5
by
JyDf2001
from
Great little shredder
Does a great job shredding the few confidential documents we need to get rid of in small office.
Date published: 2018-08-08T00:00:00-04:00
Rated

5

out of

5
by
Mykey
from
Just the machine for the job
My wife had accumulated a mountain of bills,credit card statements,and other sensitive information. My current shredder was not up to the task;it died in the process. What to do? What do do?After perusing my options on line I selected the Fellowes Powershred 63CB. It worked its way through the pile of paper like a piranha on a cow. Quickly,efficiently,with unforgiving teeth. Very happy.
Date published: 2015-09-21T00:00:00-04:00
Rated

5

out of

5
by
Chaz22
from
Best Shredder to date
This is the best shredder I have ever purchased. The only thing missing, which is missing on most other shredders, is a handle on the bottom of the basket so you can easily empty the shred contents into a bag. The basket is awkward to hold when emptying. Other than that, I would recommend this shredder for a home business environment.
Date published: 2014-06-14T00:00:00-04:00
Rated

5

out of

5
by
ExperiencedLawyer
from
Reliable Product
I purchased this Powershredder as a replacement for an 8 yr old Fellowes shredder that quit working. I trust the quality of the Fellowes brand. This Powershred 63Cb is even quieter than my earlier one. Compared to other brands, products made by Fellowes are sturdier and clearly are better built. I want "value for my money". There is no question, but that a Fellowes product meets this goal.
Date published: 2016-03-14T00:00:00-04:00
Rated

5

out of

5
by
NewPurchaser
from
New Purchase
Like this shredder a lot. Seems to be very safe (in terms of protecting fingers if they're even close to the shred area) and energy-efficient--I don't feel bad leaving this shredder plugged in. Nice size bin means you don't have to empty it too often.
Date published: 2014-09-15T00:00:00-04:00
Rated

5

out of

5
by
Atholr
from
Really Happy
I purchase the Powershred 63Cb after a new shredder that I had just purchased overheated after a few minutes and the motor burnt out. The 63Cb has a feature that cuts out and switches off the motor BEFORE it burns out. This vital feature added to the solidness and good looks of the 63Cb make this my favourite shredder ever.
Date published: 2016-04-22T00:00:00-04:00
Rated

5

out of

5
by
Bill2301
from
Shredder fills up too frequently
The shredder stops after a few sheets of paper and I have to pull out the drawer, pack the shredded material down by hand and push the drawer back in place. Inevitably, shreds are spilled out making a mess. ! would not recommend a drawer type shredder to anyone. Otherwise, it is well made and works fine.
Date published: 2018-06-08T00:00:00-04:00
Rated

5

out of

5
by
Designer
from
Shreds fine but needs to be better built
The shredder does what it is supposed to do. It shreds nicely and is relatively quiet compared to my old one. I also like the safety features. It can be finicky on the number of pages you put in at once but it does the job. However, I do not like the way the shredder moves side to side when the paper bin is pulled out. The plastic on the sides is thin and flimsy. I was surprised at this construction coming from Fellowes. It seems like there should be a support bar across the top to keep the sides stable. I believe the weight of the shredder motor on top is what makes it shaky when the bin is pulled out. I also do not like that there are not any gliders or wheels on this. The plastic at the bottom is sharp and scratchy. I will have to put my own gliders to make it move smoother. Overall it's a good shredder but the design could be a better one, to make it an excellent shredder.
Date published: 2018-10-27T00:00:00-04:00
Rated

5

out of

5
by
Cassandra
from
I gave it a fair chance
I am disappointed with the performance of this shredder. the design is poor in that the contain does not easily slid in and out and can be tricky to reinsert. the Jam blocker has yet to realize that it is supposed to prevent jams....not constantly cause them. I really feel like I spent way to much for the shredder but I was brand loyal and opted to stick with Fellowes. Unfortunately when this one dies I will consider some other brands.
Date published: 2013-08-02T00:00:00-04:00
Rated

5

out of

5
by
Shaf
from
Good replacement for another
Working good; prior ones used from other manufactures would jam & or overheat & shut down on numerous times..
Date published: 2013-10-26T00:00:00-04:00
Rated

5

out of

5
by
CanukShredder2015
from
Registering the Product for Canada
The online registration form (and contest) says applicable to North America; ie. Canada included. It does not allow for entry of a Canadian address, because it requires that a "State" be entered, but does not list provinces for Canada so the form cannot be completed. My address is in Calgary, Alberta, Canada. Since I had to select a "State" to proceed, I selected Alaska. Please correct the form to include a blank space for alternates to "State" to be entered. I have just set up the shredder and will begin to use it. Big expectations !
Date published: 2015-05-11T00:00:00-04:00
Rated

5

out of

5
by
MyServiceneeds
from
Replacment
I had a Fellowes 79ci for 10 years the on/off switch stop working. I did some research on repair and discovered that it was cheaper to replace than repair. This is a smaller shredder but does all that I need. Hopefully the quality of that model will give the service of my first.
Date published: 2020-06-13T00:00:00-04:00
Rated

5

out of

5
by
Silverbeard
from
Good for home office
Shredder works well for small shredding jobs. Plastic support housing seems flimsy when unpacking but works OK. Bin is handy for holding paper waste. Overall a good unit for a home office.
Date published: 2020-03-26T00:00:00-04:00
Rated

5

out of

5
by
ZAPIR
from
Valuable Purchase
I have used Shredders from different companies and none worked more than 1-2 years in spite of my best maintenance and care habits. So far this is the best purchase I have ever made for this item. I would recommend it to friends and family.
Date published: 2021-02-12T00:00:00-05:00