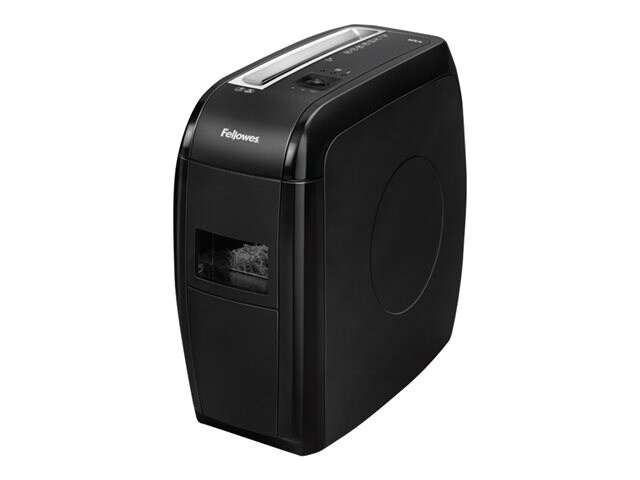 Quick tech specs
View All
Know your gear
Shred unused and unwanted confidential documents safely with the Fellowes Powershred 12Cs Shredder. Featuring the SafeSense technology, this crosscut paper shredder halts the shredding process when your hands come in contact with the paper opening for added precaution. It shreds 12 sheets per pass into 0.156 inch x 2 inch particles. This shredder machine in black efficiently shreds papers, credit cards, junk mail, paper clips and staples. With its 4-gallon pullout bin, this Fellowes paper shredder offers a continuous run time of up to five minutes.
Fellowes Powershred machine with solid steel cutters and powerful motor for efficient shredding
Four-gallon pullout bin for simple and mess-free waste disposal
Fellowes Powershred 12Cs - shredder
is rated
4.40
out of
5
by
16
.
Rated

5

out of

5
by
Jashi
from
Shredder new purchase
I just received this shredder and I must say it looks very durable and the first try at shredding was great My only complaint is lack of instruction material included in the packing box I am on the older side and there is no manual included I think if I look further online I might find more info but for older folks it would be helpful to include a manual with the model number clearly displayed
Date published: 2021-03-18T00:00:00-04:00
Rated

5

out of

5
by
Gonzo
from
2nd time purchase.
I bought this shredder to replace an existing Fellowes shredder. That shredder lasted me 10+ years. I expect the same from this one.
Date published: 2020-07-01T00:00:00-04:00
Rated

5

out of

5
by
LuLu183
from
This is the second Fellowes shredder owned.
This is a replacement shredder I was happy with my last one that lasted over 10 years. Hoping I get the same from this one!
Date published: 2020-06-18T00:00:00-04:00
Rated

5

out of

5
by
KpapaP
from
home shredding assistance
Bought the Fellowes 12CS online. It was delivered a day later than advertised, but I was in no rush. Shreds well, but keep an eye on the level of the shredded materials as filling the container too far means newly shredded materials make it difficult to get the container out for emptying. IOW, don't fill it to the top of the window in the container; halfway may even be too full. This is the second time I had placed an order; the first was via Amazon and the product got lost in shipping. So, I ordered directly from the Office Depot site and got it in three days (delivered out of Kansas City. Also, follow the instructions and don't run this machine continually for more than 5 minutes as it will automatically shut off and not restart for a couple hours.
Date published: 2020-06-13T00:00:00-04:00
Rated

5

out of

5
by
OfficeMom
from
Great Home Shredder
This shredder is sleek, quiet, and efficient. Easy to use. The waste basket has a window and is easy to pull out for emptying.
Date published: 2020-07-25T00:00:00-04:00
Rated

5

out of

5
by
home32
from
Surprised
I was surprised and pleased to see this shreds credit cards so easy
Date published: 2017-05-05T00:00:00-04:00
Rated

5

out of

5
by
CuttingItAllUp
from
Works just fine!
I was hesitant to buy it because it did not have castors on the bottom but found that it moves very smoothly across my rug because of the design of the machine. So it is basically mobile and easy to move. It is not as quiet as I expected but it is a softer sound than my old shredder. Have only had a short while but find it works just fine for my needs.
Date published: 2017-06-15T00:00:00-04:00
Rated

5

out of

5
by
Mackie
from
Great shredder
The last shredder was ok, but this one is quiet. I also am very impressed with the way it shreds documents.
Date published: 2017-04-22T00:00:00-04:00
Rated

5

out of

5
by
Floridagal
from
Great for bigger jobs - Great shredder
When going through bins of stuff, I came across years of accumulated tax papers and receipts, going back to 1992. While filtering through the paperwork I found many had social security and other personal information. In today's security climate, I knew I had to get a shredder. This little shredder was a trooper, never jammed, never had to reset, and kept up with my pace through all those years of documents. I am so glad I chose Fellowes. My last shredder had "said" you could shred up to 12 sheets, but would jamb up and need to be reversed. The Fellowes shredder has a larger are for feeding more documents at a time, and keeps up with continuous feeding. Cuts CD's with ease, and even chewed up some "floppy discs" of old tax data with ease. Purchase this model again (if needed)? Absolutely!
Date published: 2017-02-12T00:00:00-05:00
Rated

5

out of

5
by
SgtDickens
from
Worked Once
Purchased this product from the Fort Belvoir PX. It worked once and power supply failed.
Date published: 2018-08-15T00:00:00-04:00
Rated

5

out of

5
by
teamclark
from
Perfect Compact Shredder
Needed a compact shredder that would fit in tight space beside my desk and provide easy bin access for emptying. The 12CS fit the bill perfectly. Performance so far has been fine, its gets light duty in my home office, so I expect it to last for a long time. Only con is I would have preferred a micro cut as opposed to a cross cut, but the other requirements on size were more important
Date published: 2022-08-06T00:00:00-04:00
Rated

5

out of

5
by
elrae
from
Just purchased
Works. Not a bad noise level. Bit flimsy construction, but sufficient. Used only once so far - worked ok.
Date published: 2022-07-31T00:00:00-04:00
Rated

5

out of

5
by
Jackg
from
Powershred® 12Cs Cross-Cut Shredder Best Ever
My old shredder was jamming with the two sheets of paper and over heating. This new Fellowes is very easy to use. As an added bonus, there is a removable door which holds the shredded paper. Very easy to remove and empty and use. I am very happy with this purchase.
Date published: 2022-05-30T00:00:00-04:00
Rated

5

out of

5
by
Park
from
Very Good but could be better
Does what it says, but needs two things to be Excellent. As this is for personal use: 1) The collection box either needs a way to easily attach a disposal bag or an easier way hold it to pour into a disposal bag; 2) Add to the instructions that a solid non-flashing SafeSense® Technology light can be cleared by the reset switch on the back.
Date published: 2017-05-20T00:00:00-04:00
Rated

5

out of

5
by
papacecil
from
Great Personal Shredder
I purchased it to shred junk mail, old bank statements and other personal information. Its very compact quiet and shreds up t 12 pages at a time. Eats staples as well. It cross cuts into small pieces.
Date published: 2017-07-05T00:00:00-04:00
Rated

5

out of

5
by
Bluto
from
Great small shredder
Recently bought this as a replacement. Had problems with other shredders doing small items (eg cash register receipts) as well as large and multiple sheets. This one handles everything, has not jammed very well built for an economy shredder!
Date published: 2021-10-19T00:00:00-04:00