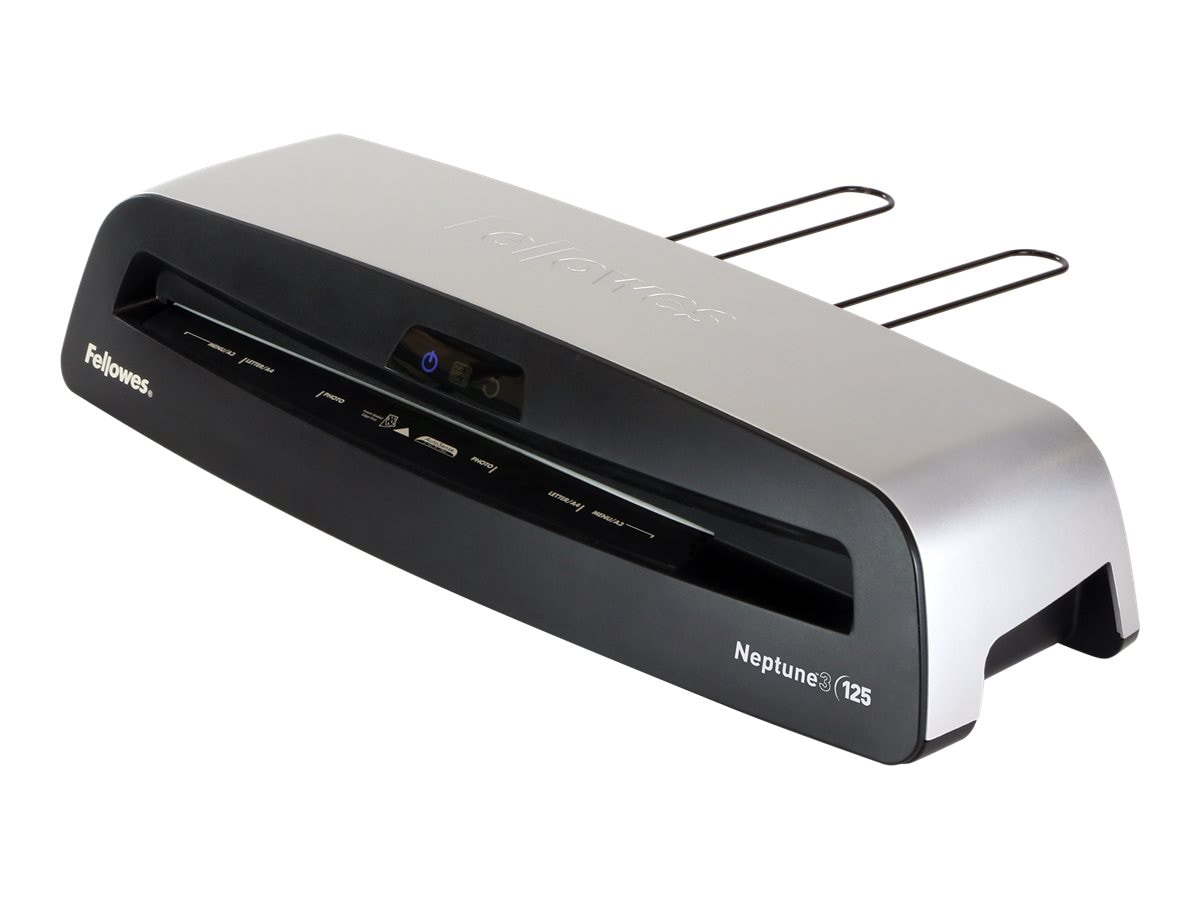 Quick tech specs
View All
Know your gear
Laminate presentations, office documents, and school projects quickly and easily with the Fellowes Neptune 3 12.5-inch Laminator. The Neptune 3 warms up in 60 seconds thanks to InstaHeat technology, and it laminates at a fast rate of 24 inches per minute. Fellowes' unique AutoSense technology detects pouch thickness and instantly self-adjusts to the optimal laminating setting. The Neptune 3 laminates hot pouches up to 7 mil thick and cold pouches. Combining speed, automation, and safety, the Neptune 3 is ideal for schools and office environments.
Fellowes Neptune 3 125 - laminator - pouch
is rated
4.43
out of
5
by
14
.
Rated

5

out of

5
by
Annanita
from
Great Laminator
This was purchased for office use. Took it out of the box and began using it right away. Read the quick start and was on my way. It is quiet and easy to operate. I like the size and weight of the machine. I had used another one before but you had to use covers before you could use it. This you just put your things in the pouch and off you go. I would highly recommend this product for fast and efficient use. We are now looking at everything and thinking what else we can laminte.
Date published: 2015-01-16T00:00:00-05:00
Rated

5

out of

5
by
WendyD
from
Great purchase
Very easy to use. Was quick to warm up and ready to use.
Date published: 2017-11-06T00:00:00-05:00
Rated

5

out of

5
by
cadguy
from
Awesome machine
Clean, quick, quite machine. Very easy to use and virtually trouble free. A definite asset.
Date published: 2017-06-21T00:00:00-04:00
Rated

5

out of

5
by
luisdiazlopez1983
from
excelllent product
It is the most amazing product of its kind, there is no difficulty in use, it does its perfect job, its very amazing. for me and mi kids i love it
Date published: 2019-01-15T00:00:00-05:00
Rated

5

out of

5
by
Sharon
from
Awesome Product
This product has been a timesaver. I work in Macy's and we use a ton of signs in the stockrooms. I was constantly making signs because they got destroyed. Laminating them was the answer. This has saved so much work. It is so easy (and fun) to use. It heats up and laminates so quickly. I've never had a problem getting anything straight or with bubbles. It's a no- brainer. I love it.
Date published: 2016-04-15T00:00:00-04:00
Rated

5

out of

5
by
Sensei
from
Replacement Laminator
The unit we have now is a replacement for one that broke down. I suspect that the heating element was damaged during shipping. It worked for awhile before the glass tube breaking and the entire unit was rendered un-usable. You would think that this would be discouraging, but customer service replaced the unit and provided a label to ship the damaged unit back so that they could learn from the failure. We will see how the second unit holds up, but I believe it will do just fine.
Date published: 2016-09-07T00:00:00-04:00
Rated

5

out of

5
by
DocumentControl
from
Dissapointment
Work in a on site construction office with about 60 people. For projects we use laminators very frequently. They are nice to have for on the fly needs. Purchased this unit "Neptune 3" to replace a smaller unit that had burned up. Had this unit for 3 months with minimal use and it burned up as well.
Date published: 2016-04-07T00:00:00-04:00
Rated

5

out of

5
by
boopie
from
Worked great right out of the box!
My boss and I were excited to try this laminator as we have been paying a printing company to do our laminating for us. The minimal instructions were more than adequate, as the machine is pretty self-explanatory. We tried a full 8-1/2 x 11 sheet to start with and were amazed at how quickly it laminated. This will surely be a worthwhile accessory to our office.
Date published: 2017-02-10T00:00:00-05:00
Rated

5

out of

5
by
dhwebber
from
A Jewel
So, what can I say? It was so easy to use, the finished product was excellent, and only took a minute to warm up. Hard to improve on that.
Date published: 2021-09-30T00:00:00-04:00
Rated

5

out of

5
by
Valarie
from
Poor quality
We purchased our first newly designed laminator March 2021. It malfunctioned June 2021. Fellows was kind enough to replace it for us with the same item. This item has given us nothing but problems, where the original Fellowes laminator we had for over ten years. June 2022 we are in need of replacing the new one again. I have not reached out to Fellowes yet due to I'm not certain I want to purchase another Fellowes brand.
Date published: 2022-07-07T00:00:00-04:00
Rated

5

out of

5
by
EduCoordinator
from
Pretty Good So Far
Just got this today for our hospital office. Easy to set up. Easy to use. Doesn't get hot on outside (as it says it doesn't do.) Tray on back is a great feature! Have only laminated one thing so far but worked beautifully and came out nice and flat and not very hot. Seems to do to the job we need it to do. Time will only tell though as we haven't "put it through the ringer" yet. LOL!
Date published: 2020-12-31T00:00:00-05:00
Rated

5

out of

5
by
Centrale010
from
Nous sommes très satisfaits de notre achat.
Cette plastifieuse est simple et efficace pour notre travail scolaire.
Date published: 2021-05-05T00:00:00-04:00
Rated

5

out of

5
by
RangerRamos
from
Fantastic Laminator
Very user friendly and great product user instructions.
Date published: 2019-10-21T00:00:00-04:00
Rated

5

out of

5
by
1935Curmudgeon
from
A top notch home office laminator
An excellent device for laminating papers and ID type cards. Automatically choosing the correct settings for 3 through 7 mil pouches. No bubbles or wrinkles.
Date published: 2019-09-29T00:00:00-04:00