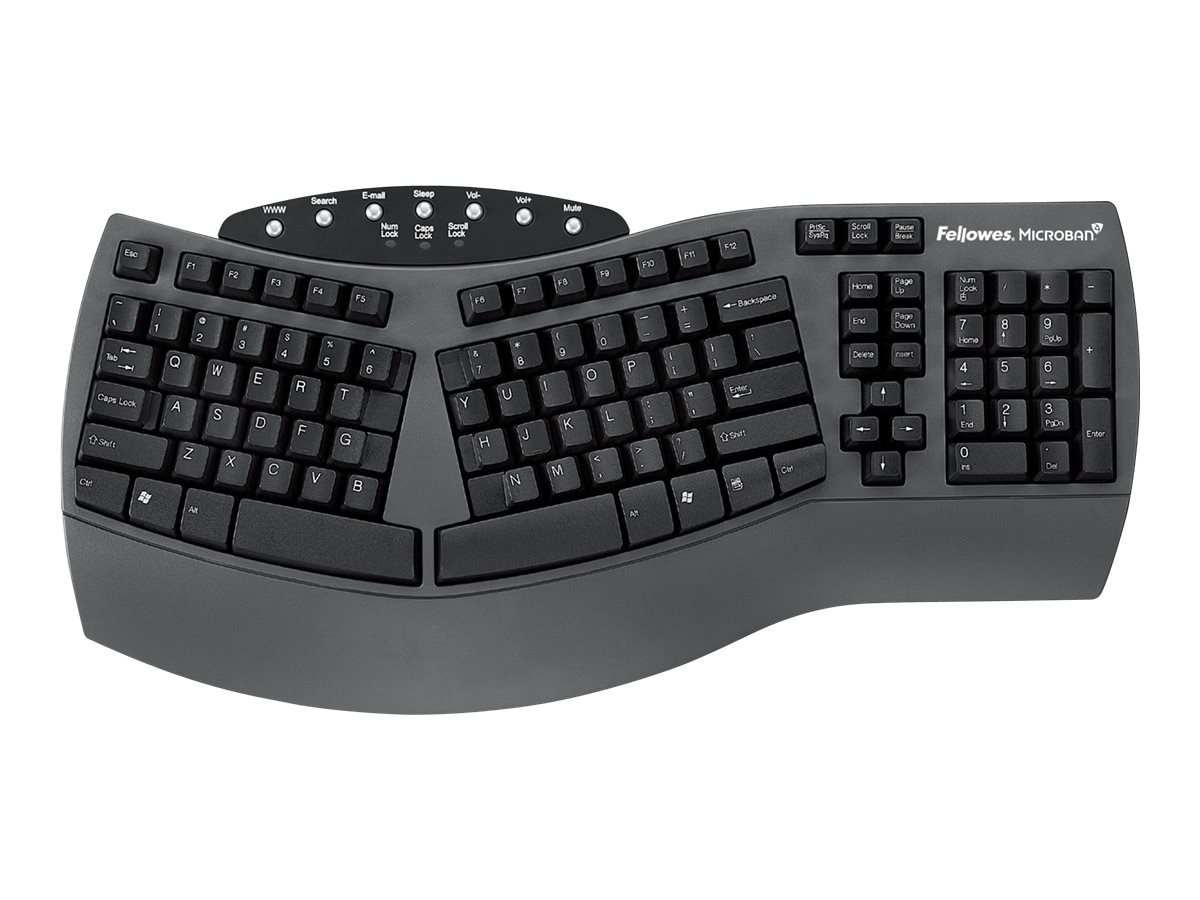 Quick tech specs
year product warranty. Black.
View All
Know your gear
Features Microban® anti-microbial protection. HD optical technology provides 3 times the control and acceleration of traditional optical mice, allowing for the ultimate in performance. Features 5 programmable buttons with Fellowes Easy Point Software



Not if you have Fellowes input devices with Microban® antimicrobial product protection. Microban protection fights the uncontrolled growth of damaging microbes such as bacteria that can cause product deterioration. The continuous, built-in cleaning action helps your input devices remain cleaner for the lifetime of the product.

Protect your office from damaging microbes with the new line of office products featuring Microban® antimicrobial protection.



In a recent study, researchers found that the average desk had 400x more bacteria than the average toilet seat.



Split-key and 3-D design conforms to your natural arm and hand positions, reducing tension in shoulders, arms and wrists. Features built-in Microban antimicrobial protection. The Smart Design has a 16-character buffer for fast typists and the user preferred tactile feel. This keyboard provides an additional 7 hot keys for multimedia control and one touch access to the internet. USB connectivity. Programmable software compatible with Windows 95, 98, NT 4.0, 2000, ME and XP.
Contact Sales Assistance
(800) 800-4239
,
Monday-Friday 7am-7:30pm CT
Fellowes Microban Split Design Wired Keyboard
is rated
4.27
out of
5
by
11
.
Rated

5

out of

5
by
ummagumma
from
Missing features I was used to in most other keyboards
I just bought the Ergo or split design keyboard model 98915. No "shift" key sub identification commands which are always written on the keys: IE "Shft" + what key is paste/cut/copy etc? There is no "calculator" key which I use a lot. I may return this keyboard due to these things.
Date published: 2014-09-27T00:00:00-04:00
Rated

5

out of

5
by
redtarot
from
loses connections
This is my first split keyboard and I adjusted to it very quickly, and my wrists stopped hurting almost immediately-that is huge for me. My issue now is that the keys stop responding in the middle of typing. I believe the keyboard is less than 3 years old. I pick up the keyboard-maybe a half inch-and let it drop, and all the keys work again. I have had to do it 5 times in one hour, yet today I haven't had to to do it at all. I have ordered a replacement keyboard but I'm waiting for the issue to re-occur before I swap it out. The only thing I do not like about this keyboard is the SLEEP hot button being positioned at the top of the keyboard, dead center of a raised part. My desk has a pull out keyboard tray, and the button hits the underside of the desk, putting the pc into sleep mode. Now the tray has to sit higher so that the button isn't lower than the bottom of the desk. Maybe next design go-around you could put it in a corner?
Date published: 2015-10-29T00:00:00-04:00
Rated

5

out of

5
by
Peapod
from
Fellowes Microban Keyboard
This is the most comfortable keyboard. It has helped with my carpal tunnel syndrome. I'll never use a straight/rectangle keyboard ever again. Very happy with this one.
Date published: 2018-06-05T00:00:00-04:00
Rated

5

out of

5
by
Heretic
from
Almost Perfect
I buy nearly all of my computer equipment from NewEgg.com and the Fellowes ergonomic keyboard was no exception. Once I received the keyboard, my first impression was one of delight that I had finally found the perfect keyboard. It wasn't as big and clunky as the Microsoft split keyboards I had used for years and it was as smooth as silk. After having used this Fellowes Ergonomic for over a year, my enthusiasm has waned somewhat but it's still the best keyboard I've found for me. The only problem is that some of the keys, especially the space bars, are now sticky and sometimes hard to push unless my fingers are perfectly situated on the middle of the keys, which makes touch typing a pain. If I could find a solution for the sticking keys, I would have my perfect keyboard back. The sticking isn't caused by some sticky material, it seems to be from a lack of lubrication because the keys squeak when they stick as I press them. I'm ready to take this keyboard apart and see if I can solve the problem, but I first need to order a backup in case I damage this one taking it apart. My one request of Fellowes to improve this design is to offer an identical keyboard with mechanical switches which won't stick. Please, Fellowes, make that keyboard and I'll pay double for it.
Date published: 2018-02-02T00:00:00-05:00
Rated

5

out of

5
by
potatocreekjohnny
from
Most durable and user-friendly keyboard.
I've used this particular keyboard extensively each day for several years and not one problem have I experienced with it. I would like to suggest to Fellowes that they simply give the keyboard a 'contoured' shape, i.e., make it higher in the middle than the left and right sides. I'm just now going to purchase my second of these keyboards.
Date published: 2012-12-06T00:00:00-05:00
Rated

5

out of

5
by
N6REJ
from
Excellent Consumer keyboard
I'm really hard on keyboards and Fellowes is on of the very few ergonomic keyboards still around. The layout is absolutely perfect and allows me to get close to the high speed typing I've done all my life. It stays very clean and is very easy to take apart for a deep cleaning.Its very easy for me to wear out lettering on most keyboards and yet the fellowes holds up remarkably well. I'm on a pc about 12hrs a day and have worn out 3 of the keys lettering ( a,t,e) but fellowes replaced the keyboard rapidly with zero hassles. I'll be a customer for a very long time.
Date published: 2015-08-30T00:00:00-04:00
Rated

5

out of

5
by
psychmt
from
Just About Perfect: Nice and Quiet and Comfy :)
I've been on a search every now and then for a quiet ergo keyboard to replace my loud one. I recently saw the Fellowes ergo with Microban and the price was right and I ordered it and am so glad I did. The keys are just exactly what I was hoping for in terms of responsiveness with a quiet muffled sound. The Microban feature wasn't a necessity but was a nice bonus. I would give this keyboard a solid A- in performance only because it's not absolutely silent but will still give it 5 stars since I can't give it 4-3/4 :) Happy typing!
Date published: 2016-10-04T00:00:00-04:00
Rated

5

out of

5
by
Zann
from
Ergonomic keyboard
Best keyboard ever, I have used this design for over 20 years and wouldn't think of using any other one. I am a professional writer so it is important that I have a keyboard that is kind to my wrists. Try it and you'll never go back to any other make!
Date published: 2017-02-17T00:00:00-05:00
Rated

5

out of

5
by
grdlmbrt
from
Sticky space bar
The keyboard performs satisfactorily except that the right space bar sticks in the down position and I have to stop and manipulate the key until I get it unstuck! I thought it would work out after I used the keyboard awhile. It has not improved in the several months that I have owned the keyboard.
Date published: 2014-12-22T00:00:00-05:00
Rated

5

out of

5
by
RgrJimK
from
Best Keyboard Ever
Making the move to an ergonomic, split-design keyboard was one of the best moves I made to improve my computing work productivity. If you've never used one, it will take a bit of time to get used to the split and retrain any "bad" keystroking habits of crossing the split between hands, but it'll be worth the effort. My typing speed and accuracy both improved significantly. This keyboard is easily the best of the many I have tried over the years. The size and spacing as well as the tactile responsiveness of the keys is simply perfect - just the right amount of resistance and just the right amount of "throw" (how far the keys move with/for each keystroke); not too soft ("mushy"), not too springy, not too stiff, not too sensitive.
Date published: 2022-03-05T00:00:00-05:00
Rated

5

out of

5
by
AppyHorsche
from
Great Ergo-keyboard
This is my second Fellowes Microban Ergonomic keyboard. I am very hard on keyboards and work in a dusty environment. This keyboard allows me to be rough on it and also is protected against all the dust and environmental issues my computer has to deal with. Until this keyboard I was replacing them regularly since dust would inevitably get in and stop it's functioning. I highly recommend this keyboard and most certainly for those who enjoy the ergonomic design making it possible to type for long periods of time without wrist strain.
Date published: 2017-08-17T00:00:00-04:00