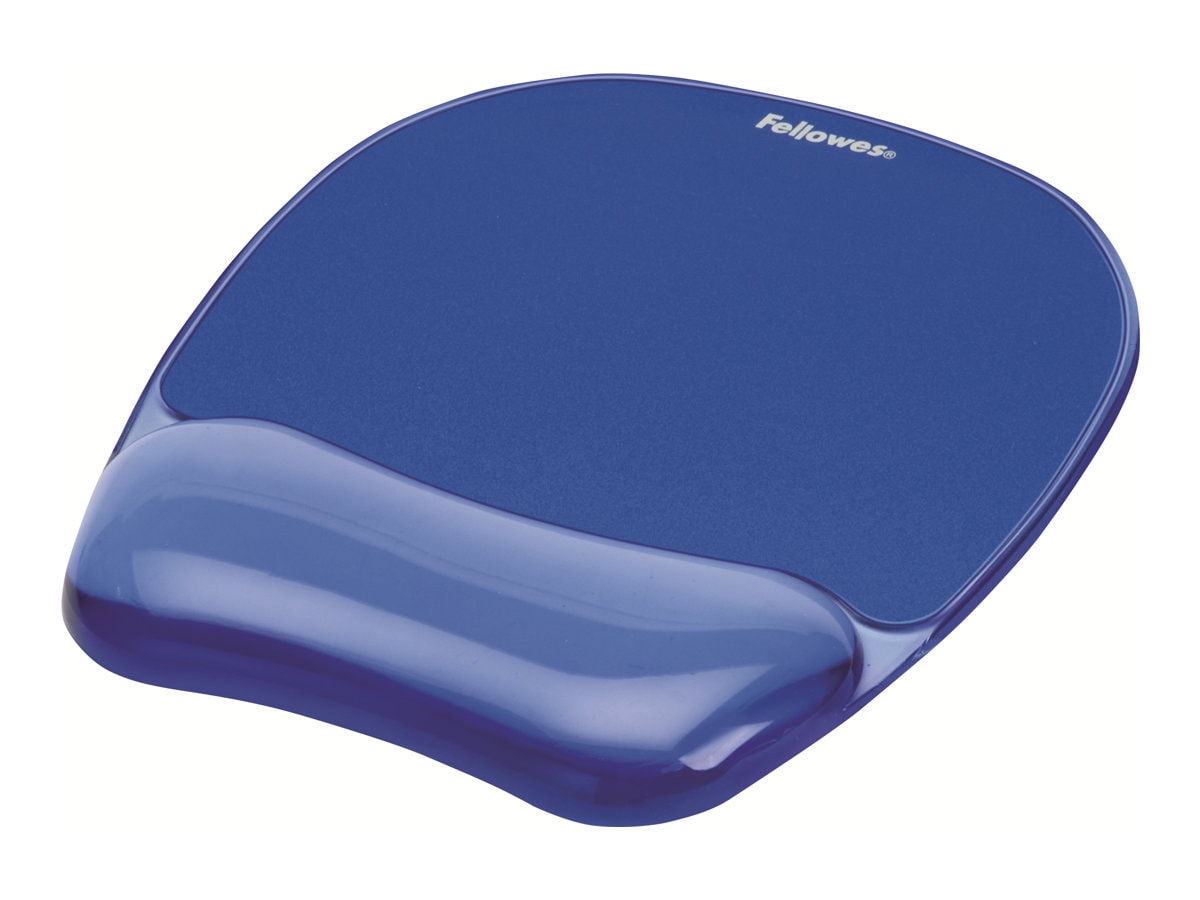 Quick tech specs
Mouse pad with wrist pillow
View All
Know your gear
A global business committed to rapid growth, Fellowes supplies office products for home and business throughout the world. Its mission is to enthusiastically serve customers with office and home organization products of superior quality, usefulness, and value. Fellowes computer accessories are designed to make working at the PC a more organized, comfortable and productive experience.

Fellowes gel mouse pad/wrist rest provides comfort and support for your wrist. It features a superior tracking surface that is ideal for optical mice. The non-skid rubber backing eliminates unwanted movement on the work surface.
Fellowes Gel Crystals - mouse pad with wrist pillow
is rated
4.00
out of
5
by
8
.
Rated

5

out of

5
by
Mule4
from
This mouse pad is so comfortable
I bought this mouse pad to replace an old one that was similar. I really like this one even better than my previous one since the gel wrist pad is so comfortable and allows easy movement of the wrist across it.
Date published: 2018-08-01T00:00:00-04:00
Rated

5

out of

5
by
thebestthereis
from
Awesome Product
This thing has saved me from many months of pain. It is literally so good that if I cant find a computer without one, I wont use their mouse. The gel feels amazing on my wrist and I can relax and use the mouse like it is suppose to be used!
Date published: 2013-05-08T00:00:00-04:00
Rated

5

out of

5
by
808duffer
from
Bad choice of materials
The mouse pad works fine and the gel wrist rest is very comfortable. The problem with this model is that they chose bad materials for the wrist rest. As far as I can tell, the rest is hollow and filled with some sort of gel material. The weight of your hand on the rest will eventually cause it to rupture, then the gel seeps out and makes a mess at your computer station. Not what I would call intelligent design. The designers must know that at a certain point in time, the rest will fail. Why fill it with something that will make a mess at the end of life? Makes no sense to me.
Date published: 2015-07-11T00:00:00-04:00
Rated

5

out of

5
by
btyson
from
awesome product
Love that it cushions my wrist, and keeps my hand in place. Decreases stress on my joints
Date published: 2013-05-21T00:00:00-04:00
Rated

5

out of

5
by
ebbill
from
I Hvae To Agree
I have to agree with the lady about trying to get some work done with a warped mouse pad. Everything she states is true because I experience the same event. I have not gone through four in a year but I have gone through 2 in three years. The second didn't last as long as the first one and had to be thrown out because it was leaking so badly. I really like the way the gel pad supports my wrist when mousing but the durability of the product is sub-standard. I do not think that research and development testing these products for endurance. Maybe they plan for them to deteriorate within a year so the consumer has to buy another. Well this consumer is over it and I will go back to using a hand towel as my wrist rest for the keyboard and I will just get a regular cheap mouse pad for mousing. Sorry Fellowes, I really like your office supplies but the gel products are not working for me
Date published: 2012-11-20T00:00:00-05:00
Rated

5

out of

5
by
RosieFbxAK
from
The adhesive should last as long as the product
Yes - this is almost verbatim with another review I wrote. The products are slightly different, but the problems is exactly the same. This is a hard plastic 'mouse pad' with a nice gel wrist support. It *should* last a VERY long time. I've used the cheap, spongy mouse pads for a couple years at a time and this one from Fellowes should AT LEAST outlive one of those. Oh! The plastic holds up. And the gel wrist pad holds up. But the adhesive that holds the top plastic with to the body plastic fails withing a few months. My pad is not exposes to heat, cold, OR liquids or anything that would break down the adhesive. However, I'm on my 4th pad in a YEAR because as the adhesive fails it causes the top plastic to warp. Sure - you can push it back down and it will stick for a while, but I'm trying to WORK here. If my mouse won't slide from side to side smoothly, if I have to keep pushing down the warped spots, then the product has FAILED. Plain and simple. I have to wonder if Fellowes tests their products for any length of time of if they do this on purpose just to make sure you have to replace their fancy mouse pad 6x more often than you had to with the cheap, spongy ones. Of course I'll buy another one, I have to. For the COST of one of these they should LAST!
Date published: 2012-01-26T00:00:00-05:00
Rated

5

out of

5
by
Darty
from
Excellent Mousepad
I work in IT, so being at the computer all day is rather taxing, especially with a taller mouse. A lot of my co-workers use this particular mouse pad (some of which affected with carpal tunnel) and they swear by it. I just got it a few days ago myself, one for work and one for home. So far I think it's very comfortable and practical. Keeps my wrist at the perfect height and makes things a lot easier to do at work.
Date published: 2015-10-03T00:00:00-04:00
Rated

5

out of

5
by
Billy1985
from
Excellent Wrist Support
Provides excellent wrist support, very useful for those who spend a lot of time in front of the computer and home workers. Affordable and efficient, totally recommended!
Date published: 2021-01-21T00:00:00-05:00