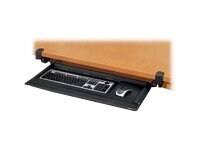 Quick tech specs
View All
Know your gear
Attaches to virtually any work surface without tools or complex instructions Patented clamp easily attaches unit to desktop (5/8" – 1-1/2" thick) without surface damage (33-3/4" wide space required and underside of desk must be unobstructed).
Fellowes Designer Suites DeskReady - keyboard drawer
is rated
4.55
out of
5
by
11
.
Rated

5

out of

5
by
BrownDogMom
from
Keyboard Drawer for Drawing Table
I work from home and use an antique drawing table as a desk, but it's too high for typing a long time. I was looking for something that attached without screws so that I wouldn't harm an antique, and this is just perfect. Good quality, sturdy, fits perfectly. Some reviews said it was too wide for a desk and I can see where that could be a problem, but it's exactly what I need for a table. Not a bad price either.
Date published: 2015-01-20T00:00:00-05:00
Rated

5

out of

5
by
2200OpsGuy
from
Perfect Fit
Desk Ready is perfect for our call center. Our agents move desks often and the portability of the drawer allows it to follow the rep to their next location without having to unscrew it from the desktop. We have several agents using them and they all concur it works like a charm.
Date published: 2015-01-06T00:00:00-05:00
Rated

5

out of

5
by
flower
from
Desk Ready Keyboard Drawer- Love it
Honestly this is very easy to assemble. The picture only procedure is quit clear. It took me about 1/2 hour to assembly and a few more to attach it to my desk. They provide cushion pads too which help stablilze the attaching bracket from sliding. The holding/sliding brackets are made of cast iron, this is not a flimsy product. I do recommend this to anyone who needs flexibility and desktop space. No attaching hardware to damage the desk top. Ergonomically well laid out.
Date published: 2015-03-09T00:00:00-04:00
Rated

5

out of

5
by
Macaroon
from
Just what I needed
I didn't want to drill holes into my new desk so this fit the bill perfectly. I did a "good", not "excellent" on appearance due to the black rubber anchors. I know there probably isn't a prettier option, since the achors are providing the support for the entire device. The rest of the keyboard is very nice looking. I did the Installation in less than 45 minutes. Follow the pictures and zap it's done!
Date published: 2016-01-13T00:00:00-05:00
Rated

5

out of

5
by
Drbruce
from
Saved my wrist
I moved to a new office with no keyboard tray. The height of the desk was resulting is bad wrist pain. This product installed in less than 5 minutes and worked like it was built right in to the desk. My wrist is saved and the product is just great, high quality and attractive.
Date published: 2013-05-24T00:00:00-04:00
Rated

5

out of

5
by
Tyler
from
It was good at first...
It became problematic when one of the clamps loosened. When one side dropped, the clasps holding the tray easily snapped. Now there is no way to repair this without replacing the entire tray. It is great if handled gingerly, but would not recommend this product to others if you are looking for a more durability.
Date published: 2018-06-29T00:00:00-04:00
Rated

5

out of

5
by
Hardy
from
Very nice build quality.
This is a very nice built quality. And the concept is pretty good. But since this is hook and go type drawer, it is heavy to make sure to be able to hold up on ur desk. The parts are mostly metal, which makes it studier, but heavier. Will like to see smilar product but with lesser width.
Date published: 2016-05-01T00:00:00-04:00
Rated

5

out of

5
by
Boatinfool
from
Designer Suites™ DeskReady™ Keyboard Drawer
Easy to assemble, and attach to the desk, for this woman who does not need a man, it was perfect.
Date published: 2014-06-25T00:00:00-04:00
Rated

5

out of

5
by
JoeTex
from
Awesome Keyboard Draw
I went cheap a few months ago when I bought a keyboard drawer and paid the price. When I bought the Fellows, it was awesome, I could install it myself and it has all the adjustability in the world. Great Product!!
Date published: 2014-03-20T00:00:00-04:00
Rated

5

out of

5
by
Tonym2s
from
Best yet
Have had a lot of trays over the years this is the nicest. LARGE. Fits key board and mouse great. If you have a giant ergo or gaming board check before buying this is an office rig. Adjustments for level and angle are easy to make. Long wrist pad all the way across very comfortable. Read other reviews that tray is bouncy. Yes a little it's 28+ inches long and not screwed into desk but held buy hand tightened angle brackets for regular typing it's fine if your a heavy key banger sure it's gona flex a little. Also the whole thing is just short of 33 1/2 inches long 14 inches from front to back of brackets make sure your desk/table can accommodate it.
Date published: 2014-06-13T00:00:00-04:00
Rated

5

out of

5
by
Missboogaloo
from
Bon achat
Mise à part la difficulté à l'installer toute seule car quand même assez lourd, je le trouve très pratique et ergonomique.
Date published: 2020-08-17T00:00:00-04:00