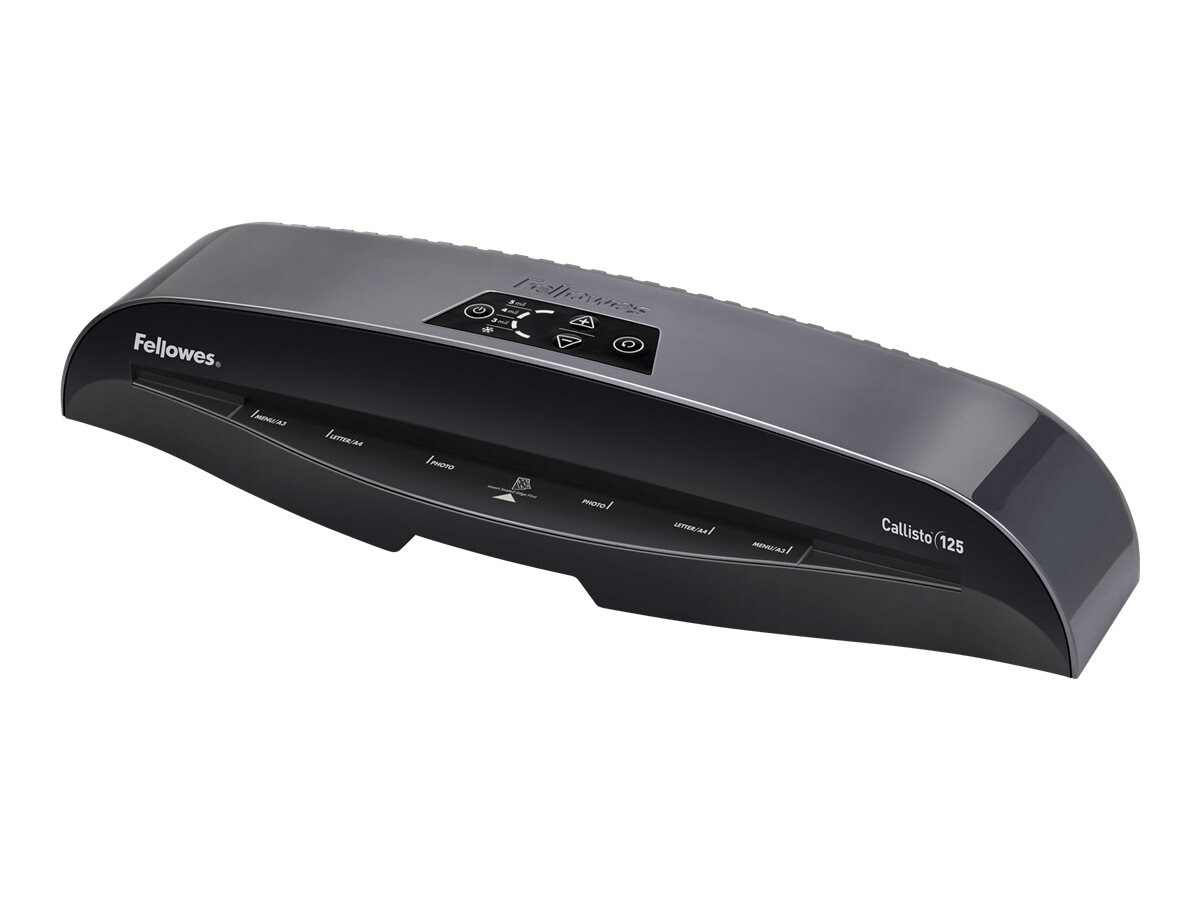 Quick tech specs
heat or cold laminator
12.5 in
View All
Know your gear
HotSwap Technology allows users to change between different pouch thicknesses without waiting.
Fellowes Callisto 125 - laminator - pouch
is rated
4.50
out of
5
by
14
.
Rated

5

out of

5
by
Cindyk
from
Great Product
I like the simplicity of use. Works very well for our department needs! I would recommend this product!
Date published: 2015-07-13T00:00:00-04:00
Rated

5

out of

5
by
Peck
from
Great Purchase for the Price
On 4/4/16 I received my new laminator, I tried it out and the document got jammed inside, after following the instructions on how to remove the document by using the reverse button, it was making a thumping noise, I called customer service and spoke to Dixie, she was great, she took all the information from me on the item and then she told me I could either return to the nearest store or wait 5-7 days for a new one. I decided to wait, it came in 4 days later, which was great due to a project that needed to be done by the following week. I opened the replacement laminator and used it right away, worked great, no noise.
Date published: 2016-04-08T00:00:00-04:00
Rated

5

out of

5
by
ConniePH
from
Noisy
Although this laminator works well for the small size; it is super noisy. A grinding noise that grinds on your nerves after awhile. I also wish the product would have come with a 'cleaner sheet' to run though the machine every so often. To purchase the cleaning sheets is very costly and they are in a pack of 50-100 ...something like that...I only need one.
Date published: 2014-10-08T00:00:00-04:00
Rated

5

out of

5
by
carolyneq12
from
Clisto 125
I love this laminator. I had another brand for years and this one is muh better product than the previous one. I am sure this will be another long term ownership.
Date published: 2015-01-19T00:00:00-05:00
Rated

5

out of

5
by
jasmin
from
Great Product
Easy to install and got the job done. Would have liked information on pouch selection buttons but a test run answered all questions.
Date published: 2016-04-20T00:00:00-04:00
Rated

5

out of

5
by
Erichards
from
Great product!
I use this laminator to create materials for students with special needs. It gets daily abuse and just keeps going. Very easy to use which is handy because we are usually using while working with kids and aren't exactly focused on the laminator!
Date published: 2017-01-19T00:00:00-05:00
Rated

5

out of

5
by
sarab
from
Great for the Office
We had to replace our office lamination machine after the rollers broke and caused jamming and unworthy laminating, only a few short months of purchase. So that takes a few stars off for durability. Otherwise its a great product that produces excellent lamination.
Date published: 2017-09-15T00:00:00-04:00
Rated

5

out of

5
by
iiamazin
from
AWESOMENESS!
I bought this for the office to replace our 10 year old Fellowes laminator. I was blown away by the new light and sleek design and SOoooooo much easier to use. People in the office think I am crazy because I keep asking to laminate stuff. It is so easy. We are so happy with it. Absolutely recommend it for every aspect.
Date published: 2014-07-23T00:00:00-04:00
Rated

5

out of

5
by
MrsW
from
Laminator
This laminator works well and does the job it was designed to do. It's easy to set, use, and the quality of the finished product is good. Good value for the money.
Date published: 2015-01-29T00:00:00-05:00
Rated

5

out of

5
by
Walabystew
from
Heaven!
I just purchased the Callisto 125 to replace our 6 yr old Jupitor 125 which I thought was great until we got the new one. It is a sleeker design and about 4lbs lighter than the old one. It is so uncomplicated compared with the older version. It wasnt something I used everyday but when we did it was non stop for a couple of days, so I had to keep the directions around to refresh the memory. The Callisto is as easy as using a cassette player... On, Thickness and reverse. SO SO EASY! And wicked fast too. Thank you Fellowes! LOVE IT!
Date published: 2014-05-27T00:00:00-04:00
Rated

5

out of

5
by
LongAdmin
from
Annoying Vertical Creases Down Both Sides, Jams
I just received this machine today, and have tried to laminate 3 documents, without success. The laminator works, but leaves a very visible crease 1-1/2" from one side and 2" from the other side. Additionally, when finished, the roller does not push the document out enough to prevent the edge from staying inside the machine and warping. I attempted to run one document through a second time, and it then jammed. I will be requesting to return it tomorrow and will order something else.
Date published: 2021-12-20T00:00:00-05:00
Rated

5

out of

5
by
Martinemb
from
Très bon rapport qualité / prix
Très satisfaite de mon achat, facile d'utilisation et excellent résultat.
Date published: 2021-12-28T00:00:00-05:00
Rated

5

out of

5
by
Teach12
from
Best laminator for teachers
Being a teacher, I laminate everything for my classroom and students and this laminator is a life saver. I can laminate so quickly which is really important to me as I have so much to laminate daily. When purchasing a laminator it is important for me to know what width of laminating pouches it can use, the Fellowes Callisto 125 lets me use Menu size pouches. Those pouches have saved me so much time. Instead of using individual pouches I use the Menu pouches and am done laminating in half the time. I recommend all teachers to have a Fellows laminator.
Date published: 2021-08-25T00:00:00-04:00
Rated

5

out of

5
by
Moni
from
Best Classroom Investment
Very efficient and easy to operate. All laminations came out smoothly. As a teacher myself, I laminate papers very often. Very good classroom investment.
Date published: 2021-07-28T00:00:00-04:00