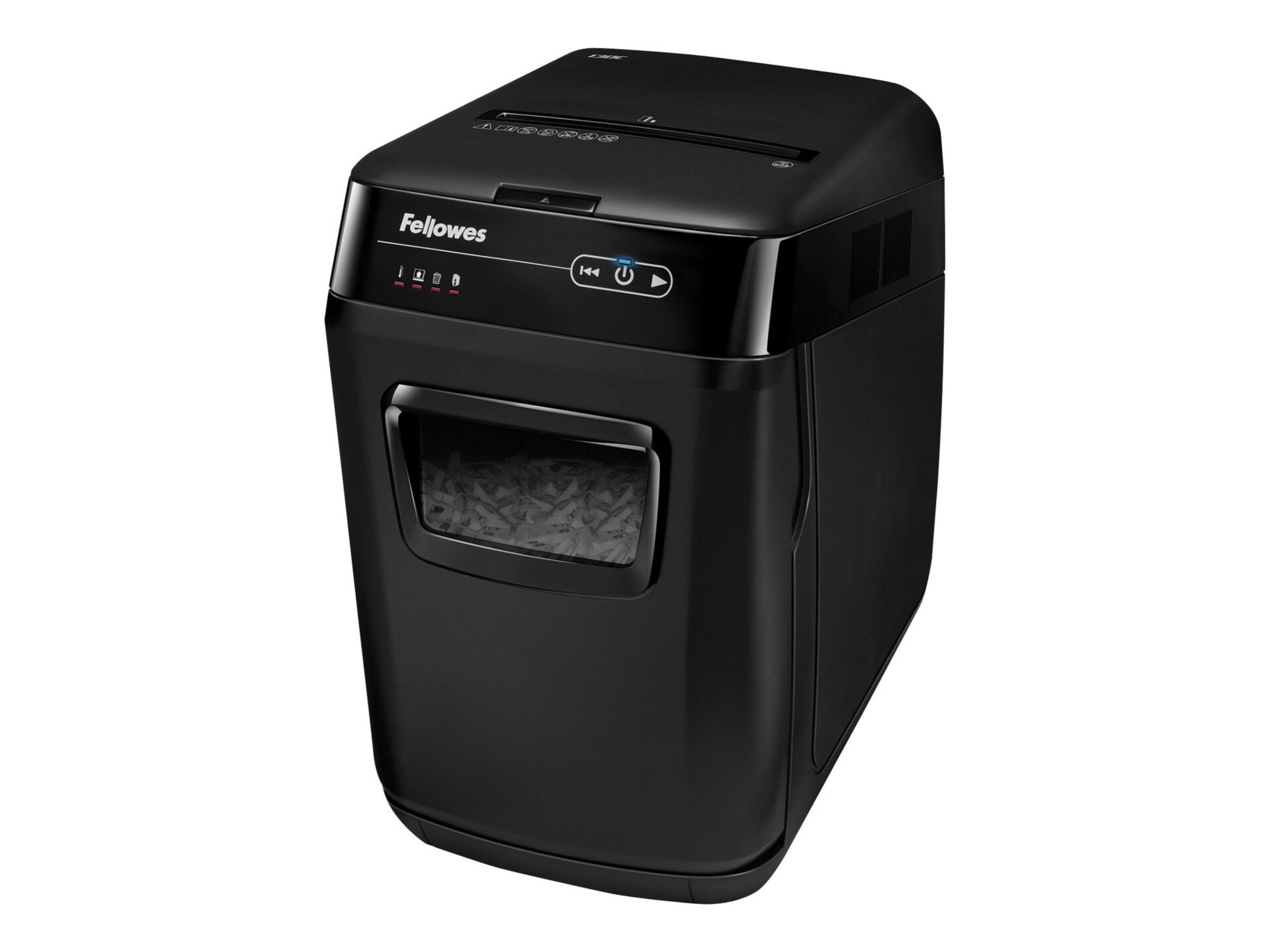 Quick tech specs
View All
Know your gear
Fellowes full line of AutoMax shredders makes shredding more convenient and less time consuming. With proprietary AccuFeed Technology the 130C provides fast automatic shredding for medium usage. Instead of manually feeding the shredder, common stacks of paper are easily loaded into the paper tray and up to 130 sheets can be securely shredded with the push of a button. The 130C also easily shreds up to 8 sheets of paper, as well as credit cards through the manual feed slot. The AutoMax line offers time-saving innovation to meet the needs of any size shredding job. Simply load the drawer, push the button and walk away with confidence.
Fellowes AutoMax 130C - shredder
is rated
4.77
out of
5
by
13
.
Rated

5

out of

5
by
Andre59
from
New tool I received it 3 days ago
Very happy by the auto load this is a great option, easy to used. The level of noise is low, up to now no paper jam either.Great product
Date published: 2019-07-28T00:00:00-04:00
Rated

5

out of

5
by
FamilyMD
from
Quiet and versatile
This was purchased to replace a dysfunctional Fellowes shredder that was too loud and would get jammed if we put in more than two pages at a time. We've only had the Automax 130C for a few weeks, but it's proven to be a better alternative so far!
Date published: 2015-05-20T00:00:00-04:00
Rated

5

out of

5
by
highwat
from
A very happy customer
After have a smaller shredder that always got jammed, I decided it was time for an upgrade. I did my research, read reviews and decided on a Fellowes, AutoMax 200C/130C. Yes I wondered, so many choices did I make the right decision? I am very happy to say I did, I LOVE my new shedder, it's everything a hectic/eventful office needs and more. As silly as that may sound, it's important that when your doing a busy days work, your not stopped in your tracks because the "shredding" is not going well....so my thanks and kudos for a great shedder.
Date published: 2016-09-27T00:00:00-04:00
Rated

5

out of

5
by
DanS
from
Outstanding Performance
Had the shredder about 4 months and could not be happier with its performance. The auto feed is great and allows me to get rid of junk mail quickly without even opening it. It has yet to jam (such a bonus over my last shredder). Great purchase for our family.
Date published: 2017-03-27T00:00:00-04:00
Rated

5

out of

5
by
JoeJ
from
Office Shredder 130C
Great little machine. Does not hesitate at all. The auto feed is a great option, just place paper in and hit the button and walk away. Love it.
Date published: 2018-02-12T00:00:00-05:00
Rated

5

out of

5
by
DLCManagement
from
Quite & Effortless
This shredder has been great at reducing the amount of time I spend in the copy room feeding the shredder. I love that I can stack up the paper I need to shred, click start and walk away. On top of that... The machine is so quiet you can barely hear it running.10/10 Would buy again
Date published: 2018-01-19T00:00:00-05:00
Rated

5

out of

5
by
ejshredder
from
Excellent shredder
This thing is a workhorse. I haven't been agile to jam it yet. I also love how quiet it is. My home office is right next to my kid's bedroom and it doesn't wake him up.
Date published: 2017-08-31T00:00:00-04:00
Rated

5

out of

5
by
ProductReviewer
from
Great Shredder
I like the AutoMax 130C for it's size and flexibility to shred one sheet or auto-feed up to twenty sheets. You can also accumulate papers on the enclosed feeder until you're ready to shred. The machine is also quiet! It's a great buy for the money.
Date published: 2018-10-29T00:00:00-04:00
Rated

5

out of

5
by
HappyFellowsCustomer12345
from
Great Product!
Works as advertised - quiet and fast - great price through Costco. Trouble fee so far!
Date published: 2020-02-19T00:00:00-05:00
Rated

5

out of

5
by
194Hitman
from
first time purchase for an auto shredder
very simple to set up. the machine ate through a pile of a4 paper in no time at all. Like the idea of having a bin liner inside the collection box to keep machine and area tidy. I would highly recommend this machine to everyone who has had enough of experiencing paper shredding as a messy and painful experience. With this machine, you simply load and roll. on the first use, the blades jammed and this was cleared by simply reversing the blade and turned on again. A good purchase for my business
Date published: 2021-10-05T00:00:00-04:00
Rated

5

out of

5
by
TERRENCE
from
not happy
tub is large, but jams as shred doesn't move to back. Only 8 1/2 paper can be put in feeder tray-no tax forms of any other size. Can't really walk away and let it shred
Date published: 2020-03-24T00:00:00-04:00
Rated

5

out of

5
by
Ali17
from
So Far So Good
We just received the shredder today to replace another brand that broke. The features appear to be good and so far it works great. It is MUCH louder than I expected given the description of a quieter shredder. The top load feature is nice for bulk shredding.
Date published: 2021-06-30T00:00:00-04:00
Rated

5

out of

5
by
dahoward
from
Terrific Shredder
I just ordered this and been using for a few days now. I love the auto feed feature, I can get shredding done in my office while I work at other things. It's pretty quiet compared to previous shredders we've had. Does a good job and I don't have to sit there and feed it a few pieces of paper at a time which is a huge time saver for me. I like the basket as well. Great product, and its a Fellowes so I trust it to last.
Date published: 2019-10-31T00:00:00-04:00