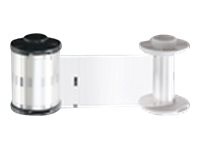 Know your gear
Fargo's PolyGuard lamination material is secure and tamper-resistant. PolyGuard provides superior durability - far exceeding the lamination capabilities of other card printers.

Independent tests have shown cards printed with PolyGuard can withstand 50,000 swipes through a magnetic stripe reader before showing signs of wear, while competitive cards begin to show wear after only 300 swipes.

PolyGuard is ideal for applications which require a long, highly secure card life.

Note: Not for use with Fargo HoloMark or VeriMark security cards.
Contact Sales Assistance
(800) 800-4239
,
Monday-Friday 7am-7:30pm CT