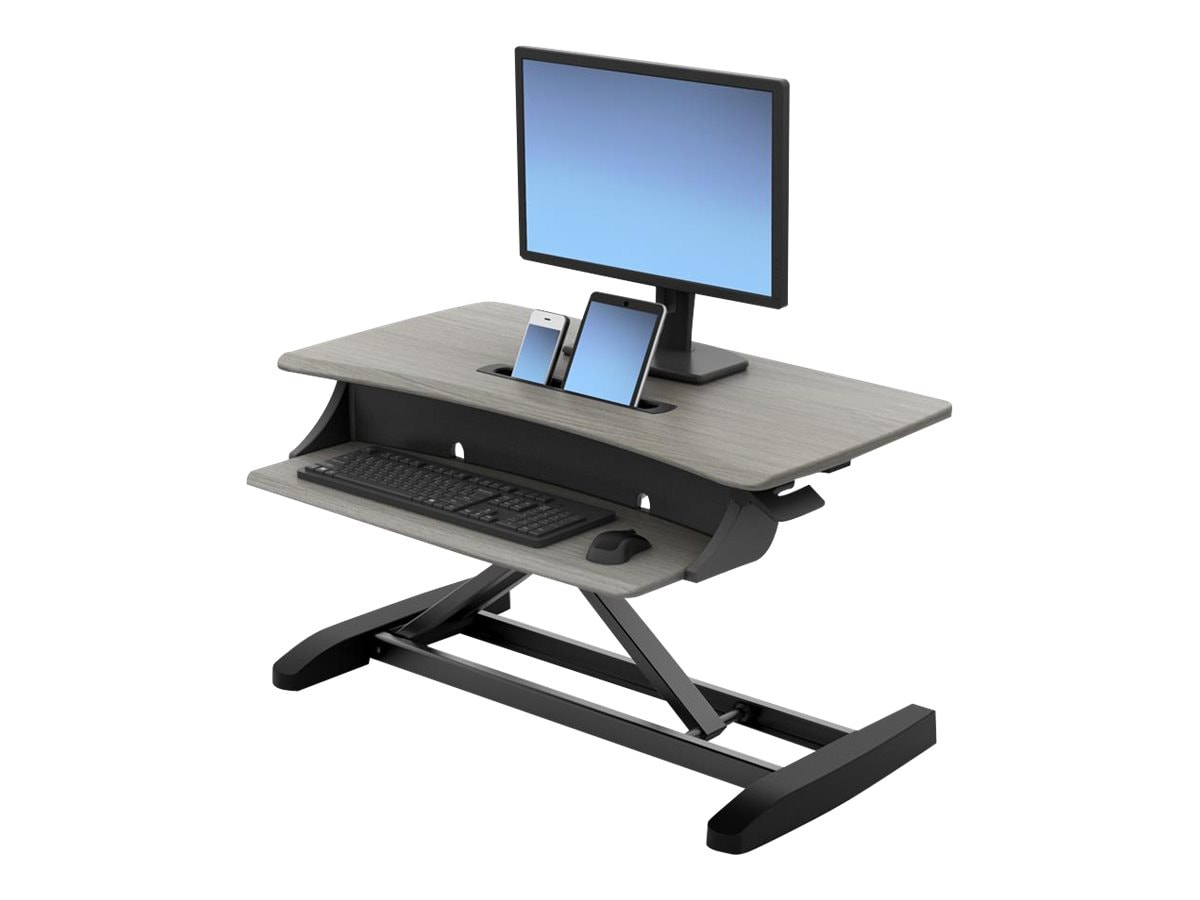 Quick tech specs
Ergonomic
Standing desk converter
WorkFit-Z Mini Sit-Stand Desktop
dove gray
View All
Know your gear
Make your workspace work for you with the all-new WorkFit-Z Mini. Big in benefits, this compact converter turns your current tabletop into a height-adjustable standing desk.
Ergotron WorkFit-Z Mini - standing desk converter - rectangular - dove gray
is rated
4.90
out of
5
by
16
.
Rated

5

out of

5
by
Mike
from
Great product!
I love it!
Date published: 2018-10-17T00:00:00-04:00
Rated

5

out of

5
by
Toni
from
Nice overall
The product itself is nice and I really like the raise/lower feature. The only set back for me personally is the keyboard tray is fixed. I'd prefer one that pushes in & pulls out. I find I have to stand too close to the monitor.
Date published: 2019-05-01T00:00:00-04:00
Rated

5

out of

5
by
Catherine
from
Perfect fit
This is exactly what I had been looking for. Well-designed, attractive, super easy to set up. I had some space challenges where my desk is located, so needed to confirm a couple of things with Customer Service before ordering; they could not have been more helpful. Item arrived promptly as promised, free shipping. Win-win !
Date published: 2020-07-07T00:00:00-04:00
Rated

5

out of

5
by
Kristin
from
Great for Work from Home
Very easy to set up and use. I adjust to stand and sit several times per day. Smoothly lifts and lowers.
Date published: 2020-06-14T00:00:00-04:00
Rated

5

out of

5
by
Susan
from
Works great, sturdy, adjusts easily and fits my setup perfectly
Both my husband and I needed to retrofit our desks to allow stand-up options as we are both working at home now, so we bought 2 of the Sit-Stand Desk Converters. It easily fits his tall setup with a large monitor and large keyboard. And I have my own for my laptop setup - easily fits just on a regular table and is very sturdy and simple to adjust. We both stand and sit throughout the day - totally comfortable and functional.
Date published: 2020-05-18T00:00:00-04:00
Rated

5

out of

5
by
Dr D
from
"Mini" size is plenty big
Sturdy not wobbly and easy to lift and lower. Looks good, super easy to set up. Two of my colleagues bought one after trying mine.
Date published: 2020-06-06T00:00:00-04:00
Rated

5

out of

5
by
Kendall
from
Great
Got this for my mom since she works from home, and she loves it! It's the perfect size for two small monitors. Easy install. Grey finish is nice too.
Date published: 2020-01-03T00:00:00-05:00
Rated

5

out of

5
by
Dave
from
Work Fit Z Mini
I have purchased several of these units and one I use for my home office. The quality is excellent and the unit is easy to use and adjusts to the proper height necessary. The others are used at my place of employment and all employees that have these are very satisfied. In fact, other people are asking for them as well.
Date published: 2020-01-04T00:00:00-05:00
Rated

5

out of

5
by
Standing worker
from
Cost Effient Solution to working from home
Amazingly easy to use! Very sturdy and easily adjustable. Love it.
Date published: 2020-08-29T00:00:00-04:00
Rated

5

out of

5
by
Kathleen
from
Great for unconventional space!
During the COVID19 work-from-home situation, we needed to add an adjustable workstation for my husband. He likes to stand and also needed something where he could put his laptop, as well as a 2nd monitor and have a place for a keyboard. This set up was perfect and fairly inexpensive. We will be able to use it either at the house or going forward in the office.
Date published: 2020-04-20T00:00:00-04:00
Rated

5

out of

5
by
DMarie
from
Great addition to home office
This is saving my legs. Sitting all day is terrible. With this standing desk, I easily shift from sitting to standing.
Date published: 2020-10-23T00:00:00-04:00
Rated

5

out of

5
by
Russ W
from
Stand up desk
My new stand up desk has been awesome and easy to set up and use.
Date published: 2021-02-13T00:00:00-05:00
Rated

5

out of

5
by
Toby
from
Great Choice of a Standing Desk
This is a great option for working from home. It is quite heavy though so be prepared for that.
Date published: 2020-11-11T00:00:00-05:00
Rated

5

out of

5
by
KB
from
Great stand up desk
Love this stand up desk. It functions very easily, holds my laptop, monitor, keyboard and mouse. Like the slot for my mobile phone too. glides up and down very easily and is very stable in stand up mode. Highly recommend it.
Date published: 2020-11-16T00:00:00-05:00
Rated

5

out of

5
by
Jan
from
Very good quality for the price
I bought this for my home office but then went through a slow period at work and let my husband try it out for his desk. Now he's stolen it and I have to order another one for myself. My only couple of minor complaints is that there aren't more colors available. Other than that, it's sturdy and solid and moves smoothly and seems to be of good quality. The finish is nice. It was between this and the Varidesk ProPlus; and based on the pictures I've seen of the Varidesk, it seems like the finish isn't as nice and leaves fingerprints. At least on the cheapest ProPlus, which only comes in black. It's also nearly $100 more. You'd have to pay about $200 more for more color options, and it's a little bigger and I'm not even sure if it would fit on my desk. This WorkFit Mini fits perfectly on my 47 x 23 1/2 Ikea desk. Another minor complaint is I have an ergonomic split keyboard (the Kinesis Freestyle 2), and it barely fits on the keyboard tray. But it does fit and I can try to take off the wrist pads to see if that works better. There seems to be limited options in the stand up desk world for large keyboard trays. Also, setup was extremely easy. There basically isn't any. You just take it out of the box and put it on your desk. I'd recommend this desk. I'm ordering another one (even though I'd prefer it to be white with a larger keyboard tray) because it's a good price and good quality.
Date published: 2020-01-07T00:00:00-05:00
Rated

5

out of

5
by
Kate
from
Overall Good Adjustable Desk
This desk was very easy to set up (open the box, cut a few zip ties and you're ready to go). It fits on top of a relatively small desk and overall doesn't take up too much room. I preferred this to the ergotron versions that clipped to desks because the desk I have has a long lip so the clip attachment wouldn't have worked. VERY easy to adjust up and down. My only complaint is that the keyboard tray isn't quite large enough to comfortably fit both the keyboard and mouse. They both fit, but I sometimes run into space issues using the mouse. It's also a little tricky for my desk because I have a small one with the opening on one side vs. in the middle so when sitting it's a little awkward on where my legs go. But that could be easily resolved by getting a cheap table. Overall very happy with the purchase.
Date published: 2020-07-14T00:00:00-04:00