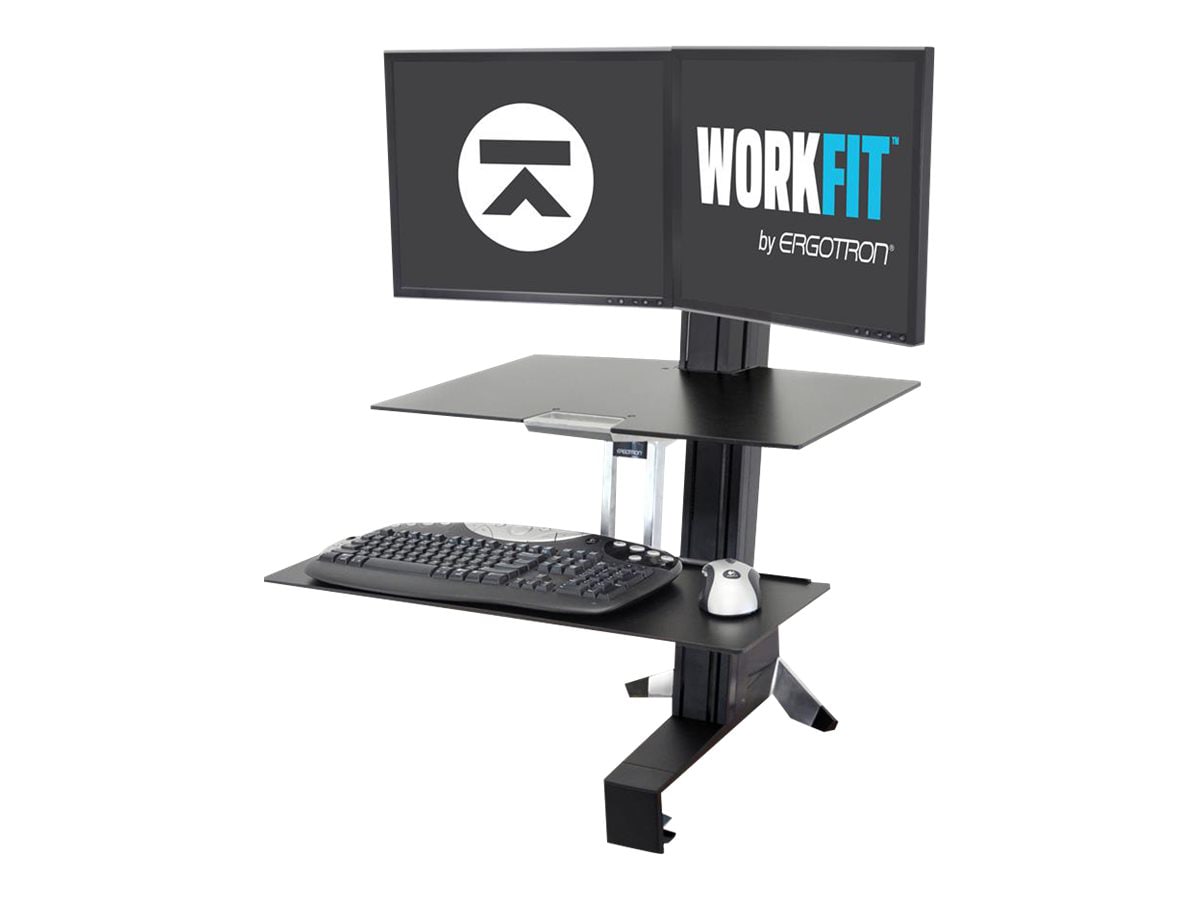 Know your gear
"Transform any surface into a personalized height adjustable desk. Get affordable ergonomics!
Change from a sitting to a standing position whenever you want. This sit stand workstation moves your keyboard and display in one simple motion, making computing comfortable for prolonged periods.
NOTE: To span between standing and sitting heights, extra long computer cables may be requred for your system. "

Ergotron WorkFit-S Dual Monitor Sit Stand Workstation with Worksurface
is rated
4.50
out of
5
by
26
.
Rated

5

out of

5
by
BMUD
from
It is a good product
I Will purchase it again if I need another one.
Date published: 2020-09-04T00:00:00-04:00
Rated

5

out of

5
by
Scooter Girl
from
This is an amazing design to create a sit-stand station!
I absolutely love how easy this device is to assemble and operate! I was able to convert my table into a sit-stand station that operates very smoothly.
Date published: 2020-08-15T00:00:00-04:00
Rated

5

out of

5
by
Kimber
from
Love my standing desk
Was able to assemble this standing desk myself easily. I love being able to easily transition from sitting to standing whenever I want. Feel this is great for my health!!!
Date published: 2018-06-13T00:00:00-04:00
Rated

5

out of

5
by
Matt
from
Excellent product for the office
We have installed 7 of these for our Customer Service Reps and they love them. This gives them the option to sit or stand and be comfortable, given that they are at their desks for 7-8 hours a day. A bit of common sense is needed for install. Make sure you know where you want it because its a bit difficult to move, once in place. This device is very easy to adjust to specific tensions, so you can rest your hands on the flattop area and apply enough pressure to write with, without the device pushing down as if sitting.
Date published: 2015-06-24T00:00:00-04:00
Rated

5

out of

5
by
Procurement Manager
from
Fantastic workstation!
I have had this workstation at my desk at work for almost 6 years now and I cannot believe I ever worked without one. it is simply fantastic! It is so easy to assemble, so easy to operate, and so easy to move around from one desk to another, if needed. I have been working from home since March, due to the pandemic, and I have absolutely hated not having my Ergotron at home. It is really worth every single penny. Period.
Date published: 2020-10-12T00:00:00-04:00
Rated

5

out of

5
by
Ed
from
Great Work Station!
I have had this work station at my office for several years, and now with Covid, and WFH more, I got one for my home office. Standing to avoid sitting for long periods helps with my sciatica. Easy to assemble, high quality components. I don't know how I did without it.
Date published: 2020-10-16T00:00:00-04:00
Rated

5

out of

5
by
null
from
Great product. One of the things I like the best is it doesn't take a lot of desk space .
Date published: 2021-09-01T16:39:35-04:00
Rated

5

out of

5
by
karinap
from
Flimsy, not good quality
I am at my workstation now, and it's like typing in a strong earthquake. For all the metal, this product is extremely flimsy and not well thought out at all. It bounces a lot, and there is an extreme amount of play in all components, causing unwanted movement in all directions. I had to order the extra deep keyboard tray just to be able to fit ergonomic keyboard, a mousepad and a wrist rest. Workspace above keyboard tray needs to be about twice as big, as the monitors take up about about 1/3 of the area. I am short, so the monitors sit nearly ON the workspace. No adjustment of monitors (can't angle towards the inside) so the outside edges are FAR away from my eyes. Also, the monitor rotation feature is very weak and therefore rotates even if you don't want it to. I have to constantly adjust, and can't tighten this feature. It eliminates entirely the use of the desk it sits on. The only thing I can do with my desk now is store things, or keep low profile items that I don't need access to. Not impressed at all, but I don't have a choice, as I was "lucky" to get one at all at my work. Would not recommend, although I haven't found another one that seems more useful. This product would be good for someone who doesn't actually work at thier desk all day - fine for a place like a warehouse where you come back to your desk for short periods of time, or don't need an entire desk for working with large quantites of documents/binders/etc.
Date published: 2013-09-25T00:00:00-04:00
Rated

5

out of

5
by
Suhas
from
User friendly
The setup is neat. It is easy to convert between sitting and standing desk.
Date published: 2018-05-16T00:00:00-04:00
Rated

5

out of

5
by
MPB515
from
Really easy to adjust stand/sit
The only con is that it took a while to set up, could have been easier.. but most tools were included and it was relatively easy to follow the instructions.
Date published: 2018-05-16T00:00:00-04:00
Rated

5

out of

5
by
karanbazaz
from
Great product
I'm happy with the purchase. The standing desk has great features and is quite easy to customize per one's needs.
Date published: 2017-11-08T00:00:00-05:00
Rated

5

out of

5
by
cnelms
from
i love it
I didn't think it was going to be that easy to move up and down. It literally takes 1 finger to move it. I am feeling much better now as a result
Date published: 2017-12-06T00:00:00-05:00
Rated

5

out of

5
by
AC00
from
Great tool, but minor flaws
Great item to have, but there are some minor bugs that could annnoy you. Seems that the keyboard rest and the monitor is not far enough apart. It is kind of awkward to either have your shoulder raised or neck bent down to compensate for this. The tension of the monitor stand is kind of slips. Sometimes it is firm, other times it is slightly too loose. When you rest your hand on the keyboard, the stand could start slipping down. I have to adjust the spring tension ever week or so.
Date published: 2017-05-17T00:00:00-04:00
Rated

5

out of

5
by
John
from
Product exceeded expectations
Would recommend this product without hesitation. Installation was straight forward and well documented on line.
Date published: 2017-07-13T00:00:00-04:00
Rated

5

out of

5
by
Terrie1
from
Love it!
I absolutely love my new work station. it was very easy to put together and it is a high quality product. Well worth the money.
Date published: 2018-05-31T00:00:00-04:00
Rated

5

out of

5
by
Raney2016
from
This product works very well for intended use
This sit stand workstation is great if you work at a desk all day. If you have a bad back and need to stand for relief, I'd highly recommend this product. The workstation with extra Worksurface (shelf) comes in very handy to put paperwork on.
Date published: 2016-08-11T00:00:00-04:00
Rated

5

out of

5
by
RGP16
from
Ergotron Workfit-S
We have standardized the Workfit-S at our work and people have been very happy with them. As long as you torque the tension to the monitor weight there is no shaking as you type. The flex bow is also recommended if you want to share your screen or get it out of the way.
Date published: 2014-02-25T00:00:00-05:00
Rated

5

out of

5
by
Esoulkitchen
from
Yes, Highly reccomend.
Great stand up desk. Changed my afternoons for the better. I would get sleepy after lunch, but standing up in the afternoon has increased my productivity. Very happy and would highly recommend. I don't experience the monitor shake mentioned in the other review.
Date published: 2016-02-19T00:00:00-05:00
Rated

5

out of

5
by
null
from
The best Sit Stand workstation i have worked on ever.
Date published: 2020-02-12T16:38:39-05:00
Rated

5

out of

5
by
Ang
from
Is it truly worth it?
Many of our employees ended up with this sit-to-stand as I was the one who installed all 30+ of them --I make this note so you know I'm not just referring to a one-time use experience.. Once you understand its set-up and how to put it together, it is ridiculously EASY. It is going to be challenging to put together the first time and the unit is rather heavy, so moving it around while putting it together can take some imagination. Keeping that in mind, after like the 2nd or 3rd set-up I had it down quick. Also, the pictures should suffice enough for putting it together, they are literally showing what goes where and what tools you need. So why the 4 stars you ask (or don't)... because this thing takes up so much space of your workstation it's pointless. I have had multiple complaints from our employees about loss of space. When your working in a cubicle, you understand that needed space is a huge thing. Not only that, any SLIGHT variance in weight can throw it off.. I've spent so much time trying to calibrate a stand so the monitors wouldn't move up and down while going from a sit position to standing one that I ended up rigging the top portion of the unit so the monitors wont adjust higher or lower (keep in mind the employee was okay with this). Also, the price of this unit (as someone else pointed out in their review) should come with a stopper/hold mechanism that can keep the unit locked in place while using it in a stand position. This will greatly reduce the amount of "my stand keeps slipping down while I type" complaints GREATLY. My opinion overall, it is a great unit if your not keen on a lot of worksurface space around it and are hip to making adjustments as needed. It is nice to go from sitting to standing (A+ from all employees). I do feel that it keeps things a but more organized since there is 'less' amount of work on your surface and kind of keeps everything within reach. However, I wouldn't buy this unit for myself. Most employees were okay with it and had little to no complaints. I just had to mess with these units for so long that I may throw it out the window if I get another 'it keeps slipping' request for help. LOL Hope the review was helpful.
Date published: 2021-05-13T00:00:00-04:00
Rated

5

out of

5
by
Engineering Manager
from
Great units, but after 8 years, we need a repair kit or refurb help.
Our company bought a few of these about 8 years ago, and our folks love them. Now we are experiencing some failures with those units, but I can't replace the failed units with new ones. We are being steered to other units that are less expensive, but too bulky for our areas. Would love to see if there is some way to repair our failed units. - Response from Ergotron: Thank you for your feedback. Very glad your folks love them! But regret to hear about the failures. WorkFit-S workstations are rated to undergo thousands of motion cycles in their operating life, which underpins their 5-year warranty. Without more details, however, it is hard to speculate about possible repair solutions. Our Tech Support team can be reached at 800-888-8458—if there is a way to fix them, they'll definitely know.
Date published: 2020-11-21T00:00:00-05:00
Rated

5

out of

5
by
First Class
from
Tedious Assembly
This is a very beautiful and ergonomic unit. However, I cannot in good faith recommend this product due to its tedious assembly process. Given the price of this thing, the instructions ought to come with clearer directions other than pictures with no words as though for a hearing impaired person. In addition, someone needs to do a video with explaining step by step how to assemble this standing desk.
Date published: 2021-04-05T00:00:00-04:00
Rated

5

out of

5
by
Richard
from
Gives You More Energy
This standing desk does what it needs to. The space for putting your phone, drinks or whatever is also useful. I even have enough space there for eating lunch at my desk. The keyboard tray part is enough for the keyboard/mouse and wrist pads. It's sturdy and neither the monitors or desk move when typing. I'm 5'10 and can pretty much look straight ahead to my monitors with the desk all the way up. If you're shorter you can adjust for it to be lower, if needed. If you're a few inches taller than 6'2 ish then you may be slightly looking down when typing. This could be fixed by installing it on a taller desk.
Date published: 2020-02-05T00:00:00-05:00
Rated

5

out of

5
by
Sarah
from
Love it
I love this desk. I had another sit-stand desk prior to purchasing the ergotron brand that did not fit me as well ergonomically. I love that the keyboard tray is a drop down, it fits my height better and allows my shoulders to relax. The work surface is a bonus as well.
Date published: 2020-02-04T00:00:00-05:00
Rated

5

out of

5
by
Diana
from
Great workstation
I have this workstation at my office and I miss it dearly now that I am working from home. Using this at the office helped my lower back pain immensely. After a few weeks I was able to stand most of the day, but it works well when seated too. I really like having the empty surface for my notes or other paperwork. Unit is very sturdy and customizable. I am so impressed with the Ergotron brand that I just purchased a Workfit TL desk converter to use at home. Although it's a little different, I'm hoping that it will help my stiff neck and back and improve my ergonomics at home. Can't wait to get it.
Date published: 2020-06-14T00:00:00-04:00
Rated

5

out of

5
by
Adam
from
Good product with great customizability
I am really happy with this product. I like how much I have been able to customize my setup. My only complaint is that the main nut I tightened seems to already be loosening a little.
Date published: 2020-08-05T00:00:00-04:00