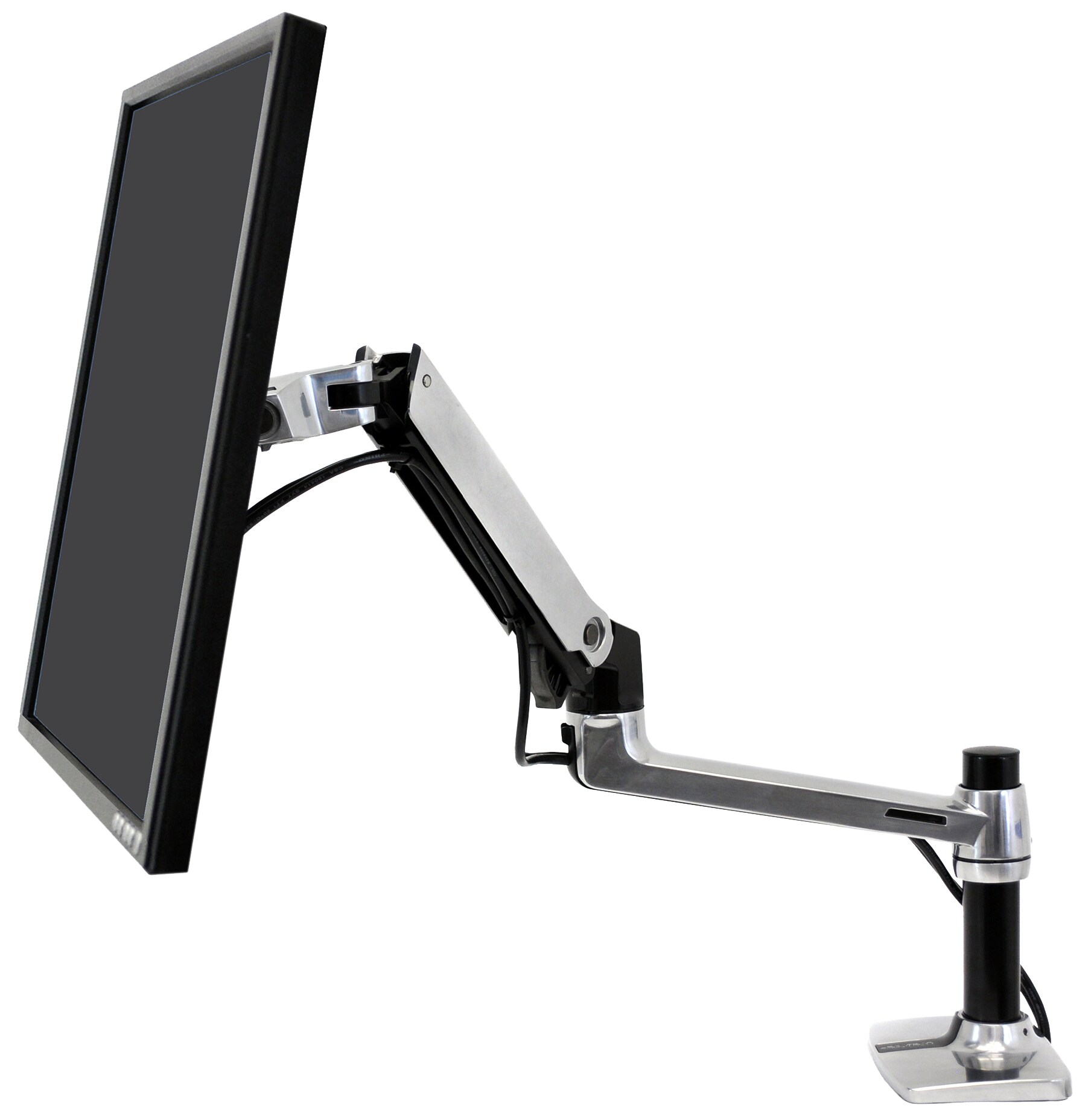 Quick tech specs
The kit includes LX arm,desk clamp and grommet mount base,extension and 7" pole
The display desk-mount is durable polished aluminum material
The Ergotron LX desk mount LCD arm mounting kit is height-adjustable and fully positioning
It is suitable for monitors with dimensions of up to 34"
View All
Know your gear
Use the Ergotron® LX Desk Monitor Arm in the workplace or at home to position your LCD. Polished aluminum material ensures durability and supports heavy monitors without any issues. The patented Constant Force™ technology makes it easy to reposition the Ergotron LX desk mount LCD mounting kit up, down, forward and backward with a simple touch. It's suitable for screen sizes of up to 34". This display desk mount features height-adjustability with horizontal and vertical orientation, 360-degree rotating function and 75-degree tilt. The extension adapter makes the installation and simple and convenient. With a practical cable management system, users don't have to worry about unnecessary cord tangles.
Ergotron LX Desk Mount LCD Arm - mounting kit
is rated
4.90
out of
5
by
20
.
Rated

5

out of

5
by
Clemson fan
from
I really like it.
Great addition to my work space. I highly recommend it.
Date published: 2019-02-06T00:00:00-05:00
Rated

5

out of

5
by
Rider
from
Very satisfied
Took a little adjusting, and the directions aren't real clear in a couple of perspectives of what direction actually adds tension v. release tension.
Date published: 2020-03-28T00:00:00-04:00
Rated

5

out of

5
by
tdog
from
Well-engineered, solid support
My arm holds a Dell 27" monitor. The mount was very easy to install. It is very flexible, and the monitor stays exactly where I need it. Attractive too.
Date published: 2020-04-06T00:00:00-04:00
Rated

5

out of

5
by
null
from
Simple and easy to setup and work.
Easy to fit. Flexible arm length support. Sturdy and good quality construction.
Date published: 2020-06-10T16:50:56-04:00
Rated

5

out of

5
by
Henry
from
Best-in-class Monitor Arm
After doing some research and talking to some folks out there, Ergotron was highly recommended as the best monitor arm. Fits well with my 34" ultra-wide monitor!
Date published: 2020-05-26T00:00:00-04:00
Rated

5

out of

5
by
Brian
from
Best, most premium monitor mount
Out of the box, this monitor arm has very premium feel. It's heavy and sturdy enough to handle monitors much heavier than mine. I have a BenQ 24 inch and it handles it very well. This mount allows me to de-clutter my workspace even more for minimalist appearance. I have a standing desk that carries slightest wobble to the monitor during heavy typing but it isn't a deal breaker. I plan on getting a laptop mount to experiment with dual display set up. My only wish is that I had thought of dual arm mount sooner.
Date published: 2020-05-29T00:00:00-04:00
Rated

5

out of

5
by
Brendan
from
excellent product!
I really enjoy this product. It was simple to install and cleans up my desk!
Date published: 2020-08-30T00:00:00-04:00
Rated

5

out of

5
by
null
from
Works great-highly recommended. Had another arm from NB that broke. This one works significantly better, even with a heavier 27" monitor!
Date published: 2020-03-04T17:03:55-05:00
Rated

5

out of

5
by
YS
from
Awesome product
Bought two arms and both work great!
Date published: 2020-09-25T00:00:00-04:00
Rated

5

out of

5
by
sarah968
from
Great product!
This was easy to install and looks great! These arrived quickly and worked great with our monitors. We have them in our Service Drive and they look great and serve the purpose.
Date published: 2017-05-18T00:00:00-04:00
Rated

5

out of

5
by
Benedict05
from
Very good and reliable product
Very good and reliable product. Heavy duty! Customers and end users are happy with this product.
Date published: 2017-05-31T00:00:00-04:00
Rated

5

out of

5
by
null
from
Works great
Well made, solid construction, smooth operation, moves well in all directions and and stays put in all directions. I use it with a 24 in. Samsung monitor. Just what I wanted. Good price, excellent quality product. It also came with mounting screws for the monitor. It comes mostly assembled in the box. It was easy to assemble the rest.
Date published: 2020-12-10T03:02:20-05:00
Rated

5

out of

5
by
CS
from
The best monitor arm I could find!
Loving the LX arm I got, it actually supports my giant Acer XB321HK monitor that NO OTHER ARM can support. Not gonna lie this thing is a beast at a whopping 32" but the arm actually holds in place once you tighten it down. One gripe, because nothing is perfect, the arm does shake when anything bumps the desk . Fixed this issue by buying another 27" monitor to support the 32" one. Beware if you are only supporting one large monitor, it does shake when bumped or spiritedly typing. Overall, 4.5 stars because the monitor arm isn't as stable as I would like it. That being said, this is the most premium monitor arm on the market, and I will be purchasing my 2nd Ergotron arm soon. 100% would recommend.
Date published: 2020-11-20T00:00:00-05:00
Rated

5

out of

5
by
Cattacus
from
Amazing. No regrets.
Some people say that a certain large online retailer that shares a name with a river sells a perfectly comparable monitor arm to this Ergotron. They are wrong. Or they don't have a large enough monitor. This supports my 32" LG 32UD99-W perfectly, with only minimal tuning required whereas the previous arms I bought all failed spectacularly. This arm is finished superbly, high-quality, and solid. Everything functions as promised. Zero complaints here. I will be buying more Ergotron arms in the future without a doubt.
Date published: 2020-01-22T00:00:00-05:00
Rated

5

out of

5
by
buy_the_tall_pole
from
Buy "tall" version for a standing desk unless you're 5" (152cm) or less
I'm not tall. I'm 5'7" on an optimistic day. I bought this to use with a standing desk. Seeing options between a "tall" pole version and this "normal" version I thought "no way I'd need the tall size. I'm in the 25th percentile for height among U.S. adult men. I must be the regular size." I read the descriptions of the product and nothing indicated otherwise. Turns out I'm wrong and according to Ergotron I'm a towering giant in need of a tall pole. While this crafty attempt to boost my ego is appreciated (I need all the boosts I can get...especially when it comes to reaching things on high shelves), the misleading labels and marketing copy around this product sucks. Returning products and/or paying more for "tall" features that should be "normal" features is aggravating. Hopefully, you're not like me. Either you're actually tall and wouldn't think twice about buying a product specifically for your kind or you're short and learn from my mistakes. Otherwise, the product is just fine. Shipped on time, delivered in good condition, easy-enough installation, seems to do what it says on the label, supports my 27" monitor right around chin-height no problem.
Date published: 2020-05-23T00:00:00-04:00
Rated

5

out of

5
by
Aaron
from
Trust It
I wanted to put large monitors on both sides of my main monitor. This clamps onto my desk holds them perfectly when I want them moved I just pull on them they're going to position I never have to worry about it. That's exactly what I wanted I wanted sturdy arms that did their job that I never had to worry about. Don't skimp out on the arms. Just get these.
Date published: 2020-05-23T00:00:00-04:00
Rated

5

out of

5
by
TSW
from
Top Quality!
Personally, I like to get things right & don't mind paying a little more for ease of use, comfort, functionality, and durability. This is exactly what I'm experiencing with Ergotron! From the very beginning, the product selection process and ordering from the Internet site to the prompt shipping and delivery to implementing the excellent products, my experience has been fantastic. Ergotron is a professional company offering quality products and it's easy to confirm. For my personal home office, using the monitor arms and an extra arm for the notebook computer tray - it's only been a few days since install, but I'm a completely satisfied customer & I'm sure you will be too. Don't mess around with other options, you'll be glad you chose Ergotron to make your life and productivity better!
Date published: 2020-08-20T00:00:00-04:00
Rated

5

out of

5
by
Cory
from
Very Sturdy
I debated between buying a $30 monitor arm on Amazon and this arm, and, although I never bought one of the cheap monitor arms and therefore won't be able to make a direct comparison, I doubt they're anywhere near as sturdy as this one. I've always been a fan of buying the long lasting option even at a higher price point just for peace of mind, and this arm definitely exceeds my expectations!
Date published: 2020-09-15T00:00:00-04:00
Rated

5

out of

5
by
Casey
from
Great Products!
I have started outfitting my whole office with Ergotron monitor arms. Both the HX and LX are great products, but you can't beat the price of the LX!
Date published: 2020-09-23T00:00:00-04:00
Rated

5

out of

5
by
Cory
from
Very Sturdy
I debated buying this arm or a much cheaper arm from a different online retailer. I've always been a fan of buying the more sturdy option for peace of mind and longevity, and I'm very happy with my decision. Although the price definitely isn't cheap, the arm feels very sturdy and I'm sure it will last quite a long time and be solid while doing it.
Date published: 2020-09-21T00:00:00-04:00