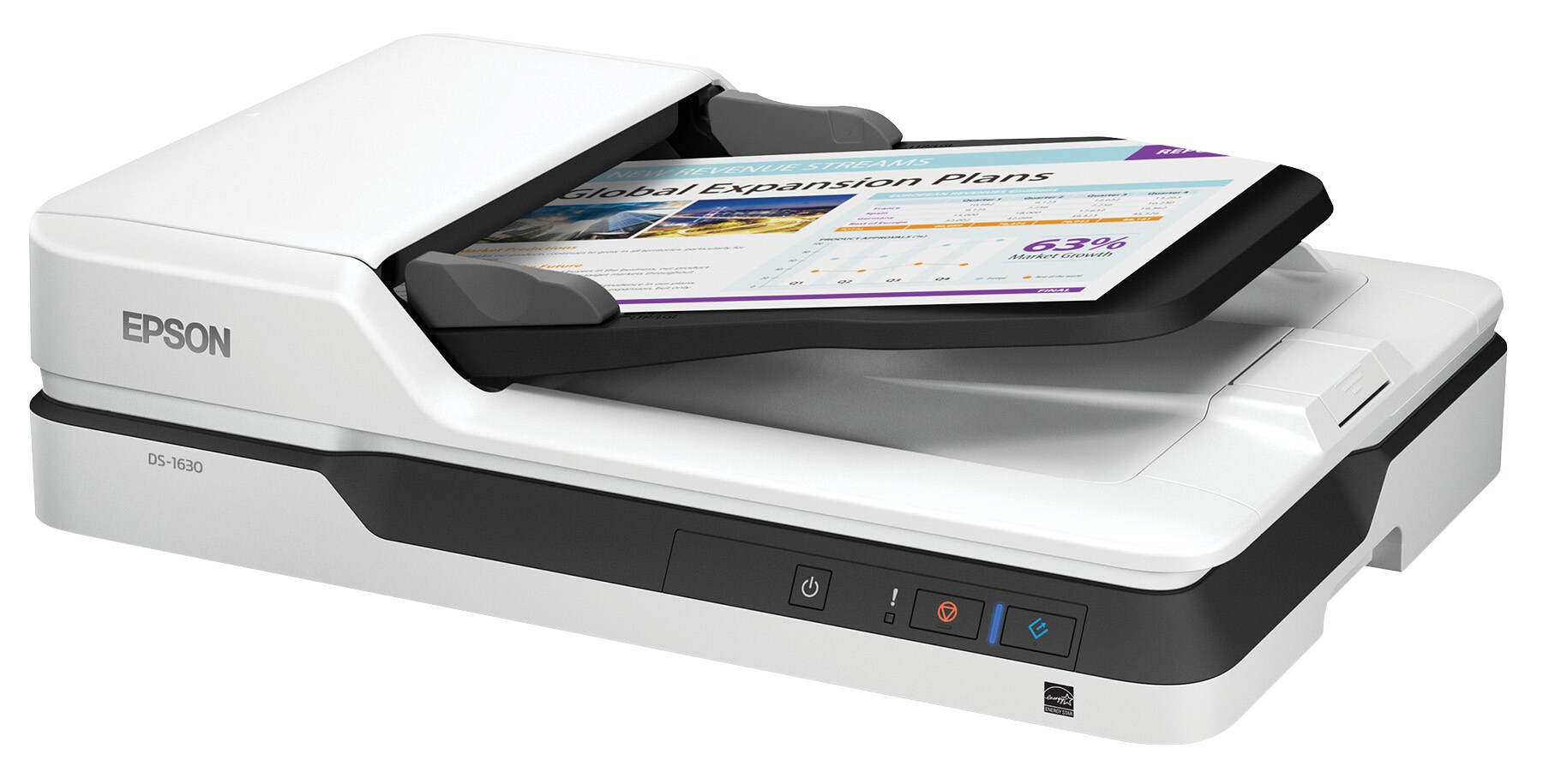 Quick tech specs
Duplex
1200 dpi x 1200 dpi
ADF (50 sheets)
USB 3.0
Legal
up to 25 ppm (mono) / up to 25 ppm (color)
up to 1500 scans per day
View All
Know your gear
Targeted Ship Date: October 4, 2016
Epson DS-1630 Flatbed Scanner
is rated
3.45
out of
5
by
20
.
Rated

5

out of

5
by
Timbo1506
from
Doesn't have the auto detect box
While the images are sharp the scanner doesn't have auto detect box so you can't crop images prior to scaning. That really makes things rough
Date published: 2019-11-14T00:00:00-05:00
Rated

5

out of

5
by
44Joe
from
Fast and Easy
I bought this to replace the similar DT-1500 scanner that I have used for some time. The DS-1600 is much faster, the document feeder does not get jammed, the scanner bed captures the complete document without cropping the edges, and the price was very reasonable. All-in-all I am very pleased with this scanner.
Date published: 2020-01-07T00:00:00-05:00
Rated

5

out of

5
by
yukongreg
from
Great scanner for a great price
I bought the DS-1630 about 3 weeks ago and I've already used it 5 times, scanning lots of documents (color and b&w) for archival purposes. Setting-up the scanner and installing the software was a breeze. Scanning is very easy and pretty quick. Love it!
Date published: 2019-10-17T00:00:00-04:00
Rated

5

out of

5
by
SueCo
from
Feeder
For the money this one is not worth it. Used it 4 months and the feeder was broke. It was in warranty so they sent me a refurbished one after they received mine back. Just outside of one year and the refurbished one has only been used for 4 months. The feeder is broke again. I only use it 4 months out of the year and fairly moderate volume.
Date published: 2019-01-29T00:00:00-05:00
Rated

5

out of

5
by
King29
from
Very disappointing
I bought this while i was on the road, was delivered to my house about 2 weeks ago. open tonight 02/15/19 to test out. will be returning it tomorrow. very upsetting as I was looking forward to get some work done with this scanner. keep jamming on the very first page open reload again does the same thing. I'm done got to go.
Date published: 2019-02-16T00:00:00-05:00
Rated

5

out of

5
by
AzyA
from
Doesnt deliver to the promises
Bought it 1 month ago .. always had issues with connecting to computer on its own.. need to restart all the time for it to recognize scanner correctly. Dbl sided scan is a challenge too for this scanner .. can be a good buy if kinks with archaic software are fixed..
Date published: 2019-01-27T00:00:00-05:00
Rated

5

out of

5
by
JRPenerian
from
Excellent Scanner for Home
Purchased this to turn all home files into digital. It is easy to use and has met all expectations for ease of use and quality.
Date published: 2017-06-26T00:00:00-04:00
Rated

5

out of

5
by
Dale83
from
Meets all my needs!
I bought this scanner specifically because of my disability. Other scanners require lifting your arms higher to place the paper in to be scanned. This scanner is ideal. No reaching! It does everything, and does it well.
Date published: 2017-11-14T00:00:00-05:00
Rated

5

out of

5
by
LBrost
from
I'm still not sure
I've been using this for about a month now and I'm not 100% happy with the flatbed scanner. The feeder works great and is the main reason that I purchased the item. The flatbed is a different story. It's not as easy to use as the previous Epson scanners that I've had.
Date published: 2017-09-13T00:00:00-04:00
Rated

5

out of

5
by
Maxwell Edison
from
Pleased with quality and performance
Bought scanner about 1-2 mos. ago, haven't had one since upgrade to Windows 10. The my very reliable see thru flatbed no longer worked. Seemed everyone was making all-in-ones which I didn't want. Finally the DS-1630 came out and got tired of taking things to work and the library to make copies. At first didn't want the ADF but it lets me scan 8 1/2 x 14 documents which the flatbed won't. Fast enough for home use, haven't scanned any pics yet so don't know how they will turn out. But had an Epson Perfection years ago which worked well and expect the same. Bought it from Epson's webpage, very fast shipping but came FedEx with a hole in the box like another box corner had made the hole. Overall, seems to be worth what I paid for it.
Date published: 2018-05-08T00:00:00-04:00
Rated

5

out of

5
by
River bill
from
horrible scanner
The automatic document feeder (ADF) has a thin clear plastic sheet just above the platen glass. When paper goes through the ADF, the paper rides above the plastic sheet. After a few weeks of use, the plastic is noticeably scratched to the point where I cannot scan using the ADF without getting a vertical line running the full length of pages. The user manual recommends only cleaning with a dry cloth. That does not help with scratches. I can still use the scanner, but only if I don't use the ADF. Also, the background color of the ADF is grey. If you scan paper that is narrower than the setting for paper width, then the electronic scan will have a grey line on each side of the page. These lines will appear black if you are scanning using the black and white setting. It is an old cliche, but the best use for the scanner I bought is a door stop.
Date published: 2017-07-19T00:00:00-04:00
Rated

5

out of

5
by
NetZen
from
Lacks basic features
The DS-1630 Work Force does not give you the option the select photo mode and you cannot manually crop the desired area of scanning in the preview plane. I spent hours and hours searching the web for a solution and at the same time it was impossible to write an email message to Epson.
Date published: 2018-06-03T00:00:00-04:00
Rated

5

out of

5
by
YukonGreg
from
Awesome scanner for an awesome price
I love this scanner! It was able to unpack it, install the software, and scan my first document in less than 10 minutes. Since then, I've scanned over 100 documents and photos with no problems or hassles. The scans are perfect in quality and it's very quiet. Highly recommended!
Date published: 2019-12-02T00:00:00-05:00
Rated

5

out of

5
by
unhappy 987654321
from
NOT HAPPY
I purchase this scanner directly from Epson and it acts as if it is a used scanner. the document feeder constantly jams on the first page forcing me to use the glass scanner and I can't figure out how to do multiple pages that way. Also it has streaks going done the pages every time I use the auto feeder from scan one and I haven't figured out how to fix that. I shouldn't have to do anything when it comes out of the box. If I would have purchased it from a local store I would have returned it day one. Now I am stuck with it.
Date published: 2020-09-17T00:00:00-04:00
Rated

5

out of

5
by
Ronny45
from
Compact Size without sacrificing Great Features
I needed to replace an obsolete scanner so I bought a refurbished DS-1630 and was impressed with the value. The device possesses all of the features I wanted in a compact size. I especially like the hinge configuration which allows me access to the scan glass from the side rather than the front. Once I got it hooked up and running I was amazed at the scan speed through the ADF. I'm pleased with my choice and I would definitely recommend this Epson to a friend.
Date published: 2020-10-01T00:00:00-04:00
Rated

5

out of

5
by
null
from
Not recommended
Not recommended. Duplex printing pulls the page through twice and at times pulls the previous page, causing paper jams. Requires close monitoring and feeder does not pull more than 3-4 sheets at a time.
Date published: 2021-04-07T16:12:30-04:00
Rated

5

out of

5
by
Johnny T
from
Epson DS 1630
nice features and fast scanner for the money. A bit noisy though.
Date published: 2020-06-16T00:00:00-04:00
Rated

5

out of

5
by
Bookkeeper in Acworth
from
Great Scanner!
I purchased an additional scanner for my home office because my other scanner wasn't reliable and my workload has increased. I love the set-up and the quality of scanned documents.
Date published: 2020-04-17T00:00:00-04:00
Rated

5

out of

5
by
Linda the best
from
Just what was needed
Happy with the scanner works well for scanning packing slips into our cloud based software using the glass or feeder and does multiple pages with ease.
Date published: 2020-05-13T00:00:00-04:00
Rated

5

out of

5
by
Claudina
from
Easy installation
I'm not too savvy about connecting any electronics, but the easy steps on the pamphlet and in the download made it easy to do
Date published: 2020-05-15T00:00:00-04:00