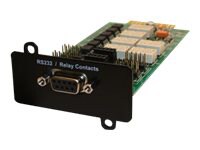 Know your gear
Communications and control software are at the heart of any reliable power quality solution.

Powerware Relay Interface Cards enable automatic shutdown and network monitoring of UPS system status through a connected computer.

The relay interface cards are available in two models, the X-slot version and BestDock version. Both are dedicated adapters that provide the essential dry-contact interface between your Powerware UPS and any relay-connected computer, including the AS/400, as well as a variety of industrial applications.