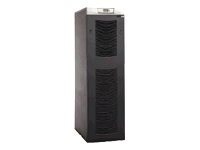 Know your gear
With advances in miniaturization and processing power, a single rack of equipment will soon demand 15 to 25 kVA of power - and more equipment than ever will be served by dual-cord power supplies. It's a challenge to provide power protection for expanding loads in shrinking spaces.

That's the reality for which Eaton designed the Powerware 9355 UPS. This advanced UPS delivers 10 kVA or 15 kVA of power protection in a sleek tower only 12" wide and 33" deep, including internal batteries. With such a small footprint, you have more options for locating the UPS and more data center space available for future expansion.

The innovative design of this UPS delivers the industry's best performance combination of high efficiency, low input current distortion and high power factor. The cumulative result of these advancements is maximum economy, adaptability, and power performance.