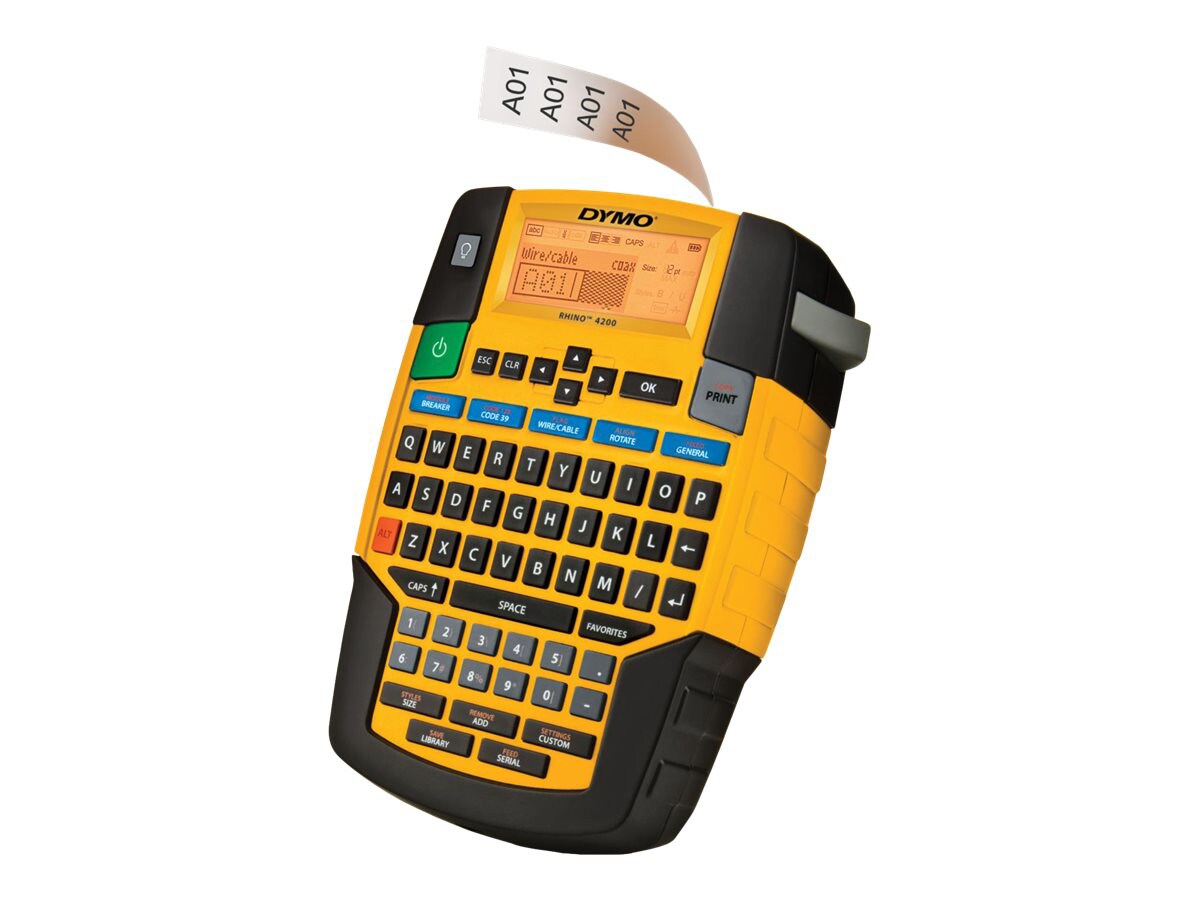 Quick tech specs
monochrome
Roll (0.75 in)
up to 35.4 inch/min
View All
Know your gear
The DYMO Rhino 4200 gets labeling jobs done fast - and done right. Easily navigate the familiar QWERTY keyboard. Use one-touch "hot key" shortcuts to quickly create and format wire/cable wraps, flags, fixed-length labels, module labels and more. Print labels up to 19mm wide in flexible nylon, permanent polyester and durable vinyl materials - plus print directly on heat-shrink tubes. Save even more time with great features - like the "favorites" key which provides single-key access to commonly used labels, symbols and terms; and the "custom" key which eliminates repeated steps by saving customized settings.

DYMO Rhino 4200 - labelmaker
is rated
3.25
out of
5
by
8
.
Rated

5

out of

5
by
TomN
from
Too many missing basics
I bought this labeler because it has a qwerty keyboard and because it can also print multi-line labels, and supports several widths of labels. I also like that it has a backlight display and is very quiet. However, it is missing the underscore and ampersand characters and many characters are hiding in sub menus making them a pain to use. They could have made them directly accessible with alt-letter keys. I also find the size 12 narrow font to be too wide. I was expecting for the same narrow font from the Dymo RhinoPro 1000. The quality of print looks like my now-dead RhinoPro 1000, but I had hoped it would now be a bit higher resolution. I would be nice if it had a computer interface. It seemed like the version of this labeler I looked at a few years back did have a computer interface.
Date published: 2020-01-20T00:00:00-05:00
Rated

5

out of

5
by
alg1008
from
Great Product!
Item was exactly what we wanted, and it arrived promptly.
Date published: 2014-06-05T00:00:00-04:00
Rated

5

out of

5
by
my93wrangler
from
Good Product, functions as expected.
Had this label maker in my tool bag for a couple years now. Pretty rugged and has always functioned as expected. Went with this model after another brand label makes lcd screen failed on me. Writing this review for a second one that I just bought for another tech.
Date published: 2016-08-31T00:00:00-04:00
Rated

5

out of

5
by
mosquitoman
from
Full Featured Label Maker
This label maker can make all sizes of labels up to 3/4", with several fonts, symbols, and alignments. Label cartridges are available in several materials as well as heat shrink tubing for wire/cable labels. The price at CDW was less than 1/2 that of other retailers!
Date published: 2016-01-28T00:00:00-05:00
Rated

5

out of

5
by
SecurityQueen
from
hate this label maker
This is the worst label maker we've purchased. very limited and hard to navigate
Date published: 2016-04-28T00:00:00-04:00
Rated

5

out of

5
by
billyjobob76
from
label jam remove cartridge
well i have used this label maker for labeling all the wiring in my 1960 mfg sea cruiser and use it daily in my access control business now i start to use it and it jams i replace the cart. and it prints one label and then jams i do everything but take it apart what can i do billy
Date published: 2017-02-07T00:00:00-05:00
Rated

5

out of

5
by
Julie R
from
No comma button
I am a special education teacher and purchased this label maker (rhino 4200 to create name labels for my student folders (last name, first name). $80 machine and $20 for (off brand) labels to discover the label maker does not have a comma button. I emailed the manufaurer to verify this was correct. This machine may be "top of the line" but it cannot perform the one simple task I bought it for. Also, dymo customer support is poor. Email response took 8 days and "online chat support" is nonexistent. I tried multiple times over serveral days during business hours and "no customer service representatives were available to assist me."
Date published: 2018-10-25T00:00:00-04:00
Rated

5

out of

5
by
jaron
from
No underscore!?!?
I bought this to make cable wraps, label patch panels, label computers, and other things such as what it claims to be for. The naming convention for our PC's includes underscores. It was only after purchasing that I discovered that there is no underscore option... WHAT? Underscores are extremely common in IT where you would be making barcodes and cable wraps... how is there no underscore!? Beyond that, it can be very confusing on how to accomplish certain tasks. It comes with a little guide booklet that helps a bit, but nothing is ever really explained. It just says "to accomplish this, press this button, then that button, then this button." So if I have a task that isn't specifically detailed in that booklet, it's a mystery trying to figure out how to do it. I will agree with others that it does seem to jam a lot more often than I'm used to with label printers. Not sure if it's a design issue or what. Oh, one last thing. The print button and label cut switch are placed in such a manner that many times when I went to cut the label, I accidentally reprinted it. I just spent a lot of money on this considering it is a label maker, so I don't really want to buy a different one since this one isn't technically broken... I guess I'm just stuck with it for a while until I can get some ROI.
Date published: 2019-11-18T00:00:00-05:00