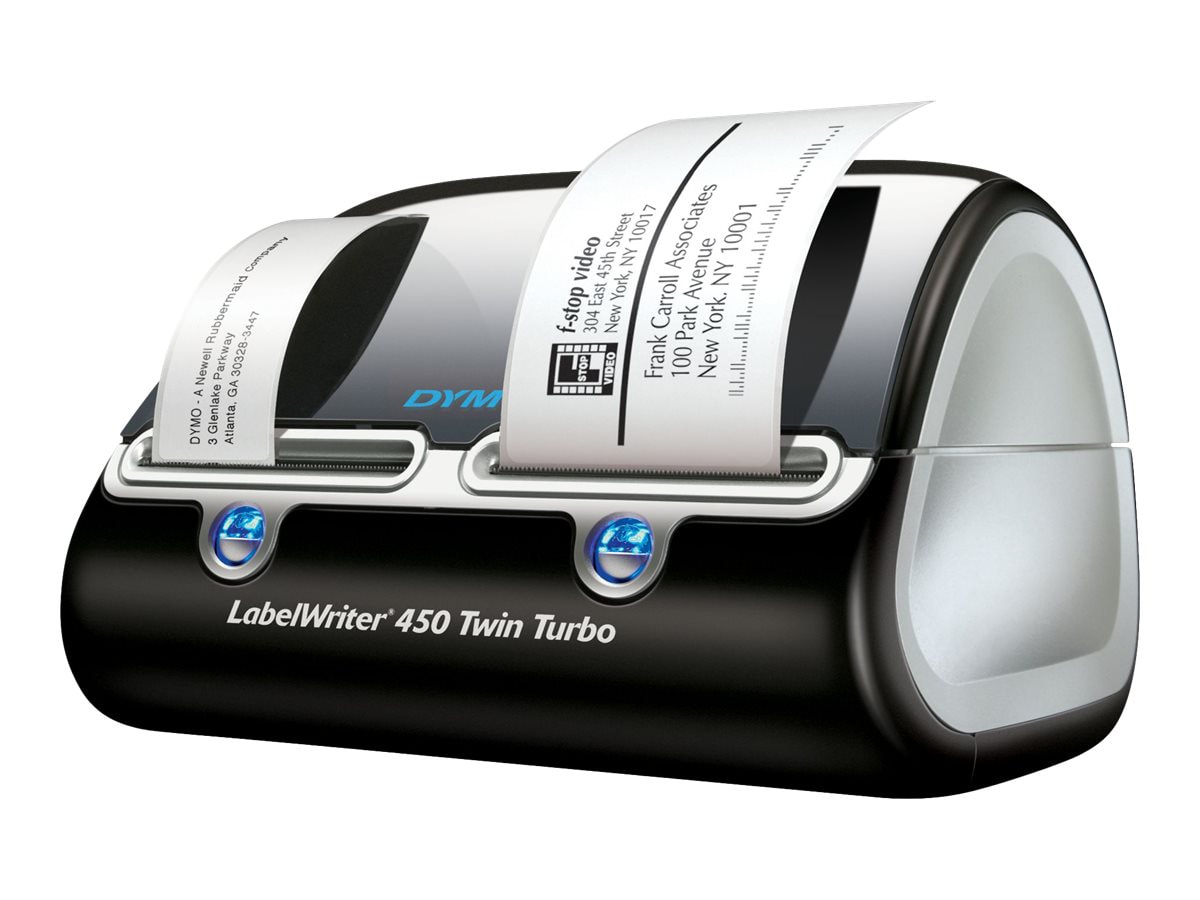 Quick tech specs
thermal paper
600 x 300 dpi
capacity: 2 rolls
black
up to 71 labels/min
USB 2.0
View All
Know your gear
The DYMO LabelWriter 450 Twin Turbo label printer holds two label rolls, so you can print labels and postage even faster. Label, mail, and file smarter with proprietary DYMO® Productivity Software, featuring the new DYMO Label version 8, DYMO Stamps®, DYMO FileTM and Address FixerTM. DYMO Label version 8 software enables you to create and print address, shipping, file, folder and barcode labels, plus name badges and more – all without the extra work and hassles of printing sheet labels on a standard desktop printer.

•Prints address labels and DYMO Stamps® postage without swapping label rolls
•Prints fast – up to 71 labels per minute**
•Print USPS-approved DYMO Stamps® postage directly from your desktop – no monthly fee, contracts or commitments required*
•Print labels directly from Microsoft® Word, Excel®, Outlook®, QuickBooks® and other popular programs
•Verify US addresses and ZIP+4® codes with included Address Fixer™ software (Requires Internet connection)
•Quickly create a one-off label with the Quick Print widget
•Convert stacks of paper documents to space-saving digital files with the included DYMO File™ LT software***

* Internet connection required. DYMO Stamps® service provided by Endicia, a licensed USPS® PC Postage™
provider. Account terms are subject to change. For current information visit www.dymo.com/endicia.
**4-line address label.
*** Windows only; requires scanner with document feeder. Scans up to a maximum of 200 pages per month.

Dymo LabelWriter 450 Twin Turbo Monochrome Direct Thermal Label Printer
is rated
3.29
out of
5
by
66
.
Rated

5

out of

5
by
alex123
from
Hidden Monthly Fees
I bought this particular product because it was advertised as being able to use a free stamp software with Endicia, but apparently that ended years ago. Not only is it not free but because I am a mac user I am forced to purchase the most expensive package in order to print stamps. In addition I contacted both Dymo and Endicia in regards to this and the false advertising and cannot get a response from them. I would NOT recommend getting any Dymo product.
Date published: 2020-04-26T00:00:00-04:00
Rated

5

out of

5
by
Jergar4
from
Connect
The recent upgrade to the Connect software has ruined hundreds of layouts that I have been using for years. Now this Connect is just not user friendly and does not even work with its own layouts. Check out the jewelry label. The text box is in the center of the label where it makes absolutely no sense. Please provide a way to get the older software.
Date published: 2020-05-22T00:00:00-04:00
Rated

5

out of

5
by
macluan
from
New operating software is useless!
I have been using the Dymo LabelWriter 450 Twin Turbo for years with very little issue. Then a new computer for me and the installation of Dymo Connect. Who did you write this for? Someone slowly organizing their home? I run a small business. I had hundreds of addresses saved in my address books that don't work in this new system. Dymo Connect has yet to even see both of my spools on the Twin Turbo. It takes me so long to do labels that I'm thinking of going back to printer them on my laser printer. Please fix this. I miss the old system and my address books.
Date published: 2020-05-12T00:00:00-04:00
Rated

5

out of

5
by
Rodriguez
from
Driver LabelWriter 450 Turbo
I cannot download driver for windows 10. Been on here almost 1 hour downloading one driver after the other and can not get it to work. What is wrong with this everyone is complaining about the same thing. I have it on another computer and it works but not both of the printers only one does. Need this fixed asap.
Date published: 2020-03-19T00:00:00-04:00
Rated

5

out of

5
by
pauliep308
from
Upgraded software = upgraded issues
I have been using this printer and its software for years. With each iteration a new problem appears. I am used to the disappearing printer and having to reboot my computer or plug/unplug the Dymolabel. Now, however, with the most recent Mac upgrade I lost all of my prior templates, and none of the new ones seem to allow printing mailing barcodes. I can't stand the changes and wish I could downgrade to a previous release.
Date published: 2020-04-07T00:00:00-04:00
Rated

5

out of

5
by
Drcharlod
from
No problems for years
I have this printer for over 8 years and I have never had a problem with it.
Date published: 2020-06-02T00:00:00-04:00
Rated

5

out of

5
by
Light Guy
from
Perfect on Mac
First product like this I've successfully used on Mac. Has never jammed. Did have a few driver issues, but they seem to be gone with current versions. Overall, couldn't be happier
Date published: 2010-09-29T00:00:00-04:00
Rated

5

out of

5
by
Navion Financial Advisors
from
20th Dymo LabelWriter
I've been using Dymo LabelWriters in my business for many years now. We've just bought our 20th, a 450 TwinTurbo.
Date published: 2017-10-10T00:00:00-04:00
Rated

5

out of

5
by
Tom in PA
from
The Twin Turbo Used to be Great! Not anymore
I've owned the Dymo Twin Turbo for about 15 years...not sure of the exact date. It printed stamps in conjunction with a third party (Endicia and great-looking shipping labels. It always worked beautifully. Last year Dymo and Endicia parted company and I could no longer print stamps. No work-arounds and no help from Dymo. ("We're working on it...we'll get back to you" That never happened.) Now, a new computer and I can't print labels as the new confusing software will not recognize the printer. Dymo had a good product. Now I'm out a lot of money for a roll of stamps that can't be used and a printer that is not recognized by Dymo.
Date published: 2019-09-17T00:00:00-04:00
Rated

5

out of

5
by
blw95
from
No Android support :(
I bought this model, prints perfect with windows (no problem). But can not run on my professional android tablet (stanley s331). Find only Windows and Mac drivers...so sad
Date published: 2018-06-08T00:00:00-04:00
Rated

5

out of

5
by
ladlo14
from
Versetile but Unriliable printer
I have had this twin label writer since early this year it has given me nothing but problems with the soft ware, customer support was very helpful helping me to install updated programme , which at 1st wen very well but when Leaving it dormant for a week or so just started to give me the same Headaches, labels wouldn't print out directly getting stuck within the printer for ever having to put it right, I have the option of uninstalling the programme, then re-installing it again but just don.t want to keep doing this, others might have better luck but this is a disappointment for me, I know customer service will support me but I just don't want to be doing this every time I have a problem. when it is running right its excellent product with so much versatility.
Date published: 2013-10-22T00:00:00-04:00
Rated

5

out of

5
by
Teacher4779
from
Couldn't live without it at school/home
I am a teacher and label everything in my classroom. Also, all reports and letters that go out of my classroom are labeled in a professional manner. It just makes everything I do and have in my room look professional. Students know where everything goes because they just follow the labels. Also, at the beginning of the year I put all student numbers and passwords on a label and have them put it in their agenda so they always know where it is. I have the Label/Writer Twin Turbo at school and got a new one at home for Christmas. I couldn't live without them. Everything in my cabinets at home are labeled and organized.
Date published: 2011-02-11T00:00:00-05:00
Rated

5

out of

5
by
Dawg0074
from
Windows will recognize Dymo Printer, Dymo doesn't
Windows recognizes Dymo Printer...Dymo printer software does not. Makes printer useless. User experience during set-up installation is terrible. If this is the user experience for Dymo, I can see why Newell Brands is being flushed down the toilet right now.
Date published: 2019-04-15T00:00:00-04:00
Rated

5

out of

5
by
RagnarsRepos
from
Thinking I should buy stock in DYMO
DYMO is to Pitney-Bowes as email is to faxing
Date published: 2010-12-07T00:00:00-05:00
Rated

5

out of

5
by
Tim4783
from
customer support is a disaster
product is ok, Customer support is a disaster
Date published: 2012-04-10T00:00:00-04:00
Rated

5

out of

5
by
Nick4782
from
Great Printer. Postage scale not
The printer is really great and I would recommend it. The older 5lb. Capacity, pelouze scale is another matter. I've had nothing but trouble with it. Even though the unit supposedly has an automatic shut-off to save battery life, I've found my battery scale dead more often than I care to admit. I don't use the postage scale that often so the battery should have lasted a long time. Now, it's not working at all. There is just some bizzare error code in the screen for a couple of minutes after I unplug and replug the USB cord, then it dies. I would hope this was just a defective unit, or they improved the new models.
Date published: 2012-02-08T00:00:00-05:00
Rated

5

out of

5
by
Nancy 88
from
Professional and easy to use!
The DYMO twin turbo has made my filing system so much more organized, and I now have a consistent appearance in all my files. Love it!
Date published: 2016-10-07T00:00:00-04:00
Rated

5

out of

5
by
Momo23
from
Great Labelmaker
We have about 8 techs using this label maker and it has never failed any of us. We have had it for about two years, it is used several times a day for various reasons. We make many different size labels and we all think it is the best we have seen.
Date published: 2011-05-18T00:00:00-04:00
Rated

5

out of

5
by
Nansan
from
Use to be Great
The twin turbo 450 was great UNTIL I had to get a newcomputer, now it does not work because even though it says it is compatible with Windows 7, IT IS NOT compatible with Windows 7 Home Premium.
Date published: 2013-11-30T00:00:00-05:00
Rated

5

out of

5
by
sburnet53
from
Was good. Now BAD!
I have using Turbo 450. Was working with Catalina. Purchased Twin Turbo and now I'm in trouble. I tried to install the Twin Turbo on the same Mac as the 450, but the printer wouldn't show up in the printer list. I tried to update software, but Apple would not permit it because it couldn't be checked for "malicious content." I thought I might need to uninstall the old software and use the new software, but the was really dumb and a HUGE MISTAKE. Now I have no software that works. DYMO need to update the software for Catalina 64-bit. Don't purchase DYMO until they do.
Date published: 2019-12-04T00:00:00-05:00
Rated

5

out of

5
by
Mitch4774
from
Amazing Product Can't Live Without
I had previously used one of the single roll printers before and after getting this one I don't know how I lived without it. It makes printing address labels and postage so easy, and efficient that it has paid for itself in saved time in literally a few months.
Date published: 2010-02-09T00:00:00-05:00
Rated

5

out of

5
by
mscottadams
from
A few postage printing issues
I have used several Dymo printers in the past 10 years and generally they work well. This model does have a few issues. When printing more than one postage label it will misprint or skip a label or not print a stamp about every 10th time. As a result, I am wasting several stamp costs each month. This occurs more if printing more than 4 stamp labels, so I keep it to 3 or fewer each time I print. Even then, it might skip or misprint. The monopoly Dymo has on the postage labels is annoying. They claim to not support any other labels, yet price these labels significantly higher in cost than other labels where they have competition. 
Date published: 2013-09-16T00:00:00-04:00
Rated

5

out of

5
by
weldprof
from
Software
Nice little machine when it works. Software is a hit and miss. Never works when I really want it to and don't have time to fool with.
Date published: 2011-01-19T00:00:00-05:00
Rated

5

out of

5
by
Rob4781
from
Great Machine
The 450 Twin Turbo works great with Windows 7. I purchased the 450 because the new software from Dymo will not work with an earlier machine I had. The Tech Support folks didn't have the heart to tell me that the 8.00 software for Windows 7 would not make my 6 year old Dual Label printer work...I took a chance after a two hour help call and bought the 450. It plugged in like a dream. There was NOTHING wrong with my Gateway computer...just the software update left earlier machines behind. So if you don't mind buying one of these for [$] every five years...you are in the groove. I like mine and the free time it gives me for other fun things to do...not standing in US Postal lines and hanging around in tech chat rooms was worth the money. All is good at this address.
Date published: 2011-06-05T00:00:00-04:00
Rated

5

out of

5
by
Very Experienced
from
Really bad software
Product works well when it works. Software is terrible. Often the machine loses connection with the PC. You have discreet the USB cable, power off and reboot it. Almost unusable. Release packaged as 8.7.3 in fact is not. It is 8.7.0. It is not 32 bit.
Date published: 2019-10-26T00:00:00-04:00
Rated

5

out of

5
by
Helpdesk
from
Not working after 1 week
Not sure what happened but we bought this unit to replace an older one same model etc. and after a week of using it stopped spooling
Date published: 2017-10-07T00:00:00-04:00
Rated

5

out of

5
by
kelly95
from
Wastes labels
Works fine until it's time to change the labels.It wastes half of the roll before it works again.
Date published: 2018-12-04T00:00:00-05:00
Rated

5

out of

5
by
cyyoung44
from
Works as expected.
I am unable to print postage #30915 Stamps. I have several rolls and have had an account with Endicia for years>
Date published: 2019-04-22T00:00:00-04:00
Rated

5

out of

5
by
Ingie
from
ESSENTIAL OFFICE TOOL
When did Dymo start making the LabelWriter? That's how long I've been using it. This is just one of those essential office tools that is so helpful. I use it to label binders, make shipping labels, address labels & check e zip code, name tags, folder labels in a medical office, storage boxes, project files & the list goes on. Handy at home as well. And now it prints postage. Woo Hoo! No more waiting in line at the post office, just click & add however much postage I need right now. Send most of my business mail electronically now, so was able to ditch the postage machine. Had a question, got an answer right away. Thanks Dymo!!!
Date published: 2013-08-02T00:00:00-04:00
Rated

5

out of

5
by
em0826
from
Works 50% of the time
When it works, it's great. However it will randomly stop printing after about a week of use and my computer will no longer recognize the USB. I can be printing several different labels right after each other, click "print" on the next one and poof the USB isn't recognized. Literally only about 3 seconds have passed since I printed the previous label but now it won't work. The only way to fix it is to unplug everything and wait 30 seconds then plug it all back in. Then suddenly it magically wants to work again. It's very annoying and has caused me to not want this brand anymore. I have changed cords and changed USB ports on my computer. Nothing changed, so it has to be the label maker itself. I would say if you are buying a label maker for consistent use look elsewhere.
Date published: 2018-08-02T00:00:00-04:00
Rated

5

out of

5
by
Tyger
from
Was Great, Crippled by Software Update
I bout the 450 Twin specifically for my home business and loved using it for shipping products through USPS and UPS. Then after a recent update I can no longer print Priority Class labels unless I pay extra through third party apps. So unfortunate that a great product is being hindered by such a small matter.
Date published: 2019-06-07T00:00:00-04:00
Rated

5

out of

5
by
accc
from
multiple printers stopped working on our windows 7
All of a sudden our twin turbo stopped working on our window 7 pc's about 2 weeks ago. We uninstalled then renstalled the software but continued to receive the same error message, "out of memory". The message would just repeat, clogging up the screen. We intalled the printer on a windows 10 pc and so far seems to be running ok.
Date published: 2019-05-28T00:00:00-04:00
Rated

5

out of

5
by
Kat4780
from
Label Writer 450 Twin, a great buy
As predicted, this is a great time saver. I use the 400 strictly for stamps, and the 450 for everything else. I'm an Engineer and I use the labels on my construction drawings as notes to the inspectors. I would recommend these products to anyone that has a need to make labels.
Date published: 2011-03-16T00:00:00-04:00
Rated

5

out of

5
by
Sammi
from
No Help!
I have contacted Dymo twice with no response about a replacement adapter. We pretty much have a dymo on every desk at my job and I can't even get one adapter. It's not even an option to just purchase one on the website. It shouldn't be this difficult!
Date published: 2019-11-12T00:00:00-05:00
Rated

5

out of

5
by
SWatkins
from
Does as advertised!
Just a fine printer for labels and stamps... makes it easy with simple set up and stamp support.
Date published: 2010-12-29T00:00:00-05:00
Rated

5

out of

5
by
Trisha
from
LabelWriter 450 Twin Turbo
Great little machine! User friendly. We have several Dymo 450 Twin Turbo machines in our office.
Date published: 2014-07-31T00:00:00-04:00
Rated

5

out of

5
by
PaulH28
from
Great Timesaver
Once I BEGAN to learn to properly use the labelwriter software, printing began to be a breeze. As a typical tech (or former tech), I rush ahead without bothering to read instructions. But, then, instructions are often not written to reach every member of an audience! Anyway, I love the "intelligent address box" AND the address fixer! However, I WOULD pay more for a Dymo printer if it had the ability to recognize the FORMS installed. Would that be difficult? By "more" I mean up to double.
Date published: 2016-10-23T00:00:00-04:00
Rated

5

out of

5
by
ShellOffAdmin
from
So happy I purchased!!
I have been using LabelWriter 450 Twin Turbo for a couple of weeks now, daily at my job. It does exactly what we needed to and more. There are a few things I would personally update on the software, however I am thoroughly pleased with the functions it performs.
Date published: 2019-06-20T00:00:00-04:00
Rated

5

out of

5
by
webpro
from
Junk
Loved my previous Dymo. Simple to use and always reliable. This model, however, is flimsy. Software is complex and buggy. Repeatedly need to reset (shut-down, re-start) the Dymo & my computer. Lacks adequate label guides to keep labels well-aligned. Lots of label waste. And there's more.
Date published: 2010-03-29T00:00:00-04:00
Rated

5

out of

5
by
Frank1719
from
Totally Awesome.
This thing is simply Awesome, it does everything in a flash. One click and you are on your way. The software that comes with it is very and I mean very simple and in no time you will be creating artistic labels. Buy one right now, trust me you won't be disappointed.
Date published: 2010-03-30T00:00:00-04:00
Rated

5

out of

5
by
JB4775
from
Just The Greatest!
This labelwriter is a gem. I use the 400 at work and have used the twin turbo at home for about 5 years. I use it for postage more than addresses, but love being able to print address labels also. I Love being able to print postage with no fee. I have never had a jamming or feeding problem with this machine. I am in the process of adding the 10 lb. Pelouze scale.
Date published: 2010-04-22T00:00:00-04:00
Rated

5

out of

5
by
publicsector3006
from
Time Saver
Good choice for our small office. It saves so much time vs loading Avery labels by hand in fussy printer.
Date published: 2014-04-24T00:00:00-04:00
Rated

5

out of

5
by
Kenny G4776
from
Should have purchased it sooner.
Love it. Have used the single label 450 for a while but finally broke down and bought the Twin Turbo for use with labels and stamps. Only wish it could hold four types of labels since I use various sizes and types.
Date published: 2010-05-14T00:00:00-04:00
Rated

5

out of

5
by
Flyrockies
from
Works pretty well with my Mac
The Dymo label writer has saved me lots of time addressing packages and standing in line at the post office. The labels look professional and even have my company logo on them. The only cons are that you can't turn it off without unplugging it, and that the machine gobbles up labels once in awhile.
Date published: 2010-07-14T00:00:00-04:00
Rated

5

out of

5
by
Timb
from
problems with windows 10
Label printing is good, but when installing the software, windows 10 only recognizes 1 printer, not 2 as indicated in the documentation. Since I do not use Dymo connect to print labels, I have to go thru printer preferences, adding multiple steps for something that should be as simple as changing printers.
Date published: 2020-02-12T00:00:00-05:00
Rated

5

out of

5
by
sahe
from
Don't be fooled!
If you own a unit by the same name, don't be fooled. It shut us down until we could sort out the issues between the 1 and 2 version of the unit. When you install the unit it assumes you have the 1 version of the printer. This is no longer a "plug and play" unit, it is a "plug and pray." Very unnecessary confusion by the two versions. I have used the 1 for years.
Date published: 2015-05-02T00:00:00-04:00
Rated

5

out of

5
by
SamanthaMG
from
Features great Not Win 10 compatible!
Love this printer. I now have Windows 10 and there is no Dymo driver for Windows 10 and my label printer is useless. It makes a great paper weight.
Date published: 2016-02-25T00:00:00-05:00
Rated

5

out of

5
by
Giggles
from
Love this machine!!
I can't say enough great things about this product. I use to have to get up and down and down the hall back and forth several time to print labels and stamps. Now I have one handy little compact machine on my desk that handles both at the same time without me having to waste so much time. Labels are easy to order also. I send out a lot of different sized and weighted envelopes. It is so easy to print the labels and stamps that it has literally cut my time in half so I am much more effecient. I have no complaints at all about this machine or its labels.
Date published: 2011-03-15T00:00:00-04:00
Rated

5

out of

5
by
DDefense
from
Great Printer
It has been good for printing one type of label, but we can't seem to get two different types of labels to work.
Date published: 2018-04-18T00:00:00-04:00
Rated

5

out of

5
by
Donna4778
from
Awesome
My company purchased this product and had not started using it. One day, we hooked it up and have been using it ever since. It is much easier and quicker than doing sheet labels. You can do one or however many you need. It is great!
Date published: 2010-09-29T00:00:00-04:00
Rated

5

out of

5
by
Trixie
from
Really - No user guide on how to set up.....
This is ridiculous that it does not come with a CD and a user manual. So far, the website sucks. I download three users guides all for Belgium. I have spent 30 minutes on the website and still waiting for DC setup.exe to download. In the meantime, looking for an English user guide to set up the labels correctly. I am ready to return this and forget about it.
Date published: 2020-01-12T00:00:00-05:00
Rated

5

out of

5
by
jjg86
from
Best Labelmaker
I have been using this label writer for almost 7 years now with no issues. Software updates are easy and quick. The only thing I have had to buy in the past 7 years is the label tape. This is used in an office setting too with almost daily use. Cannot recommend this enough!
Date published: 2018-06-22T00:00:00-04:00
Rated

5

out of

5
by
ValS
from
Wonderful machine!
We bought this to replace the previous LabelWriter Twin Turbo, which we had for about 11 years. The 450 Twin Turbo prints address labels about twice as fast as the previous model. Stamps print at about the same speed as previous model.
Date published: 2019-09-12T00:00:00-04:00
Rated

5

out of

5
by
Steve4777
from
I use the printer to label everything i
I am a totally blind user who uses ID Mate Omni to read barcodes to help identify the day to day items I use and the printer prints great Barcodes on any size label allowing me an endless number of barcodes to work with. I only regret that every time I start the program it crashes while booting and always works fine if I restart it right away.
Date published: 2010-08-08T00:00:00-04:00
Rated

5

out of

5
by
Tasos
from
Quite a Product
Ive made it a point to write this before reading other reviews. I love this product, mainly, because it does what it is supposed to do and without breakdowns or difficulty in operating it. Printing quality is excellent. Ordering additional postage or address labels is extremely simple. Almost look forward to using the device! (no I am not affiliated with the company. One thing they could do to tweak its performance is increase the roller tension just a little because on occasion, if I'm not reasonably careful, when I go to tear off a label that has printed, I will pull out additional unused labels. I was just looking at this web site and saw you can do additional things such as verify addresses/zip codes. Terrific. Now I have to locate the manual.
Date published: 2010-02-09T00:00:00-05:00
Rated

5

out of

5
by
Eagle in flight
from
Great Product
I have used the Twin Turbo for a couple years and love having professional labels complete with bar codes for mailing. I especially like being able to verify addresses to be sure the barcodes are accurate to speed my letters through the Post Office. Postage is easy coupled with the Dymo postage scale.
Date published: 2010-09-03T00:00:00-04:00
Rated

5

out of

5
by
SteveS
from
New Dymo Connect Software Not Ready for Prime Time
I had been using a Labelwriter Twin Turbo printer with the Dymo Label Software 8.7.3 and recently purchased a 450 Twin Turbo and installed the new Dymo Connect software (v 1.1). I use lots of software and this is probably one of the worst I have ever encountered. Where to start. Ok, the UI is counter-intuitive and needlessly overcomplicated and convoluted; On the bottom left of the screen is an indication of which side of the printer is in use, which can be changed by clicking on an up-arrow and changing the side. On the bottom right is an indication of a label, which, unfortunately does not change when you change printer sides, so this control is useless (it only indicates which label was last printed); You need to go to the top and click "New" to choose the printer side and the correct label and start the whole label creation process all over; When you type an address on a label, even though Auto Fit is enabled, type will not auto fit on the label. Instead, it is entered into a small text box which prints tiny text on the label. In order to enlarge the text, you need to drag the boundaries of the box to the edges of the label; Most of the time the Address Fixer either does not work or gives crazy results; There is no way to add an Intelligent Mail Barcode to an address. These are but a few examples and I could go on, and on, but IMO, this software feels like an early Beta and I am uninstalling it and going back to Dymo Label Software 8.7.3.
Date published: 2019-08-08T00:00:00-04:00
Rated

5

out of

5
by
stupid for buying
from
doesn't work
doesn't work, won't print , installed software won;t print labels
Date published: 2019-07-07T00:00:00-04:00
Rated

5

out of

5
by
Boskoman
from
Great personal and business investment
I've had my 450 Twin Turbo for almost two years now, and it's one of the best things I ever bought for my home office. The option for two label feeds is a must, so that one feed is always reserved for stamps, and the other feed is for all of the various types of labels I use. The printer is fast, quiet, small, looks good, and best of all doesn't need any toner refills. The software for labels and stamps is quite comprehensive, yet very easy to use. I recommend this label printer for anyone who wants to keep their life organized and efficient. It's handy to have such a customizable label printer, and I haven't had to stand in line at the post office in two years. The variety of labels that the 450 Twin Turbo can handle and that Dymo offers is impressive - you'll find no shortage of things to label after you get this printer.
Date published: 2014-02-10T00:00:00-05:00
Rated

5

out of

5
by
Jon P
from
No longer prints stamps
I'm echoing Tom from PA's comments below. I've used this printer successfully for about a decade along with the easy-to-use stamp printer, which was a major reason for its purchase. Now with the change to the stamp policy I'm stuck with a partially-used roll of stamps, the need to go to a web page to print stamps instead of a Windows application, and a $18/month fee for the privilege of using that service. This is infeasible for me as a small business with few monthly mailings - none of which was clear in the NetStamps application. Unless you're a large volume mailer this product is no longer usable for stamp printing. It's deeply disappointing that Dymo is making this happen. It's OK for other label printing but don't buy it to print stamps. I'll need to find another way to print the stamps that I need for my business.
Date published: 2019-10-21T00:00:00-04:00
Rated

5

out of

5
by
dlfinlea
from
Legal Office
Saves so much time with certified return receipt mail. I also like having the address book, that saves time. Have had no problems with it since I have had it at lease 2-3 years. Also, the clear address labels come in handy for legal documents, for labeling attachments, exhibits etc. I also Label Binders. I would definately RECOMMEND. Money SAVER 4 Sure!!!
Date published: 2011-03-01T00:00:00-05:00
Rated

5

out of

5
by
Brian @ Tri Star
from
I wish they would make a triple :)
We Use it for stamps, labels, we print thousands of labels. Best Printer We Have :
Date published: 2011-05-24T00:00:00-04:00
Rated

5

out of

5
by
BillDuge
from
Excellent but ....
Bought this printer to replace an earlier DYMO 4XL (Needed two labels all the time). Easy to set up; easy to use but the software is still very flaky. It 'loses' the USB port several times a day and I have to unplug everything, give it a minute and then replug - then it springs back into action. Tried USB 2 and USB 3 still the same. Support is quick to respond - but the software needs fixing.
Date published: 2015-01-26T00:00:00-05:00
Rated

5

out of

5
by
jtm829
from
Deserves Zero Stars
There is NOTHING easy about this device. Windows 10 does not recognize the two printers; there is no user guide; the website has no assistance. Do not buy this product. Packaging up and returning.
Date published: 2020-03-11T00:00:00-04:00
Rated

5

out of

5
by
darrich
from
DYMO writer
The DYMO writer has increased productivity being able to print labels etc. from our computer. All labels can be created and then applied. Since everything else is based from the computer, why not our labels as well. Very professional results and a reliable printer.
Date published: 2013-07-03T00:00:00-04:00
Rated

5

out of

5
by
TK2012
from
Very easy to use and setup.
We have around 20 of these in an office that supports 170 clients we have most of these shared and they usually work flawlessly. Occasionally we'll get a jammed label that needs to be unjammed but we're talking 1 label out of 3-4 rolls run through this machine. We keep buying these to do all of our mailing / addressing needs.
Date published: 2012-10-24T00:00:00-04:00