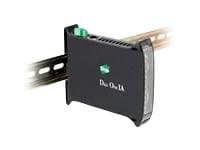 Quick tech specs
port 10/100BASE-TX device server
View All
Know your gear
The Digi One IA RealPort device server easily allows any industrial device with a serial port to be connected to the Ethernet (such as Programmable Logic Controllers, process and quality equipment, motors, drives, bar-code readers, operator displays and other types of manufacturing equipment).



The Digi One IA RealPort is ideal for applications requiring COM ports, serial tunneling, or where TCP Socket, UDP Socket, or UDP Multicast functionality is needed. Digi's patented RealPort technology delivers the industry's most robust, reliable, and versatile COM port control and management. The Digi One IA RealPort also works with software applications using TCP/UDP Sockets allowing a serial device to interoperate with the software applications without the need to install a driver.



Multimaster/multi-protocol, an industry first, is the most flexible, powerful, and innovative way to manage industrial serial devices from more than one host machine or location regardless of the industrial serial protocol that is native to the serial device. Simply put, multi-mastering allows a slave serial device using any of the supported serial port protocols to be managed from multiple host machines. A variety of serial port protocols, including Modbus ASCII/RTU, DF1 Full/Half-Duplex, compoway/F, FINS, and Hostlink are supported. In addition, virtually any industrial serial protocol is supported when using our patented RealPort software or user-defined protocol.