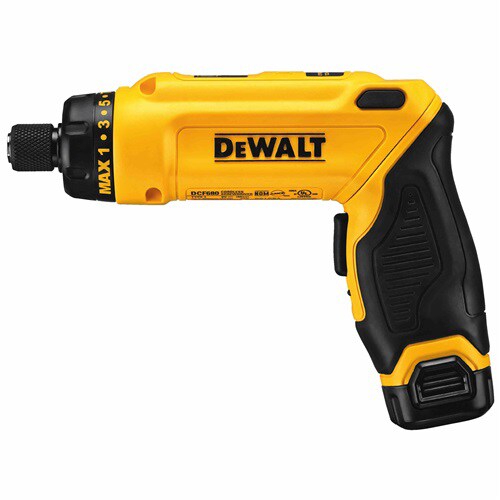 Quick tech specs
Two position Handle
Cordless
Pack includes Charger
8V Battery Pack
Operates at (0-430)rpm
Compact Batteries and Kit Bag
View All
Know your gear
Enjoy precision, speed and control with the Dewalt 8V Max Gyroscopic Screwdriver 2-Battery Kit. This cordless screwdriver is designed with an adjustable two-position handle to use it in the in-line or pistol-grip as per user requirements. With motion activated variable speed of 0-430 rpm and reversing control, this screwdriver with two-pack battery facilitates precise fastening. Its LED offers illumination for use in confined areas without shadowing for user convenience. The 0.25-inch hex of this power tool can hold 1-inch bits and enables quick bit change.
Gyroscopic screwdriver with 8V MAX battery pack charges in an hour and offers longer run-time
Can be used for fastening screws into wood, plastic and light-gauge metal
Provides battery charge status and notifies the user to charge the pack
Dewalt 8V Max Gyroscopic Screwdriver 2-Battery Kit
is rated
4.50
out of
5
by
23
.
Rated

5

out of

5
by
prc762
from
Awesome tool!
So excited to use this tool. Ive borrowed from coworkers and compared to Metabo and Worx brand. Neither offered variable speed. If you suffer from carpel tunnel, get this. If you want to help avoid getting carpel tunnel in the future, get this.
Date published: 2021-01-23T00:00:00-05:00
Rated

5

out of

5
by
Ries
from
Great versatility!
This little guy is amazing! Saves the arthritic hand and wrist a lot of ache! With the 2-battery system, you can get through any job!
Date published: 2019-11-06T00:00:00-05:00
Rated

5

out of

5
by
Lynnster
from
Love the gyroscopic feature
This little gem is so useful in all so may ways. the ability to change directions with a slight twist of the wrist is very useful.
Date published: 2019-05-21T00:00:00-04:00
Rated

5

out of

5
by
CopTech
from
Awesome Tool
I bought this after demo-ing it from a friends tool box. The gyro is odd at first, but you soon love it quickly, especially with carpal tunnel. Lots of torque and adjustable stop clutch. Great for tasks like electrical installation.
Date published: 2018-02-03T00:00:00-05:00
Rated

5

out of

5
by
Spiderman
from
Great tool
I use this to repair computers desktop and laptops I also love the light. I am a computer tech and I wanted something like this.
Date published: 2017-12-07T00:00:00-05:00
Rated

5

out of

5
by
Juan P
from
Easy to use
This is good wot work in small jobs and finishing up small projects. I change a lot of door handles and deadbolts and this makes my life so much easier. The little light that it has helps me see what I'm doing. It has a lot of power for an 8v tool. I charge the battery about once a week and it holds the charge for a while. Whenever I need the item to work I just twist my arm the way it needs to go and it just goes. Perfect for work or for a new homeowner.
Date published: 2019-11-10T00:00:00-05:00
Rated

5

out of

5
by
Packattak
from
Simply amazing
This might be my favorite tool. I absolutely love it. Works well with electrical work and my hobbies. Have used it a little wood working also.
Date published: 2023-06-18T00:00:00-04:00
Rated

5

out of

5
by
babygoat
from
I'm buying more to have in shop and truck
I've been using this tool for a couple years now. I found it on the display Shelf with a battery so I was able to test it out. I purchased it immediately for full price I liked it so much. Once you get accustomed to how sensitive it is, it's really great to use. It's intended for the lighter duty, more exacting work. It has a surprising amount of power for an 8 volt system, and the lock up for using it as a screwdriver is excellent. If I find it in stock again, and the other version, I'm going to buy another to have them on the truck and in my shop. I would like to see more tools that use the 8 volt line for jobs that are in tight spaces and require a light touch to not damage the internal components. Tools like these allow me to use exactly what is needed for jobs instead of trying to use one tool that may work, but only just OK.
Date published: 2023-07-01T00:00:00-04:00
Rated

5

out of

5
by
GFY Appliance Repair
from
My favorite tool of all, appliance technician
Wrist and hand saver, time saver, I Carry it into every job I do All day long. Absolutely perfect for screwing into plastic, sheet metal to sheet metal, or any delicate screws on these delicate home appliances even control boards. Every one of my company uses one for the past 4 years. Great variable speed trigger perfect for not over tightening stripping. Locking transmission to break tough screws loose by hand.
Date published: 2021-12-24T00:00:00-05:00
Rated

5

out of

5
by
Bad Bob
from
A wrist saver
Doing maintenance work on stiff & sometimes rusty multiple screws & other fasteners to remove access covers and panels is a time consuming PITA. This little gem makes it so much easier. Using screwdriver bits and a 1/4" socket adapter.
Date published: 2021-07-04T00:00:00-04:00
Rated

5

out of

5
by
Wiztm86
from
best gyro screwdriver on the market!!!
i have had this screwdriver for three months , i have put it through all the tests from sensitive electronics to rewiring light fixtures and it has become a tool i carry-on me everyday. The twist and locking is done with one hand no problem and the clutch is perfect when you threading fine screws you dont want to strip . Battery life is pretty good my old screwdriver you had to plug in for a few hours to recharge this is great just pop the old out bam you back in business. I got this because my hand are beat up and it has helped alot with my hand pain and easier on my hands just turning a screwdriver. Great product wish i had the years ago!!
Date published: 2020-05-29T00:00:00-04:00
Rated

5

out of

5
by
Chris1414
from
Great screwdriver, except the Gyroscopic ascpect
This feels great! It works really well, and feels great! I like the variable chuck, and I like the option to rotate the handle. The only thing I do not like is the Gyroscope side. When you are installing a fastener in a tight area, this is really painful to use and really put you in an un-ergonomic position to get the gyroscope to get the motor working. This would be amazing if you had the option to have it work without the gyroscope, and with just a button instead.
Date published: 2021-08-29T00:00:00-04:00
Rated

5

out of

5
by
JP741
from
Electricians Need This Tool
This screw driver is a must as I've got older. It's great for any tech that has to remove and replace a lot of panel covers without stripping out the threads. The battery life is great too.
Date published: 2020-05-31T00:00:00-04:00
Rated

5

out of

5
by
Fordlover
from
Tool jealousy
My neighbor has this tool and let me borrow it when I was assisting him in troubleshooting his air conditioner. This tool definitely made the job of removing 25 screws a non issue and was able to get in to area that my impact couldn't reach. This will be the next till I buy to make my life easier.
Date published: 2020-06-01T00:00:00-04:00
Rated

5

out of

5
by
UNDERWOODJD
from
Go to cordless power screwdriver
Great addition to my workshop, mainly do to the low noise pollution it gives off in a small apartment setting.
Date published: 2020-07-09T00:00:00-04:00
Rated

5

out of

5
by
Wiggie
from
DCF680N2-Best screwdriver I ever used
I do appliance repair. I am on my second set of two. I always purchase these in a set of two. In my tool bag I have one with a magnetic end and a phillips bit and the other one I have with a 1/4-5/16 bit. It makes it easy to just grab the screwdriver I need without always changing the bits back and forth. The light is by far the best feature because it allows you the ability to find where you want to use it. Other screwdrivers the light comes on when you hit the button to use it. You need to find it first. The gyro is wonderful. Once it stops it locks in so you can finish thightening by hand like a regular screwdriver. To the guy who left a post giving this screwdriver a '1', because he didn't like the gyro feature. "You do not need to own this screwdriver".
Date published: 2020-05-16T00:00:00-04:00
Rated

5

out of

5
by
JoseV
from
Great tool!
I was using a Dremel Go-01, which is a very good electric screwdriver, but the only issue is that there is no speed control, so in some cases you end up stripping some screws. The convenience of being able to adjust the rotation speed, and being able to switch batteries was crucial for me. It has some downsides like its weight and price, which is why it took me a while before I finally made the decision to buy it (
Date published: 2020-05-30T00:00:00-04:00
Rated

5

out of

5
by
Zwing3
from
Never worked
Very excited to get this product for my birthday. So I charge the battery put the battery in the screwdriver and it is so slow it would never screw up thread of a screw. I can't find where to get the warranty work done on your website
Date published: 2020-05-26T00:00:00-04:00
Rated

5

out of

5
by
ML calif
from
Works better than expected! (err in manual!)
Love the Gyroscopic 8V Max electric Screwdriver #DCF680 - found an error in the Manual! The manual says, "VARIABLE SPEED: The spindle speed is dependent upon the speed that you rotate your hand." NOT TRUE!! The speed the tool rotates is dependent upon the amount of rotation you apply to the tool from the moment when you turn it on -- i.e. change in angle from when you turn it on. If you had to rotate your hand at any speed to make the screwdriver rotate accordingly, that would be a manual screwdriver, not an electric one. The whole purpose of the gyroscope is for the tool to ascertain the change in angle that you apply with your hand to control the speed.
Date published: 2020-05-01T00:00:00-04:00
Rated

5

out of

5
by
Truckerjd
from
Tough as can be
Let me tell you how tough this little screwdriver is. I had house fire and lost nearly everything I owned. When I was cleaning up after the fire I found my Dewalt screwdriver in the rubble. I figured fire, water and smoke it was done. Just for kicks I picked it up and pulled the trigger. It worked. I was shocked. Now that's tough. I still used it to this day. It looks rough but it still works
Date published: 2020-05-30T00:00:00-04:00
Rated

5

out of

5
by
stbdtack
from
Great For Its Purpose
Handy little tool for small things not requiring a lot of power. Perfect for computer and small appliance repair - driving long screws into wood, not so much. Because of its small footprint and light weight it's with me everywhere I go. Since it's Dewalt, I expect it to last a good long time.
Date published: 2021-10-02T00:00:00-04:00
Rated

5

out of

5
by
Bob 1962
from
My favorite hvac tool
Title says it all Although mine has the multi bit holder on them which I don't see here
Date published: 2020-08-05T00:00:00-04:00
Rated

5

out of

5
by
Bendapilot
from
Gyroscope Screwdriver DCF680N2
I ordered the DCF680N2 from Acme Tools and I have been overly impressed with the quality a genius design of this battery powered screwdriver. I use this gyroscope screwdriver for electrical work installing switches and outlets, and it's a major time saver. I highly recommend this tool to any and all electricians and serious DIY's.
Date published: 2020-05-31T00:00:00-04:00