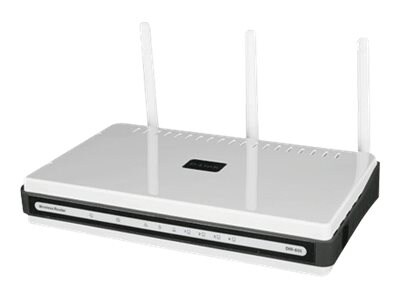 Quick tech specs
802.11n Router with 4-port 10/100/1000 Gigabit switch
View All
Know your gear
The D-Link Xtreme N™ Gigabit Router (DIR-655) is a draft 802.11n compliant device that delivers up to 14x faster speeds* and 6x farther range* than 802.11g while staying backward compatible with 802.11g and 802.11b devices. Connect the Xtreme N Gigabit Router to a cable or DSL modem and provide high-speed Internet access to multiple computers, game consoles, and media players. Create a secure wireless network to share photos, files, music, videos, printers, and network storage.

Powered by Xtreme N™ technology and equipped with three external antennas, this router provides superior wireless coverage for larger homes and offices, or for users running bandwidth-intensive applications. The DIR-655 also includes a 4-port 10/100/1000 Gigabit switch that connects Gigabit wired devices for enjoying lag-free network gaming and faster file transfers.

With some routers, all wired and wireless traffic, including VoIP, Video Streaming, Online Gaming, and Web browsing are mixed together into a single data stream. By handling data this way, applications like video streaming could pause or delay. With D-Link's Intelligent QoS Technology, wired and wireless traffic is analyzed and separated into multiple data streams. These streams are then categorized by sensitivity to delay, so applications like VoIP, Video Streaming, and Online Gaming are given priority over Web browsing. This enables multiple applications to stream smoothly to your TV or PC.

The Xtreme N Gigabit Router supports the latest wireless security features to help prevent unauthorized access, be it from over a wireless network or from the Internet. Support for WEP™, WPA™, and WPA2™ standards ensure that you will be able to use the best possible encryption regardless of your client devices. In addition, this Xtreme N router utilizes Dual Active Firewalls (SPI and NAT) to prevent potential attacks from across the Internet.

Delivering best-in-class performance, network security, and coverage, the Xtreme N Gigabit Router (DIR-655) is the ideal centerpiece for your wireless network in the home or office.

Create a wireless network to share high-speed Internet access with computers, game consoles, or media players from greater distances in your home or office.

Benefits:
Intelligent Wireless Prioritization Technology.
Xtreme N technology allows for farther home coverage.
Secure your wireless network using advanced WEP™, WPA™, or WPA2™ encryption.
Easy to get started with D-Link's Quick Router Setup Wizard.
Supports Good Neighbor Policy – will not interfere with other wireless networks.
Backward compatible with 802.11g and 802.11b devices including game consoles and digital media players.
Contact Sales Assistance
(800) 800-4239
,
Monday-Friday 7am-7:30pm CT