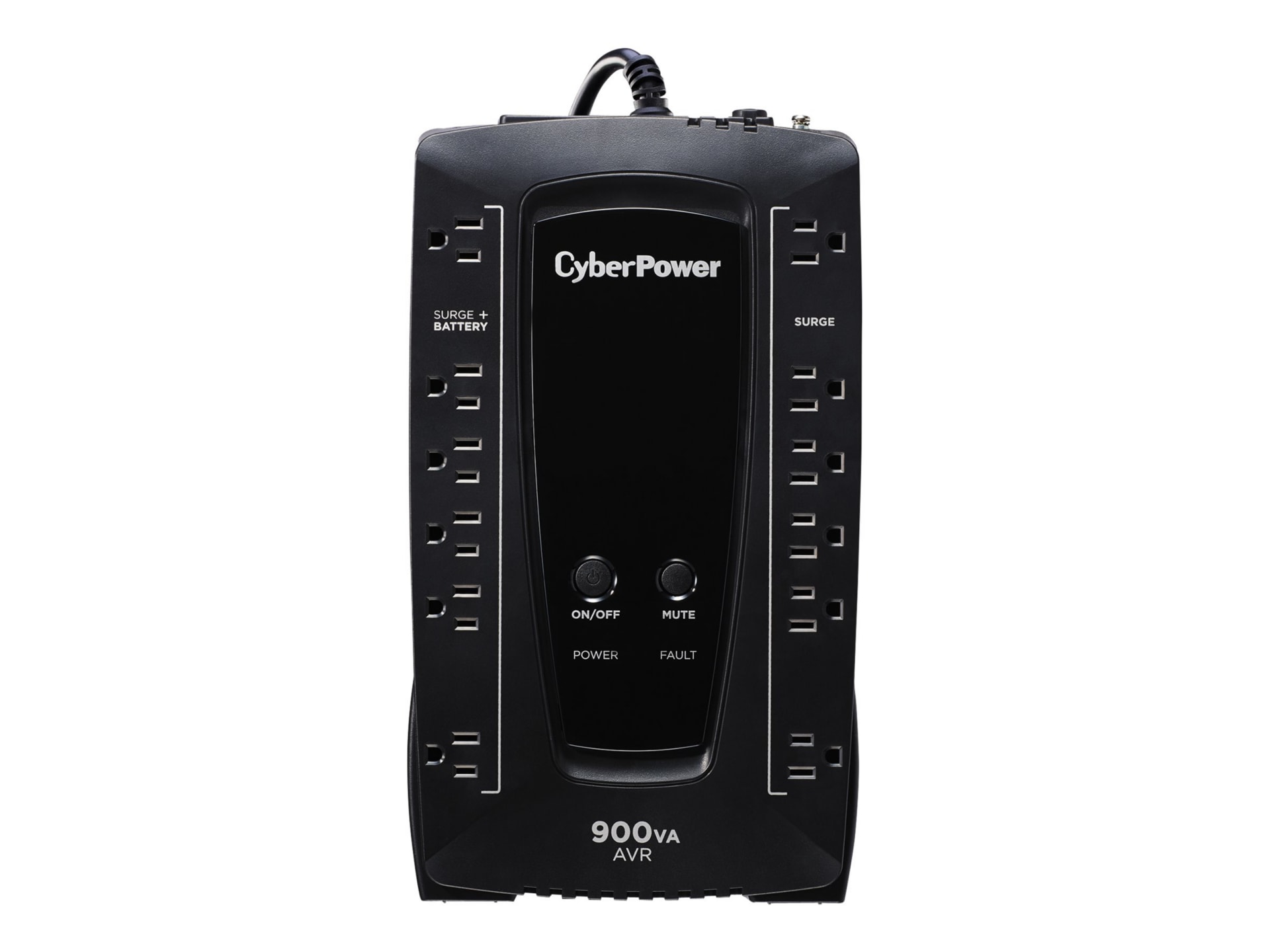 Quick tech specs
UPS
480 Watt
9 Ah
output connectors: 12
View All
Know your gear
The CyberPower AVR Series AVRG900U uninterruptible power supply (UPS) safeguards PCs and other electronics (monitors, cable DSL/ modems, VoIP routers, and home theater devices) from blackouts, brownouts, surges, spikes, sags, and other power abnormalities. Its Automatic Voltage Regulation (AVR) boost/buck technology delivers a consistent and clean AC power, protecting connected equipment and preventing costly business interruptions. Its composite integrated circuitry offers advanced lightning protection. This UPS system is ENERGY STAR qualified with patented GreenPower UPS Bypass circuitry to save on energy costs by reducing energy consumption and heat buildup.

The AVRG900U unit has a capacity of 900VA/480Watts, twelve (12) NEMA 5-15R receptacles, including, six (6) battery and surge protected and six (6) surge protected outlets. Its compact design allows for horizontal or vertical placement, or it can be mounted on a wall. This UPS has a 12-volt maintenance-free sealed lead acid battery. Protection for phone/network (RJ11) is also included. EMI/RFI filters increase the immunity of the load to disturbances and surges.

A HID compliant USB port provides connectivity to the AVRG900U. PowerPanel Personal Edition UPS Management software is included to monitor the vitals of the UPS and will safely shutdown the system in case of a power outage.

A Three-Year Warranty ensures that this UPS has passed our highest quality standards in design, assembly, material or workmanship and further protection is offered by a $200,000 Connected Equipment Guarantee.