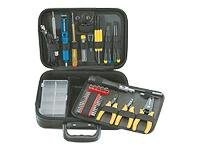 Quick tech specs
Philips 0,1,2,3
Pozidriv 0,1,2,3
Allen 2,3,4,5,5.5,6/AD
Wire Cutter / Stripper,Needle Nose Plyers,Soldering Iron with Solder
Flat 3,4,5,6,7
Torx 10,15,20,25,30,40
Designed for a wide range of computer installations and repairs
Includes Zipper Case
View All
Know your gear
Very popular with computer technicians, this kit is designed for a wide range of computer installations and repairs. It has all the necessary tools for connecting and repairing peripherals at your computer site.
Computer Repair Tool Kit (TAA Compliant)
is rated
4.42
out of
5
by
12
.
Rated

5

out of

5
by
Peach
from
I would buy this kit all over again!
I use this product while doing Dell warranty repairs, Fire/Burglary Alarm system installation/maintanence, and every where else I can use it! It has some really unique tools that are funtional. One thing that isnt all that great though is the full sized screwdriver and it's short and long extensions. If you have the extensions on it hinders the spaces in which you can used it. Other than that I love it!
Date published: 2011-02-04T00:00:00-05:00
Rated

5

out of

5
by
RedDogRER
from
Been using for a long time & it's great!
I've been using this toolkit for quite some time now and it is as close to perfect as it gets. I've used/needed every tool included at some point and it does the job, and does it well. I've used this for home builds, in the field jobs, and quick fixes. The only thing it lacks is a brush for cleaning, scissors, and a flashlight. The nice thing with this case is that you can easily add those in (as I have). It has plenty of storage room for cables, parts and a tester or two. I can't live without this kit now and it is just great to have.
Date published: 2009-06-24T00:00:00-04:00
Rated

5

out of

5
by
DaviePCRepair
from
Great set!
I recieve this product for Christmas. I am very happy for it and have already started putting it to great use. I love how compact it is and believe that it'll be of great use for many many jobs to come.
Date published: 2011-01-11T00:00:00-05:00
Rated

5

out of

5
by
PR Tech
from
Excellent Portability
All-around nice product. I was able to fit many additional tools into this kit along with the contents that came with it to make it perfectly customized for my needs. Perfect size for 95% of jobs I am called to.
Date published: 2009-12-28T00:00:00-05:00
Rated

5

out of

5
by
mlhowle
from
Very Professional Set
Great Product and a reasonable price. Kit looks very professional, case and tools laid out well with a lot of extra storage.May order another set for my son for next Christmas.
Date published: 2010-01-07T00:00:00-05:00
Rated

5

out of

5
by
Hammerhead1200
from
Great Start-Up Kit!
I recently started up my own business, and added a service feature for computers and game consoles. I purchased this set as a start-up for the services, and this thing is great! I have people asking me all the time where I got this tool set from, and I just show them the case... I'll Definitely be getting bigger sets just like this one as my business grows!
Date published: 2010-12-23T00:00:00-05:00
Rated

5

out of

5
by
Steve
from
Just about perfect
This kit has almost everything you need to do PC hardware repair. I had to add a few items to round it out, but there is also plenty of room to store those few things you need to add. I tossed in a digital multimeter and a set of smaller screwdrivers for use on laptops, but any kit this inexpensive won't have everything.
Date published: 2010-04-02T00:00:00-04:00
Rated

5

out of

5
by
Chuck
from
Quality at a low price.
This is a good kit for minor computer repair and a good starter set for the PC builder. The soldering iron is of less quality so if you plan to do alot of soldering than you may want to consider purchasing a better iron. After reviewing many other kits available I feel that this is one the best deals out there.
Date published: 2009-06-17T00:00:00-04:00
Rated

5

out of

5
by
Ray D.
from
Great Tool Kit
The toolkit is one of the best cases that I ever had, it is compact, but holds alot and keeps everything organized. I love the shoulder strap, it is very easy to throw it over your shoulder and carry other things. The tools themselves are good quality, but the kit lacked some essentials, but luckily I was able to take my favorite tools from other toolkits and easily incorporate them into this great tool case. But unless you already have computer tools this kit will hardly give you everything that you would need in the field.
Date published: 2009-08-11T00:00:00-04:00
Rated

5

out of

5
by
millbiller
from
Great above starter set
I bought this kit for use in my AAS IT program. I wanted something that would provide a good range of tools, with a case and room for my multimeter. This kit fit the bill perfectly. The others in class are impressed with it as well. I expect to get years of use out of this kit in my professional career. Thanks!
Date published: 2009-10-12T00:00:00-04:00
Rated

5

out of

5
by
PR Tech
from
Very decent set of tools.
I needed to add more items to this repair kit to make it complete for my use. But overall, this is a gem and I really appreicate the durable case and strap. Looks very professional!
Date published: 2009-12-11T00:00:00-05:00
Rated

5

out of

5
by
Rose & George
from
Perfect
We bought this tool kit for our grandson's 17 th birthday. He is in a computer tech program at the vo tech. He thought it was the best gift he could get. Anytime you can make a teenager come out of the "gotta be cool" shell you've done well. We thank all the folks who made it possible to put a smile on our grandsons face. May God bless you all.
Date published: 2015-03-23T00:00:00-04:00