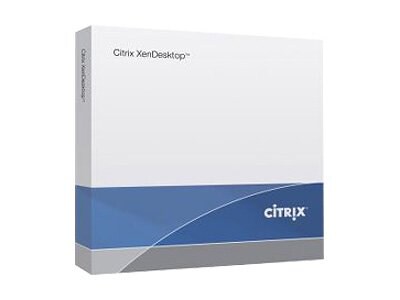 Software Details
Upgrade license
upgrade from Citrix VDI-in-a-Box
Win
1 concurrent user
Easy License
View Tech Specs
Know your gear
Citrix XenDesktop is a desktop virtualization and VDI solution that delivers a complete Windows desktop experience as an on-demand service to any user, anywhere. Whether users are task workers, knowledge workers or mobile workers, XenDesktop can quickly and securely deliver individual applications or complete desktops while providing a high-definition user experience.

Today's digital workforce demands the flexibility to work from anywhere at any time using any device they'd like. Leveraging Citrix Receiver as a universal client, XenDesktop users can access their desktop and corporate applications from any PC, Mac, thin client or smartphone. This enables complete workplace flexibility, business continuity and user mobility. Users can also add or remove any application through the world's first self-service enterprise app store, Citrix Dazzle.

XenDesktop works with your existing hypervisor, storage and Microsoft infrastructures, enabling you to leverage your current investments - while providing the flexibility to add or change to alternatives in the future. Whether you use XenServer, Microsoft Hyper-V or VMware ESX or vSphere, XenDesktop supports them all and simplifies management of networked storage using StorageLink technology. XenDesktop will also closely integrate with Microsoft App-V and System Center for application management.

With XenDesktop, users can access desktops and applications from any location or device, while IT sets policies that control whether data ever leaves the datacenter. XenDesktop can dramatically improve endpoint security by eliminating the need for data to reside on the users' devices. Centralized data, encrypted delivery, a hardened SSL VPN appliance and multi-factor authentication further ensure that only authorized users connect to their desktops, intellectual property is protected, and regulatory compliance requirements are met.

XenDesktop includes application, desktop and server virtualization infrastructure that scales to meet the demanding requirements of global enterprises. Pro-active monitoring and reporting enables rapid problem resolution, while of intelligent load and capacity management help ensure that problems never arise in the first place. Built-in virtualization management features such as live migration, high availability and bare-metal server provisioning make the infrastructure robust and resilient.
Availability:
Discontinued