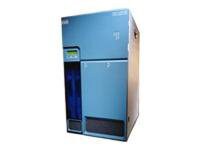 Quick tech specs
View All
Know your gear
The Cisco uBR10012 universal broadband router provides a high-end, high-performance, high-capacity Cable Modem Termination System (CMTS) solution. The Cisco uBR10012 router is an aggregation platform that places a new level of intelligence and performance at the edge of the network, enabling cable service providers to maximize their revenues by delivering more feature-rich services to their customers. The system can provide high-speed data, broadband entertainment, and IP telephony services to residential and commercial subscribers using cable modems or digital set-top boxes (STBs).

The Cisco uBR10012 router is based on the Data-over-Cable Service Interface Specifications (DOCSIS), which were developed by a cable industry initiative to ensure the reliable and secure operation of cable data networks. The router can interoperate with cable modems or STBs that support the DOCSIS 1.0, DOCSIS 1.0+, and DOCSIS 1.1 versions of the DOCSIS specification.

DOCSIS supports the 6 MHz North American channel plans using the ITU J.83 Annex B RF standard. The downstream uses a 6 MHz channel width in the 85 to 860 MHz frequency range, and the upstream supports the 5 to 42 MHz frequency range. Each chassis can support multiple standards and multiple interfaces, allowing operators to choose the appropriate services and devices that optimize their capital investment with a single CMTS platform.

The Cisco uBR10012 router supports data and digitized voice connectivity over a bidirectional cable television and IP backbone network, using advanced quality of service (QoS) techniques to ensure that real-time traffic such as voice can be reliably delivered, while still transmitting other traffic on a best-effort basis. The Cisco uBR10012 router concentrates traffic from two-way DOCSIS-based cable modems and STBs that is transmitted over the coaxial cable television (CATV) network, and presents that traffic to local and remote Internet Protocol (IP) hosts over its high-speed network uplink interfaces.

The Cisco uBR10012 universal broadband router uses the same Parallel Express Forwarding (PXF) technology used by the Cisco ESR10000 edge services router. The combination of PXF technology with Cisco's CMTS solutions creates a cost-effective, scalable, and industry-proven CMTS that provides consistent, high-performance throughput that is optimized for high-volume traffic over a cable network.

Based on the Cisco IOS networking software, the router supports the most advanced networking and routing options. Also, with access to current and future software enhancements, the router ensures investment protection as standards and customer needs continue to evolve.
Contact Sales Assistance
(800) 800-4239
,
Monday-Friday 7am-7:30pm CT