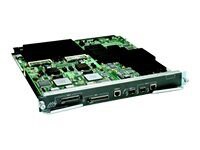 Quick tech specs
Control processor
plug-in module
View All
Know your gear
The Cisco Catalyst 6500/Cisco 7600 Series Supervisor Engine 720 is a family of Supervisor Engines designed to deliver scalable performance and rich set of IP features in hardware. Its hardware-based feature set can enable applications such as traditional IP forwarding Layer 2 and Layer 3 Multiprotocol Label Switching (MPLS) VPNs, Ethernet over MPLS (EoMPLS) with quality of service (QoS) and security features. The Supervisor engine 720 integrates a high-performance 720-Gbps crossbar switch fabric with a forwarding engine in a single module, delivering 40 Gbps of switching capacity per slot (enabling 4-port 10GE and 48-port 10/100/1000 density line cards). With hardware-enabled forwarding for IPv4, IPv6 and MPLS, the system performance is capable of 400 Mpps for IPv4, 200 Mpps for IPv6 traffic, with features and 1024 VRFs each populated with up to 700 routes/VRF for MPLS.

The Cisco Supervisor Engine 720 offers strong security features. System security is hardened with support for features such as Port Security, CPU rate limiting, Multi-Path uRPF and 802.1x with VLAN. Extensive feature support such as QoS mechanisms, hardware-based generic-routing-encapsulation (GRE) tunneling, and access control lists (ACLs) enable customers to build high-performance, feature-rich networks capable of offering services such as MPLS VPNs, metropolitan (metro) aggregation, and various WAN edge services.

With enhanced security, rich QoS and scalable performance for Gigabit and 10gigabit, the Sup720 is ideal for enterprise core and distribution and data centers.

The Supervisor Engine 720 builds on the proven Cisco Express Forwarding (CEF) architecture, by supporting centralized forwarding (cCEF) and distributed forwarding (dCEF).

The Supervisor Engine 720 delivers scalable-performance, intelligence, and a broad set of features to address the needs of the most demanding service provider and enterprise deployment requirements.