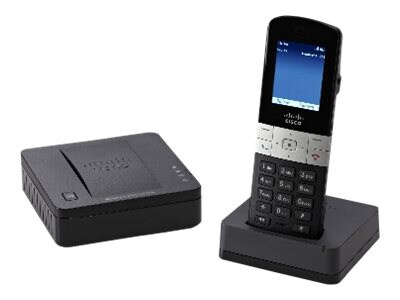 Quick tech specs
Wireless digital phone
3-way call capability
remanufactured
DECT
multi-line operation
with Cisco SPA232D Mobility Enhanced ATA
View All
Know your gear
The Cisco SPA302D Multi-Line DECT Handset is designed exclusively for use with the Cisco SPA232D Multi-Line DECT ATA, and together these products enable the convenience of a cordless on-premises mobility solution for voice-over-IP (VoIP) service. The SPA302D is a mobility enhanced handset, designed primarily for business environments that require a cordless phone to support not just one but multiple telephone numbers or lines, providing a highly innovative VoIP solution for users who tend to frequently move about their location but must always be reachable around the premises.

The intuitive, easy-to-use menu structure on the Cisco SPA302D Handset allows you to easily navigate enhanced business call-control features, including multicall operation, and execute business-essential features such as call transfer, conferencing, hold, new call, mute, speakerphone, voicemail, intercom, and one-touch dial-out from call-history logs. Wideband audio provides unsurpassed high-definition voice quality and enhanced sound clarity while the high-resolution color screen provides clear visual information whether it is reflecting call status, displaying stored contact information from a private or shared phonebook, or configuring handset calling features. Superior performance and range along with highly efficient battery power usage based on DECT technology gives the SPA302D a distinct advantage and provides an affordable solution for customers who want to deploy on-premises mobility at a lower price point.

You can purchase the Cisco SPA302D individually or bundled as the Cisco SPA302DKIT Multi-Line DECT Handset with Base Station, providing flexible options to add up to a total of five handsets when needed and enabling more users with on-premises mobility. The Cisco SPA302D and Cisco SPA232D are interoperable with many softswitch and SIP application servers (BroadSoft and MetaSwitch) and open-source IP-PBX solutions (Asterisk), to provide highly configurable and secure remote provisioning capabilities to enable mass-scale VoIP service provider activation and deployment. The Cisco SPA232D Multi-Line DECT ATA has an integrated DECT base station and is also an affordable, highly reliable voice gateway for connecting an analog phone or fax machine to a service provider; it can also intelligently route VoIP calls to the public switched telephone network (PSTN) and vice versa. The Cisco SPA302D Multi-Line DECT Handset is ideal for any residential, home office, or business searching for an advanced, multiline cordless mobility solution with superior voice quality to boost efficiency for busy users who must be reachable whether they are in the office or elsewhere on the premises.
Contact Sales Assistance
(800) 800-4239
,
Monday-Friday 7am-7:30pm CT