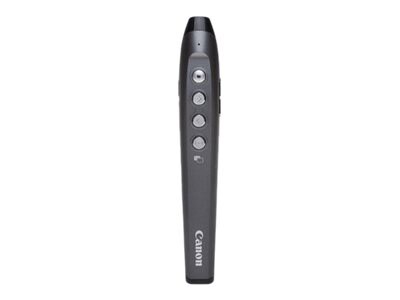 Quick tech specs
Presentation remote control
View All
Know your gear
The PR1000-R is Canon's wireless laser presenter and an indispensable model for business travel.
Canon PR1000-R presentation remote control
is rated
4.75
out of
5
by
24
.
Rated

5

out of

5
by
John W
from
Good Presenter Remote
First off, I received a free sample of the Canon PR1000-R preseneter remote, in exchange for writing a review. That being said, the below are my honest opinions of the item. The product overall does many things well, and is functional. All the button works, it fits ergonomically in my hand, and is light in weight. The best feature in my opinion is the laser light seems to be strong. It is bright and easy to use. There is no product assembly needed. All you have to do is install a battery, and remove the USB dongle out of the end of the remote. This product meets my quality expectations. It is made of plastic and is of quality i would expect from a name like Canon. The only downside, I came across was the time it took the signal to trigger. For instance, whenever I tried to turn the volume up on my computer, it worked, but there was a little "lag time" in the volume actually going up or down. Same for the power point slides, changing on the screen. It does not take long, just a slight lag time. I would overall recommend this product to family, friends, and colleagues. Overall, my impressions of the product are good.it functions properly, fits in my hand comfortably, and will enhance my presentations.
Date published: 2016-03-24T00:00:00-04:00
Rated

5

out of

5
by
Tara D
from
Great product!
I recently received a free sample of the Canon Red Laser Wireless Presenter to review, and I couldn't be happier! I'm a teacher and this was a perfect product for me to test out in my classroom. I was easily able to learn how to use this with my SmartBoard. The volume control and slide operation buttons were easy to use. I was able to freely move around my classroom without worry of losing the signal. The red laser was bright and easy to see, as well. This would make a great addition to any office or classroom environment.
Date published: 2016-04-19T00:00:00-04:00
Rated

5

out of

5
by
Arthur A
from
Great presentation tool!
I received a free sample of this Canon Presenter Remote in exchange for agreeing to write a review. I am very pleased and impressed with this presenter remote. It is very sleek and not bulky, works great, battery life is outstanding, has definitely become a must presentation tool.
Date published: 2016-04-07T00:00:00-04:00
Rated

5

out of

5
by
Dunesia G
from
More than use a laser pointer!
So glad I had the opportunity to get this as a free sample to review! Definitely more than just a laser pointer. It was very easy to use and connect. Also let me add that I am extremely happy about the battery being included. It would have been months for me to use it had the battery not already been in the package. The pointer is lightweight and easy to navigate. You can go from one slide to another and also go back with ease. I`ve used presenters that had one button to do a multitude of functions which made it difficult, especially if you`re already nervous about presenting in front of people. The laser showed up very well on the screen and I was able to walk around and still go through slides. I didn`t have to used the volume button but I like that if I had sound its an option. Overall I am very satisfied and will be using this in the future.
Date published: 2016-03-28T00:00:00-04:00
Rated

5

out of

5
by
Debbie G
from
Solid quality, not flimsy
First I must mention the packaging of this product. It was amazingly easy to access the laser pointer, unlike so many products nowadays that take 10 minutes to break into the packaging. It also came with the required AAA battery, so I was ready to get started without having to seek out the appropriate battery, and didn`t need special tools to install the battery. I have very little experience with synchronizing products to my computer, but pairing the pointer with my computer went very easily. I didn't need to consult the instruction sheet at all before I was in business! The controls are intuitive and respond well, the buttons are not flimsy or loose like I've noticed on cheaper products, and the pointer rested comfortably in my hand during my presentation. The pointer is small and takes little space in my desk drawer, ready to be grabbed for my next presentation. This was sent to me free of charge in exchange for writing a review.
Date published: 2016-05-09T00:00:00-04:00
Rated

5

out of

5
by
George V
from
Superb laser pointer / presenter!
Before beginning my review, I`d like to put the fact out there that I received this product free for an honest review. When I read disclaimers like this, I typically tend to think that the reviewer left a favorable review because of the fact that the product was free. Trust me when I tell you that this is not the case with me. I rely heavily on honest reviews left by others and I maintain this honesty in the reviews I write. Now with the review of the Canon PR1000-R. Okay, I love this pointer! The beam remains visible way past the 40ft distance that I typically use to point it at in my conference room. The pointer itself is tapered, which allows you to know which way part of the pointer has the buttons - versus another pen like pointer where I actually have to look at the pointer to press the buttons. For someone that lecturers much, this is an invaluable feature. The fact is that you don`t want to disrupt your train of thought when speaking to use the pointer and it`s forward / reverse functions. The response was lacking a bit the further you move from the USB connected to your laptop when using Powerpoint presentations. This is to be expected. Not sure if wi/fi hotspots on other phones affect this. The lag time is barely noticeable across the 40 ft (max that I am away from the laptop when making presentation, basically a lag time of a second which - of course, the audience does not notice whatsoever. This is basically a flawless product with a robust laser spot that can be noticed easily across dry erase boards and pull down projection screens. I have been using this product for almost a month (about 20 one-hour presentations) and the batteries are is still strong with the laser beam / presenter controls still perfectly functional and accurate. I highly recommend this product.
Date published: 2016-04-05T00:00:00-04:00
Rated

5

out of

5
by
bsix
from
Sleek and easy to use
I received a free sample of this pointer to review and overall it`s a great product and very handy. Sleek and comfortable to hold, I would recommend this product. The handy USB allows you to sync the pointer up to any presentation, making it for a seamless integration with your flow when it comes to presenting. Simple to set up, use and again, would recommend to anyone that frequently makes presentations. Thanks Canon!
Date published: 2016-04-05T00:00:00-04:00
Rated

5

out of

5
by
M Kim
from
So lightweight and easy to use!
I was sent a free sample in exchange for an honest review of this product. I really like the Canon PR1000-R Presenter Remote. It is lightweight and so easy to use. No need to hassle with difficult buttons or software. You plug in the dongle in the computer you are using to do your presentation, then turn ON the remote, and voila! You got your remote ready and set to go. I recommend this product for anyone that needs a quality and easy to use laser pointer.
Date published: 2016-04-08T00:00:00-04:00
Rated

5

out of

5
by
Michael B
from
COMFORTABLE AND EASY TO USE PRESENTER!
Canon forwarded me a PR1000-R presenter remote to try out for free. Overall, I found it very easy to use and the red light beam was extremely strong and it had a lot of power (so yes, the beam does point clearly for up to 50 feet). It also is light and easy to hold in my hand. I especially liked the built-in feature that allows you to connect the presenter to your computer and manage volume control, slide show, and powerpoint software all at once. This allows a `hands-free` capability not available with other red laser presenters. The one thing I did not like was that the presenter does not appear to be made of high quality materials and is not `solid`. So I am not sure how well it will hold up under heavy use.
Date published: 2016-03-26T00:00:00-04:00
Rated

5

out of

5
by
Mike G
from
AWESOME FEATURES, COMPACT AND LIGHTWEIGHT!!
The Canon PR1000-R Presenter Remote has been quite an interesting addition to my collection of gadgets and gizmos. I received this item in exchange for writing a review and I have to tell you that I can't stop using it. I find myself using it for a variety of things beyond the obvious laser pointer use for presentations. It is lightweight and compact enough to fit in my shirt pocket. The added volume control and dongle features make computer presentations much more manageable and easy to produce. This tiny tool is something that I never new I needed until now. A DEFINITE MUST HAVE FOR ANY PRESENTER!
Date published: 2016-04-09T00:00:00-04:00
Rated

5

out of

5
by
Gabby C
from
So easy to use!
I received the remote as a free sample to review. My boyfriend came home from work, tore open the package, and mastered all functions in about 30 seconds. It's really simple to use! There is an on/off button on the side, and the pointer is the top button. If you want to use it as a regular laser pointer, that's all there is to it. What's really cool though is that a small USB slides out of the bottom. You pop that into your computer and the remote can control your presentation (volume, moving from slide to slide, playing the presentation). Overall, this product is super easy to use and works well!
Date published: 2016-03-25T00:00:00-04:00
Rated

5

out of

5
by
Jennifer D
from
This presenter rocks!
I am so excited I got to try this out for free to review. I often have to give financial presentations at work. Most of the time these presentations involve excel spreadsheets. There have been times where I would have to literally stand on a chair to point a certain cells. Not anymore! The laser is very easy to view, even in a brightly lit conference room. I can now walk around the room and better engage my audience instead of being stuck at the front of the room. The presenter is light weight and I love the added feautres of adjusting the volume of media and the ability to flip though my presentation with ease. Speaking of ease, the PR-1000R could not be easier to set up. You literally open it, plug the dongle into your usb port on your computer and bam, you are all set. It really is plug and play. So simple! PS its also super fun, I have had several coworkers want to play with it.
Date published: 2016-03-31T00:00:00-04:00
Rated

5

out of

5
by
Kelly
from
Great for presentations!
I received this Canon Wireless Presenter as a free sample to try and I love it. It is great during presentations. It has slideshow controls and allows you to control your slideshow with a laser pointer that shows clearly on the screen. The volume control feature for media players is nice but none of my media players have a USB port for this device. So I was not able to use that feature. I don't think many media players have a USB port from my experience. It would be nice if this has Bluetooth to pair with media devices. I would definitely recommend using this laser pointer for any slideshow presentation. It is a must have!
Date published: 2016-03-31T00:00:00-04:00
Rated

5

out of

5
by
Alexis H
from
Great product!
I received this product free for my honest review. I thought the Canon Presenter Remote was a great touch to my briefings and classes. I would have to use the computer keyboard in order to switch the slides over to the next. Although a great product, I did not like how thin and small the buttons were. I have small hands but this just did not feel too comfortable in mine. I however enjoyed the pointer feature. I was able to be across the room and when needing to point out something on the charts, I was able to stay where I was in the room and just use the laser. Overall, this product is great!
Date published: 2016-04-05T00:00:00-04:00
Rated

5

out of

5
by
dengle
from
Amazing little remote
I was sent a free sample of the Canon PR1000-R presenter remote to use for this review. When I received the remote, it was easy to assemble. I just put in the battery, removed the jump drive at the end and plugged it into the computer. At first, the laser didn't work, but then I realized there is an "on" switch. I opened one of my presentations and was immediately able to click through the presentation with the remote. It was extremely easy to use. I was impressed with this unit.
Date published: 2016-04-03T00:00:00-04:00
Rated

5

out of

5
by
reva v
from
Easy to use!
I received this presenter remote as a sample to review. Overall, I found the design of the remote very sleek and easy to use. The functionality is good and the best part is that it can be used with other brands of tech. The laser pointer range allowed me to walk around the room to present and be free from the hassle of having to tell someone "next slide".
Date published: 2016-04-16T00:00:00-04:00
Rated

5

out of

5
by
Molly S
from
Quality presenter
This is a quality presenter remote! It fits nicely in the hand, and it`s well-designed. I received it free in exchange for my honest review. The buttons are easy to operate, and I would recommend it to anyone.
Date published: 2016-06-27T00:00:00-04:00
Rated

5

out of

5
by
Brittany S
from
Very Satisfied!
I received a free Canon Red Laser Wireless Presenter to review and am very satisfied with the product! I found this product extremely easy to use without even having to read the user manual. I was able to use this product directly upon opening the box as it included an AAA battery. I am a student and have mainly used this product while giving presentations for my classes. This product has truly made it much easier for me to give presentations in my classes because I am able to focus on the projector screen without having to use the keyboard to change the slides. This device connects wirelessly without any setup, and therefore, easily allows me to change the slides in my PowerPoint presentations. Also, the laser pointer is a great feature, which allows me to make an emphasis on certain points in my presentations. I have received many compliments from my professors while using this wireless presenter because it makes my presentations flow much smoother without any technical difficulties and even seem more professional. In addition, most of my classrooms are not equipped with a wireless device like this, so this wireless presenter has become a very useful tool. Overall, I am impressed with the amount of features and the convenience that this product has to offer. I definitely recommend it for anyone who is a student or works in a classroom-setting where presentations are crucial to the learning environment.
Date published: 2016-03-25T00:00:00-04:00
Rated

5

out of

5
by
Darlene
from
A great Presentation pen!
I received the Canon PR1000-r for free if I used and reviewed this product. I must tell you that this product is really great. The wireless capability allowed me to roam the room and still be able to control my presentation. Once the software downloaded on my laptop I was able to plug and play the very next use. The initial use did take about 5 minutes to get going. The laser works great from long distances as does the buttons to assist in functioning with slides and volume. A really great tool for presentations. I love the size too. A bit thicker than a pen, but same length so easy storage and not bulky or distracting when presenting. Great pen!
Date published: 2016-03-25T00:00:00-04:00
Rated

5

out of

5
by
Judie M
from
A great help to any presenter!
I was fortunate to receive The Canon Red Laser Wireless Presenter PR1000 as a free sample in exchange for this review. I definitely would recommend this product to those that have use for it both professionally and personally.A aaa battery is included which is always helpful. The ease of use and set up is a pleasure as is the ability to wirelessly control the slideshow in your presentation. The red light laser beam is strong and easy to follow for the audience you are presenting to. The device is light and comfortable in the presenters hand. For those like myself that are often a bit nervous before a presentation the use of this wireless presenter helped streamline my presentation and helped relax the presenter as well.
Date published: 2016-04-02T00:00:00-04:00
Rated

5

out of

5
by
BetseyL
from
Convenient and Easy!
I received a free sample of this Canon Presenter Remote and I love it! I love the fact that you can advance your presentation/slide from the remote itself. it's advertised to work up to 50 feet and I feel as if it does. My only critique of this product is that the instructions that came with it do not mention how to connect it to your computer nor how to get your presentation synced to the presenter remote. While it ended up being self explanatory, it would have been nice to have the instructions just to make sure I did it correctly.
Date published: 2016-04-01T00:00:00-04:00
Rated

5

out of

5
by
George F
from
Good Presentation Gadget
I received a free sample of the Canon PR1000-R Presenter Remote to review. I must say that I was quite impressed with it overall. There were one or two issues, but they did not detract overmuch. The first minor issue was the packaging. I feel silly saying this, but the plastic wrap on the battery was so tight and clear, that I put in the battery still wrapped. I had a new battery to put in when I realized that I just couldn`t see the fine wrapping on the included battery. I thought it first one was dead. The second issue was the balance. I have been using a logitec presenter remote for some time, and it has a hefty, solid feel in the base, which is in the palm of the hand. In contrast, the Canon remote has the weight further forward, and with its pencil shape, I often feel like I am going to fling it out of my hand. This balance issue for me may not apply to others. I wave my hands around a quite a bit, so I sometimes feel that I am going to lose is. The Canon remote is superior to others I have used in two ways: First, it has a volume control. Not very important with PowerPoints until you have audible animations or narrations, and then you will bless this feature. The second is the way it turns on-and-off your PowerPoint. It always resumes at the current slide, so you can shut off your PowerPoint, scroll to where you want, and then turn it back on. With my Logitec, the screen is either on or off, and if I need to scroll, it`s in front of all my viewers. I`ll take away one star for the balance issue (none for my silly battery issue) and give it a 4 out of 5 stars.
Date published: 2016-04-05T00:00:00-04:00
Rated

5

out of

5
by
Christy R
from
Works right out of the box!
I was in awe at how easy it was to use the Canon PR1000-R Presenter Remote. I should mention that I received this as a free sample to review, and was somewhat skeptical that it would work as advertised. However, it didn't take long for me to realize how useful it could be and how easy it was to get started. It worked right out of the box! All I had to do was place the dongle into my computer, point and click at my laptop. I couldn't wait to use it during my next class on the large screen. I am a college professor, and offered this remote as an option for students who wanted to try it out when they presented their semester projects. Those who choose to use it were able to walk about the room while sharing their Powerpoint slides. They simply opened up their Powerpoint Presentations on the classroom computer, picked up the remote and clicked through their slides. They loved it! It took no practice or explanation on how to use it...this remote was just that easy to use! I really liked the sleek design of this remote as well. It is about the size of a thick marker and fit in my hand comfortably. It is also very lightweight and looks professional. I highly recommend this Canon remote for its ease of use and the freedom it gives me to present material in a new way.
Date published: 2016-04-06T00:00:00-04:00
Rated

5

out of

5
by
Renee
from
5 stars!
Review of Canon PR100-R, RED LASER WIRELESS PRESENTER I received this wireless presenter for free to review. Humans are natural born pointers. We have ten fingers with which to direct the attention of others to a specific area. But fingers have their limits. The person gesturing must be literally within arms-reach of the area they are indicating or accuracy begins to rapidly diminish. This is where sticks become helpful. A good pointing stick can extend the ability of a presenter to point by inches or even feet. Sticks also have their limitations, however. The range of accuracy is still relatively confined to a small radius around the presenter. There are travel considerations, too. It is cumbersome to travel with a 36 inch presentation stick on an airplane or in a carpool. And this brings us to laser pointers. What could be more accurate than a laser? Nothing is more precise, especially at great distances. A laser is the perfect tool for a presenter. Enter: The Canon PR100-R Laser Wireless Presenter. It's more than just a laser pointer—it's a complete presentation tool. The PR100-R comes neatly packaged in Canon's easily recognizable red and white box design; featuring a product window where the blister-pack surrounding the presentation tool bulges upward beyond the plain rectangle of cardboard, beckoning the potential presenter to caress its gentle curve. Upon opening the box the user will discover structural cardboard buffers, a multi-lingual documentation pamphlet, and a single 1.5V AAA battery to power the PR100-R. I haven't given it much thought up to this point, but I suppose the -R is shorthand for "red," implying that there may be alternate color options for the laser. Red is an arresting color and the classic mental image of a laser's proper appearance. Green is a more friendly color but is also a higher powered laser. I do not think that a person could blind an airline pilot with the PR100-R. I would like to give a presentation with a PR100-B, though (blue. The battery compartment is secure yet opens easily. It may be placed slightly forward on the device because the weight of the battery made the pointer feel front heavy. I worried that the tool may slip forward from my hand. Ultimately, it was a non-issue. The PR100 is ergonomically shaped with a forward swell tapering slightly as it recedes to the back of the device. And it's all business with the monochromatic charcoal and gray with silver highlights. The attractive industrial design should match any notebook computer and look right at home in your messenger bag. It's about the size of a large permanent marker. Big enough to keep track of and small enough to not add bulk to the pile of things you might carry around all day. While the device seems solidly built, there is a rattle when shaking the pointer. I think it's the ON/OFF switch. It would be nice if the switch was internally buffeted with a rubber gasket or something to keep it from rattling. I want eyes on my presentation, not on rattling distractions. First thing is first, let's test the laser. Somewhat unintuitively, the user must first switch the device from [OFF] to [ON] even to use the laser. This is presumably to save battery by disabling the pings of the PR100's wireless presentation features. Not a huge deal. If you merely need to point and can't be hassled with toggle switches, you may decide to expand your search options and include other laser pointers. The laser is strong and bright. It quickly and accurately points from a great distance. I tested the laser beam on a mirror and it bounced right off just like you would expect. It works well in a dark room as well as a brightly lit room. It keeps a tight dot at distances. This is a good laser. What sets the PR100 apart from other laser pointers, though, are its presentation capabilities. It includes buttons for playing a slideshow, advancing and reversing slides, and adjusting the volume of an audio presentation. The buttons are the same size as the laser button and spaced equally from each other. Though the laser button is slightly domed, it may take some time to become adjusted to the layout for use without looking down at your hand every slide. That's something you don't want to do if you want to look like a pro at giving presentations. Before setting up the PR100 to work with my computer I was scared I'd have to go through some terrible setup process or figure out how to get Bluetooth to recognize the device. I didn't have to call IT and setup was a breeze. There is a wireless USB dongle hidden cleverly in the base of the tool. Windows instantly recognized new hardware and got the drivers installed without any issues. Within a very short time I was able use the PR100 on my computer. I pulled up an old presentation to test out the slideshow button functions and it worked like a charm. Play. Forward. Back. End. Pointing with a laser all the while. The volume buttons do not control the PC volume. I also tested it with a video in Windows Media Player and an audio track in Winamp. It does not control the volume of those either. It seems that the volume controls only work in PowerPoint. It makes sense, but that's something to consider if you have media files that aren't embedded in your presentation. I do have a minor criticism of this device. When using the laser, you can obviously tell that the laser is being used because of the red beam emitted from the front of the device. The other buttons also illuminate a small red light to let the user know that the button is registering the press. Except I'm pretty sure it's not a small LED light indicator and it's just a hole that allows the laser to act as the indication light (without emitting the main beam). Maybe this was to save weight, cost, battery, or similar thought process. But it forces the user to look at a laser beam. Overall this is a really nice product that I'm glad to have in my sack of presentation tools. For close up presentations examining an object—like Antiques Roadshow—I still prefer a short pointing stick. And on the go, you can't beat the portability and efficiency of pointing with fingers. But for all business slideshow presentations, the Canon PR100-R is going to be cradled comfortably in my non-dominant hand.
Date published: 2016-04-11T00:00:00-04:00