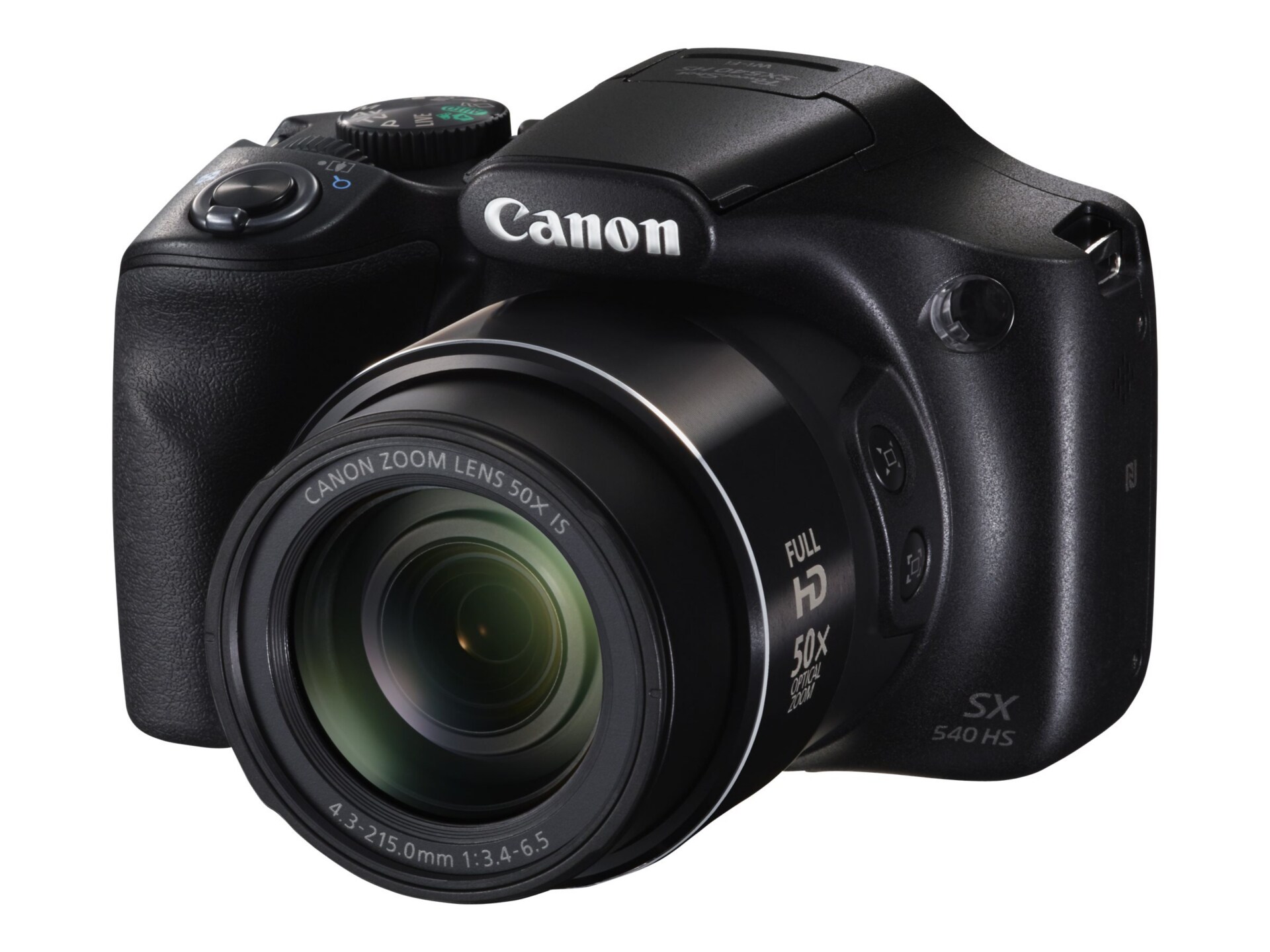 Quick tech specs
The Canon PowerShot SX540 HS digital camera includes a 50x optical zoom and 100x SuperPlus lens,enabling detailed distance photography
1080p Full HD video with 59.94fps creates high-quality videos
Upload photos and videos to the web with in-built NFC and Wi-Fi connections
20.3 megapixel CMOS sensor with DIG!C 6 image processor creates clear images in low lighting
24mm wide-angle lens is suitable for landscape photography
View All
Know your gear
Zoom in to subjects with 50x optical zoom and the100x SuperPlus lens on the Canon® PowerShot SX540 HS digital camera. Take bright photos and videos with the 20.3-megapixel CMOS sensor featuring the DIG!C 6 image processor and 1080p Full HD video with 59.94fps. This Canon PowerShot SX540 HS digital camera features a zoom framing assistant to help users find and capture the photo with minimal camera shake. The 24mm wide-angle lens is suitable for landscape, architectural and environmental photography. NFC and Wi-Fi® connectivity enable photo and video uploads to the web for sharing or printing. Alternatively, use the Camera Connect app to send them to mobile devices. Capture impressive photos from a distance with the 50x optical zoom camera.
Contact Sales Assistance
(800) 800-4239
,
Monday-Friday 7am-7:30pm CT
Canon PowerShot SX540 HS - digital camera
is rated
3.90
out of
5
by
27
.
Rated

5

out of

5
by
hcarlton
from
Pretty Good Overall Camera
Using the macro function is somewhat difficult, as it doesn't seem to actually focus as closely as the descriptions claim, and battery life is a little short, but all other functions are quite decent, excellent zoom capacity and clarity on that end. No issues seeing the screen outside thus far, and both automatic and manual altering of aperture and ISO work well.
Date published: 2022-02-23T00:00:00-05:00
Rated

5

out of

5
by
Rickn47
from
Great mid camera
Have had this camera for over a year now and have never had any problems with it. Takes great pictures and movies. I'm mostly use it on auto since I'm still experimenting with all the settings. Overall a great camera if you don't want to go the full 35mm DSLR route. I hasd a small Canon ELPH and wanted to upgrade but didn't want to go the full blown DSLR setup. This camera serves me very well for what I want to do.
Date published: 2021-01-07T00:00:00-05:00
Rated

5

out of

5
by
rm1985
from
Great affordable camera
I purchased this camera a couple of weeks ago, and I have been very pleased with it. I read a lot of reviews that said it would not turn on, but I never had that problem. The battery life is fine. Zoom is great, but if you go too far its a little hard to handle I would suggest getting a tripod. It is easy to use and does a great job. I think this is a great stepping camera and will eventually move into a DSLR. Photos are clear and crisp.
Date published: 2020-10-21T00:00:00-04:00
Rated

5

out of

5
by
Backpacker
from
Amazing camera!
I love this camera! It takes great photos and has an amazing zoom! As for the battery, I just make sure I have a fully charged extra battery. Really great camera!
Date published: 2020-09-28T00:00:00-04:00
Rated

5

out of

5
by
JennyB
from
Never got the camera to turn on
I purchased this camera and it never did turn on. Charged the battery until the green light lit up. Put the battery in the camera...nothing. Put the battery back on the charger and it showed it needed to be charged. Charged to green and repeated the process a few times and the camera just won't turn on.
Date published: 2020-06-28T00:00:00-04:00
Rated

5

out of

5
by
camerajohn
from
Impossible wifi and DEAD battery
so, it takes an IT dept to set the wifi - you can't just connect, it needs all kinds of settings, this is my 3rd hour trying - i give up, going to store to buy an OLD cord, since this thing wont work with normal wires like USB and android phones... Bad design. While i did get it to move pictures to phone, that was impossible to work with - small screens are not the way to transfer files. Battery - well, it has one, which dies in an hour... even when just sitting there... this should have a normal plug in charger so i can use the camera and charge... if i leave the camera in the drawer, want to pull it out for a quick picture - NOPE, dead battery, charge it first, then try...why no charging cord? Oh, bad design. And oh wait, this is a camera review.... yes, it takes pictures. To be honest, my phone does just as good on standard shots. While it does have long zoom, i rarely use it cause its not stable. overall, i'd give this a 1* and say the design needs improving, the battery charging is terrible and its an ok picture taking device but my LG phone is equal on most pictures. i would recommend they kill the design and start over from scratch - this seems like a patch work updated product that missed the mark --- by a lot. sorry, just being honest. still waiting for connections... guess what... see photo
Date published: 2020-05-17T00:00:00-04:00
Rated

5

out of

5
by
MsLiz788
from
Zoo Closeups
I've not yet had the opportunity to see its full potential! Next zoo trip!
Date published: 2021-12-24T00:00:00-05:00
Rated

5

out of

5
by
Alika123
from
perfect camera for beginners
the best camera that beginners can have , also its perfect for zoom lovers
Date published: 2022-01-04T00:00:00-05:00
Rated

5

out of

5
by
Johnna
from
Great camera!
I have had other Canon Cameras and like the others this one is great! Prior to this I had a powershot that had an LCD screen that swung out from the camera and could be turned around so I could take a selfie with it and it folded in so the LCD screen was not exposed. I really appreciated that and miss that with this updated powershot. But I will get used to it! Takes great pictures, has great settings and the shutter speed is nice and fast!
Date published: 2019-12-16T00:00:00-05:00
Rated

5

out of

5
by
Walt1957
from
Should be ashamed to put the Canon name on this
I thought by buying a Canon I was going to get a quality camera. Pictures look great in on the dinky LCD screen, but if you try to look at the pictures at anywhere near full size (100% you will get a headache from the noise that is everywhere. It is so bad that I can't even get a decent picture after processing it in Lightroom or Photoshop. I only gave it one star because it wouldn't use none as a rating.
Date published: 2016-04-08T00:00:00-04:00
Rated

5

out of

5
by
KellyCritterLady
from
I LOVE THIS CAMERA!
I have the 35x optical zoom version of this camera that I bought several years ago. I absolutely love it! I get great shots, the optics are very high quality, and there are so many features that I haven't gotten around to using them all yet. It's easy to use, and it's my go-to camera for every occasion - from vacations, to pics of the grandkids. I used a Canon film camera for many years, and when I decided I wanted a digital camera, the SX540 suited my needs the best. When/if I decide a new camera is in order, I will definitely buy the new model of this one. You can't beat the quality or the price.
Date published: 2017-05-19T00:00:00-04:00
Rated

5

out of

5
by
ELTIO
from
After use only two times
I received this gif camera in March 2018, and never I had problems with the cameras until I had this camera.
Date published: 2018-08-29T00:00:00-04:00
Rated

5

out of

5
by
gswhee
from
Not Happy.
Not a good camera if you want to use any manual settings. It is not a good camera for taking pics outside, as you can't see what you are taking. The pics do look okay, but a very expensive camera for basically a point and shoot.
Date published: 2016-04-16T00:00:00-04:00
Rated

5

out of

5
by
mrbubby71
from
Upgrade over the SX530
I previously owned the SX530, and recently bought the SX540. So far, I have noticed three improvements. 1 The video quality looks much better at 60fps. 2) the resolution is higher due to the 20.3 mp sensor. 3) Color rendering looks more accurate IMO. (perhaps due to the newer DIGIC 6 processor?) Relatively small, light weight, and easy handling make this an overall great camera for the casual shooter.
Date published: 2018-12-28T00:00:00-05:00
Rated

5

out of

5
by
Yourhomecat
from
AMAZING QUALITY
It's amazing it is a must have item I'm so happy that I bought it!!!!!
Date published: 2016-01-14T00:00:00-05:00
Rated

5

out of

5
by
Jancie
from
Not good outside
I purchased this camera to photograph nature, but unless you are inside or in the shade, you can't see through the screen. Very dissatisfied...
Date published: 2017-01-15T00:00:00-05:00
Rated

5

out of

5
by
beav
from
No View Finder
You don't normally use a 50x zoom indoors and the screens just don't work outdoors in the sunshine, so I can't use this camera. I will send it back because there is no view finder.
Date published: 2016-08-15T00:00:00-04:00
Rated

5

out of

5
by
ChargersMom
from
This camera is Great!
Let me start by saying that this is my first digital camera purchase. I did a lot of research and I was between this camera and the Nikon equivalent and I decided to go with the Canon based on the mostly great reviews. I've been taking pictures on my iPhone since my daughter was born, I really wish we had bought this camera sooner! The picture quality is amazing. I was really impressed by the quality of the zoom, which takes some time to perfect but surely won't disappoint! I took a picture of the restaurant at the end of the Pier from the beach (which is almost 700 yards away and the quality of the picture I got was amazing! I love the wifi feature on the camera and how easy it is to connect to the Canon app on my iPhone. I rarely even take pictures on my iPhone anymore because I want to take this camera with me everywhere! Plus, the size and weight allows me to do so. I am so happy with this purchase, I can see it providing my family and myself with a lot of great quality photos for many years to come!
Date published: 2016-09-08T00:00:00-04:00
Rated

5

out of

5
by
Iron Tim
from
Great camera!
I think this camera is great so far. The lens goes from very wide to very long!
Date published: 2016-08-20T00:00:00-04:00
Rated

5

out of

5
by
Bobj21
from
Excellent Camera for the Price
I have had this camera for almost two years and I am still learning how to use all of which it is capable. It does require a steady stand for full 50x pictures, but this is to be expected. The Image Stabilization makes most shots very clear. The photos from this camera are of very high quality. To the people who say they can not see the pictures on the screen in the daylight, it is a simple press of a button to change to the viewfinder. There is a little difference between what you see in the viewfinder and the screen, but it still takes a great picture.
Date published: 2017-02-25T00:00:00-05:00
Rated

5

out of

5
by
marsouthern
from
It Really is a Good Camera!!!!
i am a novice when it comes to cameras. I don't know anything about settings. The good news is that this camera does all the work for me. i get really good quality pictures that i use on my website. It's affordable and i definitely recommend it . . . especially if you are inexperienced like me.
Date published: 2016-05-18T00:00:00-04:00
Rated

5

out of

5
by
Ms Geek
from
A truly super Super Zoom cam.
Usually Bridge Cameras are crummy under low light circumstances. I am pleased to say that the SX540 HS is a solid performer, even under low light. It's compact, lightweight, yet it is every bit a Canon. Haven't used it for video clips yet. Yes the screen is dim, and not being able to rotate it out for Selfies is unfortunate. I wish there was an easy way of disabling WiFi because it's a security risk. Oh well, it's not perfect, but I am super happy with it.
Date published: 2019-10-04T00:00:00-04:00
Rated

5

out of

5
by
SBC
from
Brand loyalty
I LOVE IT! It takes much better pictures than my 10 year old camera, which broke because I dropped it. I made sure to get the same brand in the similar price range.
Date published: 2021-05-25T00:00:00-04:00
Rated

5

out of

5
by
WillardtheRat
from
Awesome Starter for the Aspiring photographer
I have only had this camera a few days but, with the help of a tripod and getting an understanding of the settings to use, it has helped me get some great shots. I do recommend buying extra batteries though. User interface can be a bit complex and intimidating at first. I bought this camera to pursue my budding interest in photography and it is doing just that! I am already looking to see what my first DSLR buy will be to further my abilities with a camera.
Date published: 2021-07-14T00:00:00-04:00
Rated

5

out of

5
by
c hastings
from
Best bridge camera ever?
I have used this camera actively for almost a year now, and it's been the best camera I've owned so far. I use it for railroad videography and photography as it does an amazing job doing both. The settings are easy to manage and the many built in modes are helpful for getting a photo or video of just about everything.
Date published: 2021-10-11T00:00:00-04:00
Rated

5

out of

5
by
chase838
from
amazing camera, amazing zoom
I got this camera for my birthday about 6 months ago and I love it, it has an amazing zoom and great picture quality 10/10 would recommend the best budget camera.
Date published: 2021-07-19T00:00:00-04:00
Rated

5

out of

5
by
LbHinson19
from
Great all in one
Super impressed with the quality of pictures of Sarah Camera produces
Date published: 2023-05-04T00:00:00-04:00