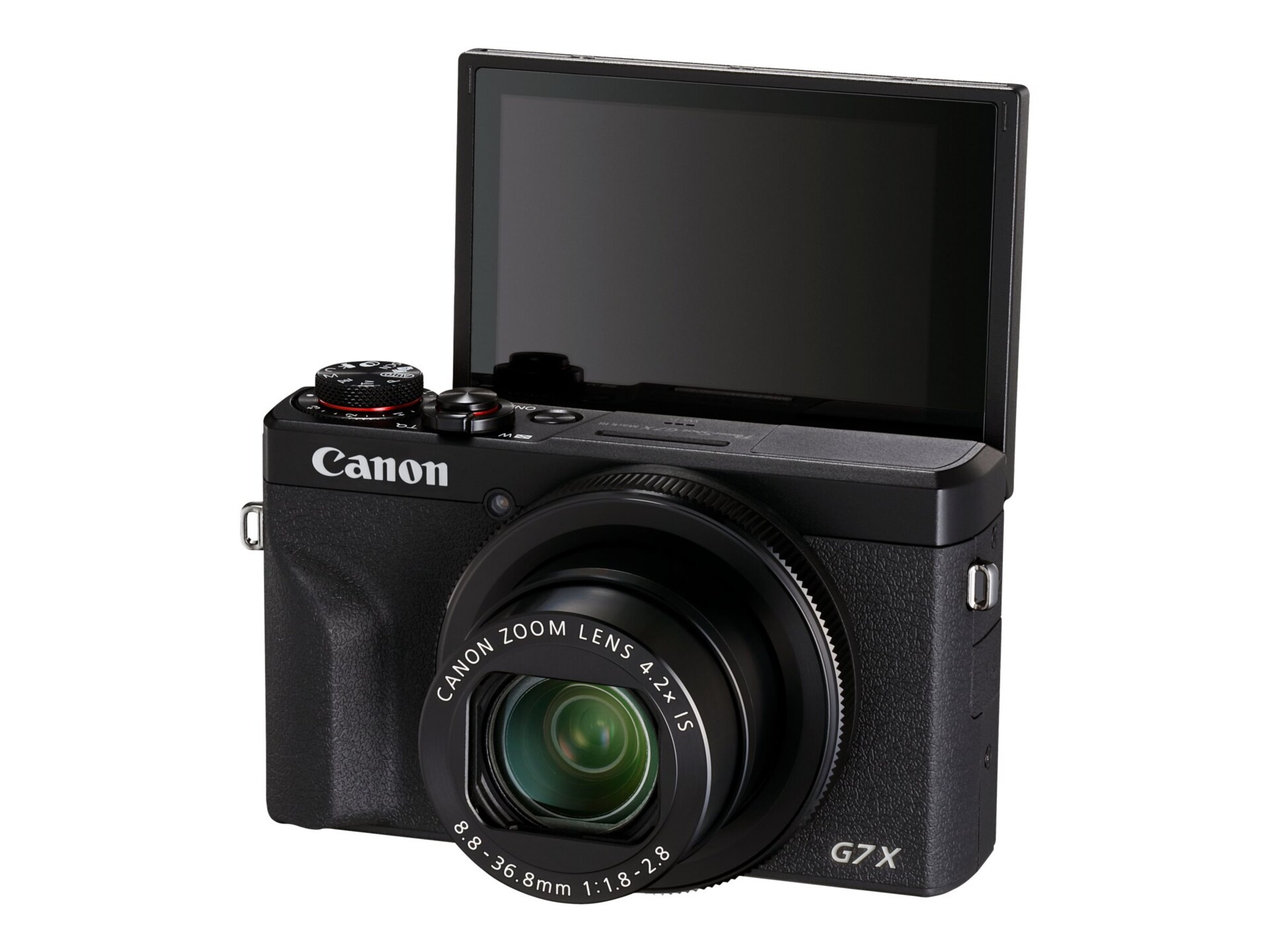 Quick tech specs
Digital camera
20.1 MP
4.2x optical zoom
Bluetooth
compact
4K / 30 fps
Wi-Fi
black
View All
Know your gear
The compact Canon PowerShot G7 X Mark III Digital Camera puts exciting capabilities from live streaming services directly to YouTube?, to vertical video shooting, right in the palm of your hands. Its 20.1-Megapixel 1.0-inch stacked CMOS Sensor combined with the powerful DIGIC 8 processor helps to produce high image quality for amazing results at a fast operation. Equipped with 4K recording capability, and an external microphone terminal, the PowerShot G7 X Mark III camera delivers crisp, sharp videos with minimal sound distortion. Capture close-ups of your selfies, wide shots and everything in between with its impressive 4.2x optical zoom and a lens aperture of f/1.8 (wide) to f/2.8 (tele). Combining incredible zoom power with 4K video capabilities, this digital camera makes it easy to create stunning videos and still images you will want to share with your friends, social media followers and family.
Canon PowerShot G7 X Mark III - digital camera
is rated
2.80
out of
5
by
15
.
Rated

5

out of

5
by
ourmicrofamily
from
Good Idea Bad Execution
I bought this camera with the intent of filming for my vlog our micro family on you tube and i immediately noticed how bad the face tracking was for this camera. I tried to find a face id setting like the mark ii but noticed there was none. However, once i got past this i tried staying in one place for a vlog and unfortunately that didn't work as the auto focus that is contrast based and not phase detect kept searching for other things even after i locked onto myself. The other issue that I had is that, when trying the 4k the camera overheated. In the end, I decided to return this camera and wait for something better to come along.
Date published: 2019-08-29T00:00:00-04:00
Rated

5

out of

5
by
AndrewDN
from
Disappointed by the Canon G7 X Mark III
The autofocus is extremely slow, and the camera always overheats when shooting at 120fps.
Date published: 2019-09-05T00:00:00-04:00
Rated

5

out of

5
by
amess
from
Wasted Potential
I've shot a lot and have had this since day one/launch and with patience I've been getting some decent shots out of this thing. (Lifestyle, product shots, at the beach, indoors. I was waiting until I could view the RAWs. However, I have to make an effort to make sure what I wanted in focus is in focus. It likes to focus on the background leaving subjects out of focus. Once its locked on though the shots are great. So the AF on stills isn't as bad as with video. But it's so bad for video I don't even consider using it... especially if i wanted to VLOG and can't "man the camera." The focus box shows you're the object, but focuses the opposite. It takes ages to finally lock onto focus, but its fickle to lose it again. That and the overheating while using FHD 120p or 4k. I'm also stuck with 30fps as the lowest framerate it can go. If I switch to PAL I can get 25fps at least. That being said I bought this for my wife who never really used cameras other than a cell phone. I wanted something for her that she can literally point and shoot and maybe she'll gain interest in some gear, but I'm having trouble justifying why things don't work or are out of focus for her. Back to video: I've resorted to finding focus on me, for example, and switching to MF to be able to have peace of mind that it wont jump to the background. Of course, I have to make sure I stay the same distance the whole time though. I still have a few weeks before I am out of my return window and I'm hoping they release a firmware fix. If not, then I know what is going to replace this. (Hint: it has 24fps, doesnt overheat, Eye AF etc) Pros: -Size:Feature Ratio -Ergonomics -1.8 aperture (W) | 2.8 (T) -FAST high speed capture -Touch Screen Menus -ND filter -MIC input -Flip screen -Wifi/Bluetooth -Image Stablization in Video is decent enough (no complaints) -FHD 120/60 fps -No crop 4k (take a hint EOS R lol) What I don't Like: -no view finder -AUTOFOCUS -FHD is a little soft -lack of dual pixal AF -overheating in 4k and FHD 120p -no shoe for the mic (not a big deal) -no 24fps -contrast focus, not phase detect -no LOG profile -constrained ISO in 4k -battery life could be better All that being said, I can get decent results out of the camera, but that is not without putting in some solid effort and patience. Using this thing is tedious. I've never googled or looked up a camera (almost daily) AFTER I bought it to find fixes or to see if others share the same problem. What good is a camera if the pictures you care about aren't in focus? What good is a camera with video if the video isn't in focus and you have to throw out footage? What good is a camera that doesn't let you use it because it overheated?
Date published: 2019-08-20T00:00:00-04:00
Rated

5

out of

5
by
Misael
from
Good but it can be improved.
The overheating when shooting 4k video sucks, but with the little time you get with it. You can get great video results, and the autofocus can be better.
Date published: 2019-09-08T00:00:00-04:00
Rated

5

out of

5
by
nicholasdr
from
Terrible for Video
I read the reviews and figured the reported issues with terrible autofocus and the overheating that shuts the camera down would be resolved with a firmware updated. Well, not as of firmware 1.2.0. Autofocus is indeed not great. And the camera overheats in about 11 minutes video-mode, recording or, not. So, by the time you're setup, the device overheats and get this, Canon advises waiting 90 minutes and trying again. Right. I called Canon support. The chap was polite, but not helpful, was surprised about the overheating issue even though it's a known problem. I will be returning this camera. I've just purchased a Sony A6400 and, hopefully that works.
Date published: 2020-05-23T00:00:00-04:00
Rated

5

out of

5
by
Chris1
from
Do your research
I use my camera for recording Youtube videos. Mostly indoors but some outdoors. I've had this camera for a little over a month. The camera I'm replacing is a Sony Handycam. I guess its my mistake. I should have done better research. The Sony uses mini SD card. The Canon uses a normal SD card. Since I have more mini cards, I use the mini card in the normal card adaptor. I'm running into a lot of unsaved videos using this method. I don't know if there is an advantage to normal size SD card to mini size. I feel the Canon is behind on technology. I made several recordings that did not save properly on the camera after stopping recording. Thankfully I can remake them but now I'm causes to use this camera on videos I can not remake. Hopefully Canon responds to this and I learn something. Will try to update this if I am making an error or there is something I can fix.
Date published: 2023-06-11T00:00:00-04:00
Rated

5

out of

5
by
TJ Borja
from
perfect for the gram!
This camera is amazing for taking photos for IG! The flippable screen makes it so much easier to adjust yourself when shooting alone or even with a friend behind the camera. The camera has a crazy sort of natural filter that makes everyone look good. It is also touch screen which is nice. The video quality is great as well and it makes you feel like youre a youtuber. I highly recommend this camera! Everyone ive take photos with is obsessed with it as well. The only 1 change id make if possible would be to have a double screen one in the back for when flipped up :)
Date published: 2023-10-30T00:00:00-04:00
Rated

5

out of

5
by
Mikecal
from
Canon Powershot G7 Mark III - Bad!
I bought this Camera from Best Buy in Apr 2000. I did not use it until this Christmas. It did not work. The camera will not accept SD cards, the SD card slot is broken. It reports the SD card is locked and will not let you use the camera. The SD card is not locked, and I have tried multiple SD cards with the same problem. It is now a paper weight. It is not in Warranty now, and I will have pay to get it fixed. It is new, never used. I googled this Canon SD card slot problem and Found Many people with the same problem! Great Quality Canon!
Date published: 2023-01-04T00:00:00-05:00
Rated

5

out of

5
by
joeybadger
from
Best Point and Shoot
I feel like there is a lot of negativity surrounding this product that most people simply do not understand what this product is or what they should be comparing it to. So many reviewers are comparing this to high end SLRs and Mirrorless cameras that cost twice as much and don't come with a lens. It is silly to compare to that. It would be like saying the ISO quality of this camera does not compare to a Full Frame Camera. This is true, but doesn't address that this is not designed for those purposes. So what is this product supposed to be? Well, it is a point and shoot camera that is designed to be compact, light, and generally affordable. This market has been around for a long time and was designed for those that couldn't afford larger DSLRs and their lenses that still wanted the convenience of a digital camera. Most of that market has been replaced by smart phones though there are many ways that these are still superior. The biggest one is the lens, which can be quite excellent and allows you to zoom where phones crop the sensor in order to zoom, using less information and creating noise. Modern high end phones do use a couple of things like taking composite images as well as having multiple sensors in order to capture images from different angles to give a more 3D quality, but these still look very digital to me in the worst possible way. There are also programs that digitally add bokeh that doesn't look right to my eyes. If I am also being honest, high end smart phones do have more processing power than a camera like this because ultimately they are more expensive and don't have to pay for lens that a camera like this has. I love point and shoots. I am a professional photographer with a lot of equipment, but I have always kept a point and shoot with me as a C camera as well as to walk around with as the best camera is the one that you have with you when you need it and virtually no one wants to walk around life carrying a full frame or medium format camera and 40lbs or so of lenses around with them everywhere they go. My previous point and shoot was a very old one that topped out at 10mp, but it was still a great little camera. I even used it for video in a pinch when my main camera malfunctioned when I was shooting a piece for NBC. I had to shoot content and was lucky I had that thing in the car or otherwise would have had nothing, and no one noticed or complained. That camera's lens motor died after about ten years of use and I missed having it so started looking into modern replacements. One thing that was a must for me was to have an audio jack, which surprisingly to me, disqualified most of the cameras on the market. There really was only this one and one other company that offer that combo. I rented and tested both and ultimately decided on this one for a few reasons. The first was price. It is much less expensive with few drawbacks in comparison, but the main reason was how fast the lens was as well as how sharp the lens is. Nothing else on the market comes close to the overall image quality you can get from this camera in this sector period. No, it does not compare to more expensive and bulkier cameras. This was my first Canon, so I am not saying that out of loyalty nor did I choose this product blindly and will get into what I didn't like in a minute, but simply put, for those that need audio and great video quality, this is the camera to buy. The bad parts of this camera really come from the lack of EVF, autofocus speed not being steller, and overheating in 4K and high speed video. The front lens and dial are placed too close to the grip for my hands and it seems to me that the designers opted for a more pleasing symmetrical look of the camera that moving the lens further away from the grip for comfort as the dial does have teeth that can bite into my fingers, though I do admit I have big hands. The rear command dial is a little flimsy and sometimes doesn't catch. That being said I am a huge fan of the touch screen interface and the way the camera balances control and simplicity. Another gripe that I have is the limited 1/2000 shutter speed that is not mechanical, though this is kind of offset by the integrated filters. I also think that not having a hotshoe to put an external mic when having the mic port is one of the bigger selling points of this camera, though it isn't too difficult to fix an attachment that adds a hotshoe. The G5 X ii does have an EVF and a longer focal length, but no mic port. I don't typically use point and shoots for telephoto, so while an EVF here would have been nice or a mic port there, Canon does really enjoying selectively distributing their features across their line. I'm not surprised at the overheating at video and was pleasantly surprised by how good the 1080 video quality out of this camera is. The 4K is of high quality if you understand that it needs to be applied selectively and not for general use. If that is what you want, to say record a wedding or event in 4K, there are plenty of 4K video cameras from Canon and others for that purpose, though I doubt you would be disappointed by the 1080 or even notice the difference. Keep in mind DVD quality is at 720. High speed slow motion should be used sparingly anyways, so am thankful for the inclusion. As a C camera and backup, this camera rocks as a do it all. The autofocus, which seems to be the biggest negative this camera seems to get isn't bad by any stretch. It is accurate and quick enough, though far from professional quality. It isn't for fast moving subjects, but this has become my go to camera for vlogging and video to clients and have never had any complaints. I've done one portrait shoot for a boutique client with this camera because things happen in the field and it turned out fantastic with only a couple of times having issues with AF lag in an all day professional shoot, though I should probably mention I had a backup battery and immediately started charging the first battery when it died and needed to go back to the first as the second died eventually, so three batteries for an all day shoot combo of video and stills isn't bad by any stretch of the imagination. There are a few other complaints that I could give. That if you shoot Raw, the widest angle shots need to be cropped as they are not sharp at the edges. The JPG images at that angle are already cropped. Also, still finding CR3 files still haven't caught on with all file editing software which can be annoying. So with all the negative why 5 stars. Well first off, this is a professional camera. You can do just about any job with it if you know what you are doing. I'm not saying this is the ideal camera for any job, but with some work arounds, this camera can do it all well enough to get the job done. Great color and sharpness. Great video quality. Every feature you need to engage lighting and and subject. Simply put, this is a great C camera and walk around camera that when it is needed can save a shoot and has enough manual control to learn photography on for a pricetag that competes with entry level cameras but offers many more features and genuinely fast professional glass. Not saying it competes with the best, but good enough to give to most clients if needed. I love the inputs and control and the aperture really does save you from needing high ISO which no point and shoot will excel at. While it isn't perfect and I'm sure Canon could design a perfect version, it would cannibalize their other products so this is still the best of it's kind on the market and that is still pretty amazing considering this kind of product is largely going away. I'd even go so far as to say nothing else really competes at the pricepoint when you factor in lens costs.
Date published: 2021-05-17T00:00:00-04:00
Rated

5

out of

5
by
Johnw89
from
It's like having a DSLR in your pocket
I got this camera as something to take with me everywhere so I don't have to take my DSLR with me. If I am planning on doing any photography I take my 90d, but I carry this camera so I never miss a shot. It gives me almost the same level of control as a DSLR my only complaint is no physical knob/wheel/dial for iso in manual mode. First thing I did after buying this camera is update the firmware. With the new firmware the camera does not overheat and the autofocus works reasonably well. If you are looking for a great camera in a small form factor, this is it.
Date published: 2019-12-14T00:00:00-05:00
Rated

5

out of

5
by
Mike23
from
Truly disappointed from a loyal canon customer
Truly a disappointment. I have been holding off for a while to get this camera as I have been waiting for the external mic and I pre-ordered it as soon as it was released. I brought it on vacation to VLOG with and the focus was truly a disaster! I couldn't believe it... I have been a loyal canon customer for years and I don't want to go to Sony...but I feel like I have no other options.
Date published: 2019-08-13T00:00:00-04:00
Rated

5

out of

5
by
RicardoC
from
Fantastic Camera. But it has some flaws that need fixing.
Fantastic Camera. A great new version on it's previous interaction. Great addition was the External MIC support. But there are some flaws. Twice it overheated on 4k, on a house the AC was set at 75F... so it wasn't under the burning sun. And the focus speed is sub par. Mark II has a much better faster autofocus.
Date published: 2019-08-12T00:00:00-04:00
Rated

5

out of

5
by
Serg
from
Autofocus is horrible
Autofocus wery slow and horrible. Nice colors and picture but when you shooting the video - autofocus just slow. I can become older faster then this camera can catch me in the focus. Very disappointed about this product.
Date published: 2019-08-09T00:00:00-04:00
Rated

5

out of

5
by
PhotogInNYC
from
Little camera; big punch
This tiny camera packs a punch. It has a ton of features. The photos are crystal clear even when zoomed in and it isn't a battery hog. There are so many features that I'm constantly looking up how to do everything.
Date published: 2023-05-07T00:00:00-04:00
Rated

5

out of

5
by
Anthony Ventrella
from
10/10 Value Camera
Easy to learn and fun point and shoot/vlog camera!
Date published: 2023-09-25T00:00:00-04:00