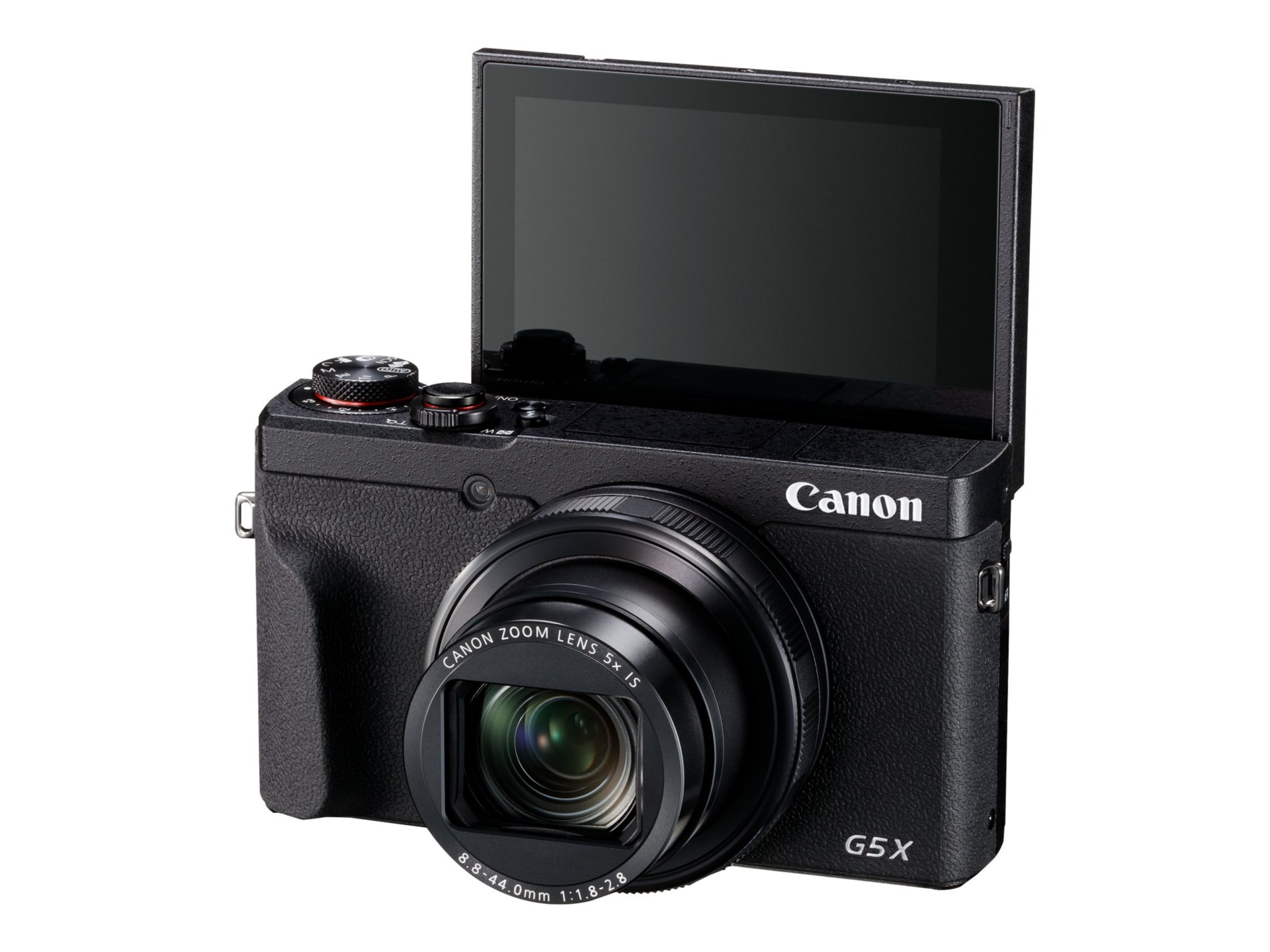 Quick tech specs
compact
4K / 30 fps
Wi-Fi
20.1 MP
5x optical zoom
Bluetooth
View All
Know your gear
The compact Canon PowerShot G5 X Mark II Digital Camera gives you stunning image quality while conveniently letting you carry it on any adventure. It has a 20.1-Megapixel 1.0-inch stacked CMOS sensor and powerful DIGIC 8 processor for fast and gratifying results. Its 5x optical zoom with image stabilization provides range and clear, steady images and video, while a built-in pop-up EVF lets you frame your subjects with ease. For variety, you can shoot 4K 30p or Full HD 120p videos, be creative with panoramic and star shooting modes, and shoot continuously up to 20 fps (or 30 fps with RAW burst mode).
Canon PowerShot G5 X Mark II - digital camera
is rated
3.90
out of
5
by
11
.
Rated

5

out of

5
by
rich99
from
Not compatible with current Mac OSX computers.
Apple macbook pro is not able to read the SD memory cards this camera creates.
Date published: 2022-02-25T00:00:00-05:00
Rated

5

out of

5
by
JedLevron24
from
Fun Work Horse Camera
I bought this Camera in December and it has been great. I have had photos published on front page of my local newspaper. I leave my 90D home when I am street shooting. It allows me to go stealth and quite. I have photographed events at church and its pretty silent. Unless I am shooting sports or need a longer lens this is my go to camera. Looking forward to taking this on vacation.
Date published: 2020-07-09T00:00:00-04:00
Rated

5

out of

5
by
Nick9449
from
Easy to use
Excellent quality. Very easy to use. Great for outdoor and indoors
Date published: 2020-07-24T00:00:00-04:00
Rated

5

out of

5
by
TA1998
from
No Users Manual
This seems to be a great camera so far, not too weighty for a Europe trip, although I have not yet explored all the features yet. Pics have been great so far, usual for Canon as compared to other cameras that don't have very sharp photos.. I have had Canon cameras for 50 years, the last was a EOS 77D DSLR several years ago. My main concern is that Canon did NOT include a Users Manual, like they have for the last 50 years. It is a PDF, a whopping 316 pages! Disappointment! I DON'T want to download 316 pages! Rep me sent to print center, but rep said it would just be a printout of the 316 pdf pages ! Lot of good that would do me on an overseas shoot! Nothing I could take with me. So USELESS! unless you download to phone, which may or may not have a connection in Europe. Yeah, it might work as a download, but why can't Canon provide a regular User's Manual???
Date published: 2019-12-20T00:00:00-05:00
Rated

5

out of

5
by
Mestipheles
from
A little workhorse
I took this camera to Italy last month and shot many pictures in Rome, the Amalfi Coast, and Capri. The camera performed flawlessly and I was very satisfied with it. Having this camera rather than the 5d Mk II and all the lenses that I normally take on trips was a neck saver and time saver. It let me actually enjoy the vacation and not have to worry about changing lenses on the spot for some particular shot. If I needed to take a quick photo, the G5 powered up and was shooting in a heartbeat.
Date published: 2019-11-03T00:00:00-04:00
Rated

5

out of

5
by
IDjack
from
Great Pictures and a small size
I bought this camera to travel with when I don't want to take my big gear. The pictures are great, had some enlarged to 16x24 and looked nice. Plenty of features, love the tilting screen in both directions, and easy to use. The only reason I didn't give it 5 stars is because when I hold the camera to take a vertical picture, the thick part of my thumb or palm of my hand will press on the menu button, or one of the other buttons on the back. Because of the small size of the camera and large screen, I'm not sure how they would get around this, but that is the only thing I don't enjoy about the camera (other than I wish it would have been less money). It is just what I needed.
Date published: 2019-11-01T00:00:00-04:00
Rated

5

out of

5
by
Rim2Rim
from
Very pleased with all aspects of this camera
My priorities were a fast lens (f/1.8, minimum 24-100mm range, good viewfinder, straightforward navigation, convenient handling and good quality photos. In the last month I've used extensively while hiking out West, action shots of surfers, family portraits and various sunrise, nighttime, and sunset shots. I am very pleased with the results, and really like the functionality, handling and the very cool scenes settings. It is very easy to switch from auto to manual or semi-manual modes and the controls for adjusting exposure (aperture/speed/ISO/f stop), focus, still/sequence/movie shots and flash are much more intuitive than a similar styled Panasonic I recently owned. Remote operation is also easy to set up and use. This is great alternative to my DSLR and I pack in my backpack to have ready for superior shots to what I can do with my iPhone. The designers/engineers really nailed this one!
Date published: 2019-11-14T00:00:00-05:00
Rated

5

out of

5
by
Aacano24
from
It's bad
The auto focus it's horrible I will rather stick with my g7x mark II
Date published: 2019-08-29T00:00:00-04:00
Rated

5

out of

5
by
Tammyb
from
G5X Mark II
So far it has lived up to what I expected in a Canon Camera. I would have thought Canon for the price would have had a SD card in this package.
Date published: 2021-12-26T00:00:00-05:00
Rated

5

out of

5
by
SoCal Roy
from
My S-95 finally died, and I am (almost) glad it did!
I truly loved my Canon PowerShot S-95. But Canon finally decided it was no longer a serviceable item. I have had this camera since October 2019 (one year and I am extremely happy with the crisp details I get - even when shooting in high ISO ranges. I generally work with a 5D MK III yet a lot of the shots I take with this small unit are very comparable. The features (and there are A LOT of them) are almost overwhelming. 20fps (30 in burst) lets me shoot while traveling at 80 miles per hour and get clean crisp landscapes. I try not to take my taptop with me everywhere I go, so I had the Canon Print Shop make me a small version of the online Advanced User Guide. A little over 4.5" x 6" and 1/2" thick, I now have all 316 pages to read up on another feature that I have yet to try. It's not the cheapest in Canon's PoweShot lineup, but the f/1.8-2.8 5x optical lens with Optical Image Stabilization and i ts ability to shoot 20 fps has turned out some cool images - even at 80 mile per hour! As. I previously mentioned, some fo my images have been taken at 80 mph: Did I mention from a motorcycle? Set on auto focus tracking and continuous shooting, it get the landscape I wanted. Any delay in focus and I am already down the road and have missed the shot I wanted. The photo of singer/songwriter Frankie Raye was taken under concert conditions. No light, no flash and from the back of the venue. It was the first day I had the camera and was surprised that the results were not only clear enough, the noise cleaned up very easily and caused no loss of image. All in all, I am a happy camper with this little unit.
Date published: 2020-09-22T00:00:00-04:00
Rated

5

out of

5
by
walter G5X mark II camera
from
difficult to use in shutter priority, aperture mode or manual mode
Rather disappointed with this camera. If you want to use this in auto only, pictures are good. If you want to shoot in shutter priority, aperture mode or manual it is difficult to use. I found the documentation lacking and non-existing. I have searched for training videos and cannot find them. I have a Nikon and have no problems shooting in any mode. Documentation is excellent and plenty of videos. I was looking for a more compact camera for travel. This is not it.
Date published: 2023-02-12T00:00:00-05:00