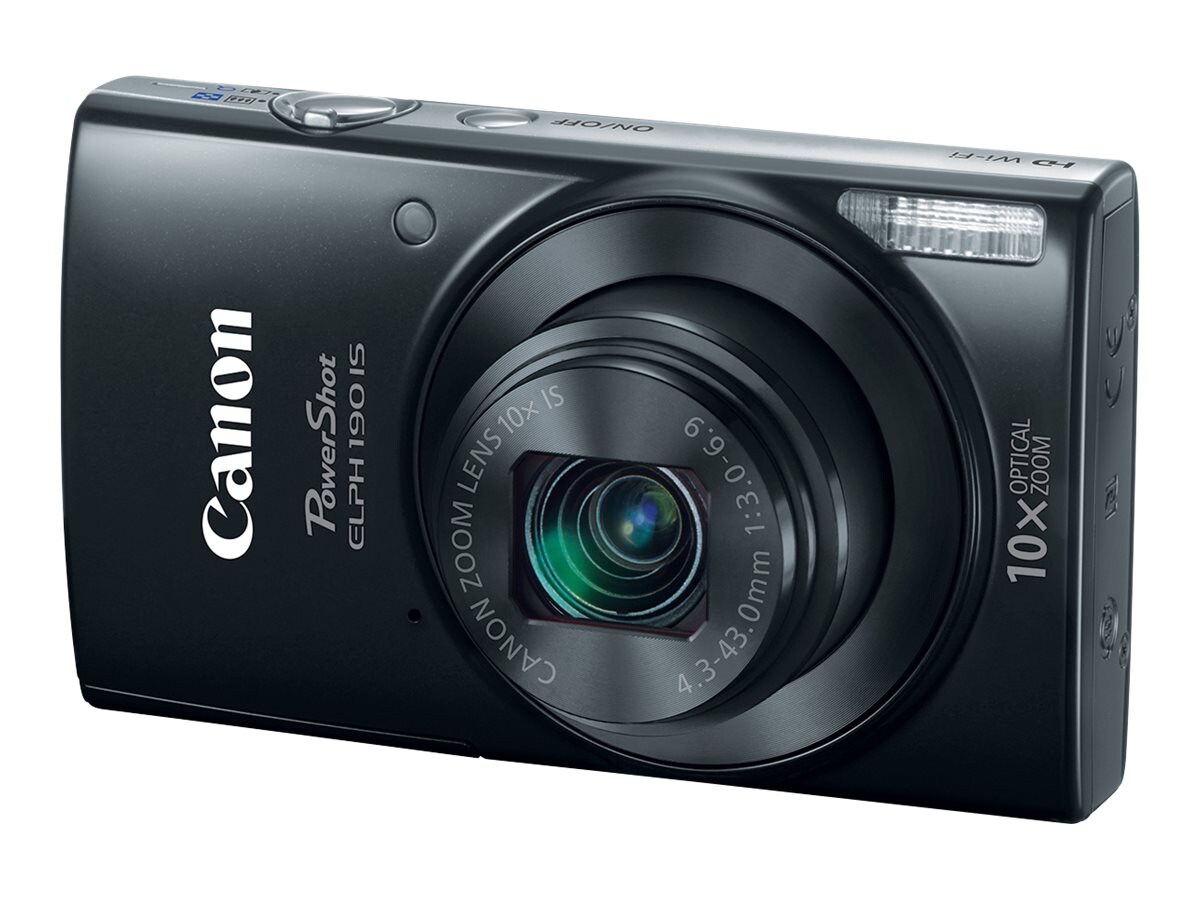 Quick tech specs
compact
720p / 25 fps
Wi-Fi
black
20.0 MP
10x optical zoom
NFC
View All
Know your gear
The slim and stylish PowerShot ELPH 190 IS camera is ideal for those wishing to capture the beauty of life's everyday adventures with a camera that fits easily in a pocket or purse. A 10x optical zoom can help capture images of the whole party, or close in on a friend's laugh. An Optical Image Stabilizer with Intelligent IS helps reduce camera shake so your images can be clear with minimal blur. For ease of use, built-in Wi-Fi and NFC make it easy to share unforgettable moments of friends and family. The 20.0 Megapixel CCD sensor and powerful processor work together to help ensure detailed images with minimal noise, even when there's not a lot of light. You can also capture video memories in high quality. Smart AUTO mode analyzes the image and figures out the ideal settings to help you capture eye-opening pictures, and if you want to add some personal flair, Scene modes make it easy to add the look of different filters and lenses.


Canon PowerShot ELPH 190 IS - digital camera
is rated
2.83
out of
5
by
12
.
Rated

5

out of

5
by
Geordie
from
Light, Portable, Shake Stabilizer - as good as or better than GoPro
I have worn one out and now own a second. I use it daily and it gets a real workout each day. It has great options and is easy to download the video/photos via the card - my choice. I promote it when people ask which camera they should purchase. The present one has a nanosecond more of a lag on the video start compared to my last. The camera is up and recording almost immediately. It rides on a modified tripod on my bicycle and records video as I pedal. The camera removes the vibration from the videos.
Date published: 2019-08-31T00:00:00-04:00
Rated

5

out of

5
by
portage
from
DIDN'T LAST
It worked pretty well for a while with about 20% of the pictures out of focus. Overall it was easy to use. I used it about twice a week. It gave out about 13 months after I bought it. Just out of warranty. The display screen quit working one month after warranty expired.
Date published: 2019-10-08T00:00:00-04:00
Rated

5

out of

5
by
hello
from
Fair
Put together cheaply for the price. Just a cheap camera
Date published: 2020-03-07T00:00:00-05:00
Rated

5

out of

5
by
Nancy Z
from
I love this camera
I use this camera every day, I have for several years now. I love it. I start each day by sticking it in my pocket. I own a cat boarding kennel and have to take pics of kitties to send to their owners every day. This little camera is perfect - it meets all the conditions I need - it is little, I can stick it in my pocket and carry around with me, I don't need (or want a big fancy camera for my award winning pictures (!!), it takes great pictures quickly for those moments a cat is doing something TOO cute, the pictures are sharp and clear with good color. I just grab it out of pocket, turn it on, zoom in a bit and click and I've got exactly what I need. I love that the battery is rechargeable and I'm not always replacing batteries. My only problem is I thought I was too good to use the wrist band. Last week I dropped it and now the lenses aren't working when I try to turn it on. I am quite disheartened that I couldn't buy a new one immediately - they're on backorder. I hope they're available again soon, I'd hate to have to get something else. And I hope they bring it back in BLUE again.
Date published: 2022-02-28T00:00:00-05:00
Rated

5

out of

5
by
cfsetncdw
from
Canon PowerShot ELPH 190 IS - digital camera - Poor quality pictures
The quality of pictures of still items, such as equipment and parts is very poor. Appears to have an "ok" ability for facial pictures. Would not recommend if you are concerned with being able to zoom effectively and still take a good picture.
Date published: 2017-05-25T00:00:00-04:00
Rated

5

out of

5
by
chivas
from
I Love it!
I bought this when it was first out for 300.00... now 170.00 its a steal!! u must get it.
Date published: 2017-06-29T00:00:00-04:00
Rated

5

out of

5
by
DAwn
from
Bad microphone position - LCD breaks too easily
This is my 5th Elph camera. I upgraded to this one for the wireless features. I like being able to download the pictures directly from my phone through the wi-fi connection, but it is sometimes slow, and I wish it was an easier interface. I used the camera for a lot of video and I'm disappointed that the microphone has been moved to the top of this camera (from the front of my last elph), right next to the zoom button. Therefore, you have to be really careful when holding the camera and especially when zooming, or you are likely to cover the mic and have all muffled sounds. Additionally, the sound of the lens moving and focusing comes through very loudly on the video and is annoying. My other 4 elphs were very strong and withstood several drops and abuse. The LCD in this elph shattered just from being in my pocket (I guess pressure from the jeans when bending or sitting?) Overall, I'm not happy with this camera.
Date published: 2016-09-28T00:00:00-04:00
Rated

5

out of

5
by
purinton1
from
Needs an optical view finder!
At this price range this camera should have an optical view finder.
Date published: 2018-12-29T00:00:00-05:00
Rated

5

out of

5
by
TattooedPretty
from
Love it. Easy to use
Its awesome. My fiance chose it as his anniversary gift from his job. Its small but pretty cool. Has wifi so you can send the pics to your phone, PC, printer, tablet, w.e. Also when you download the app on your phone you're able to view the camera's viewer from your phone and can snap pics via the app. Idk how it is for professional photography but we did a test run and the park and was pretty good unless the object was in motion, like our dog.
Date published: 2017-12-20T00:00:00-05:00
Rated

5

out of

5
by
flobo
from
junk.
easy to use, yes. the camera worked well for two months, then abruptly showed dark corners in the display screen....as if shutter is not opening completely. the photos also have dard corners all around.
Date published: 2019-01-15T00:00:00-05:00
Rated

5

out of

5
by
photoqueen
from
Love this little camara!
This camera takes great photos, and small enough to travel with and expect awesome photos. Also love the Wi Fi option so you can upload and don't need a computer, great camera for the price.
Date published: 2016-04-06T00:00:00-04:00
Rated

5

out of

5
by
RagTimer
from
Almost all photos are out of focus
The images taken with the ELPH 190 were not nearly as sharp as my wife's old Canon ELPH SD600, which has WAY lower resolution (6MP. I tried several different options and techniques, but nothing worked. Almost ruined all shots of my first granddaughter's first birthday party, but I was able to salvage the out-of-focus images using some specialized software. Please see the Amazon negative customer reviews on this model to confirm my experience.
Date published: 2017-05-27T00:00:00-04:00